How Mobile Apps Are the Key Improving Employee Engagement
The way employee structures in organizations work is changing; managers are now beginning to adapt, and are improving employee engagement through a variety of methods.
Jacob Morgan talks about this in his book, The Future of Work, where he looks at how conventional management models will be replaced with employee-empowering ones. Managers will endeavor to meet employee expectations, values and styles of working in order to offer them the optimal working conditions as well as to incentivise them to remain in the company.
Some of the key ideas in the book are summarized in this infographic, taken from a Forbes blogpost written by Morgan: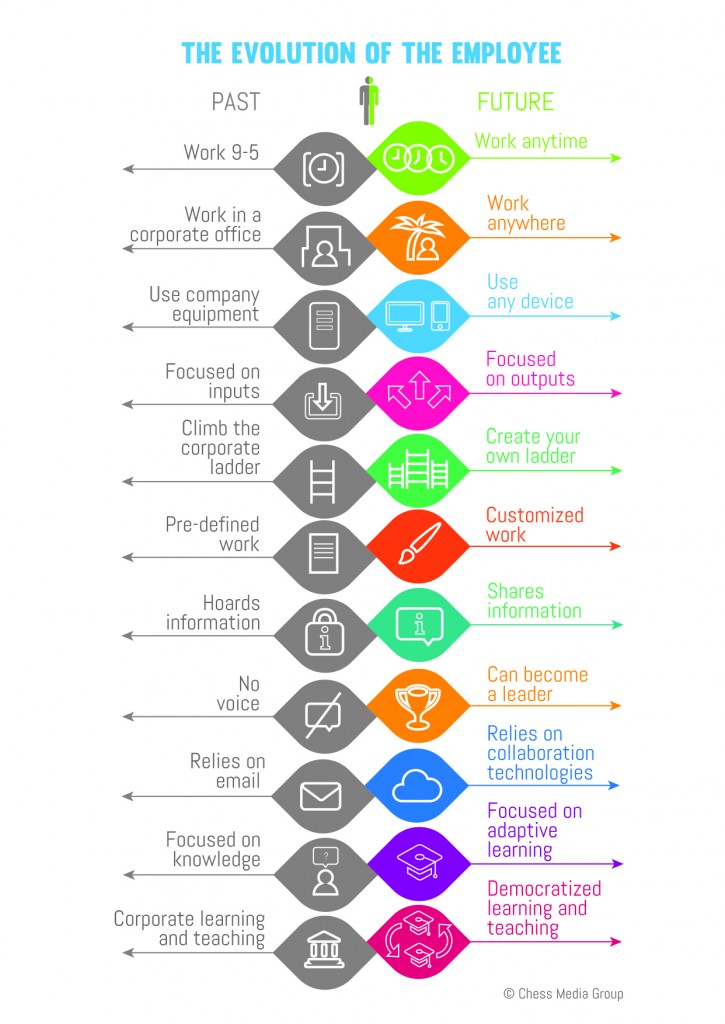 The infographic summarizes the key ways in which the employees of the future will have changed compared to those of the past. As you can see, most of these revolve around flexibility in all its forms: time, geography and working methods. Some of the features also relate to internal communication within companies and to work hierarchies.
What is remarkable from our perspective is just how many of these employee developments will actually rely on, and be a direct consequence of, the introduction of enterprise apps.
If employees wish to preserve quality as well as quantity of outputs, and to have the ability to work from wherever they choose, adopting mobile technology will be key. Only in this way will companies be able to align with the needs of their employees and encourage them to truly engage with their work and to remain within their company. As the future's most valuable assets, those companies that are able to retain and incentivise their employees will also remain the most competitive.
But how exactly do enterprise apps contribute to these developments? Let us look at some of the key ways.
Improving employee engagement with enterprise apps
1. Flexible work
Perhaps the most significant change enabled by enterprise apps is the ability for employees to work anywhere, anytime. Apps such as document libraries, reporting and internal communication apps enable employees to directly access work documents on their devices, to communicate with colleagues and clients, and to submit reports no matter where they are.
This can allow them to get extra work done during 'pockets' of free time on commutes or at remote meetings, or to easily access the files they need if they are stuck home or in a train due to transport breakdowns.
2. Focus on quality outputs
Higher flexibility for employees will consequently lead to a focus on outputs rather than inputs; as employees are given the freedom to work whenever and wherever needed, they are also able to structure their work in whatever ways work best for them, thereby increasing efficiency.
This, coupled with the proliferation of productivity apps, will strengthen employees' focus on what they need to get done, and allow them to figure out the best, most efficient way to do it.
3. Bring Your Own Device (BYOD)
Related to this is the BYOD approach many companies are taking in allowing their employees to use their personal mobile devices for work. By doing this, managers can ensure that their employees always have access to work no matter where they are, as they are more likely to carry their personal devices with them at all times rather than their work devices.
4. Shared information and learning
Whereas before employees held on to what they knew as their most valuable asset, the employees of the future will be more willing to take risks and collaborate in order to achieve better results. Speaking up and coming up with innovative solutions is now encouraged, and employees understand that they can expand their knowledge by sharing and receiving information from their colleagues.
This also applies to learning and training, where employees will be expected to learn from their mistakes, from taking risks and from observing their colleagues, rather than from formal training methods.
There exist a variety of collaboration apps, such as Basecamp, that will be increasingly used by employees, promoting cross-learning and encouraging colleagues to work together on specific projects.
Equally, training apps will become the norm, enabling users to expand their knowledge and skills. In this way, anyone will be able to become a leader in any knowledge field within their reach by simply devoting themselves to it. Companies such as The Tech Partnership are already adopting training apps, to great results and higher engagement among employees.
5. Better communication
Finally, the employee of the future will have long given up on email as an exclusive platform for daily communication with colleagues, also using instant communication apps such as Slack.
Not only do apps offer a faster form of communication, but they are also easily accessible on any mobile device anywhere, and far more efficient than your old-fashioned email. Communication apps also contribute to some of the aforementioned processes greatly, by ensuring that employees working remotely or at different times are able to efficiently contact each other whenever necessary.
In conclusion
We are undergoing profound changes in the way employees are viewed and managed within companies, and at the core of these are the opportunities brought about by the introduction of enterprise apps.
These changes are inevitable, so companies wishing to remain competitive in their industry will need to embrace the new workflows and realignment of time and geography brought about by them.
At this key moment in time, empowering employees by meeting their needs and giving them the tools and freedoms they need to flourish will be key, rather than sticking to old-fashioned methods and restricting employees to the stale rules of old.
As many of these changes are enabled or accentuated by mobile technology and apps in particular, companies should think about introducing them into their business rather than relying on old-fashioned alternatives. Mobile apps bring greater flexibility, and flexibility is precisely what employees need today. It is time for employers to adapt to their employees, rather than the other way around.