Goodbye Intranet. Hello Internal Communications Apps
As a crucial component of most businesses, internal communications is an area which is ideal to be translated into mobile. Up until now, available solutions have left a lot to be desired but this is about to change with the advent of mobile apps.
Executive summary
We've never met anyone that actively likes their intranet. Reactions range from ambivalence to outright hatred. The pain points typically are:
They have the features top management want – not what employees want
They are a dumping ground for corporate information and are impossible to navigate
The content is not relevant to me personally
Providing information is just one element of a good internal comms strategy
Intranets are often only accessible when in the office – mobile doesn't even feature
In contrast – an internal communications strategy is more encompassing:
Demonstrate corporate values – don't just list them
Provide functionality that is genuinely useful for employees
Content and features are created and maintained by employees for employees
Encourages employees to be advocates for the business
If you'd like to see Fliplet's Internal Communications App feature list…
The problem with the Intranet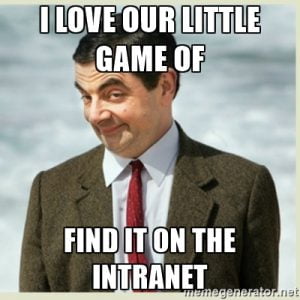 The Intranet has long been the preferred method of knowledge and file sharing within medium and large-sized companies. However, although a very effective method of sharing within the closed network of the office and while on desktops, the Intranet is generally rather unreliable and complicated when used on mobile.
It is more often than not extremely difficult or impossible to access the Intranet remotely. Even in the rare cases that a mobile-friendly version is available, the experience is poor because it's not designed to be practical, but to cover every possible use case at once.
This may not seem like a problem for employees who spend most of their time at the office, but for those who often attend external meetings or who travel for business it most certainly does. Often those traveling are well paid senior people that gain the most from efficient access to the intranet, without access out of the office increases their amount of admin when they are in the office.
There's no advantage in greater numbers…
Another disadvantage of the Intranet is that it is normally managed by large numbers of people. This means that any user may delete or move any file at any time, and often it will be impossible to find out who did so.
Intranets are generally divided into sections which means that users need to go to different places to find the information they need. For example, if they were looking for data on a particular product they would need to get the sales information from one section, the marketing information from another, the case studies from another and so on. This means that a process that should only take a minute drags out unnecessarily.
Despite all these drawbacks, the Intranet continues to be dictated by many businesses as the place to store all knowledge and information, so to better harness the power of the intranet, many businesses are choosing to complement (or even replace!) their intranets with internal communication apps.

How internal communication apps can replace the Intranet
Company Newsletters
A key area of internal communications in many companies is the company e-newsletter. Currently, many companies base their newsletter around the Intranet, creating an email version that simply links back to the relevant sections in the Intranet.
The problem is that, even when users are able to open the newsletter email on their computer or mobile devices, often they will be unable to follow the links from their phones. Moreover, it will be impossible for them to read the newsletter while offline or during potentially productive times like during commutes.
A newsletter app is the perfect solution to this problem. With a company news app, users tap, load the latest content and read whenever and wherever. Another benefit is that management can ensure that everyone is getting access to the same information. Apps can also help newsletters become more engaging via interactive features, animations and other micro interactive features such as charts, diagrams and videos.
Sales
Enterprise apps are good news for all the intranet-hating sales teams out there. With product and service information apps, companies can centralize all sales-enabling information, but that's only the beginning. Here are two examples we've seen in action before:
Cross selling apps – give people across different departments quick access to the knowledge they need to sell other products and services to existing customers
Sales support apps – a collection of the latest versions of all brochures and support sales materials, with a feature to email them directly to contacts
HR, training and development
Many companies put a lot of excellent training and personal development resources on their intranet, only to see that people in the company are not engaging as much as expected. Training apps offer an excellent opportunity for improving engagement rates with training materials. Here are a few examples:
Onboarding – apps can be used effectively for onboarding purposes: new joiners can read about the company's vision and capabilities and learn about HR policies, performance requirements, and more
Ongoing personal development – put your schedule of personnel personal development courses/sessions on an app and allow people to download the support materials for each so they can do preparatory and follow-up reading. Got podcasts or video? Even better, and it will allow people to use commute or dead time productively
Feedback and performance reviews – allow colleagues to track their own performance and job satisfaction in an app that reminds them to submit feedback with a timely push notification
How apps can complement email
Enterprise apps can also improve internal communications by complementing email. Email may not always be the ideal method for communication, but it is still a perfectly robust and efficient one.
Options such as chat-room apps do exist, but these are unlikely to replace email anytime soon. At the end of the day, everyone uses email and it is the business standard; it can be used internally or externally and it is universal.
Where chat-room apps are excelling is in internal communications among employees. Apps such as Slack do this by sending push notifications to notify users of new messages, by enabling group conversations without the risk of someone forgetting to click 'Reply all', and by allowing users to post in different channels of the app depending on the nature of the information. This is definitely a more effective approach when compared to the clunky option of email folders.
Chat-room apps also allow users who are running late to work or who are stuck on their commute to get a headstart on what's happening at the office.
Intranet utilities go mobile
Ultimately, apps can help make every single utility of the Intranet as easy and accessible as possible. Whether vacation requests, contact numbers, policies or expense submissions, apps giving easy access to these files can empower employees to work away from their desk via secure mobile apps.
Apps will still integrate with the Intranet or its backend systems, but an app, in its simplicity, can rapidly allow employees to achieve specific tasks.
Traditionally, an employee wishing to update files on the Intranet while on their mobile device will have to:
Connect to a VPN system, which is often a slow process.
Access the Intranet, which is usually not optimized for mobile.
Search for the relevant files.
Download files one at a time.
Switch apps to edit the file.
Upload files back to the Intranet, which is often an impossible (iOS) or extremely difficult (Android) process.
Instead, apps offer a much simpler alternative:
Download app from the enterprise app store (as a one-off).
Load app and login.
Enter required details into relevant forms.
Data is automatically submitted to the Intranet over a secure connection without the need for VPN (and typically a lot faster because only a small amount of data is sent).
Do you need internal comms apps?
To summarize, the main advantages of internal communication apps are:
Reaching remote staff
Allowing employees to know what's happening at the office from wherever they are
Encouraging more efficient use of 'dead' time during commutes
Enabling staff to work remotely
Facilitating group conversations and instant communication
Ensuring all staff receive the same information
Empowering employees to quickly access all the information they need about products and services
With all these benefits, it is only a matter of time before all companies adopt internal communication apps.