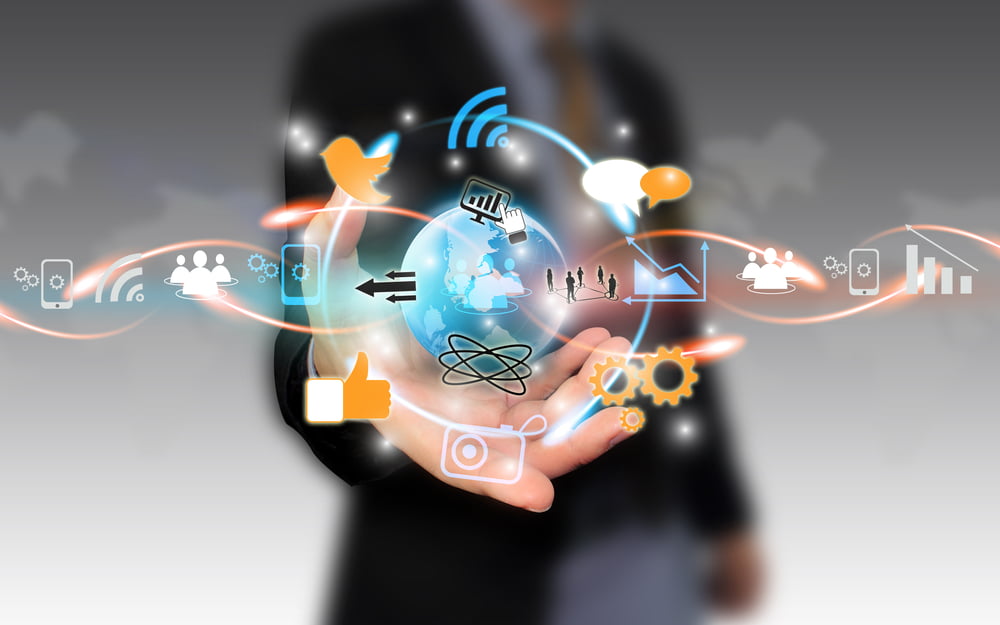 Benesch Law Firm Directory App (Fliplet Case Study)
Centralizing critical business information in a single app for mobile and desktop
An app to rapidly find colleagues

Enabled efficient cross selling between lawyers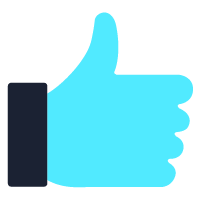 Easily adapted to suit remote working
Background
Benesch is a US law firm focussed on providing legal services to national and international clients, with offices in 6 US cities and Shanghai.
They were looking for a simple solution to meet the increasing demand from lawyers and business areas for a variety of use cases, including a firm directory and reference app, that did not require professional software developers or graphic designers.
Problem
Benesch attorneys were demanding apps to access firm resources, but challenges to deliver included:
Legacy vendor solutions that were never intended to be mobile
Displaying the data in a webpage that looked 'clean' on mobile devices
Several silos of data needed consolidated (for example, HR's employee contact information and Marketing's employees expertise information)
Finding a solution that would meet Benesch security protocols
Finding a solution that wouldn't use existing development resource
Not having a single source for all directory data outside of the office
Solution
"Using the Fliplet directory app template, we were able to get something tangible up and running quickly, as opposed to coding from scratch. We could then easily and rapidly iterate to get the app right."




Bob Thorne, IT Business Process Manager, Benesch
Responding to the growing needs at the firm for access to the firm directory outside of the office, Benesch focussed on one strong use case – the firm directory and reference app.
To ensure the successful delivery of the project and to standardise data collection and processes, Benesch deployed a central employee to manage the end-to-end app creation process, liaising between the relevant firm departments and IT. The central resource has become increasingly critical, especially in a data management capacity, the more complex the solution becomes. Requirements included:
Consolidating previously siloed data sources into a singular data source (Marketing maintains slightly different employee data than HR)
Normalizing data to ensure it works properly within Fliplet's drop-downs and filtering capabilities
Managing and maintaining regular data synchronization to the Fliplet app
They utilized the directory app template in Fliplet to get started and to avoid any custom coding and therefore no software development resource was required. Then once created, the app could be iterated based on feedback from colleagues, ensuring all departmental requirements were met.
The primary features of the app are:
Rapidly find the right people by department, expertise, location, and more
Find attorneys for appropriate state courts
Used by all staff including attorneys and management
Secure access to the firm directory via MDM, including offline on mobile app and on computers via a web app
Locate phone and email contact info for all personnel (including assigned assistants), all practice support groups, conference rooms, facilities, etc
Highlight key details such as birthdays, and new team members
Links to attorney bios on public webpage to access their articles and other key details
Automatically syncs with existing systems to ensure details are always current
Interactive floor plans ensure people can find colleagues and facilities in different offices
A list of services such as office conference rooms, IT contacts, and travel services
Easily adaptable for additional use cases, including increased remote working
"The Directory app is convenient for all our employees and an important productivity tool. In a mobile environment you can readily communicate with everyone in the firm. It has especially been handy in our current work from home environment."




Tim Flanagan, Chief Financial Officer, Benesch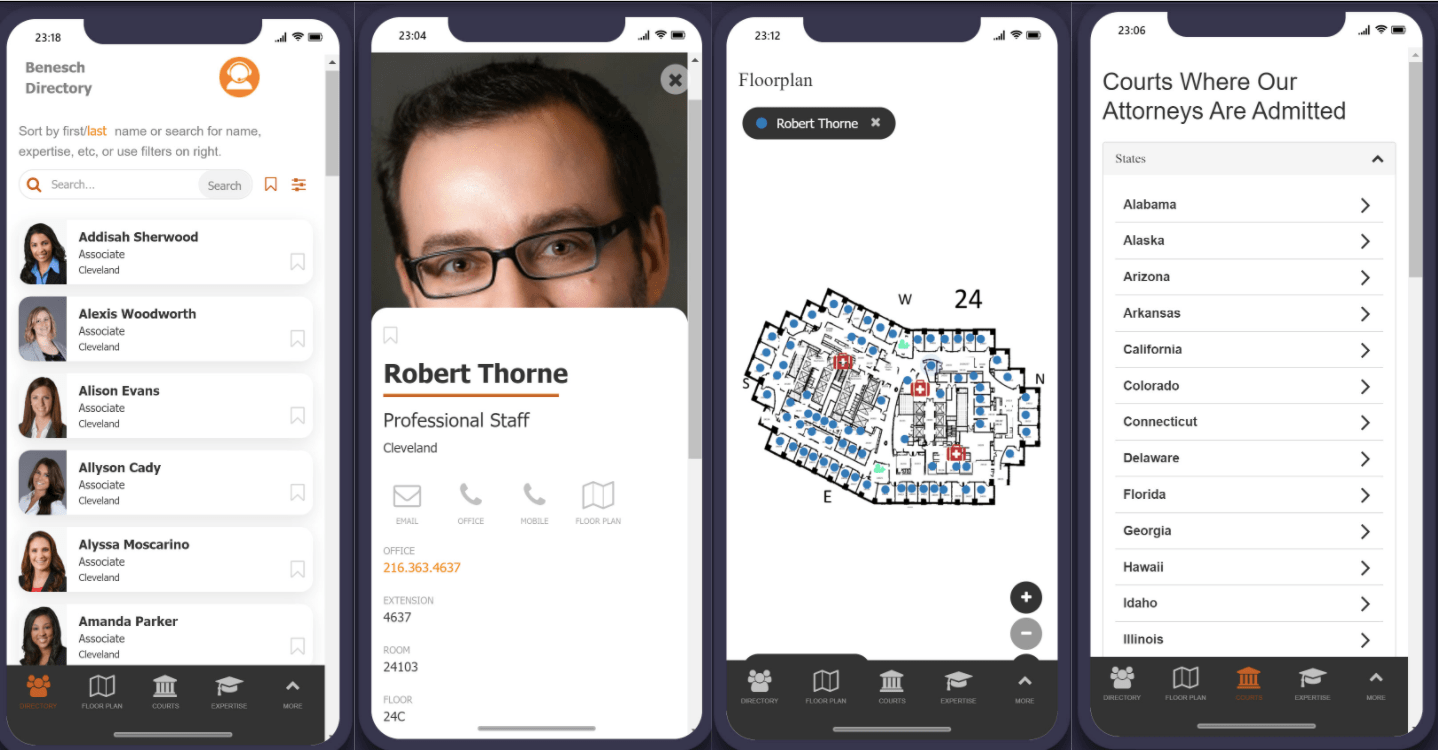 Outcome
The key benefits of the directory app for Benesch are:
Enabled efficient cross selling by making lawyer information available anywhere
The app has broad appeal and high visibility across all areas of the firm
70% of staff have engaged with the app
Usage has increased 48% in the last 90 days, proving to be a valuable tool during increased working from home restrictions
Secure internal apps are published via the firm's MDM (Mobile Device Management) and therefore available on staff devices out of the office
Opportunity for marketing, IT and HR to work together to produce the app, linking up existing data systems, articles and information across the business to one central hub
Ability to continually iterate and optimize the app based on performance analytics, ensuring the app continues to be utilized and engaged with
App data can be easily expanded to include new/modified data points
Directory data can be repurposed across other Fliplet apps, including in some practice group specific solutions
"The ability to add in-stream value to our apps has been a real asset to our Attorneys."




Jerry Justice, CIO, Benesch
Further information
What is Fliplet?
Fliplet enables non-technical and technical people to produce mobile and web apps. Fliplet includes a broad selection of app templates that enable organisations to rapidly deliver apps for staff or customers and are distributed to public or enterprise app stores, and online.
Next steps
Visit our app gallery for inspiration and to find out what else is possible with Fliplet!