Key Information
Job title
Chief Marketing Officer
Department
Marketing
Location
UK
Reporting into
CEO
Role focus
Lead Fliplet's Marketing team and drive our Product Marketing-led growth plans forward.
Working arrangements
9.30am – 6.30pm
Flexible hours and hybrid home / office working available
Who are Fliplet?
Fliplet is the fastest-growing company in the rapid app development technology sector. Used by over 60 leading law firms and professional service companies, our product is unrivalled in the marketplace and as a result, we are expanding, fast.
Fliplet combines the benefits of no-code tools with the feature customisation of open-source software. We are an app building platform with global clients. Most of them are international with over 1,000 staff members. We have over 120,000 users of our technology every month in over 20 countries. Our largest clients are in the law industry, but our client base is continuing to grow and we're looking for people to join us to be part of that story.
This is an amazing opportunity to join a business that is in the relatively early stages of growth, yet has already built a fantastic reputation in the industry.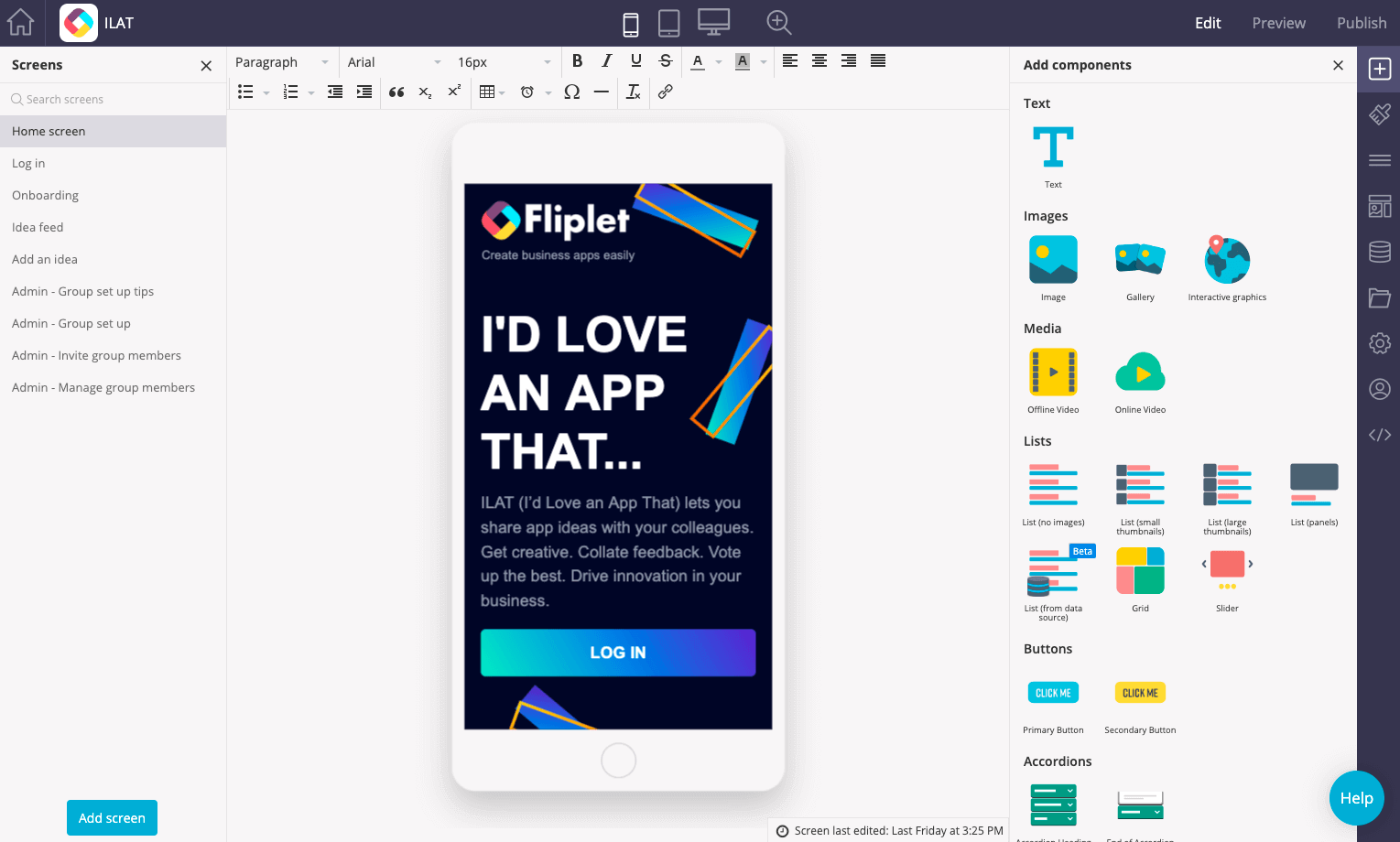 Who we're looking for
We have a huge opportunity for an experienced CMO to lead a recently expanded marketing function, not only in existing sectors, but working closely with the Executive Board to identify new sectors, markets and to execute a Product-led go-to-market strategy, aligning closely and working in tandem with our Sales and Product teams.
Key Responsibilities
Lead a collaborative, results-oriented and data-driven marketing department
Manage, mentor and train the 8 person marketing team
Align global marketing strategy with the sales team to develop and execute dynamic campaigns that drive growth
Develop engaging content aligned with the customer lifecycle to be used across all types of promotion
Segment target markets, refine and improve the product value proposition and implement best market entry strategy
Establish thought-leadership, raise awareness, and educate prospects about Fliplet, our products, services, company, and customers
Optimise marketing spend to drive the maximum amount of high quality leads
Manage all aspects of marketing planning, budgeting, metrics and reporting
Implement a marketing-driven sales process
Utilise campaigns, content (MQLs) and our product (PQLs) to score and qualify leads
Work closely with the Product team to ensure that marketing is promoting what the company is developing
Provide both commercial, product and competitive intelligence to the business
Personal attributes & experience
Experience:
Experience of having led a Marketing team within a high growth B2B Software company working with SMB and enterprise
10+ years of experience marketing to organisations of all sizes.
Product Marketing background and experience generating PQLs
A track-record in a scale-up fast growing company, implementing processes, training colleagues and delivering to targets
Demonstrable experience developing and executing Go-to-Market strategy
A history of delivering high quality leads to the sales team
Experience in an array of Martech software including Hubspot
Track record of building a metrics-driven, highly accountable marketing organization focused on measurable outcomes
Attributes:
Developing, implementing, and overseeing marketing campaigns
Measuring, reviewing and improving the performance and success of marketing campaigns
Establishing marketing goals and objectives and developing and managing the marketing budget
Collaborating with the product development, sales, account management, growth and customer success teams
Staying up to date with the latest marketing innovations, technologies and techniques
Recruiting, training and mentoring the marketing team for improved efficiency
A passion for data and improving conversion at all stages of the sales funnel
A self-starter, organised and self-motivated with the ability to define goals and prioritise your work with a collaborative style
Intellectually curious, problem solver, eager to learn, a persuasive and charismatic change agent
Proficiency with Hubspot CRM (ideally) or similar
Day to Day
This role is vitally important to us and is therefore highly incentivised. You'll have the opportunity every day to educate and build relationships with multiple people within large organisations, as well as our internal teams. Our Chief Marketing Officer is a key foundational hire and needs to be passionate about technology and mobile apps, and know how our products can make a difference to organisations, both internally and externally for their clients.
Perks and Benefits
At Fliplet our team is our best asset. We are surrounded by smart and talented people who value hard work and who always want to improve. So we want to create the best environment we can to empower them. Some of the benefits that help us do this include:
✈️  25 days annual holiday, rising with service, plus 8 bank holidays per year
👩‍🎓  £500 annual budget for your professional development
🍎  £1,000 annual budget towards your health and wellness
🏡  £300 Home working allowance 
🏃‍♂️  £300 Annual charity budget to support your fundraising activities
📈  Share options scheme for full-time employees
📊  A fast-paced, start-up culture where your actions have a significant impact on the business
📚  Ongoing training and development, and the chance to build a career in a growing company
🎉  Great culture: A warm and friendly team, regular socials, team lunches and company events, both in person and virtual
🏡  Flexible working hours, and a mix of home/remote & office working
Diversity
We believe innovation thrives in teams where diverse points of view come together to solve hard problems. We will always seek out those who can bring diverse life experience, diverse educational background, diverse culture, and diverse life experience. We're open to learning how your perspective will bring something unique and valuable to our team.
Interview process
Stage one: Screening call [20 mins]
Stage two: Video call [30-40 mins]
Stage three: Task(s) to work on
Stage four: Presentation interview [1 hour]
Stage five: Interviews with CEO [30 mins] & CRO [30 mins]
Stage six: Meet the wider team [30 mins]
You should apply if what we're doing here at Fliplet excites you and you recognise yourself in our values! If this sounds like you, please email your CV to: careers@fliplet.com
Thank you for your application!