Food Ordering app
In response to the re-opening of restaurants, pubs, bars, cafes and hotels, this app makes it easy for businesses to take food and drink orders and meet Government requirements. All your customers need is their smartphone.
The advantages of this app are:
Contactless ordering for customers to keep staff safe
No download required, just scan a QR code or enter a web address
Browse the menu, and order food and drinks
Simple product management
Contact Tracing securely records customer data and meets privacy law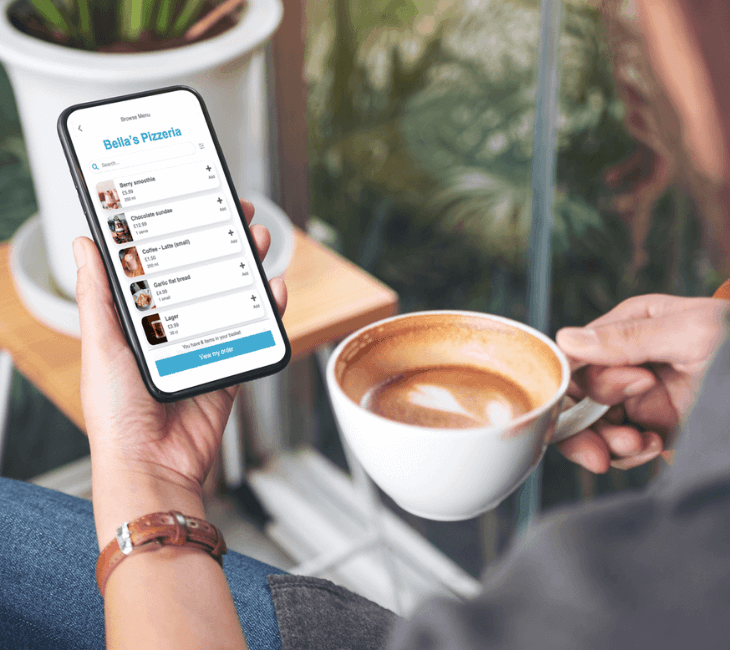 The Benefits

Contactless food ordering
Complies with Government 'Service at the venue' guidelines

Collects Contact Tracing data
Automatic recording as part of the order process

No download required
Access via a web browser on smartphone

Instant orders sent
Staff receive immediately for completion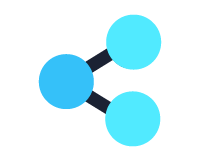 Confirmation via email
Customers receive order & their Contact Tracing information after each order

Completely branded
Tailor the app to your logo and colors

Mobile app available
If you'd like customers to download an app from the Apple and Google app store you can upgrade to gain this feature
Government guidelines
What are the Government guidelines I should conform to?
UK and US state Governments are now mandating in many areas to hold a temporary record of customer details, including name, phone number and email address, and hold them for around 21 days.
For example, on June 23 2020, the England Government updated their guidelines for reopening restaurants, pubs, bars. There are 2 guidelines this solution manages for hospitality clients:
Section 2.1 states:
You should assist [ NHS Test and Trace] by keeping a temporary record of your customers and visitors for 21 days, in a way that is manageable for your business, and assist NHS Test and Trace with requests for that data if needed.
Section '2.2.2 Service at the venue' suggests the steps that will usually be needed:
Encouraging use of contactless ordering from tables where available. For example, through an ordering app.
If you already have a booking system, this will hold the customer data for you.
However if you don't, the Food Ordering app from Fliplet will automatically record and securely store customers data to comply with GDPR and data privacy laws. It gives you the ability to safely access the data if requested to do so by the authorities and delete the data after the appropriate time.
The Features
Browse products & ordering
Upload your products including name, images, allergy information, product highlights, etc
Customers can browse, search and filter products by category e.g. Hot Drinks
Products can be edited anytime and are instantly updated
Customers can add products to their order and adjust the quantities
Customers can see their order details and total price before ordering
Customers receive an email summary of their order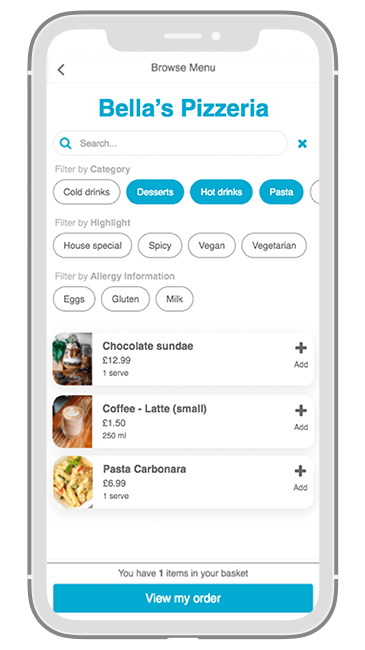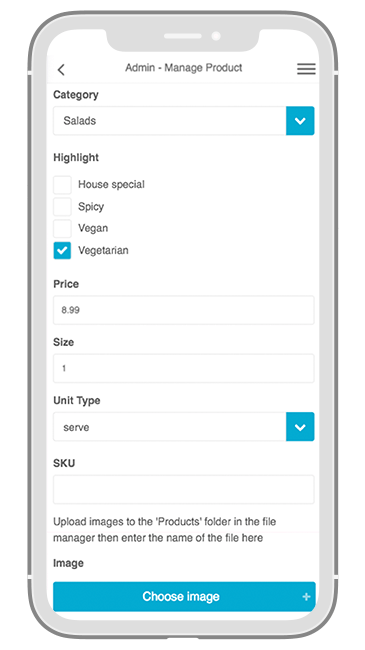 Managing orders
When orders are submitted they are visible on a screen for staff members
The order list can be displayed on a tablet or computer
Orders can be entered into a POS or written down for fulfillment, you do not have to change your current process to use this app
Orders include the table and customer details in case you need to discuss the order with the customer
Orders can be marked as completed or declined once they are processed
Contact Tracing features
The app collects the recommended customer information: name, email and telephone
Staff can access the customer data if the governing body requests it
The app includes a button for deleting customer and order data over 21 days old
Data is stored inline with GDPR privacy laws