Healthcare
3 apps per business built with Fliplet
"Fliplet gives us the opportunity to build high quality apps at a low cost"
Jordan Deuink, Information Management Officer
Case Study: Providence Anesthesiology Associates

Providence Anesthesiology Associates (PAA) is a team of 60+ anaesthesiologists providing care for over 100,000 patients each year at 19 locations in the US.
The Information Management team was investing heavily in growing the company's IT services and one of the top priorities was to enable employees and clinicians to access important tools via their mobile device. They looked at a range of options, including different DIY app builders as well as app developers. The DIY app builders were not able to support the custom integration they required with Box, their cloud storage solution, and the developers were too expensive.
Fliplet allowed both the flexibility and bespoke customization PAA required, all delivered at more competitive costs and timelines than independent developers had estimated. PAA would also benefit from having full control over their content and updates and free maintenance of their apps, which meant they wouldn't need to budget for extra costs in the future."
"One of the top priorities was to enable employees and clinicians to access important tools via their mobile device."
The App
The initial app created by PAA is a dashboard capable of pulling in all the different internal resources that might be required by clinicians and employees into one place. This gives one centralized point of access to all the documents from the internal cloud storage solution as well as from internal mobile sites including surveys and data collection. The PAA Mobile app uses these Fliplet features:
Bespoke customization: PAA had unique feature requirements that they wanted for their app. The Fliplet team made all the adjustments required.
Integration with backend systems: The app pulls in documents from Box, a cloud storage solution, as well as data collected via their websites.
No need for technical skills: After an initial 15-minute training session the team were able to edit the app with no reliance on software development resources.
Offline access: The app is available offline which was an essential feature. It means that employees and clinicians can access the most critical information even without a mobile network or internet access.
Instant app updates: The app needed to instantly display the latest contact information at any time. Apps created with Fliplet can be updated instantly even when listed in public or enterprise app stores.
OAuth 2.0 Authentication: The app needed to comply with HIPAA regulations – so the app uses Box's authentication API to securely control access to the content.
Quick authentication: The team had initially trialed mobile websites which were not available offline and required a password each time the user wanted access. With Fliplet, Providence created an app that uses quick passcode and Touch ID technology to protect the app after an initial login, cutting authentication time by more than half.
Cross-platform compatibility: Making the app easily available on both iOS and Android phones and tablets was another key requirement. Fliplet is compatible with all out of the box.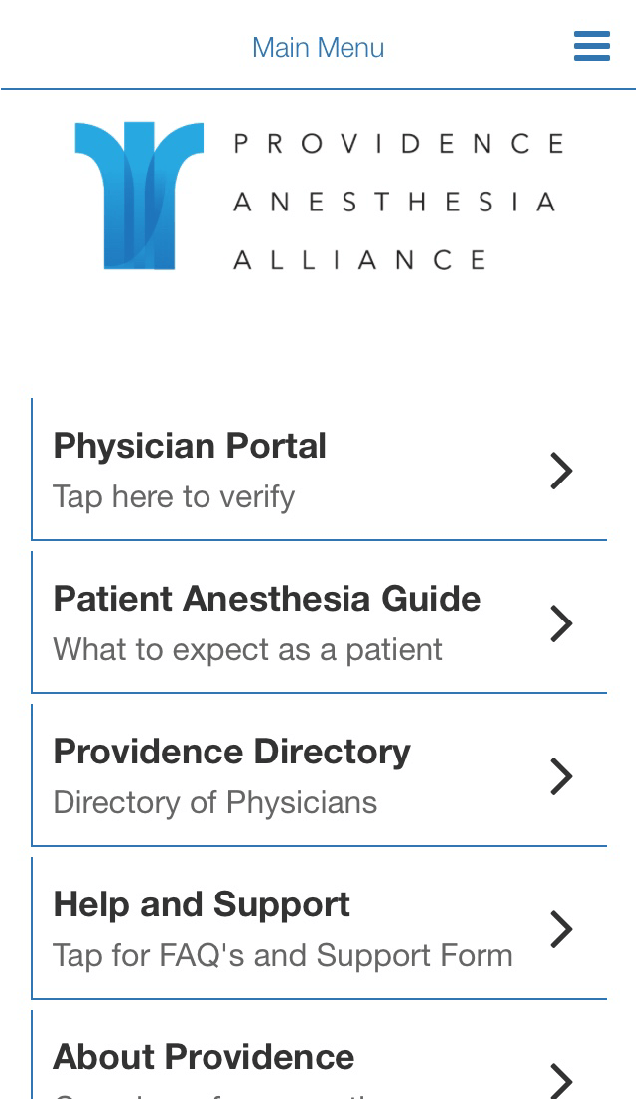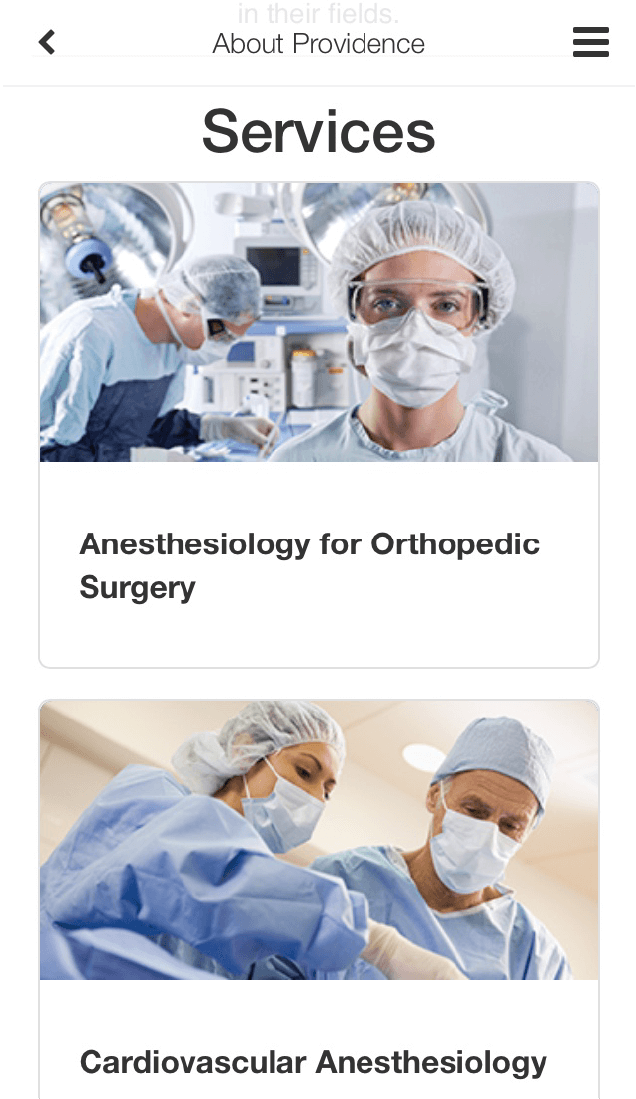 The Result
The PAA Mobile app is now used by all PAA physicians. According to Jordan Deuink, Information Management Officer at PAA, the app has received some great feedback from stakeholders as well as ideas for improvements to the app: "It's great to know we can just push those out in the next couple of weeks without having to rely on developers."
The team is already seeing the benefits of a truly mobile-optimized solution compared to the PDFs and websites they used previously; they are also confident that having one centralized point of information will help physicians save time as well as make it easier for the team to control security.
"It's great to know we can just push [updates] out in the next couple of weeks without having to rely on developers."

Jordan Deuink, Providence Anaesthesiology Associates
Next Steps
After their successful initial app project, PAA is scaling their mobile strategy and are now looking to provide all their clients with bespoke apps. Jordan is delighted as this is allowing PAA to differentiate their offering and add additional value to clients: "We're actually building two demo apps right now to show clients what we can build for them. It's a really big sell."
Within the next six months, the team hopes to have at least four client apps completed, each of which will be used by about 15-40 users. This speed of deployment is made possible by Fliplet's Template feature.
"We can create one template app that can then be scaled really easily using Fliplet – and the content can just be changed to suit the client," explains Jordan. "It took around two days to build the initial template in Fliplet Studio. After that we just need to update the content according to the client and push to the app stores."
"It took around two days to build the initial template in Fliplet Studio. After that we just need to update the content according to the client and push to the app stores."

Jordan Deuink, Providence Anaesthesiology Associates