Senior Backend/DevOps Engineer
| | |
| --- | --- |
| Job title | Senior Backend/DevOps Engineer |
| Department | Engineering |
| Location | Remote working |
| Reporting into | Head of Development |
| Role focus | Software development & DevOps |
| Working arrangements | 9.00am – 6.00pm (Either UK time or EST time) |
Who are Fliplet?
Fliplet is a SaaS startup embarked on a mission to help anyone create mobile or web apps without having any coding skills. Code is optional, it can be drag and drop or it can use Javascript, HTML and CSS. Apps that have been built with our platform include event apps, training apps and marketing apps. We believe there's huge untapped potential that can be realised by allowing a wider set of people to create apps.
Fliplet combines the benefits of no-code tools with the feature customisation of open-source software. We are an app building platform with global clients. Most of them are international with over 1,000 staff members. We have over 120,000 users of our technology every month in over 20 countries. We have worked with a variety of exciting clients such as Colgate, Marriott and Deloitte. Our largest clients are in the law industry, but our client base is continuing to grow and we're looking for people to join us to be part of that story.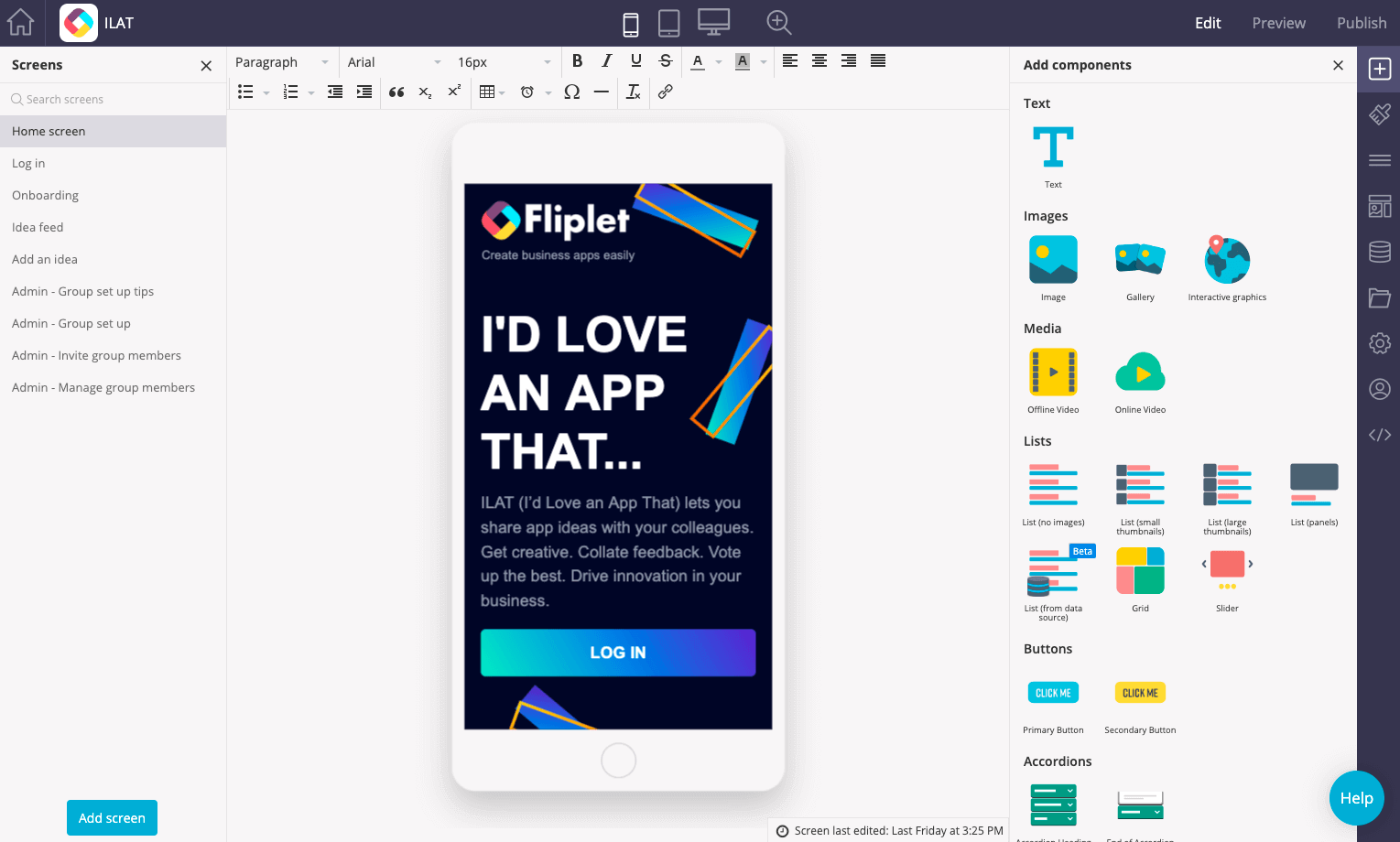 Who we're looking for
We are urgently looking to expand our Product Engineering team. We're looking for a proactive full-stack developer with good experience in a broad range of skills to help us maintain our powerful platform and build new features with the latest JavaScript, native technologies and frameworks on the market.
We're looking for someone with 5+ years of Software Engineering experience, who is familiar with AWS load-balanced backend architectures that span multiple geographic locations.
You will need to have worked with reactive frameworks, and it would be desirable, though not essential, for you to have good knowledge of building and submitting hybrid mobile apps with Cordova and ideally native apps (iOS and Android).
This role is an amazing opportunity to join a growing business that has already built a fantastic reputation in the industry. There is huge scope for career development and great financial rewards – you just need to demonstrate commitment, a fantastic work ethic and a willingness to go above and beyond. We are looking for the very best people to join our team so if you have the experience, the skills and the desire to help Fliplet continue to deliver exceptional growth, get in touch.
Key Responsibilities
Deploy and maintain critical applications on a cloud-native distributed architecture using AWS infrastructure as code via ECS and Fargate, Aurora, Cloudfront, and Docker.
Work with the engineering team to ensure the product remains online and performant.
Database management, performance monitoring, assessment and optimisation-related tasks using AWS Aurora (PostgreSQL) and Redis.
Have on-call responsibilities in rotation with the engineering team.
Deploy and maintain CI/CD pipelines across multiple environments with tools like CircleCI, AWS CodePipeline, Cloudformation.
Personal attributes & experience
5+ years' experience as a backend software engineer.
Excellent communication skills demonstrated through effective reasoning, managing expectations & deliverables.
Good experience with dealing with issues related to scale, security, availability, deployment and server maintenance with cloud computing services such as AWS, Google Cloud etc.
Experience of working in fast-paced environments (e.g. startups).
Experience maintaining & deploying highly-available, fault-tolerant systems at scale.
Practical experience with Docker containerization and clustering (e.g. Elastic Beanstalk).
Experience with Infrastructure as code.
Skills required:
General expertise with AWS services (e.g. ECS, EC2, VPC, ELB, ALB, EBS, Autoscaling, Lambda, SES, S3).
Expertise with AWS CloudFormation or Elastic Container Service or Terraform or Cloudformation.
AWS Aurora or AWS RDS PostgreSQL.
Containers experience: Docker or Kubernetes.
Continuous integration and deployment.
Cloud infrastructure management, database management, performance monitoring and alerting.
Experience with Lambda or Serverless.
Perks and Benefits
At Fliplet our team is our best asset. We are surrounded by smart and talented people who value hard work and who always want to improve. So we want to create the best environment we can to empower them. Some of the benefits that help us do this include:
✈️  Competitive annual vacation allowance, rising with service, plus public vacations
👩‍🎓  £500 annual budget for your professional development
🍎  £1,000 annual budget towards your health and wellness
🏡  £300 Home working allowance for full-time employees
🏃‍♂️  £300 Annual charity budget to support your fundraising activities
📈  Share options scheme for full-time employees
📊  A fast-paced, start-up culture where your actions have a significant impact on the business
📚  Ongoing training and development, and the chance to build a career in a growing company
🎉  Great culture: A warm and friendly team, regular socials, team lunches and company events, both in person and virtual
Diversity
We believe innovation thrives in teams where diverse points of view come together to solve hard problems. We will always seek out those who can bring diverse life experience, diverse educational background, diverse culture, and diverse life experience. We're open to learning how your perspective will bring something unique and valuable to our team.
Hiring process
You should apply if what we're doing here at Fliplet excites you and you recognize yourself in our values! We will review and consider all applications that will do the following:
Email your answers to the following questions to careers@fliplet.com:
Do you have experience with "infrastructure as code" provisioning processes? Please elaborate.
What have been the toughest DevOps and AWS-related challenges you have faced when scaling horizontally the products you have built?
Briefly outline your experience managing, monitoring and deploying CI/CD systems for PaaS/SaaS/API
We will aim to get back to you within 2-3 working days. Unfortunately, Applications without an answer to these questions are unable to be considered.
Thank you for your application!