Product / Technical Solutions Consultant
Key Information
Job title
Product Solutions Consultant / Product Management Consultant / Technical Solutions Consultant
Department
Product / Growth
Location
UK
Reporting into
CEO
Role focus
Be Fliplet's client facing Product guru: liaising between customers and our Product team to validate and deliver innovative solutions and improve ROI.
Working arrangements
8 hours a day, standups from 9am
Flexible hours and hybrid home / office working available
Who are Fliplet?
Fliplet is a SaaS startup embarked on a mission to help anyone create mobile or web apps without having any coding skills. Code is optional, it can be drag and drop or it can use Javascript, HTML and CSS. We believe there's huge untapped potential that can be realised by allowing a wider set of people to create apps.
Fliplet combines the benefits of no-code tools with the feature customisation of open-source software. We are an app building platform with global clients. Most of them are international with over 1,000 staff members. We have over 120,000 users of our technology every month in over 20 countries. We have worked with a variety of exciting clients such as Colgate, Marriott and magic circle law firms. Our largest clients are in the law industry, but our client base is continuing to grow and we're looking for people to join us to be part of that story.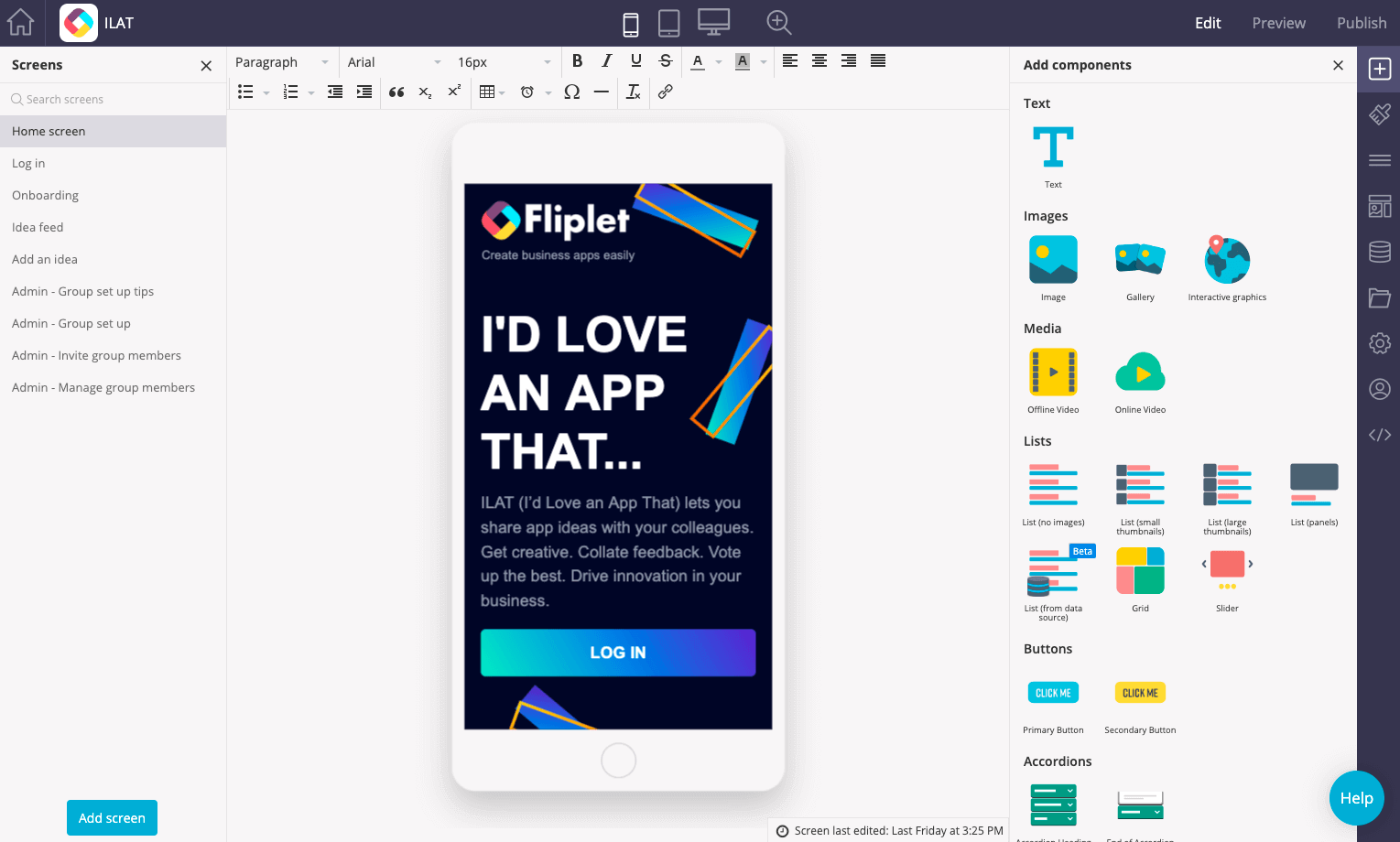 Who we're looking for
We are looking for a Product Solutions Consultant / Product Management Consultant / Technical Solutions Consultant to be the lynchpin between our Product, Growth & Customer Success teams, and our clients in ensuring we constantly assess the market and deliver innovative, valuable solutions for our customers that ensure ROI and scalability.
This role is an amazing opportunity to join a growing business that has already built a fantastic reputation in the industry. There is huge scope for career development and great financial rewards – you just need to demonstrate commitment, a fantastic work ethic and a willingness to go above and beyond. We are looking for the very best people to join our team so if you have the experience, the skills and the desire to help Fliplet continue to deliver exceptional growth, we want to hear from you.
Key Responsibilities

Customers and prospects:
Develop and maintain a deep understanding of our business drivers and our customers through ongoing client discussions, monitoring the market and competitors
Perform user research and market research to define future product features
Work with customers to source and validate new opportunities, research the market, define ROI (return on investment) for the new ideas
Deliver the solution to clients, ensure success, work with the company to deliver the solution at scale, proactively identify and remove risk that inhibits ROI
Internal teams:
Produce prototypes within Fliplet's no-code product to gather feedback from customers and
Work with internal teams to deliver the final solution that will achieve ROI
Define processes and work with with stakeholders in other teams to align expectations and ensure effective product marketing, efficient implementation and optimised user adoption
Monitor product metrics to make data driven decisions and measure RO
Day to Day
In the first three months daily tasks will include:

Learn about our product and company
Become competent prototyping solutions with Fliplet to customers
Begin speaking with customers to learn their pain points and propose potential solutions
By the end of the first year the focus of the role will be:
Have a backlog of opportunities
Meet and deliver ROI expectations
Work closely with a range of clients on different solutions
Support the delivery, training and successful launch of new solutions to the market
Monitor product usage to determine ROI and improve solutions
Work with all teams to define processes to ensure highly effective product launches
Personal attributes & experience
Experience required:
With B2B enterprise products, projects and clients
Working successfully within a startup
Launching products
Managing multiple projects concurrently
Speaking with customers and monitoring the market
Working with C suite stakeholders within clients and internally
Attributes:
Strong communication and stakeholder management skills
Experience delivering successful solutions from idea to delivery
Ability to optimise process to maximise ROI
Analytical and data driven
Ability to ideate and mockup ideas to give direction and share concepts with a team
Ability to easily switch between thinking creatively and analytically
Empathy for customers/users and experience performing user interviews
KPI and metric driven
Perks and Benefits
At Fliplet our team is our best asset. We are surrounded by smart and talented people who value hard work and who always want to improve. So we want to create the best environment we can to empower them. Some of the benefits that help us do this include:
✈️  25 days annual vacation, rising with service, plus 8 bank vacations per year
👩‍🎓  £500 annual budget for your professional development
🍎  £1,000 annual budget towards your health and wellness
🏡  £300 Home working allowance 
💻  Choice of Mac or Windows computer
🏃‍♂️  £300 Annual charity budget to support your fundraising activities
📈  Share options scheme for full-time employees
📊  A fast-paced, start-up culture where your actions have a significant impact on the business
📚  Ongoing training and development, and the chance to build a career in a growing company
🎉  Great culture: A warm and friendly team, regular socials, team lunches and company events, both in person and virtual
🏡  Flexible working hours, and a mix of home/remote & office working
Diversity
We believe innovation thrives in teams where diverse points of view come together to solve hard problems. We will always seek out those who can bring diverse life experience, diverse educational background, diverse culture, and diverse life experience. We're open to learning how your perspective will bring something unique and valuable to our team.
Interview process
Stage one: Screening call [15-20 mins]
Stage two: Initial task based on common PM scenarios [1 hour]
Stage three: Task response interview [60 mins] – review answer to task and answer their questions about the role
Stage four: Second interview [In person or remote, 1 hour] – to assess attributes below
Stage five: Final interview with broader team [30 mins]
You should apply if what we're doing here at Fliplet excites you and you recognize yourself in our values! If this sounds like you, please email your CV to: careers@fliplet.com. We will review and consider all applications that answer the following:
What methods do you use to collect information from customers regarding changes they want to the product?
Describe a feature you recently launched and how you ensured it achieved return on investment.
Thank you for your application!