Empower your employees to work better together with our Directory solution
Increase employee productivity and internal communication such as directories, org charts, status updates, event information, and much more.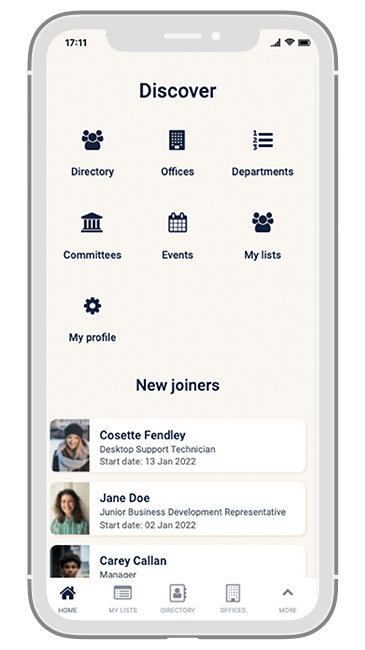 Organize, manage and engage with employees
Build a directory app that allows you to communicate with your staff at all levels. 
Find people in your organizaiton
Our organizational chart is instantly updated and easy to browse on any device, in any region, at any time.
Learn more about your colleagues
From the chain of command to meeting agendas and reports, enter into meetings fully prepared.
Make your travel a breeze with a guide at your fingertips with information like weather, parking, and floorplans.
See a list of available meeting/conference rooms per office, including capacity and the facilities provided.
Events
Find and register for events across the board from training to social get-togethers, office meets, and more.
One click takes you to email, phone, chat and other 3rd party platforms like Teams or Jabber to contact your colleagues.
Custom group lists
Streamline your communication and administration by creating custom lists of the people in your organization.
My status
Let your colleagues know what you need them to do by creating your own user status for sick leave, vacations, and more.
The pandemic highlighted the need for an up to date, cross-device solution for reaching the entire organization. In the increasingly more hybrid world, employees need to be empowered to make decisions and communicate openly with peers. Having access to essential information about their team, company and projects is key to increasing day to day productivity and engagement. Although many organizations have staff directory systems on their intranet or in outlook, they usually offer limited information and features, and aren't always easy to access or update.
Our Directory Solution enables employees to quickly find key people in the organization, contact them or learn more about their hobbies and interests. It is packed with features that aim to increase productivity and communication such as directory, org chart, status updates, event information, meeting rooms and offices, and even an interactive floorplan to manage the return to office.
The Directory Solution also allows employees to:
Have visibility over the company structure with an up to date organisation chart.
Build stronger connections with colleagues by having easy access to their interests, experience, skills and more.
Be more productive by enabling them to quickly browse through facility and meeting room availability and office locations.
Collaborate efficiently by creating custom contact lists for projects, events, social activities.
Create and update their user status, such as sick leave, vacation, maternity leave.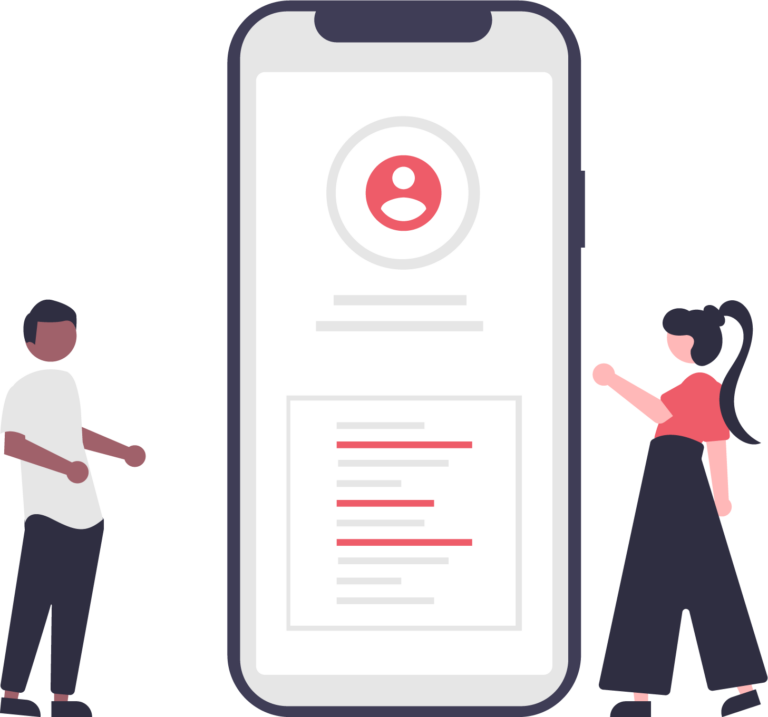 Easier access to staff, office and other company data means time & effort isn't wasted on simple tasks.
Keep all users informed on the latest news with one-click notifications through email, push or sms.
Employees have easier access to relevant staff details when providing proposals to customers.
Enforce a transparent culture by giving simple access to all employee information, org chart and office details.
Improved data and status information will reduce staff being contacted incorrectly.
Enable your staff to build stronger relationships by adding personal information in their profile.
Search and filter contacts
Search for people within your organization or if you are unsure who you're looking for, filter down by department, titles, education, skills and more.
Get to know your colleagues by adding option information such as pronouns, pronunciation, expertise, skills, languages spoken, recent projects, certifications, social media links.
Browse through the different office locations, check floorplans and stay informed on travel updates.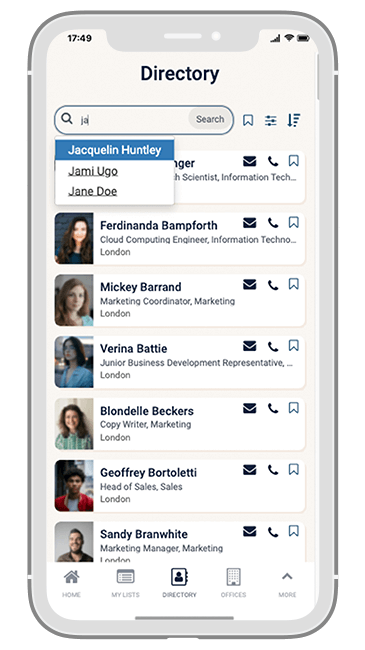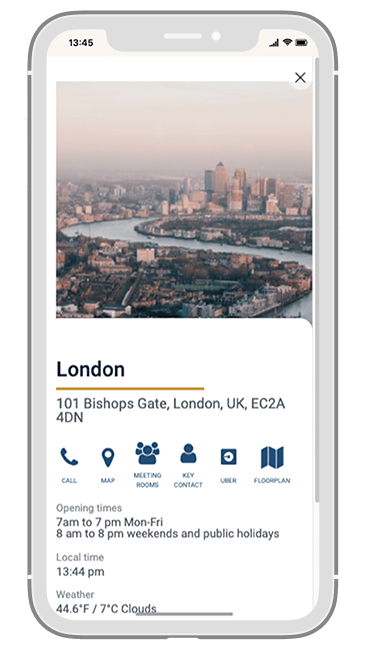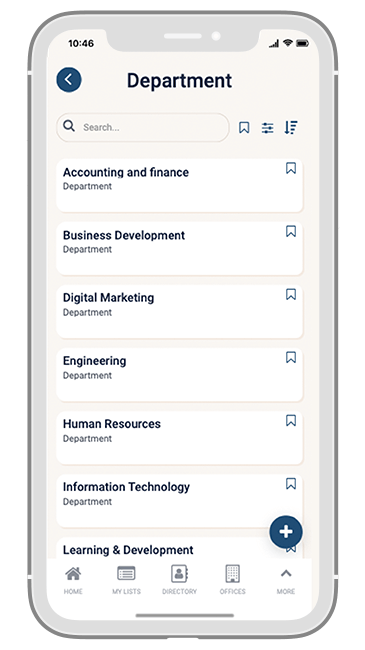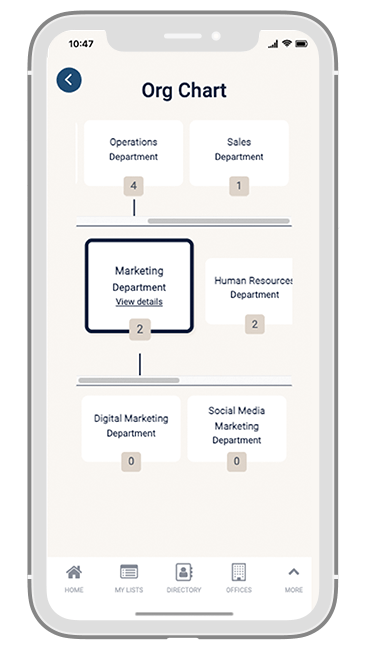 Easy to update org chart that gives visibility over who reports to whom and how departments fit together.
Departments and other groups
Setup groups, including departments, committees, social clubs and project teams. Assign roles and hierarchy within those groups.
Check meeting room availability and stay on top of what facilities each room offers across different offices and locations.
Browse through the available events and event details including the event dates and times. Admins can add events, locations, description and relevant links.
Create user lists based on projects and departments, simplify communication and easily notify users on different lists.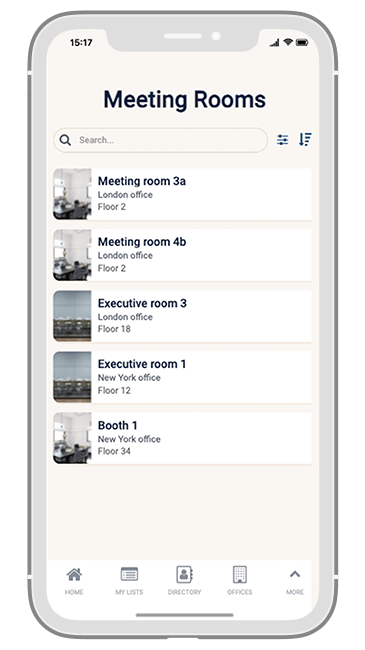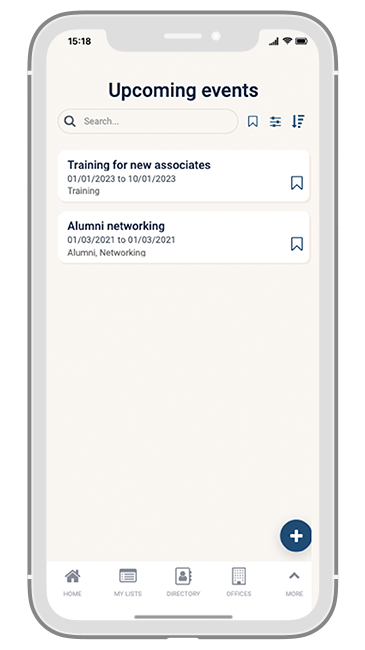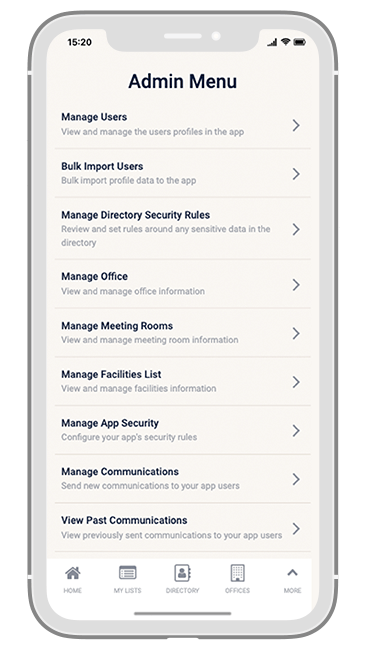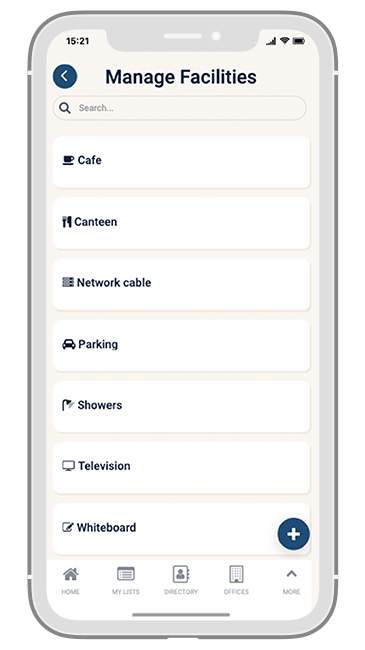 Easy to set-up and configure with custom design, branding and themes to ensure each app is unique.
Admin features
Easy setup and app management ensures the app is simple to maintain and minimizes the internal demand on your team. 
Make sure you understand how your app performs by reviewing usage data and analyzing user behavior.
Fliplet directory Solution demo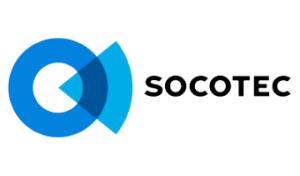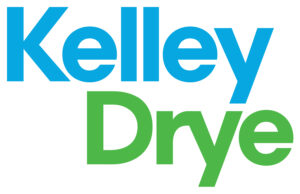 "The Fliplet application development platform has mostly been used for creating event/ training apps to support individual and group learning objectives, with all the app creation done by people outside of the IT organisation."
Andrew, Senior Enterprise Architect
"The Fliplet studio is extremely intuitive and makes it very easy to build very sophisticated apps. The components for building apps are constantly improving and evolving. An additional analytics feature that has been recently added makes tracking usage of the app very easy - we no longer need to use Google analytics."
Ken, Manager
"The software is easy to use and navigate. The support provided by the Fliplet team is extremely helpful, and they are always on hand to provide support where needed. From someone with no technical background in apps/programming, I find this software straightforward. Where I do encounter problems, the team quickly assist me."
Lily, Trainee Consultant
"Fliplet provides brilliant account management. I am new to the world of app building, and the team has been brilliant in showing me the ropes. The Fliplet studio is a great platform that is really easy to use with drag and drop. They are ever-evolving and implementing new features. Fliplet has a handy help area. "
Emma, Digital Marketing Assistant
"Our business wanted to develop a suite of apps to help match competitors in the space and Fliplet has helped us to achieve this in a simple and straightforward way."
John, Business Manager
"The benefits are vast and apps are always so much more exciting and engaging than typical platforms. Fliplet means we are able to push content out quickly to adapt and react to anything we need to as a business."
Grace, Innovation Engagement Advisor
Fliplet enables non-technical and technical people to produce mobile and web apps. Fliplet includes a broad selection of prefab app templates that enable businesses to rapidly deliver apps for staff or customers and are distributed online and to public or enterprise app stores.
Let's talk about unleashing your imagination with Fliplet...