Cultivate Culture and Keep Your Teams Connected 
Fliplet ensures your team members are always connected, improving employee engagement and internal communication.  Users can access company directories, get in touch with colleagues, and acclimate new hires to company culture.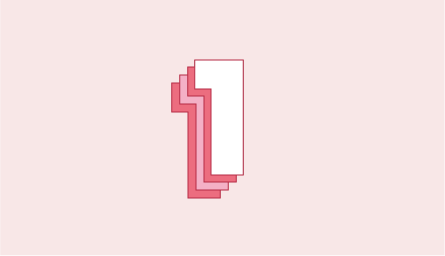 Build Comradery and Foster Connections
Allow team members to express themselves by highlighting interests, experiences, and skills.
Employees across departments can engage in shared interests and competencies, bridging together departments and teams that may have been fractured by remote and hybrid work.
Collaborate and Communicate on the go
Efficient collaboration starts today. 
Collaborate efficiently by creating custom contact lists for projects, events, and social activities. Encourage users to update statuses to indicate holidays and sick leave.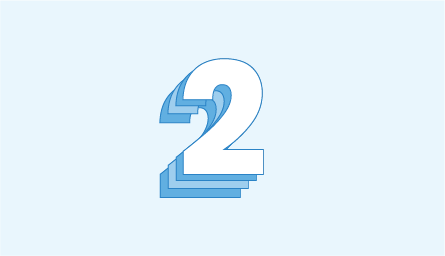 New Levels of Visibility and Productivity
Center the user experience around transparency. 
Make sure users know where they stand in the organization with visible, evolving org charts. Ensure they can always create a space for themselves and their coworkers with an interactive check-in list of building facilities and available rooms.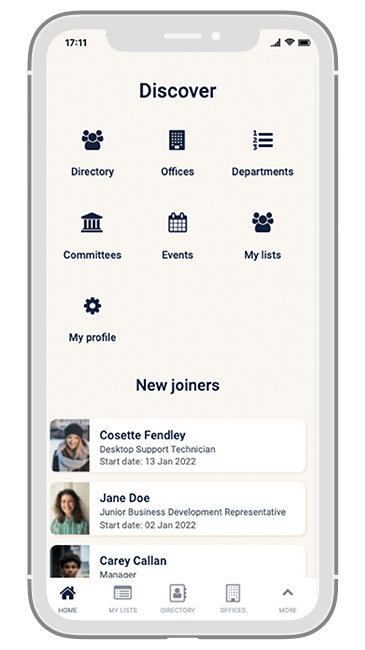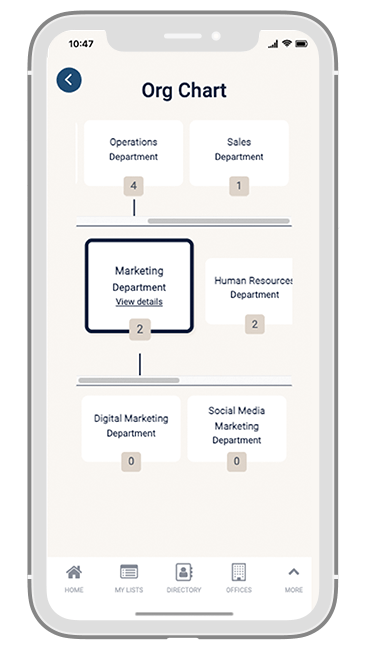 Your New Company Intranet
Fliplet's Directory template is a step-above the old-school intranet. Localize org charts, workflows, and company communications to your organization's app. 
Your Success, Is Our "Job Well Done"
Did you know organizations across industries are already expanding their brands with Fliplet? 
Indulge in some of our case studies and content to learn how people are using Fliplet to change the way they do business.
See what our customers think
"The Fliplet application development platform has mostly been used for creating event/ training apps to support individual and group learning objectives, with all the app creation done by people outside of the IT organisation."
Andrew, Senior Enterprise Architect
"The Fliplet studio is extremely intuitive and makes it very easy to build very sophisticated apps. The components for building apps are constantly improving and evolving. An additional analytics feature that has been recently added makes tracking usage of the app very easy - we no longer need to use Google analytics."
Ken, Manager
"The software is easy to use and navigate. The support provided by the Fliplet team is extremely helpful, and they are always on hand to provide support where needed. From someone with no technical background in apps/programming, I find this software straightforward. Where I do encounter problems, the team quickly assist me."
Lily, Trainee Consultant
"Fliplet provides brilliant account management. I am new to the world of app building, and the team has been brilliant in showing me the ropes. The Fliplet studio is a great platform that is really easy to use with drag and drop. They are ever-evolving and implementing new features. Fliplet has a handy help area. "
Emma, Digital Marketing Assistant
"Our business wanted to develop a suite of apps to help match competitors in the space and Fliplet has helped us to achieve this in a simple and straightforward way."
John, Business Manager
"The benefits are vast and apps are always so much more exciting and engaging than typical platforms. Fliplet means we are able to push content out quickly to adapt and react to anything we need to as a business."
Grace, Innovation Engagement Advisor
Interested in building an app without coding?
Speak with a Product Expert