Ensuring a safe and smooth return to the office.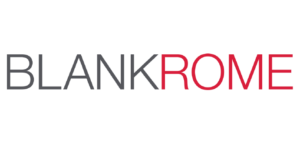 Fast development, built within five weeks

Rapid response to change in guidance
High levels of adoption and engagement
Blank Rome is an Am Law 100 global law firm with 14 offices and more than 600 attorneys and principals who provide comprehensive legal and advocacy services to clients operating in the United States and around the world.
Underscoring the firm's commitment to employee health and safety, Blank Rome developed BReturn, a practical tool for employees to return to the office with ease and confidence, both during and following the Covid-19 pandemic.
"Some people want a quiet work environment where they can get away from distractions caused by working at home, and others have a specific need to be in the office."
After an extended time working remotely, some employees were ready or had a need to return to the office when the option became available again. Blank Rome sought to find a simple and efficient way to enable employees to do this while keeping their health and safety during the pandemic a top priority.
For employees to return to the office, the firm needed to be able to:
Ensure employee health and safety during the Covid-19 pandemic
Manage social distancing requirements by facilitating space and desk booking ahead of time
Track contact between employees in real time through checking in and out of different spaces around the office
Keep employees up to date with latest guidance and office statuses
"BReturn will make it possible for a limited number of employees to visit the office now and make for a smoother transition when it is safer for more employees to come to the office in the future."
With these key priorities in mind, the firm launched BReturn, an innovative app designed for employees to return to the office.
Led by Brad Miller, Director of Technology Innovation and Information Services at Blank Rome, the app was developed in just five weeks, piloted in June 2020, and rolled out firm-wide in July 2020, via their MDM (mobile device management solution) and their intranet platform.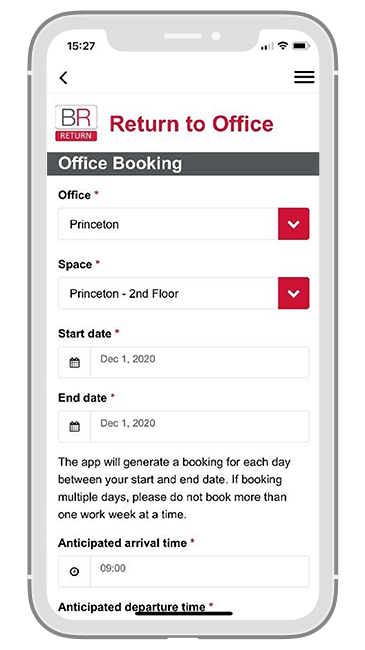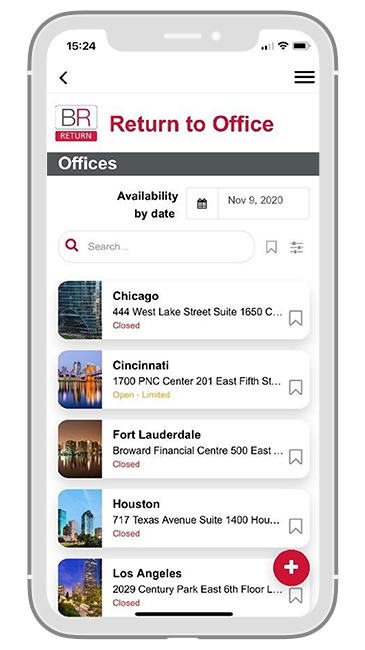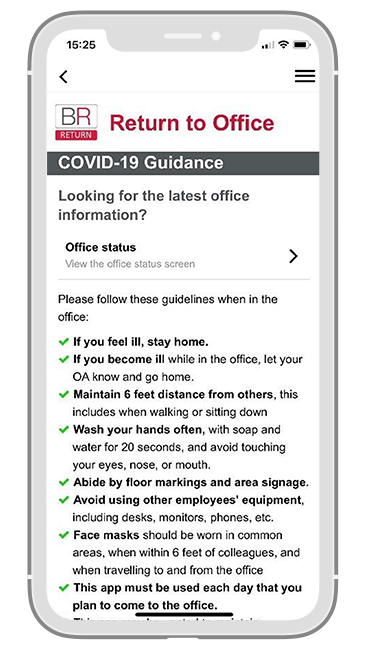 "What makes the Fliplet platform most effective is its ease of use. BReturn was intentionally designed with a simple and clean interface that's extremely intuitive to use and serves as an accessible one-stop-shop for everything employees need to return to the office."
BReturn offers the following benefits for employees and management:
Ensures social distancing: management can set capacity limits and staff are required to book time in the office in advance
Rapid look at staff location: employees are required to check-in and check-out using the app and Office Administrators can see who is in the office at any time
Different rules for different offices: unique office rules and regulations are listed through the app by status and notes
Information flow: shares up-to-date Covid-19 guidance and information to employees at all times
Manage differing location requirements: with 13 U.S. offices and one international office in Shanghai, Office Administrators are able to set different capacities for different areas and locations
Real-time notifications: alerts can be sent out via SMS, e-mail, push notifications, and in-app notifications for space and desk booking requests and the latest news
Integration with existing databases or systems: uses integration to sync their employee data
Data capture: logs bookings and check-ins for auditing purposes
"BReturn allows employees to book time in the office, check the office status, and check in and out during their visit. On the firm management side, we can download this important data from the app into our internal platforms. It's a win-win for both employees and management alike, and, most importantly, ensures the health and safety of everyone."
Four months since the firm-wide launch of the app, BReturn has helped hundreds of employees safely return to the office and has allowed Office Administrators to efficiently manage the process.
The key benefits of BReturn are:
Fast development: The firm's in-house team built and deployed the app firm-wide in just five weeks
Agility: Management can quickly and effectively respond to Covid-19 guidance changes, keep staff informed, and change policies and procedures accordingly
Delivering duty of care for staff: Ensuring staff confidence and safe return to the office
Data management: Check-in and booking data can be downloaded to internal platforms for firm management
Employee engagement: In the first four months, the app has had:

665 unique users
15,816 total user sessions
6,574 office bookings
5,210 office check ins
"From the management side of the app, there are administrative features that show bookings, who has checked in and out, and other data to properly manage staff and social distancing. It gives me an on-demand view of who is in the office at any time, so I can manage all aspects of work in the office, remotely."
Under Brad Miller's leadership, Blank Rome has recently launched five apps using the Fliplet platform, including BReturn and their Covid-19 State Impact Tracker and has several more in development.
The Return to Office app has evolved into the Remote and Office Management Solution. Ready to learn more?