Workflow and process logic
Working with triggers, actions and conditional logic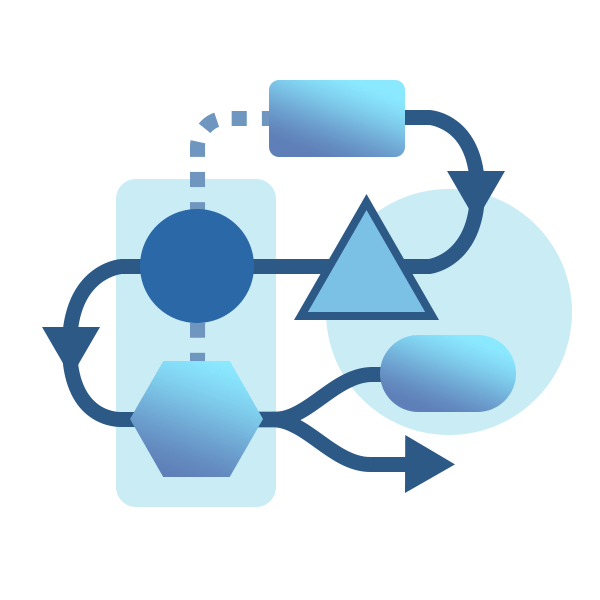 While creating a Fliplet app you may want to automate changes based on a user's actions eg: based on a user's answer to a question you may want to show a different screen. For this you'll need to use Fliplet's workflow logic. Workflow options can broadly be broken down into the following groups:
Triggers - inputs that start a workflow eg: clicks, swipes, screen changes
Actions - the actions to take eg: update screen content, send a notification, save data
Conditions - switching actions based on an input eg: "if this is true then do that"
Data storage and retrieval - work with stored numbers, text strings, files and contextual values (eg user ID or current time)
Manipulating data and custom functions - data calculations and manipulations, if statements and loops, time and date manipulation
To maximise versatility, Fliplet offers a "low-code" approach to workflow features. We provide Javascript based APIs and code snippets to allow users to manipulate app screens, data and components. A full list of Fliplet's APIs can be found on our Code Library. A summary of the potential options is provided below.
How to create a workflow
For all but the simplest workflows you will probably need to use Fliplet's developer options. Despite the name you do not have to be a developer to use these. While some workflows will require you to understand Javascript most can be created by copying and editing standard code snippets. And if you get stuck you can always chat to our Customer Success team via the help button in Fliplet Studio.
Fliplet's developer options can be found in the right hand menu of Fliplet studio. They provide three areas to add HTML, CSS and Javascript (as well as code libraries). For examples of the code snippets you can use to interact with Fliplet apps please see our Code Library.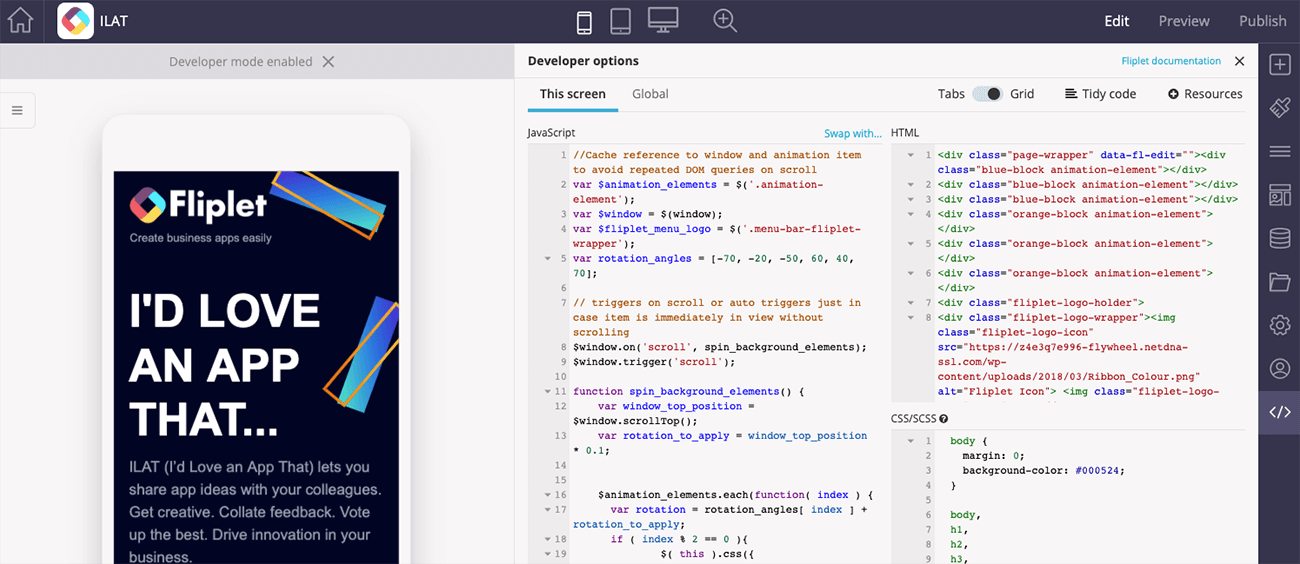 Triggers
Triggers are the inputs that start a particular workflow process. They typically originate from a users interaction with an app but can also be time based. Some of the common triggers available through Fliplet are:
Screen load (run when a screen is viewed)
Gestures (triggered by taps, clicks, swipes, buttons)
Form submission (triggered when an answer is submitted)
List item selection (on tap of a specific list entry)
Time based (repeated every '#' of seconds, triggered at a certain time, triggered after a certain delay)
User status update (eg a user logs in or out)
It is also possible to ensure the triggers above are fired every time or only the first time an input event occurs.
Actions
Actions are the output of a workflow. These are specified in code via the developer options so can be tailored to your needs. Common actions that Fliplet allows include:
Go to a new screen or open an overlay
Save, retrieve or edit data from the device, Fliplet's datasources or a third party database
Change a screen's content (eg, display, hide, update)
Send notifications, emails or chat messages
Run a custom function defined in the developer options
Conditions
Conditions check on a user or app's status before performing an action eg: if a user has admin rights then perform a certain action. Conditions are typically implemented with Javascript in the developer options. Common examples include:
Check data - True / false, empty / not nil, value equals, <, >, String contains, date equals etc.
Check status - User type, logged in?, device type, current time etc.
Data storage and retrieval
It's possible to store, retrieve and update data at several levels with Fliplet apps. Data can be stored locally on a device, on Fliplet's cloud data sources or on third party databases via an API or data service integration. A more detailed description of data storage options is provided here.
Fliplet also provides access to 'environmental' variables that are automatically updated by Fliplet's infrastructure. These environmental variables include:
User ID and user type
App ID and screen ID
User log-in status
Local date and time
Device type and screen size
Manipulating data and custom functions
Data manipulation and custom functions can be created within Fliplet's developer options. The developer options allow users to leverage the power of custom Javascript, HTML and CSS (as well as install code libraries such as jQuery or Bootstrap). Custom code can be executed at an individual screen level or globally across an app.
Learn more about Fliplet's workflow features
If you have a specific question you can chat with Fliplet's customer service team using the blue help button in Fliplet studio. If you're not a Fliplet studio user already you can create a free account here. For a list of Fliplet APIs (code used to interact with Fliplet apps) please see our developer site. For all other enquiries please contact us at hello@fliplet.com.
See what our users think
"I love the fact that fliplet offers a code-free option as well as pro/developer options. The team is absolutely fantastic and will help with any & everything within 24 hours. It's easy to use for building enterprise mobile and web applications. The fact that I could automatically deliver modifications and updates to the app as I was building it is one of the best features for me (none of the, "once you're done you're done you can't edit" pressure)."
"So easy...yet so powerful. We have used Fliplet to build an internal communications tool. This tool allows our entire organization of almost 200 spread across the globe to easily communicate and share information. Fliplet allows us to quickly post and update content."
"Fliplet allowed us to implement the mobile component of our Integrated Risk Management application with out the need to spend hundreds of thousands of dollars on development."
"Easy to use for building enterprise mobile and web applications. Drag and drop app builder, with straight-forward functionality configuration [...] used for creating event/ training apps to support individual and group learning objectives, with all the app creation done by people outside of the IT organisation."
"Game changer for app delivery. We needed an agile app platform with a rapid delivery mentality."
"The support provided by the Fliplet team is extremely helpful, and they are always on hand to provide support where needed. From someone with no technical background in apps/programming, I find this software straightforward."