Why use a prefab app builder?
A better way for businesses to create apps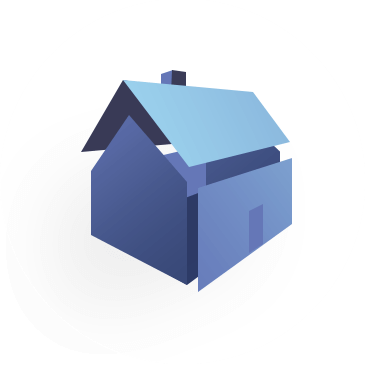 In short - a prefab app builder allows you to create custom apps from prefabricated open-source components. They combine the benefits of no-code tools with the feature customisation of open-source software. The prefab components can include the content of the app (eg: logins, images, dynamic lists, buttons etc) but also the app infrastructure (eg: app security, data storage, APIs, app analytics, cross device compatibility etc). Prefab app builders sit between app development tools (which are powerful but require specialised technical expertise to use) and app template tools (which are easy to use but the ability to customise features and design is heavily limited).
What are the key benefits of prefab apps?
Save a huge amount of time by not creating and maintaining common 'prefab' app components (such as login-ins, mobile and desktop compatibility, app security, user analytics, encrypted data integrations etc). Fliplet apps are typically ready to pilot in under 4 weeks on mobile and desktop.
The components are automatically maintained for you for new devices and operating system updates (eg, the apps are automatically updated when Apple brings out a new operating system, a phone screen with a notch in the top or a security patch).
App creation and maintenance is much simpler and can be done by non-developers. This takes the pressure off IT and enables the business units to update and improve their own apps.
The low resourcing requirements mean a business can create and maintain 10s or 100s of custom apps (eg, one per team, per key client or per marketing campaign)
The prefab components evolve and new features are continually added as Fliplet is continually enhancing its platform. You don't have to lift a finger to benefit from these new features.
The friction to creating apps is so low that new business use cases become viable and the ability to prototype and innovate is greatly increased. Apps can be created for specific clients or for events in less than a week
Prefab apps have fewer bugs and are more scalable as they've been stress tested by hundreds of other users already.
The speed of digital transformation is hugely accelerated. App projects are reduced from years to weeks. Teams get the tools they've been asking for faster. Operations become more efficient.
IT teams can still extend the platform with custom code and retain control over app publishing, privacy and security.
A bit of background...
It may help to put this into context. Prior to prefab app builders if you wanted an app you only really had two options. You could either buy an off-the-shelf template app or develop your own app from scratch.
Unfortunately templated apps rarely offered all the desired features nor did they allow for the design and UX flexibility required to create an app with a professional feel. This basically meant the only feasible way to get a professional quality app was to develop your own.
The catch with developing your own app was that you needed to hire a developer or typically several developers if you wanted an Apple, Android and web app version. A lot of the effort would be spent on creating login systems, security and other app infrastructure that didn't directly contribute to the purpose of the app. Developing components from scratch meant that they were more prone to bugs. Not only that, keeping up with shifting business demands and mobile device updates meant that owning an app became a full time maintenance job for the developers rather than a one off investment. The friction to app creation meant that most businesses let their apps fall by the wayside and very rarely did they attempt to do more than one app.
The solution: Prefab apps
Under the hood most apps have a large amount in common - eg, you'd like them to operate on different mobiles, tablets and desktops; strong security features would be good; you'd like to have analytics to see how engaging the app is; you need a way to store and display data etc.
It's very inefficient building these common features from scratch, especially when they have been built so many times before. The only thing you need to create are the features that make your app unique. It turns out that this is a relatively small piece of the pie. And even better - it's often possible to create the majority of the unique features without code. This means that the business functions that used the app could be responsible for updating it and tailoring it to their needs. IT is only typically required to check the quality and security of the apps. This means IT are able to leverage their resources and oversee a much larger number of apps than they previously could. Ultimately the business is the winner as apps can be created to support sales, marketing, HR and operations teams. Apps can even be created for customers and clients.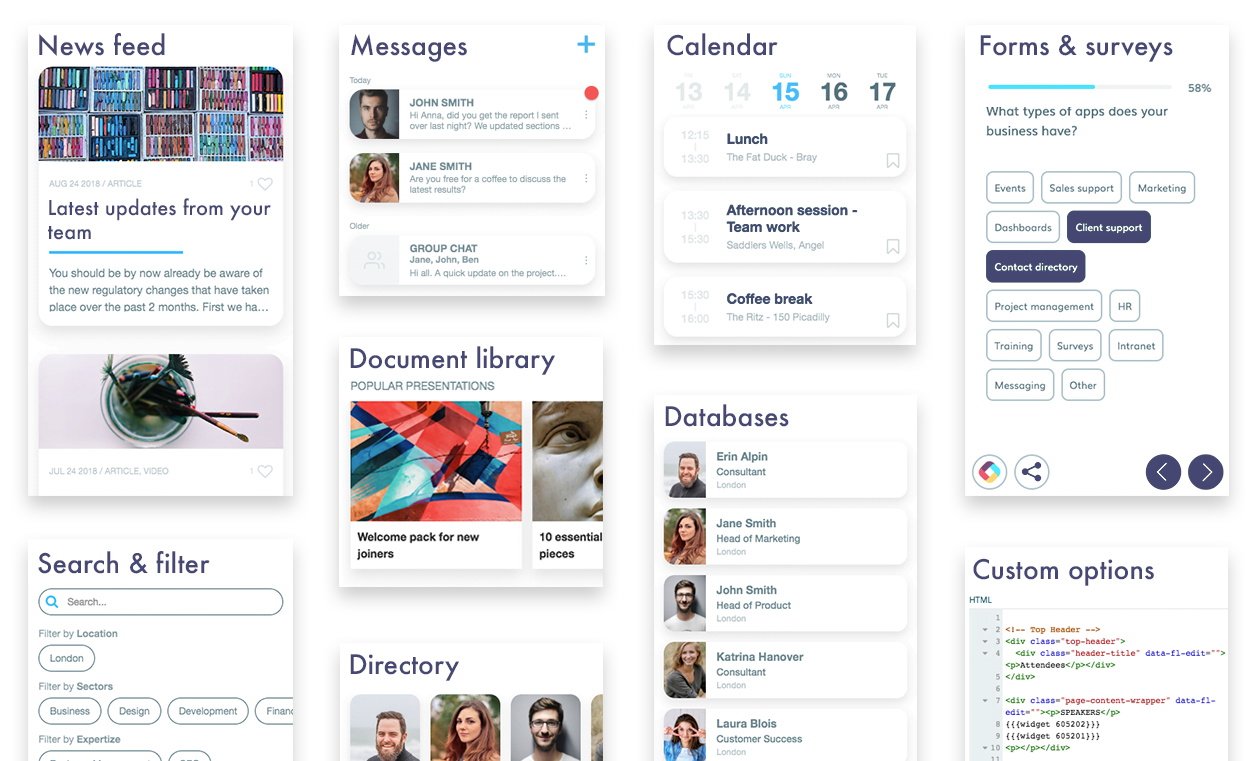 Who should use a prefab app builder?
Both technical and non-technical people benefit from using a prefab app builder like Fliplet.
Technical people can create apps that are more maintainable and they can amplify their impact as they don't have to code everything from scratch. They also benefit from being able to prototype, test and innovate much more quickly.
Non-technical people are able to create apps using Fliplet's drag-and-drop editor. They don't need to know how to code to get the features, appearance and data management they want. They have the power to update and improve their own app to ensure it keeps up with business demands.
What types of apps can be built with a prefab app builder?
Fliplet apps are used in a huge variety of business scenarios. To see some examples visit our App Gallery. This will give you an idea of the type of apps that can be built along with the functionality and designs that are available.
Related concepts and terminology
Prefab App Builders touch on a number of related concepts. For clarity, we've listed them here with some explanation of how they relate to Prefab Apps.
Citizen Development and No-Code Development Tools
Prefab App Builders are in many ways a subset of these two terms. Citizen Development refers to app creation by non-developers. And almost by definition, non-developers need to use No-Code Development Tools to create their apps. The term No-Code however is a bit broader than prefab apps as it can also encompass off-the-shelf app editors which while being no-code they may severely limit a users ability to edit an app.
Low-code and general developer tools
These tools focus on making the developer more efficient in their work. They do however ultimately rely on a developer to use them as opposed to No-code and Prefab builders which do not. Prefab is no-code by default and only requires developers if you're creating highly custom components.
Agile and Rapid App Development
These refer to a process of creating apps that emphasises prototyping and testing apps and puts less emphasis on planning. Of course prototyping and testing is only possible if it's easy to create and iteratively improve prototypes. Prefab app builders are a great way of achieving this.
What are the limitations of a prefab app builder?
Fliplet offers a comprehensive set of prefab components and these are increasing all the time. If you are concerned that we may not be able to offer a specific feature you require then please feel free to drop us a line by emailing hello@fliplet.com. The chances are that we can find something that's suitable.
In the event Fliplet is unable to provide the exact feature you want, we have two fall back options.
Firstly, Fliplet offers developer options. You can use these to add custom HTML, CSS and Javascript to your app. We provide various methods for integrating with Fliplet's components on our developer site.
Secondly we are able to create the custom features for you. To discuss this option please get in touch with us at hello@fliplet.com.
See what our users think
"I love the fact that fliplet offers a code-free option as well as pro/developer options. The team is absolutely fantastic and will help with any & everything within 24 hours. It's easy to use for building enterprise mobile and web applications. The fact that I could automatically deliver modifications and updates to the app as I was building it is one of the best features for me (none of the, "once you're done you're done you can't edit" pressure)."
"So easy...yet so powerful. We have used Fliplet to build an internal communications tool. This tool allows our entire organization of almost 200 spread across the globe to easily communicate and share information. Fliplet allows us to quickly post and update content."
"Fliplet allowed us to implement the mobile component of our Integrated Risk Management application with out the need to spend hundreds of thousands of dollars on development."
"Easy to use for building enterprise mobile and web applications. Drag and drop app builder, with straight-forward functionality configuration [...] used for creating event/ training apps to support individual and group learning objectives, with all the app creation done by people outside of the IT organisation."
"Game changer for app delivery. We needed an agile app platform with a rapid delivery mentality."
"The support provided by the Fliplet team is extremely helpful, and they are always on hand to provide support where needed. From someone with no technical background in apps/programming, I find this software straightforward."