The 6 Essential Apps For Local Councils
Councils are facing increasing pressure to reduce costs whilst improving efficiency and at the same time demonstrate to Central Government that they are progressing with their Digital by Default agenda. They are also feeling the need to respond to expectations among citizens to be able to access their local services services via mobile channels.
A recent survey identified that local government could save up to £1.55m as part of the shift towards digital channels; 42% of survey respondents stated that mobile channels are seen as the biggest source of cost savings and therefore were a key priority for 2015.
The survey's main focus was on mobile websites but with estimates, that mobile apps can help councils reach more than 90% of their citizens, compared to 30-40% via the web, these are already becoming a key item on the agenda for local councils wishing to communicate effectively with connected citizens.
But what are the specific benefits of mobile apps for local government, and what apps should councils be adopting? Read on to find the answers, as well as suggestions for the next steps councils should take to incorporate apps into their digital strategy.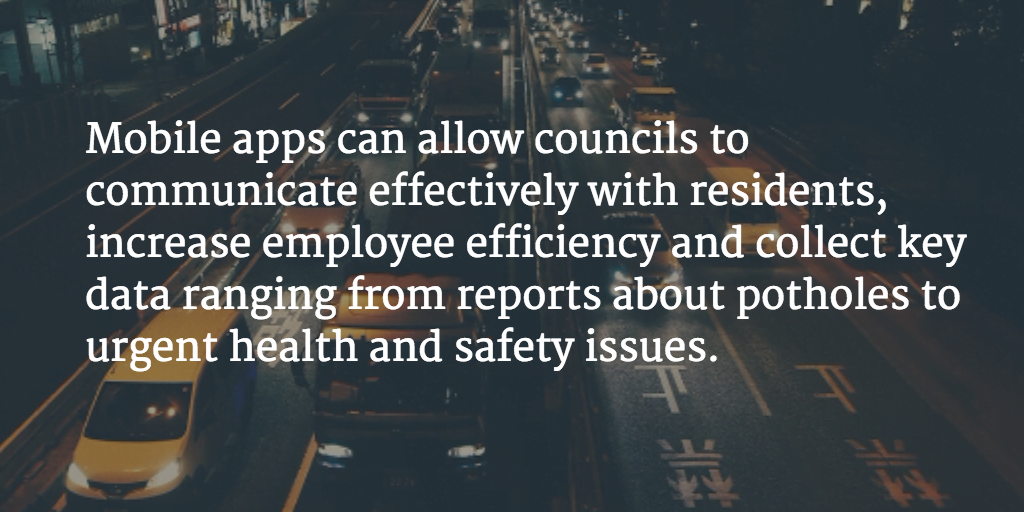 Benefits of apps
1. Close to residents. Citizen apps can make information available instantly on mobile devices, giving residents great convenience and a better access to services. Apps allow residents to consult information in their own time, no matter where they are.
2. Productivity. Mobile apps can have a strong positive impact on employee productivity. Council apps can make communication between employees, training and access to resources easier. This can increase productivity by 40% or more; creating extra time that can be used to improve resident services.
3. Problem solving. Another benefit of apps is their reduction of problem solving time; this is particularly relevant for employees working remotely, unable to access computers or with poor mobile reception. Employees can use apps to access the documents they need instantly, or to communicate with colleagues.
4. Accessibility. Mobile apps are very effective at reaching large numbers of residents who might be unable to get the information they need otherwise. Council apps can be optimized to meet a diversity of accessibility options, such as changes to text size, translation and search engines.
5. Resident insight. Finally, council apps provide great opportunities to capture data resident data in two ways: through app usage data and via feedback. CRM and tracking software such as Google Analytics are instrumental to the former and can help councils optimize their apps. Resident feedback, on the other hand, offers councils the opportunity to improve services and to hear their residents' voices.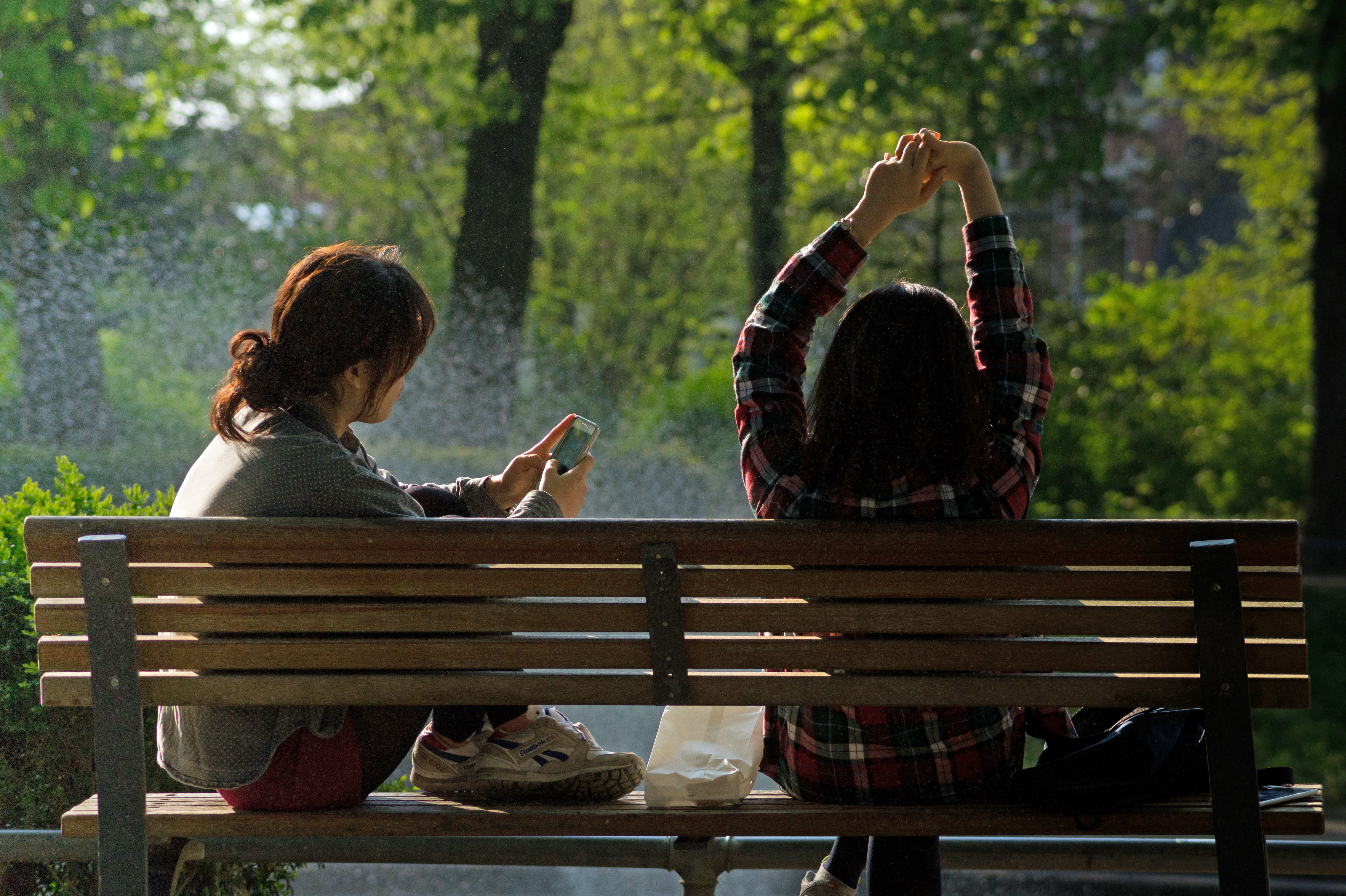 What kinds of apps?
Mobile apps can allow councils to communicate effectively with residents, increase employee efficiency and collect key data ranging from reports about potholes to urgent health and safety issues.
But what kinds of apps can councils use to do this?
1. Citizen Apps
Citizen apps are great ways of making essential service information available to residents, such as recycling and bin collection times, local library and community center information and frequently asked questions.
By making this information available on mobile, councils can empower residents to access it while on the move, potentially providing the correct information according to GPS location.
Citizen apps can include directories with information about a wide range of services, such as libraries, fitness centers, community centers, parks and many others. They can also provide important news that is relevant to residents, such as council events and road closures.
In case of emergencies, important information can be sent to residents via push notifications, such as extreme weather warnings, school closures or traffic incidents.
Apps can also enable feedback from citizens, whether on improvements to their services, or on proposed developments or projects. This can be on a individual basis or in the form of forums where residents can share ideas.
2. Internal Communications Apps
Internal communications apps are great ways of ensuring that employees working remotely – whether on a trip or at a meeting – can keep in touch with what's happening at the office and with important news. This could be particularly relevant for waste collection teams, maintenance workers and other employees who don't spend much time behind a desk.
These apps can also be used to enable instant communication between employees without the complications of email. They are particularly good at group conversations, without the need to worry about forgetting to click "Reply all".
3. Document Library Apps
Document libraries can also be used by employees working remotely, in this case to access any work-related documents, from HR resources to training materials, without the need for a computer.
These apps are great alternatives to the Intranet, which is notoriously complicated to access remotely, and normally not very mobile-friendly.
4. Inspection Apps
These apps can make inspections much more efficient and simple by replacing paper checklists and digital cameras with mobile software.
Users can use their smartphones instead to take photographs, and use digital checklists instead of paper ones. Apps can also include the information that would normally go in a manual, eliminating the need to carry chunky documents around.
The process is made even more efficient by allowing information to be submitted instantly from the app, without the need to add inspection data into a database once computer access is available.
5. Reporting Apps
Reporting apps can have an incredible effect in council efficiency by enabling not only employees, but also residents, to report problems.
Apps can be used, for instance, to report potholes by uploading images and including GPS location information. Or you can even take it one step further and allow users to enable their accelerometer to automatically send this information when the car hits a pothole.
This information could be sent directly to the relevant teams within the council so they can instantly assess severity and add to the maintenance schedule.
Residents can also use the app to report other problems such as graffiti, faulty streetlights, antisocial behavior and vandalism.
6. Event and Local Attraction Apps
Event and local attraction apps are great mobile alternatives to online event and attraction listings. These apps can help councils raise awareness about local businesses and promote local attractions and other places of interest.
Apps can include GPS tracking, maps and user-generated reviews and ratings. They can also serve to empower local businesses by allowing them to manage their own information on the app, ensuring that residents are always aware of opening times, special events and news.
In conclusion
So what are the next steps councils should take to adopt mobile apps? Here are the main options:
Existing third-party apps. There is a wide range of apps in the market that might be suited to some of the needs outlined above. While this is the more affordable option, it is also quite limiting in terms of meeting your exact needs as well as providing a high-degree of branding.
Using developers. Most councils will probably need to create at least a few apps specially-tailored to them if they wish to be efficient. This can be done by using developers, an approach which, although very costly, is able to meet all app requirements and provide highly customized apps.
Using app builders. The middle ground is using the app builder tools provided by some companies to easily build apps tailored to your needs with no coding required. This option requires a small amount of time to build the apps, but is far more affordable than having them built externally, and is likewise easily tailored to specific council needs.
What kinds of apps is your council using and how effective do you find them?

Fliplet is a tool that enables anyone within a council to quickly and easily create mobile apps without programming skills. Find out more about how we work with local government here