Create a Custom Mobile Ordering App with Fliplet
In response to the re-opening of restaurants, pubs, bars, cafes, and hotels, this app makes it easy for businesses to take food and drink orders and meet Government requirements. All your customers need is their smartphone.
The advantages of this app are:
Contactless ordering for customers to keep staff safe
No download required, just scan a QR code or enter a web address
Browse the menu, and order food and drinks
Simple product management
Contact tracing securely records customer data and meets privacy law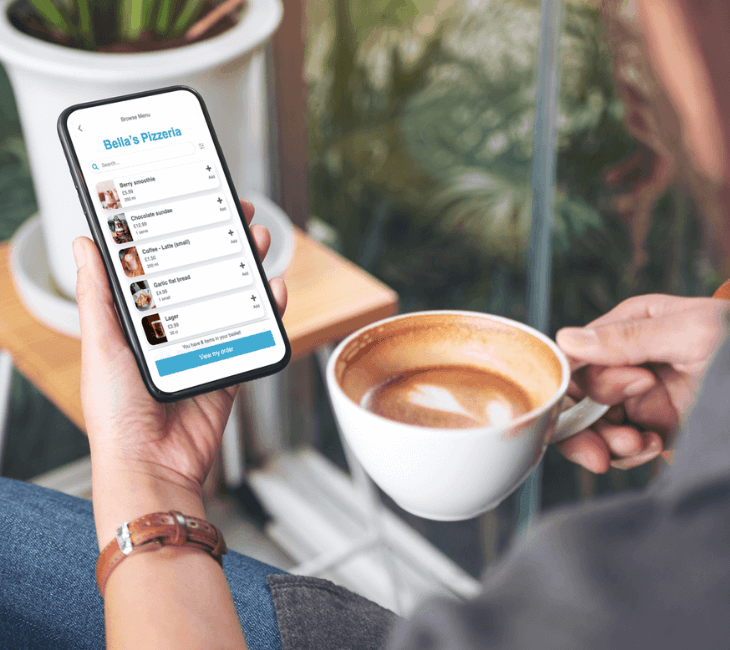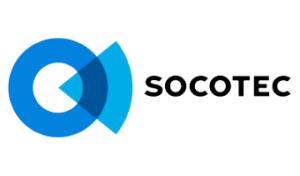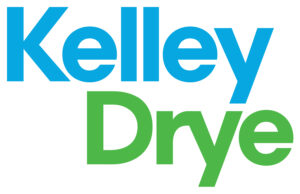 Easily build a Mobile Ordering App with Fliplet 
Fliplet's intuitive platform enables anyone to create a mobile ordering app, even without any coding skills. Whether you're in retail, food service, or any other industry, having a mobile ordering app offers numerous advantages. You can streamline the ordering process, improve customer engagement, gain valuable business insights, and boost sales opportunities. With the mobile ordering app, customers can place orders at their convenience, driving customer loyalty and increased sales. Fliplet makes the process of creating an ordering app straightforward and efficient, offering customizable templates and easy-to-use tools. Begin creating your own mobile ordering app with Fliplet today, and watch as it positively transforms your business operations and customer relationships.
Browse products & ordering
Upload your products including name, images, allergy information, product highlights, etc
Customers can browse, search and filter products by category e.g. Hot Drinks
Products can be edited anytime and are instantly updated
Customers can add products to their order and adjust the quantities
Customers can see their order details and total price before ordering
Customers receive an email summary of their order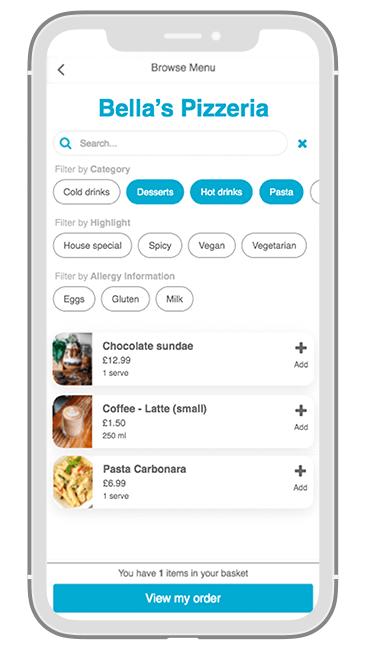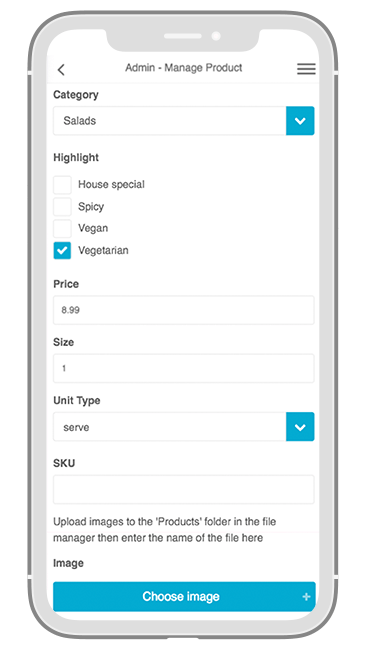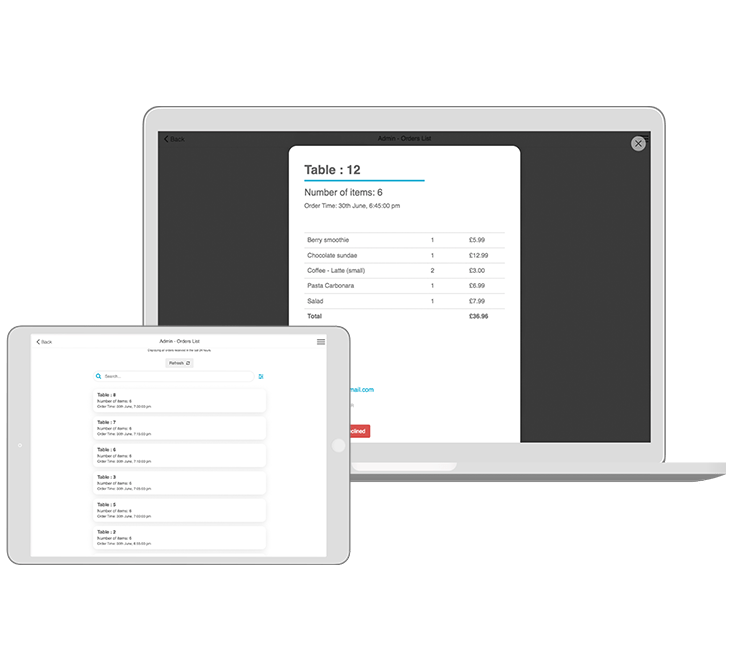 Managing orders
When orders are submitted they are visible on a screen for staff members
The order list can be displayed on a tablet or computer
Orders can be entered into a POS or written down for fulfillment, you do not have to change your current process to use this app
Orders include the table and customer details in case you need to discuss the order with the customer
Orders can be marked as completed or declined once they are processed
Manage your client base and online orders from anywhere
The app collects the recommended customer information: name, email and telephone
Staff can access the customer data if the governing body requests it
The app includes a button for deleting customer and order data over 21 days old
Data is stored inline with GDPR privacy laws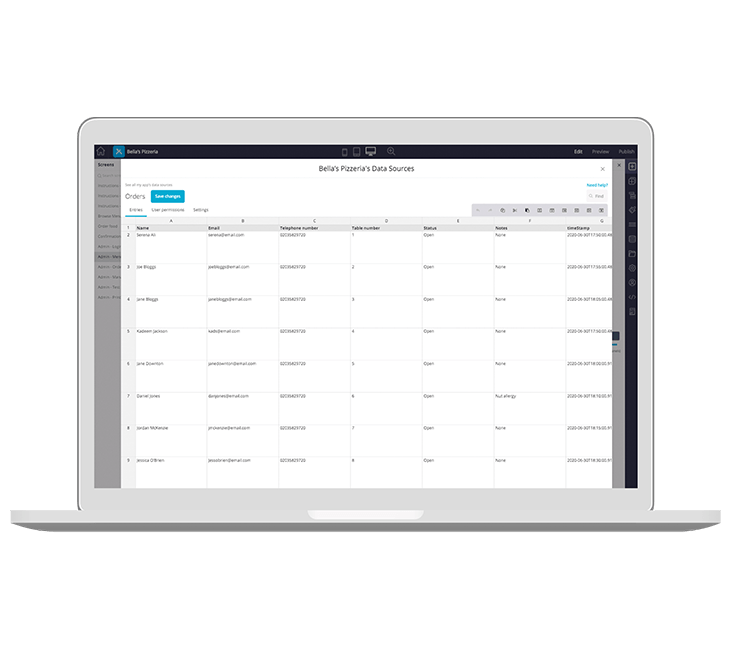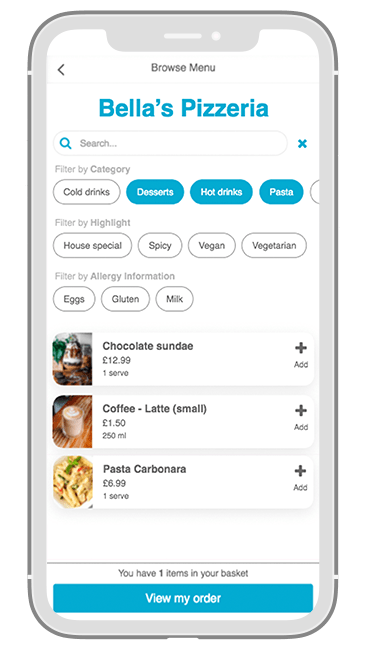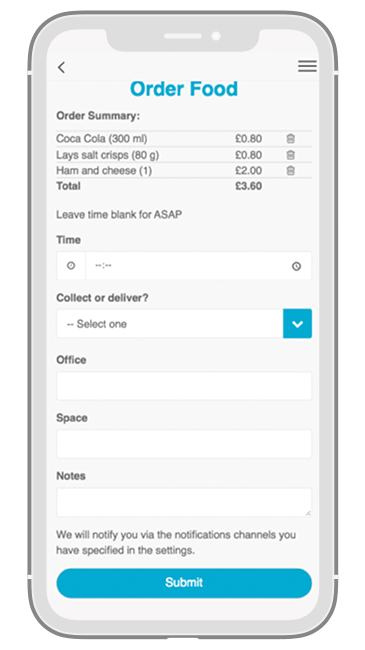 Give your Customers Instant Access to Menu and Orders
Print instructions from the app that you can give to your customers
Instant access by scanning a QR code or entering a web address
Web app available for free, and Apple/Android mobile app available as an upgrade
App works on smartphone, tablet and computer
Government guidelines
What are the Government guidelines I should conform to?
UK and US state Governments are now mandating in many areas to hold a temporary record of customer details, including name, phone number and email address, and hold them for around 21 days.
For example, on June 23 2020, the England Government updated their guidelines for reopening restaurants, pubs, bars. There are 2 guidelines this solution manages for hospitality clients:
Section 2.1 states:
You should assist [ NHS Test and Trace] by keeping a temporary record of your customers and visitors for 21 days, in a way that is manageable for your business, and assist NHS Test and Trace with requests for that data if needed.
Section '2.2.2 Service at the venue' suggests the steps that will usually be needed:
Encouraging use of contactless ordering from tables where available. For example, through an ordering app.
If you already have a booking system, this will hold the customer data for you.
However if you don't, the Food Ordering app from Fliplet will automatically record and securely store customers data to comply with GDPR and data privacy laws. It gives you the ability to safely access the data if requested to do so by the authorities and delete the data after the appropriate time.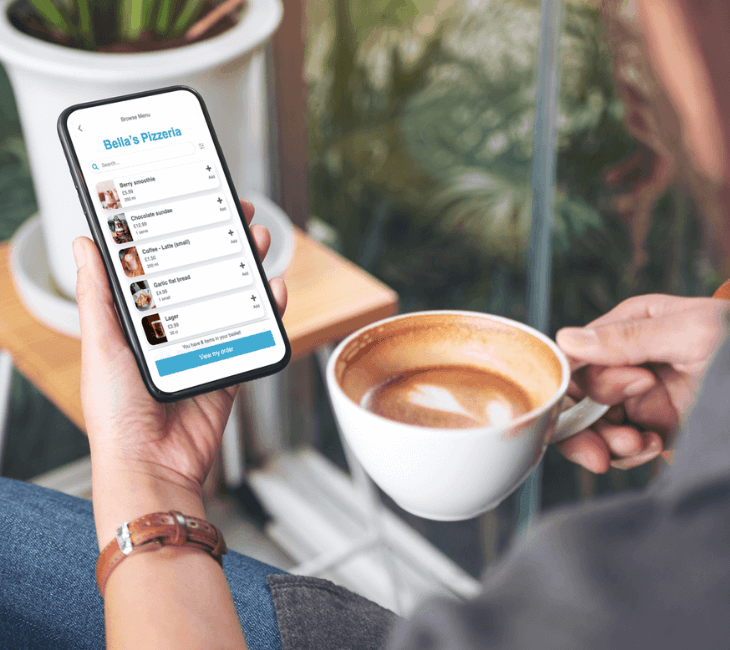 Additional Fliplet Features
Benefits of building your restaurant app
Build an app for your restaurant to showcase your menu, offers and let customers place orders or make reservations.
Preview your menu easily
Allow customers to access your restaurant menu at home or in your restaurant.
Order Confirmation via Email & Notifications
Customers receive order updates when throughout the order process
Book reservations instantly
Give your customers the ability to reserve a table from anywhere. Help them cancel tables as well so that you always run at full capacity.
Instant orders sent
Staff receive orders immediately for completion
Increase Positive Reviews
Give customers easy access to rating websites and increase your reviews. 
Contactless food ordering
Complies with Government 'Service at the venue' guidelines
Add your branding
Tailor the app to your logo and colors
Mobile and Web app available
Your app is available both for App Stores and on the web so that your customers can access it from everywhere.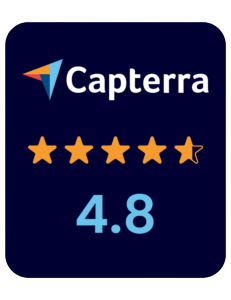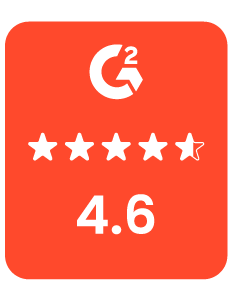 Support and Security you can trust
Fliplet offers a range of support options and features to support our customers:

Live chat, Email & Community
Get your questions answered quickly anytime from Fliplet or other users.

Support and developer documentation
Includes videos and powerful search to quickly find answers

Security is a core focus
ISO 27001 certified with extensive security features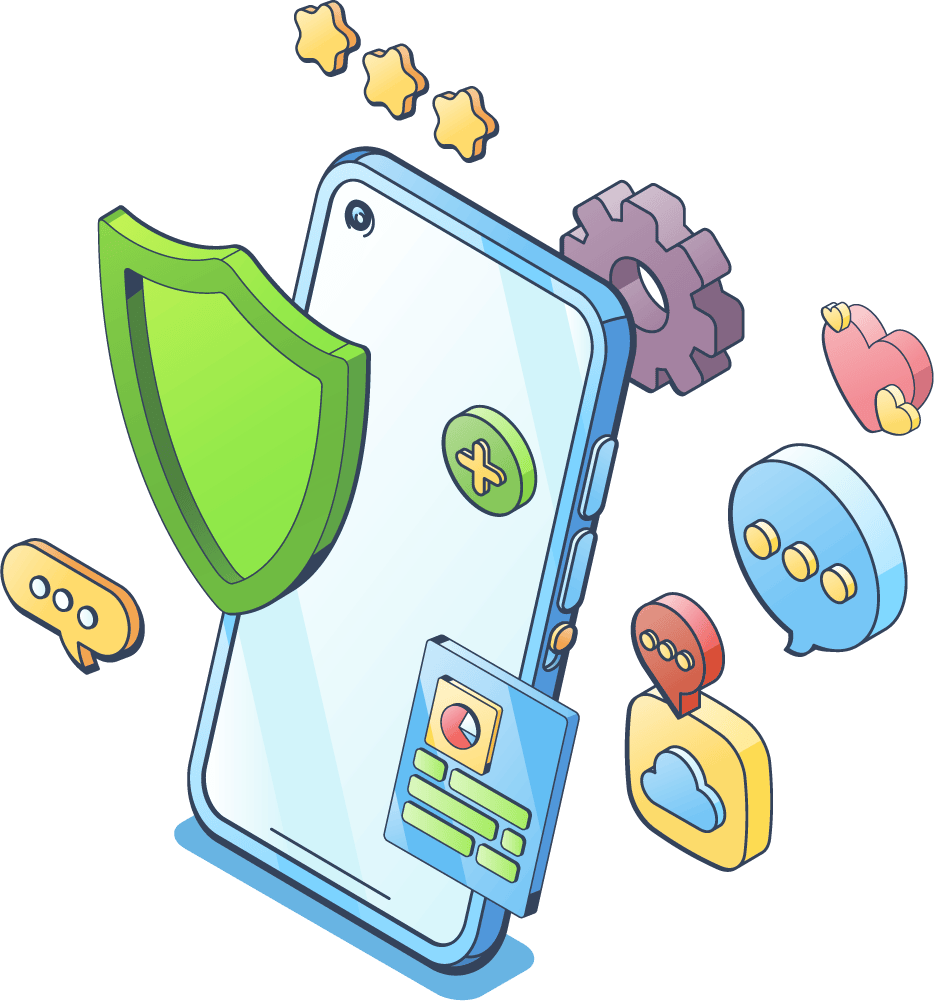 How do you create an ordering app?
You can create an ordering app using a no-code platform like Fliplet. First, identify your app's features, such as product catalogs, order tracking, and payment systems. Then, design your app using Fliplet's user-friendly interface. Test, publish, and update your app as needed, using Fliplet's robust feature set.
What are the benefits of a mobile ordering app?
A mobile ordering app improves order accuracy, enhances customer experience, provides valuable business insights, and opens new sales opportunities. It's a convenient way for customers to place orders, leading to increased customer loyalty and higher sales.
Can I create an ordering app without coding skills?
Yes, with Fliplet's no-code platform, you can create a functional and visually appealing ordering app without any coding skills. The drag-and-drop interface, customizable templates, and pre-built features make the app building process simple and efficient.
How does a mobile ordering app increase sales?
A mobile ordering app offers convenience, speed, and ease of use, which can lead to increased order frequency and size. It also provides a platform for personalized marketing, helping to drive customer engagement and repeat business.
Level up with free resources
Interested in building an app without coding?
Speak with a Product Expert