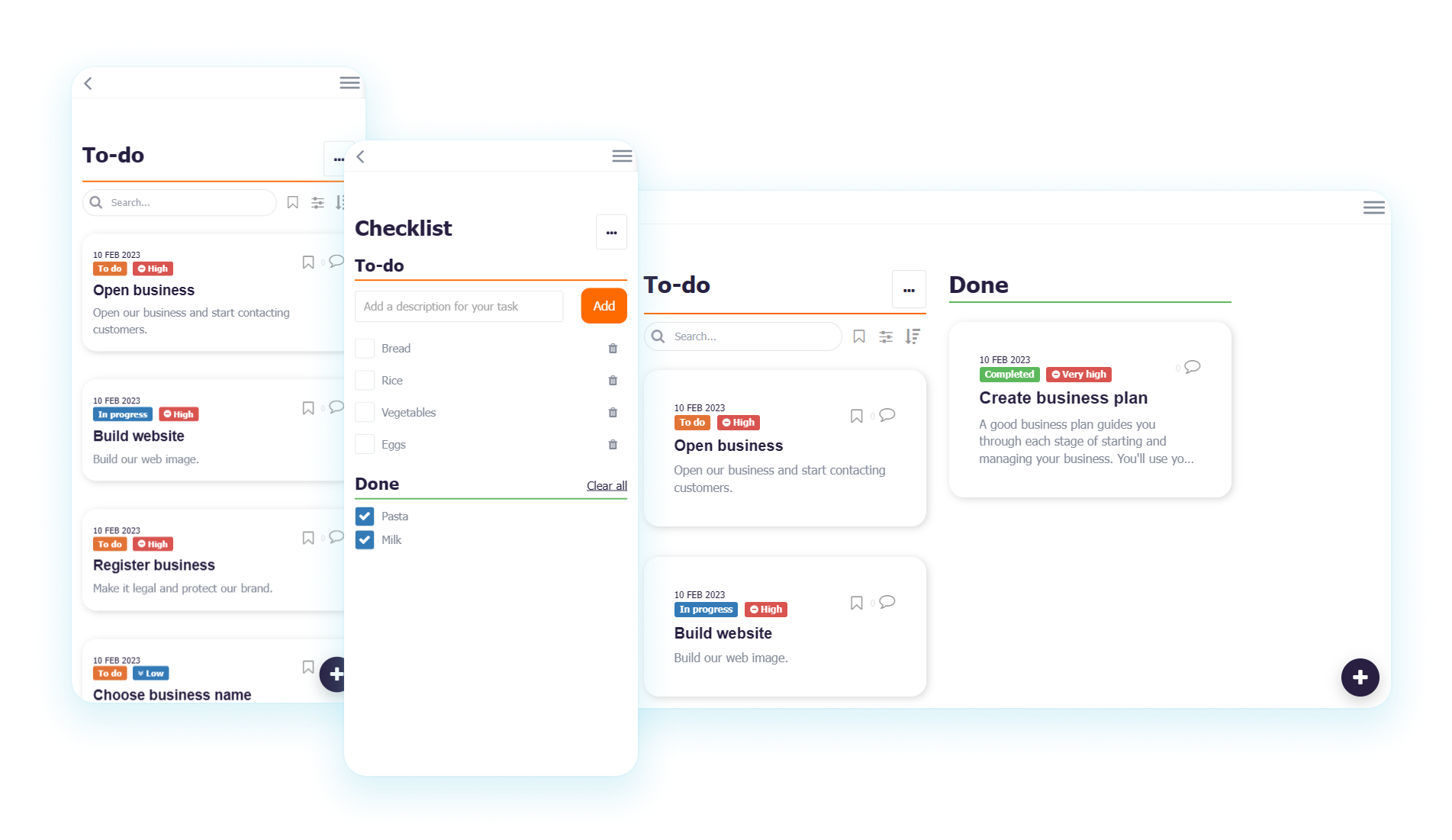 Take checklists and project management to the next level by launching your own task tracking app.
Fliplet Task Tracking solution is a dual tracking app solution. This solution will allow you to create two types of lists: a simple checklist and a project.
Key benefits:
Multiple task tracking features

Create and update separate lists and projects in real time

Easy to modify via Fliplet Studio

Accessible on any device: smartphone, tablet and computer

Distribute your app on web, Apple App Store and Google Play
*No credit card required.

TRUSTED BY ORGANIZATIONS AROUND THE WORLD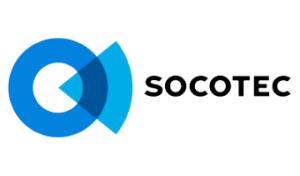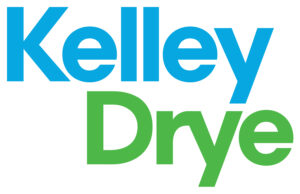 View all tasks assigned to you
View all task lists assigned to you, whether simple checklist or project, in the My Tasks screen.
Access your tasks on any device: smartphone, tablet and computer. Sort lists by status, tags and due date according to your needs.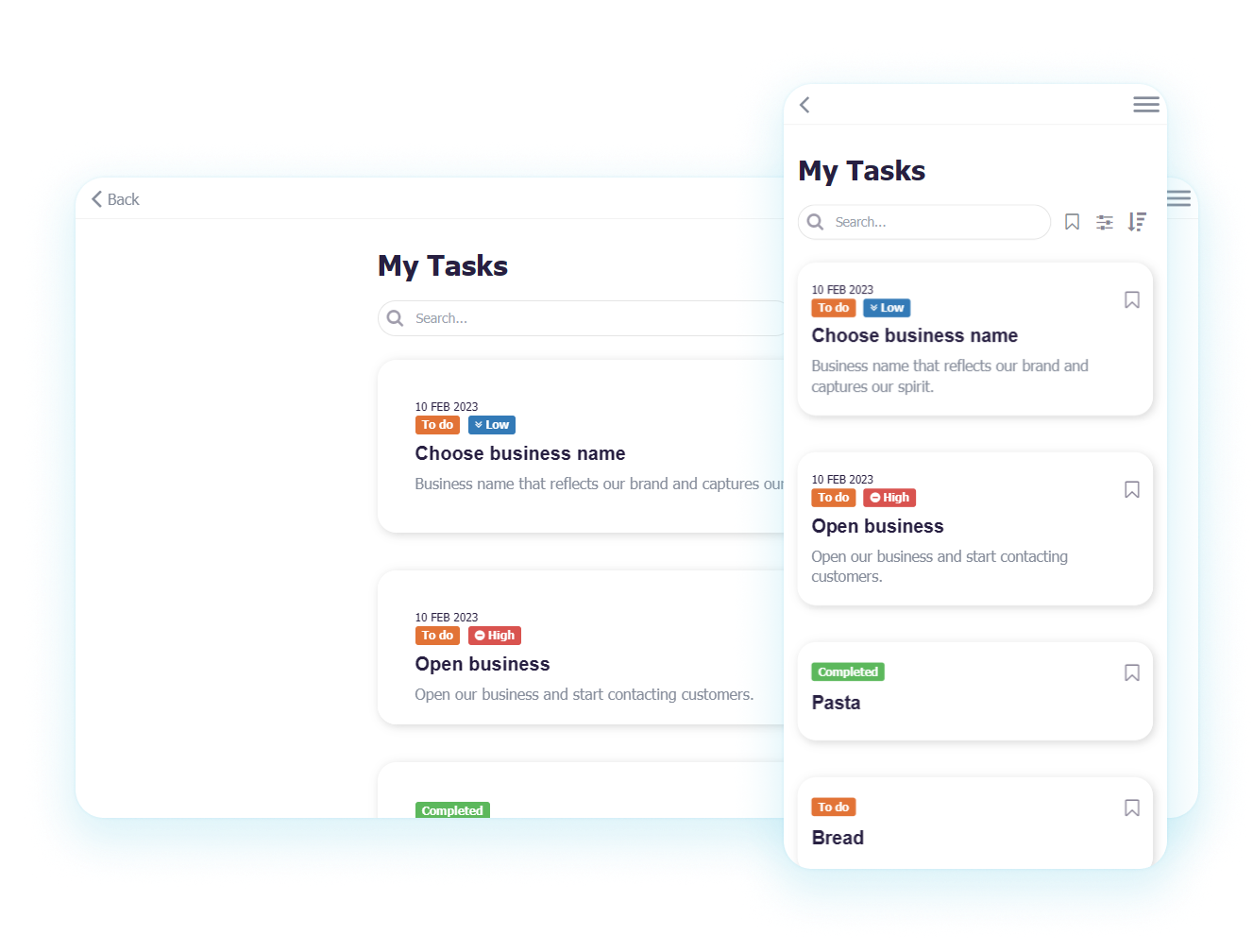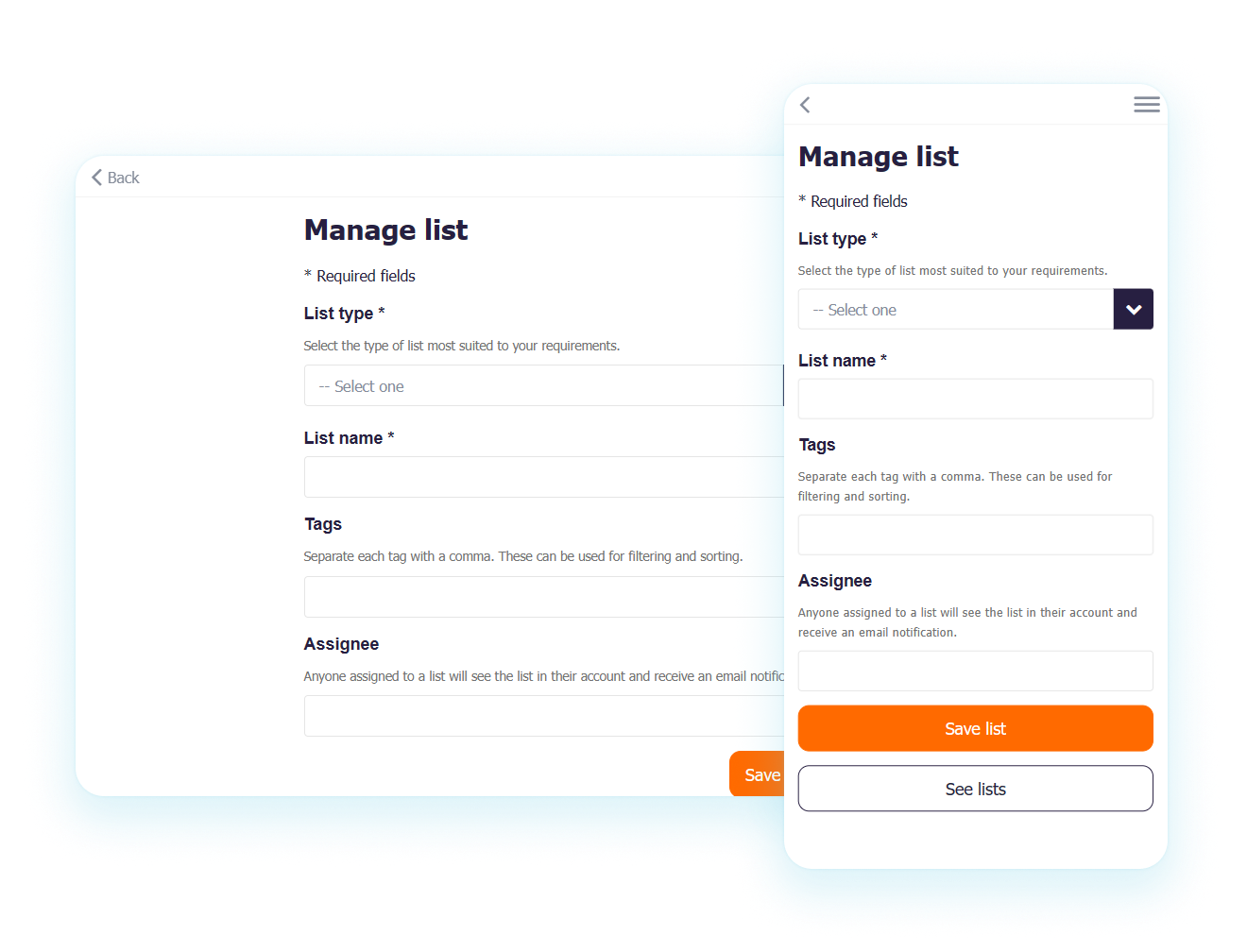 Create task lists on the go
From groceries lists to home improvement improvement projects, create the task lists you need by choosing one of the two types: Simple Checklist and a Project.
Once you have selected a list type, add a list name, assignee, relevant tags for filtering and sorting, then save. You can view your saved lists in the Lists screen.
View, filter and sort all task / project lists
All the task lists you created, located in one place.
Forgot the name of your task list? Not to worry, search your lists screen by tags or filter and sort by list type or date.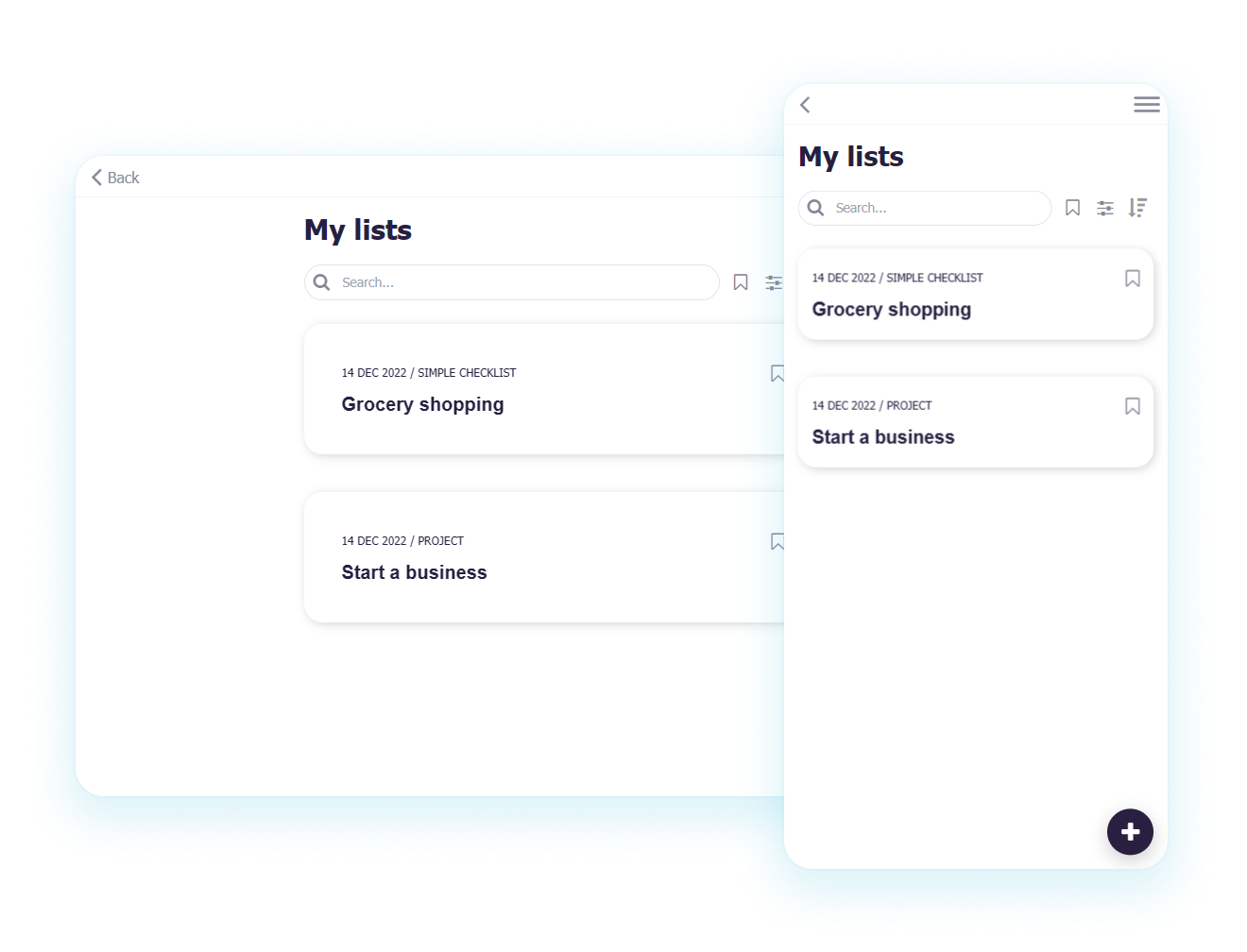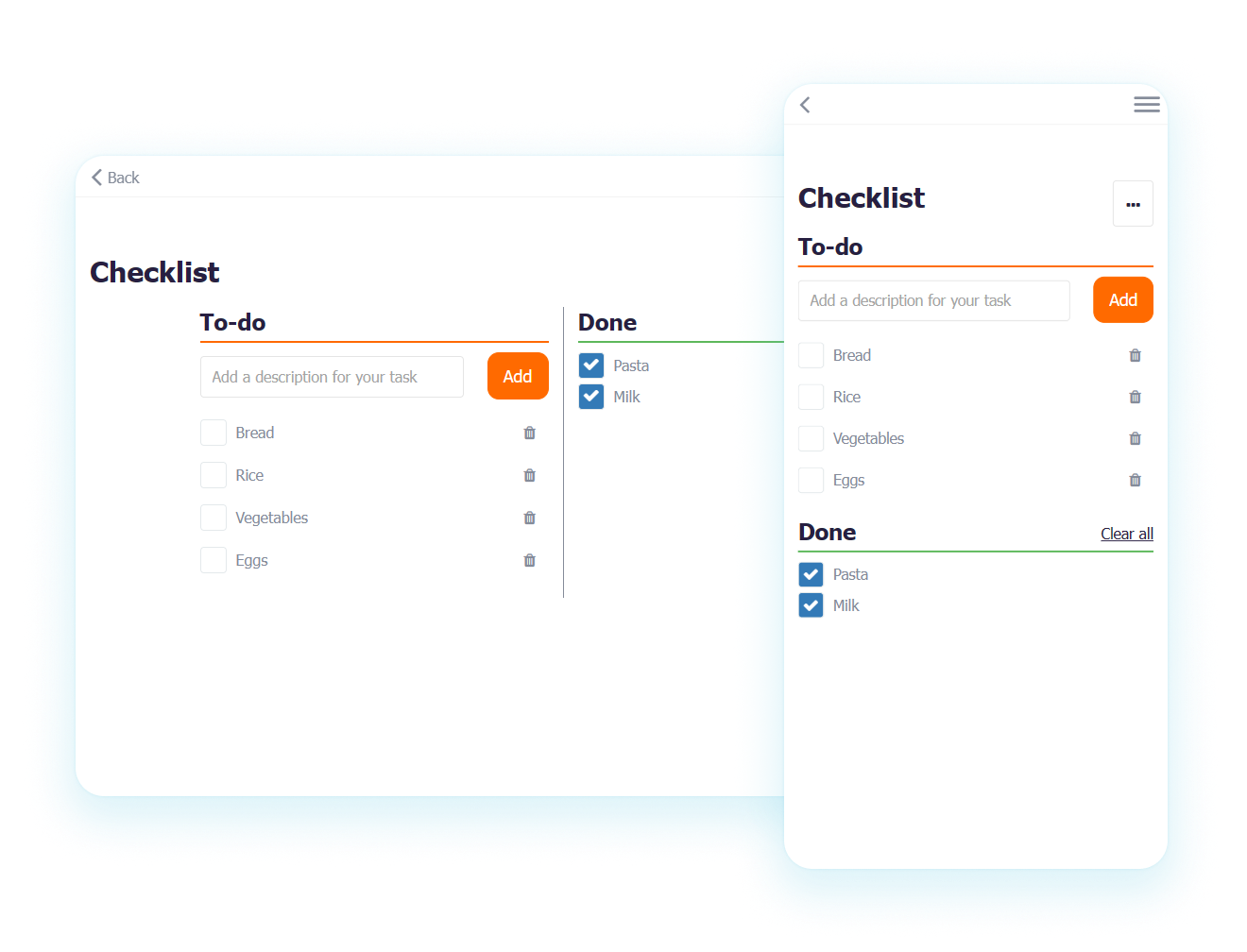 Never forget what tasks you need to check off your to do list
At a glance, view which items have been completed and which items are left to be checked off your list.
Update your checklist by adding new items in one click and checking off completed items just as easily.
Filter down to high priority tasks, sort by due date or bookmark a task for later
Breaking down your projects into comprehensive individual tasks will allow you to keep track of your progress in real time.
View and manage all tasks of a project in the dedicated project screen. Filter and sort by all categories and even leave a comment for each task.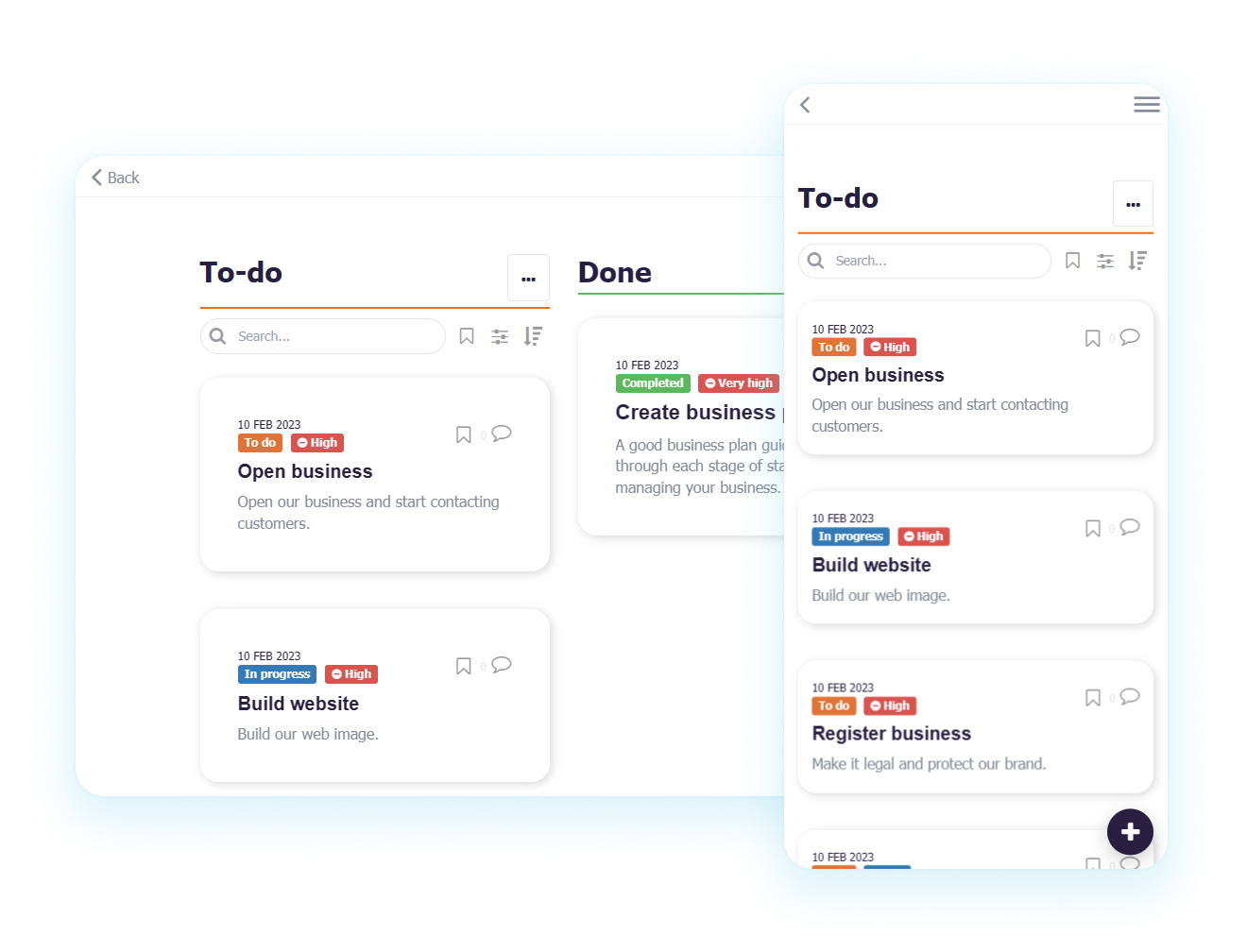 Our app can adapt to fit your needs. Whether you want to create a simple checklist app, or a project management, or both, this app allows you to start providing value to your customers.
Get your project moving forward by creating detailed tasks
Need more information to clarify what is needed for a task to be done? Add new tasks into a project and fill in the various fields to give more context to what needs to be completed.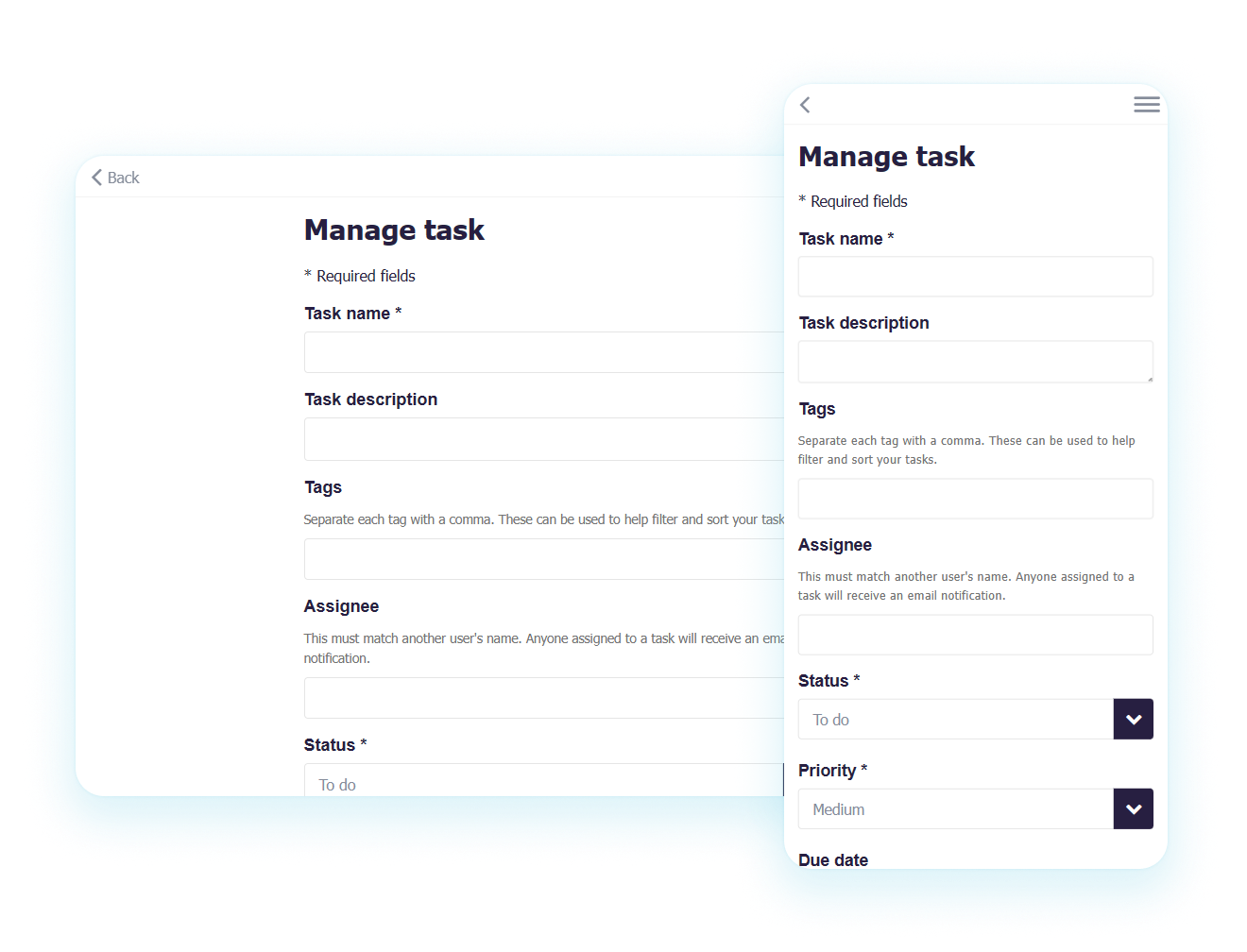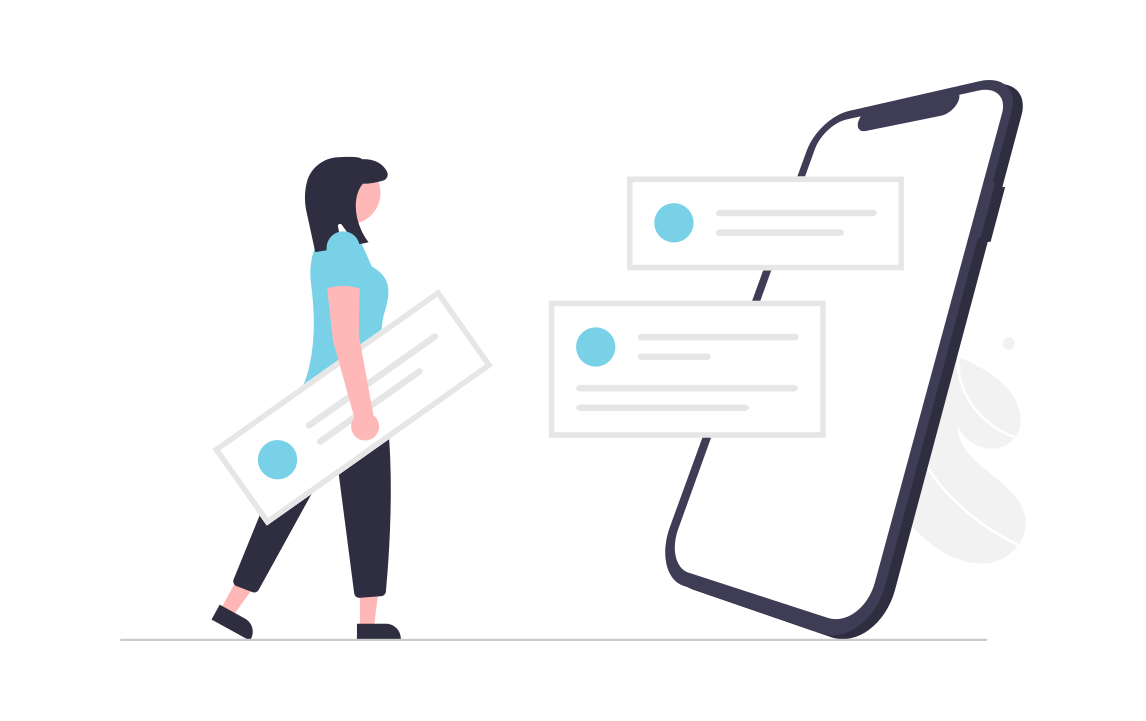 Set up in-app and push notifications and view them in the notifications screen
This is why people love Fliplet
"The Fliplet application development platform has mostly been used for creating event/ training apps to support individual and group learning objectives, with all the app creation done by people outside of the IT organisation."
Andrew, Senior Enterprise Architect
"The Fliplet studio is extremely intuitive and makes it very easy to build very sophisticated apps. The components for building apps are constantly improving and evolving. An additional analytics feature that has been recently added makes tracking usage of the app very easy - we no longer need to use Google analytics."
Ken, Manager
"The software is easy to use and navigate. The support provided by the Fliplet team is extremely helpful, and they are always on hand to provide support where needed. From someone with no technical background in apps/programming, I find this software straightforward. Where I do encounter problems, the team quickly assist me."
Lily, Trainee Consultant
"Fliplet provides brilliant account management. I am new to the world of app building, and the team has been brilliant in showing me the ropes. The Fliplet studio is a great platform that is really easy to use with drag and drop. They are ever-evolving and implementing new features. Fliplet has a handy help area. "
Emma, Digital Marketing Assistant
"Our business wanted to develop a suite of apps to help match competitors in the space and Fliplet has helped us to achieve this in a simple and straightforward way."
John, Business Manager
"The benefits are vast and apps are always so much more exciting and engaging than typical platforms. Fliplet means we are able to push content out quickly to adapt and react to anything we need to as a business."
Grace, Innovation Engagement Advisor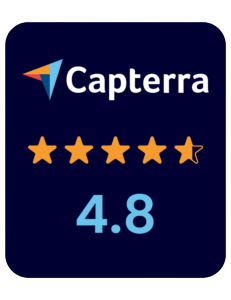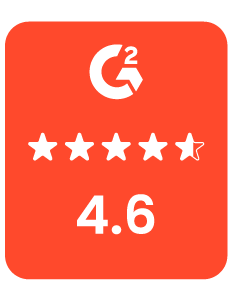 Support and Security you can trust
Fliplet offers a range of support options and features to support our customers:

Live chat, Email & Community
Get your questions answered quickly anytime from Fliplet or other users.

Support and developer documentation
Includes videos and powerful search to quickly find answers

Security is a core focus
ISO 27001 certified with extensive security features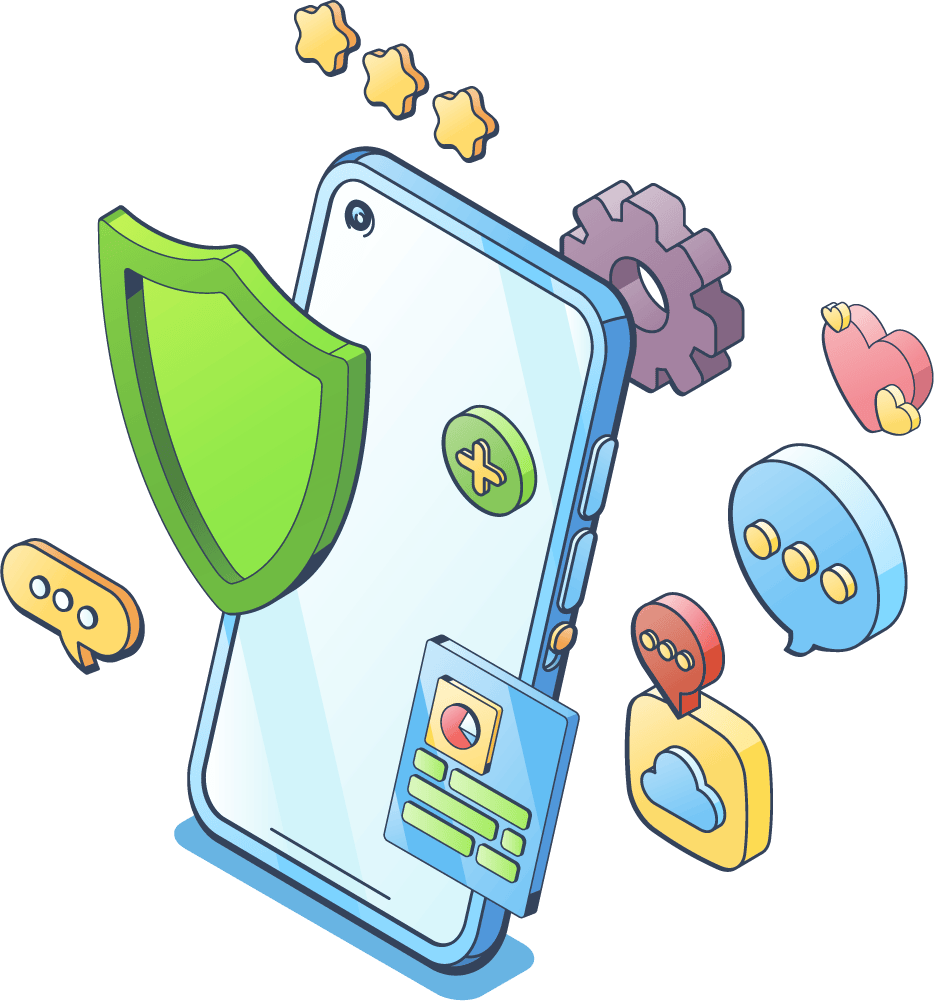 Introducing Fliplet Studio:
Your App Creation Toolkit
Create your app in Fliplet Studio. Once you've set up an account with Fliplet and logged in, you'll see an option to create a new app. Click on this and choose the template that suits your needs.
1. Create your app
1. Browse through our templates
2. Select a template
3. Start creating your app


2: Customize your app
1. View our pre-built screens
2. Customize your app
3. Preview across multiple devices
4. Invite colleagues to review your app


3: Test and launch your app
1. Preview your finished app
2. Test on all devices
3. Test on Fliplet Viewer
4. Publish your app across multiple devices


4: Review analytics and update
1. View your apps usage analytics
2. Update your app in real time


Everyone can build an app.
Yes, even you. You can try it yourself – just sign up to Fliplet Studio, choose the Task Management solution, and start creating your app. We will provide you with guidance through our Fliplet Community and video tutorials.
Level up with free resources
Interested in building an app without coding?
Speak with a Product Expert