Optimize Workspace Management with your Desk Booking App
Easily allow employees to book available desk in the office. Manage a hybrid at ease with a hot desk booking app customized to your organizational needs.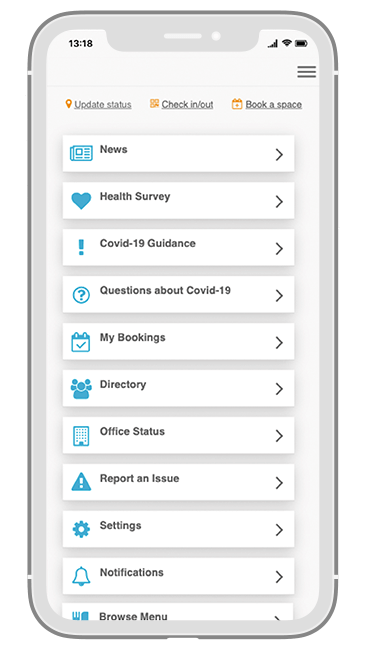 TRUSTED BY ORGANIZATIONS AROUND THE WORLD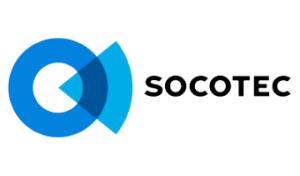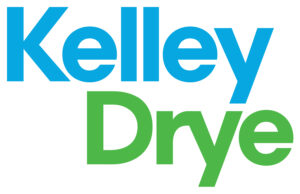 Easily build a Hot Desk Booking app with Fliplet 
Experience the convenience and flexibility of desk booking with Fliplet's desk booking app. Our intuitive app empowers employees to easily find and reserve available desks based on their preferences, enabling them to optimize workspace utilization and create a more flexible work environment. With features like real-time desk availability, advanced booking options, and personalized preferences, our desk booking app simplifies the desk reservation process, enhances collaboration, and improves productivity. Streamline workspace management and transform the way your organization operates with Fliplet's desk booking app.
Quick and simple way to manage your offices and employees
Meet compliance with organization or government guidelines
Enforce and monitor capacity within each office. Bookings can be changed by office managers based on demand and management needs. Staff are automatically notified.
Monitor and manage office access requests
Easily view a list of bookings, checkin/out status' and any guests in the building for current, historic and future dates. Data can be archived or used to keep a record of compliance.
Guest management and compliance
Reduce admin work for reception and track guest data for compliance purposes.
Remote ordering and requests
Simplify the process for requesting services in the office, and receive real-time notifications. A log of requests is created automatically for auditing or billing.
Keep staff informed of changes
The newsfeed keeps employees up to date on the newest office requirements or changes. Notifications can be sent just to staff members linked with that office.
Personalize and improve the experience by include a survey when making a reservation. Configure automated screening rules to accept or reject requests.
Increase visibility throughout the organization and optimize time management by identifying when individuals will be at home, at the office, or away.
Enhance the employee experience and save time when visiting other offices. Staff may quickly get all necessary information, local suggestions, and travel assistance from a single app.
Manage different location requirements
Plays a critical role in caring for staff.
Easy management of social distancing
Follow and monitor rules and regulations.
Adhere to any government or authority requirements.
Rapidly understand staff location
Where people are and their work status.
Decentralize office management and rules
Easy for management responsibility to be distributed.
Transparent data collection and privacy
Clear details for how information is handled.
See how the organization is managing with regular updates.
The key features you need. 
Built in hours, not weeks.
Check-in and check-out
Monitor social distancing requirements and know when employees are in the office and where.
Allows organizations to know where all employees are on any given work day, with full transparency on who is working from home and who is in the office.
Covid-19 guidance and information
Keeping your organization updated is vital. With new guidance released daily, and your organization going through a period of change, clear communication is key.


Set up alerts via SMS, email, push and in-app for registration, space/desk booking requests and latest news.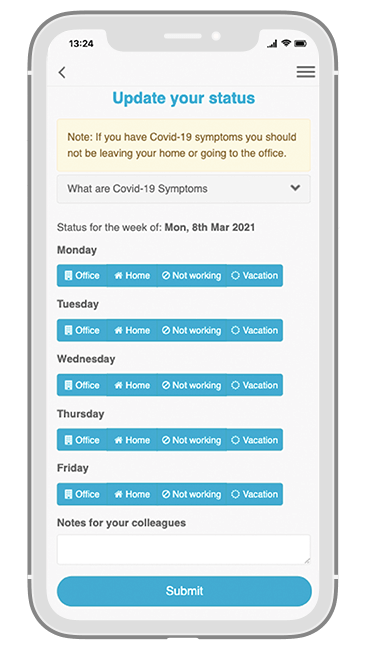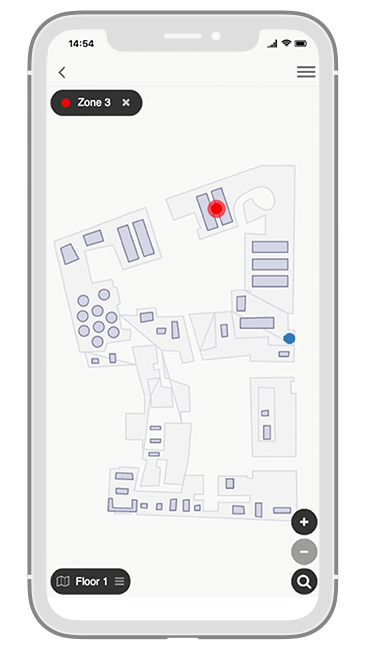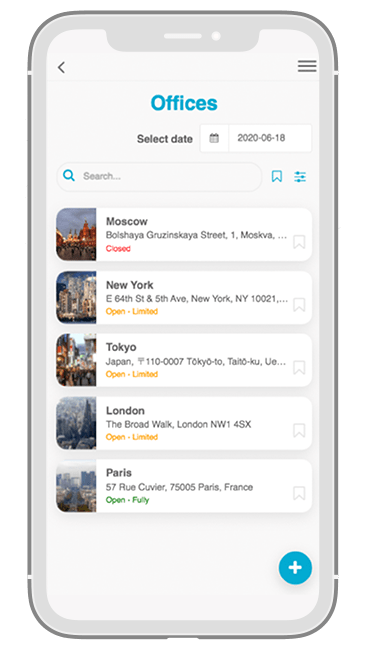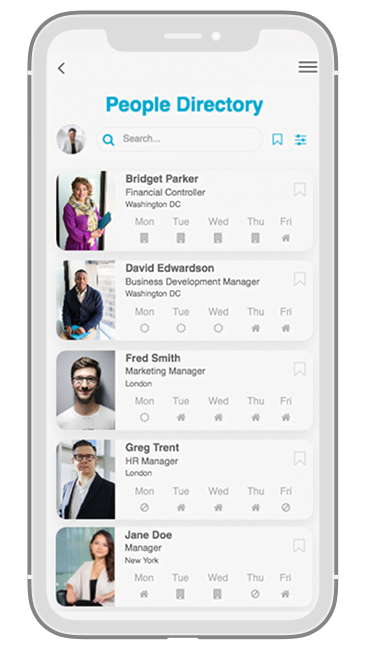 People directory with work/health status
Gives organizations quick access to everyone's contact details with health and daily work status including working from home or in the office, not working or on vacation.
Employees can ask questions and use search to find previous answers.
Integration with existing databases or systems
By integrating with your current systems such as Sharepoint, there is no need to duplicate information. Data within the app syncs with your databases, ensuring the most up-to-date information is always available.
The entire login process for staff can be managed seamlessly with Single Sign-on (SSO) enabled.
Data capture for auditing purposes
Information is stored securely for reporting and auditing requirements including bookings and check-ins.
Canteen or restaurant food ordering
Ordering system with notifications to avoid overcrowding.
Catering manager access
Admin capabilities from within the app to edit products, canteen/restaurant information and process orders.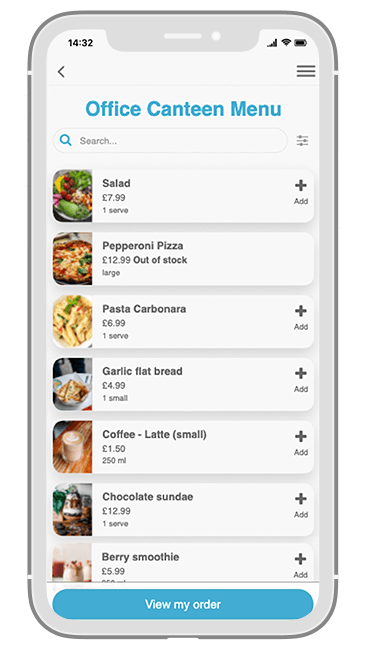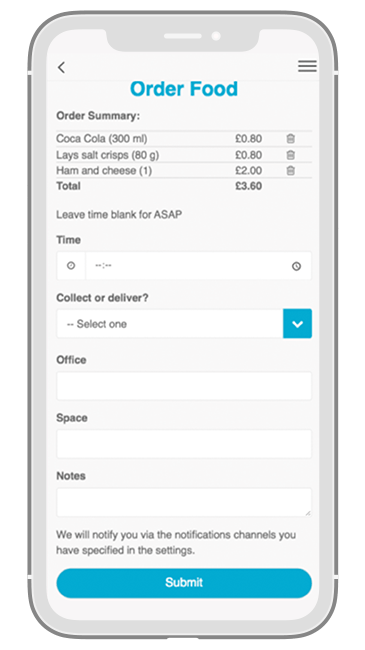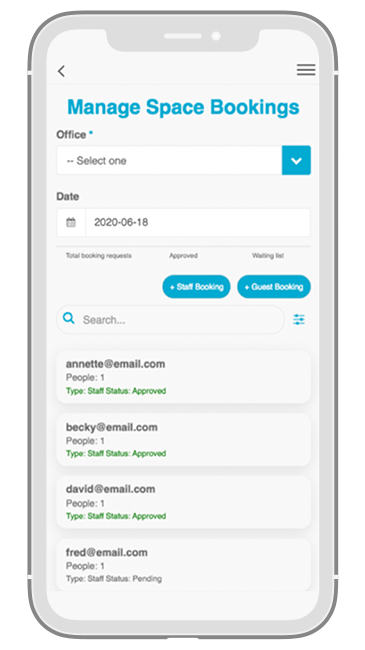 Selected individuals including office managers have a full overview of the entire organization, from who is working remotely, to the space available in your offices.
Rapid upload of content
Content such as the people directory and office list can be uploaded to the app through an excel file for rapid deployment. Content can then be easily managed within the app using the built-in Content Management System.
Decentralized content management
Office facilities management staff and other user levels can update content within the app. For example, allowing HR users to view staff status and Facilities users to upload floor plans.
The future of the Return to Office app and introducing ROMS
Fliplet's CEO Ian Broom discusses the most recent changes to the Return to Office (RtO) app and how it will evolve into the Remote & Office Management Solution (ROMS).
What customers love about RtO

Fliplet's planned new features and upgrades

Fliplet's post-pandemic vision for the RtO app

How to add new features into your existing RtO app
The video concludes with a Q&A.
How organizations are managing the return to the office
Fliplet CEO, Ian Broom is joined by Travers Smith Head of Legal Technology, Shawn Curran and Benesch CIO, Jerry Justice giving insight into how organizations are managing their return to the office. Talking points include:
Intended return to office plans

Differing rules for each office location and how the app manages this

Anticipated speed for the removal of restrictions

How technology will assist in the transition returning to the office
The video concludes with a Q&A.
How to rapidly customize and deploy the Return to Office app
This webinar covers the purpose, key features and benefits of the Return to office app as well as a step by step guide of how to rapidly customize and populate the app ready for deployment for your organization, including:
How to rapidly upload your own data via an Excel spreadsheet or database integration

How to edit data within the app using the built-in Content Management System

How to set user permissions in the app for different functions (HR, Facilities etc.) to allow for decentralized management
The video concludes with a Q&A.
Additional Fliplet Features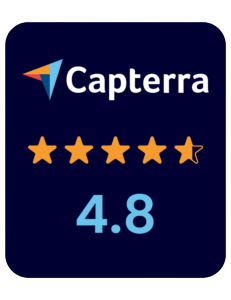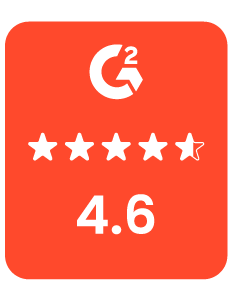 Support and Security you can trust
Fliplet offers a range of support options and features to support our customers:

Live chat, Email & Community
Get your questions answered quickly anytime from Fliplet or other users.

Support and developer documentation
Includes videos and powerful search to quickly find answers

Security is a core focus
ISO 27001 certified with extensive security features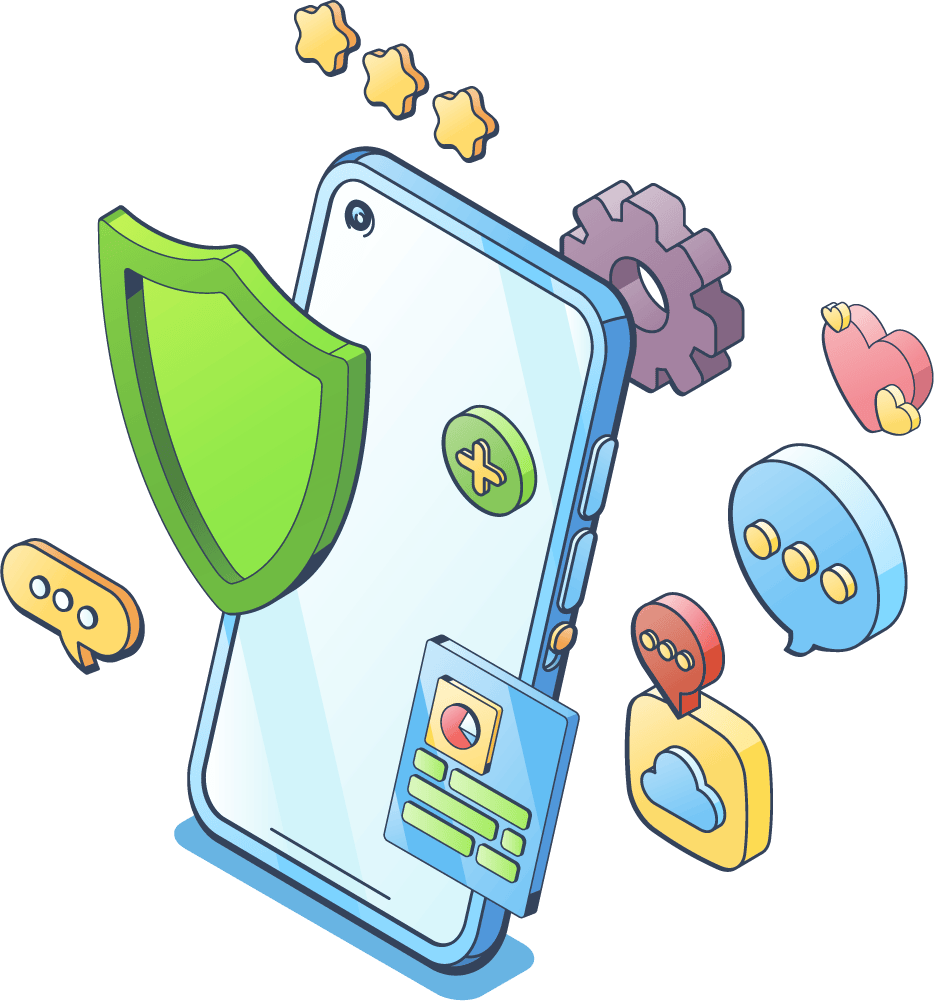 Introducing Fliplet Studio:
Your App Creation Toolkit
Create your app in Fliplet Studio. Once you've set up an account with Fliplet and logged in, you'll see an option to create a new app. Click on this and choose the template that suits your needs.
1. Create your app
1. Browse through our templates
2. Select a template
3. Start creating your app


2: Customize your app
1. View our pre-built screens
2. Customize your app
3. Preview across multiple devices
4. Invite colleagues to review your app


3: Test and launch your app
1. Preview your finished app
2. Test on all devices
3. Test on Fliplet Viewer
4. Publish your app across multiple devices


4: Review analytics and update
1. View your apps usage analytics
2. Update your app in real time


How can return to work apps help organizations ensure a safe return to the workplace?
Return to work apps help organizations ensure a safe return to the workplace by providing essential tools and features for managing health assessments, tracking employee status, facilitating communication, and enforcing safety protocols. These apps streamline contact tracing, monitor employee health, and enable real-time updates, helping organizations create a secure and healthy work environment.
Can return to work apps integrate with other workplace management systems?
Yes, many return to work apps are designed to integrate with other workplace management systems such as HR platforms, attendance systems, and communication tools. This integration allows for seamless data exchange, improved efficiency, and centralized management of employee information, making the return to work process more streamlined and effective.
How do return to work apps help with contact tracing and monitoring employee health?
Return to work apps facilitate contact tracing and monitoring employee health by providing tools for recording employee desk arragnments, tracking symptoms, and monitoring potential exposures. These apps enable organizations to quickly identify individuals who may have come into contact with an infected person, assess their health status, and take appropriate actions to mitigate the spread of illness within the workplace.
What is a return to work app?
A return to work app is a digital solution designed to facilitate and streamline the process of transitioning employees back to the workplace after a period of remote work or absence. These apps typically include features for health assessments, contact tracing, communication, safety protocol enforcement, and real-time updates. They help organizations ensure a safe and smooth return to the workplace by providing tools for managing employee health, tracking potential exposures, and enforcing safety measures.
Can return to work apps help with managing workplace capacity and scheduling?
Yes, return to work apps can help with managing workplace capacity and scheduling by allowing employees to schedule their return to the office, reserve workspaces or desks, and manage occupancy limits. These apps provide visibility into available spaces, enable employees to plan their in-office days, and help organizations ensure compliance with social distancing guidelines and capacity restrictions.
What platforms and devices are compatible with Fliplet return to work apps?
Fliplet Return to work apps are typically designed to be compatible with various platforms and devices, including web browsers, iOS, and Android. This ensures that employees can access and use the app on their preferred devices, whether it's a computer, smartphone, or tablet, making it convenient for them to complete health assessments, receive updates, and engage in communication related to the return to work process.
Level up with free resources
Interested in building an app without coding?
Speak with a Product Expert