The top 4 app building solutions for businesses
"Software is eating the world," declared Marc Andreessen, a prominent tech investor, in the Wall Street Journal. And that was back in 2011! The title is as valid now in 2018 as it was then.
We have collected data that tracks app usage in enterprises over the past year. We found that the average business built 4 of their own apps. The most prolific app builders reached 20-30 apps per company. Click here to receive the full report.
Apps are providing not just faster methods for getting work done, they are giving businesses a competitive edge and are opening up entirely new markets. With apps performing such an integral role in every department within a business, the question quickly arises for CTOs – how can they quickly respond to and maintain the growing technology usage across the business? IT teams have enough on their plate just managing existing tech infrastructure. Now they're being asked to build apps from scratch, ensure these meet enterprise security standards and then maintain the apps, updating for shifts in business strategy or compatibility with operating system upgrades. It's no wonder that a range of app building solutions have cropped up to help address this need.
However, with so many possible app building solutions out there – how do you know which is the right one for your business? Luckily this is something we know quite a bit about. We've split enterprise app builders into 5 categories of business needs and have identified a solution for each.
And here they are…
Best for – local/small businesses
Appy Pie
AppyPie offers one of the fastest and simplest solutions for small businesses. They provide a wide range of prebuilt templates that you can adjust to incorporate your branding and company logo. . AppyPie specializes in solutions  for restaurants, real-estate businesses and even weddings
"Appy Pie is a fantastic, introductory app designer, especially for those interested in creating or adding a game to their mobile app." – business.com
Top features – The ability to add gamification and help promoting your apps.
Pricing – Starter is free, prices can run up to £40 per app per month.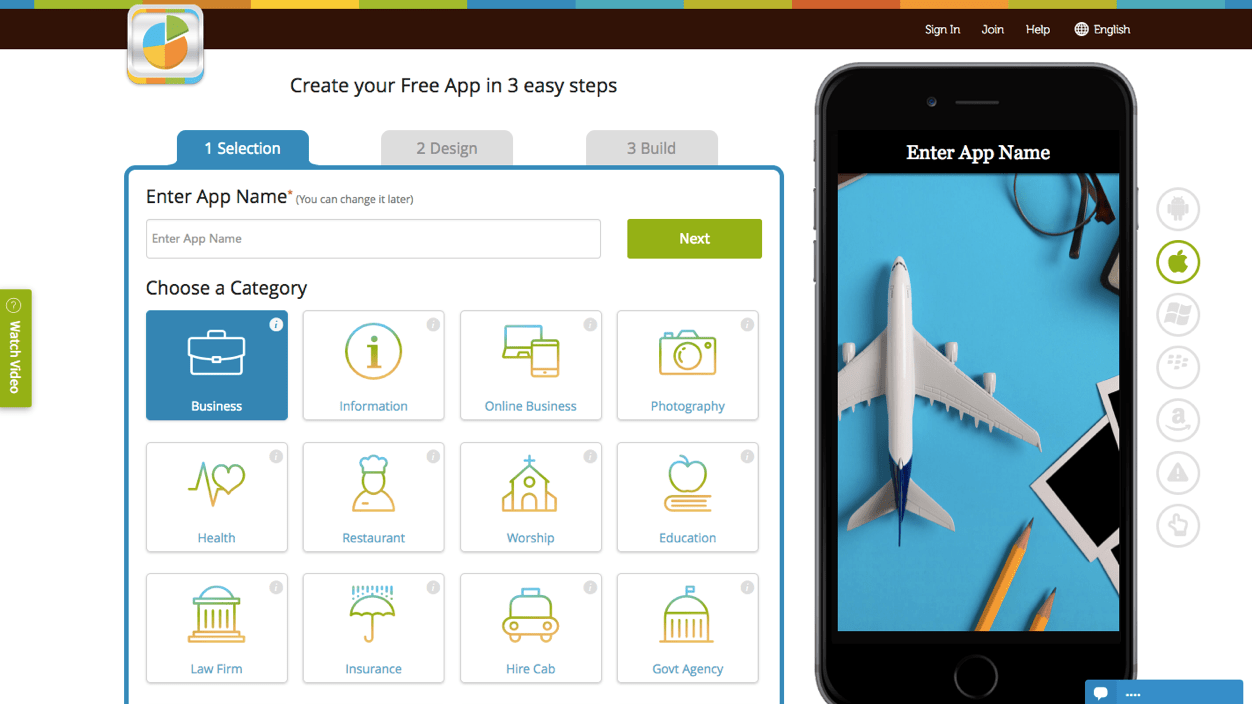 Best for  – Large Enterprise
Fliplet
It would obviously be remiss of us not to include Fliplet. Fliplet Studio is a no-code fully-flexible app building platform that caters for the needs of large corporates. Clients include Colgate, Accenture, Skadden, Deloitte, Nestle, Sky and many more.  The platform enables non-technical users to build and maintain their apps with a drag and drop interface. This substantially reduces the demand on internal IT teams while offering other business units the ability to build and maintain apps that meet their specific needs.
The platform is best suited to those looking to build multiple apps as the pricing doesn't increase per app deployed. This makes it possible to build apps for a single event or even a single client as much as build apps to support core infrastructure. If you unsure of whether you need multiple app take a look at Fliplet's app gallery for inspiration
"Building Apps using Fliplet is not only simple but it is also very cost-effective. The Fliplet studio makes it easy for someone with no coding experience to design fully functional apps ready to deploy in just hours." – Ken Capece, Colgate.
Pricing – Demos are free. Fliplet's pricing structure offers unlimited apps but charges per platform license.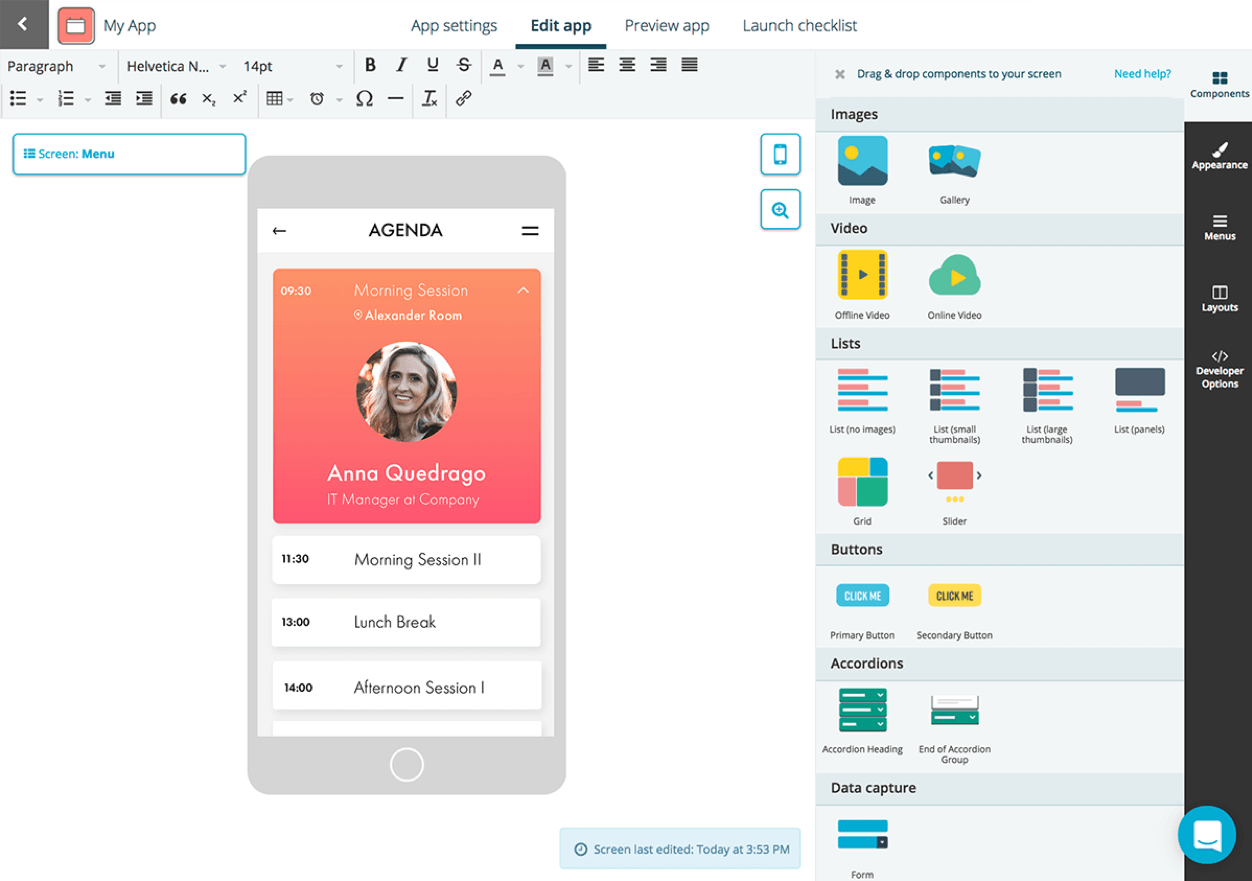 Best for – Progressive web apps (PWA)
GoodBarber
Progressive web apps are similar to responsive websites except with some additional functionality – such as the ability to work offline and send push notifications. The technology is relatively new and hasn't entered the mainstream but is showing early signs of promise.  One of the key advantages is the ability to download the app directly from a website without having to go through an app store. The key drawback however is the lack of adoption across all platforms – most notably Apple's Safari browser – which does not support PWAs.  
GoodBarber allows users to choose from over 50 different templates to build their apps. Some of their app categories include restaurants, churches, nonprofits and more.  
"Create a progressive web app and always provide the best UX on mobile, tablet and desktop." – GoodBarber
Top features – High ranking usability, integrates with web content management systems.
Pricing – $15 per month at basic, up to $96 per month for premium.
Best for – Developers
Xamarin
If you have the developer resource to deploy then Xamarin could be the smart choice for your business.Xamarin helps you build native apps for multiple platforms on a shared C# codebase. You can integrate your apps with existing programs such as Github, Bitbucket or VSTS and launch your apps on Android, Windows, iOS and macOS. Developers can use the same language, API's and IDE everywhere.
"Xamarin is the way to go if you are thinking to develop application by using the C# language." – Peerbits.
Top features – The ability to reuse code and their native functionality.
Pricing – Starter pack is free, prices can run up to approx. $1899 annually – however you'd have to include the cost of the developer resource to deliver the app.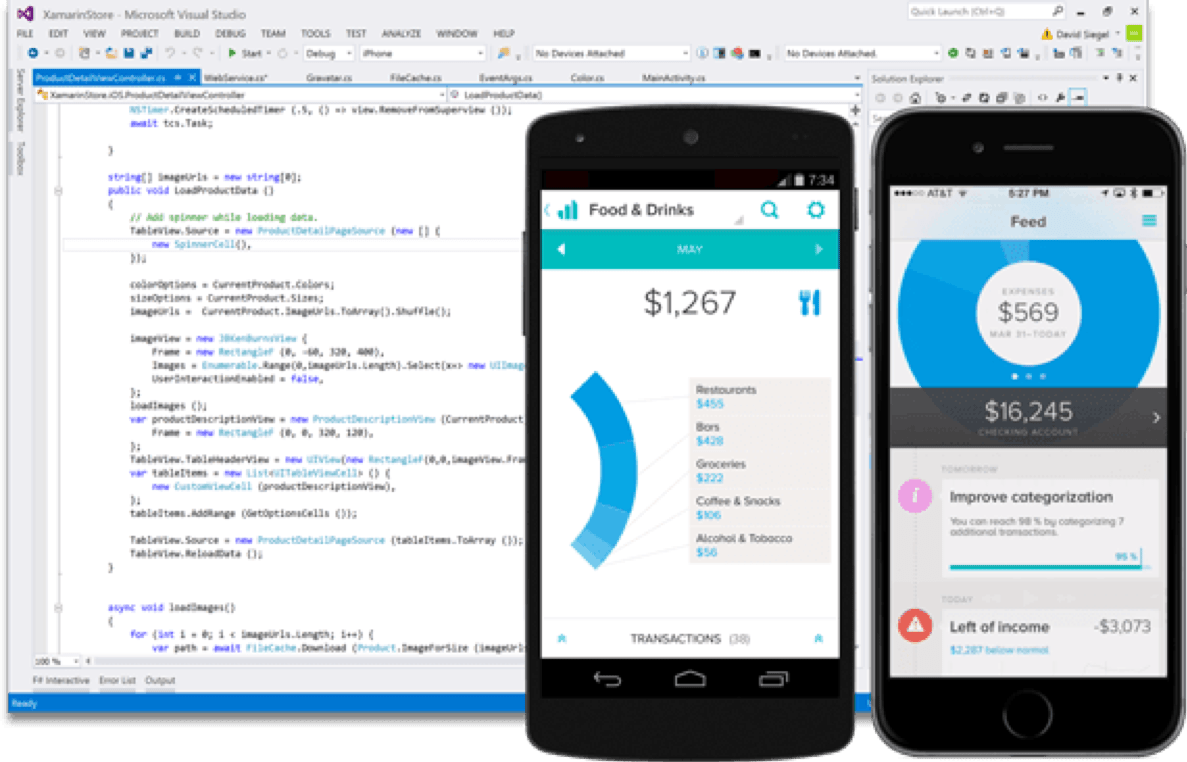 What next?
Building an app is only the first step in generating business value.  You'll almost certainly need to conduct thorough user tests and undergo a number of iterations before rolling your app out to employees or customers.
If you need advice on this or further assistance choosing the right app builder our app experts are here to help. Just click on the button below to set up a call or email us at hello@fliplet.com.