iOS 15 updates and the impact on Fliplet apps and app creators
Your content goes here. Edit or remove this text inline or in the module Content settings. You can also style every aspect of this content in the module Design settings and even apply custom CSS to this text in the module Advanced settings.
Here are some of the features that could have quite an impact on Fliplet's app creators, app users and those who are particularly interested in privacy & security.
You can find details of all the new iOS 15 features at ​https://www.apple.com/uk/ios/ios-15/features/
Have you had a chance to use iOS 15? What are you most excited about? Tell us in the Fliplet Community.
Impacting app creators
Focus modes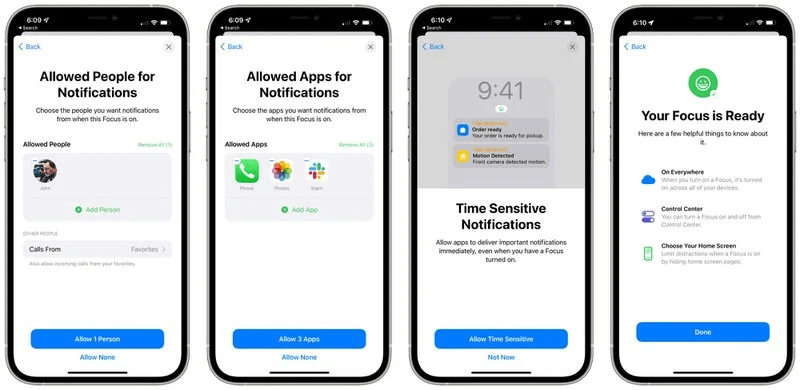 What is it?
iOS 15 upgrades the Do Not Disturb feature into what it now calls Focus modes. Each Focus mode allows you to filter specific apps and people so that you can control which apps are allowed to interrupt you with notifications. Each Focus mode can also be customized so that the lock screen and home screen can have different behaviors, e.g. dimming the lock screen or hiding notification badges on the home screen. You can even show an entirely different set of apps on your home screen when you're in a certain mode!
A Focus mode can be enabled manually or automatically based on a trigger e.g. on a schedule, while you're using a specific app, or when you're at a certain location.
For example, you could configure a Focus called Work to be enabled during work hours or if you're in the office. The Work Focus could silence all notifications except for work related apps, and hide the home screen page that contains all the social media apps.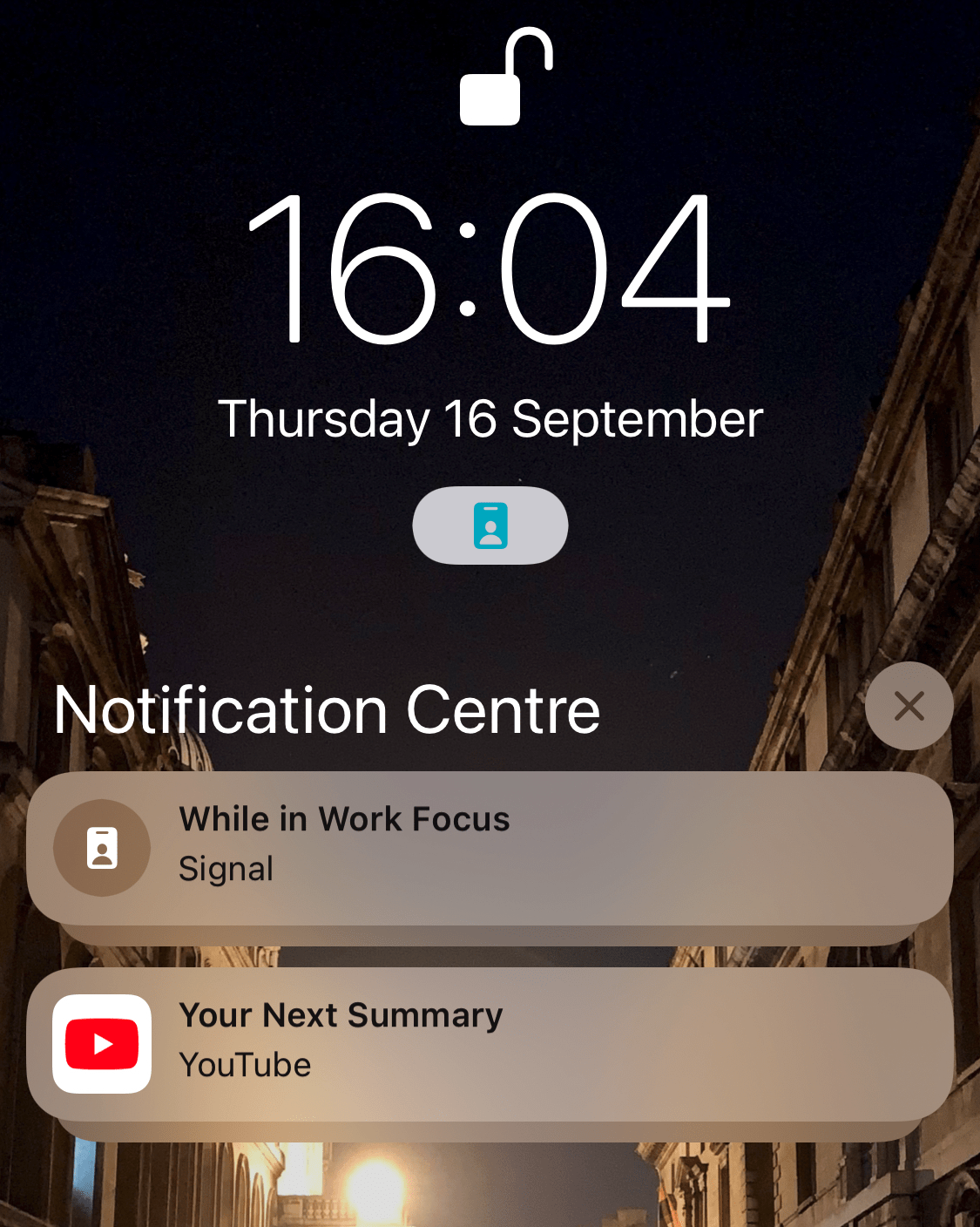 Why will this impact app creators?
Because Focus modes allow certain parts of the device experience to be essentially temporarily turned off, users are likely to have to go through a large number of notifications when a Focus mode ends. This could cause a problem where users are likely to miss one or two important notifications amongst the many.
How should app creators manage the impact?
Focus modes are managed based on an approval basis. This means that by default all the apps are not allowed notifications. To help manage this, it becomes important to explain to app users what kind of notifications they can expect and why they should care. It may also be helpful to recommend adding the app to the allowed list of apps in the relevant Focus modes.
For more on making an app for iPhone, read our blog.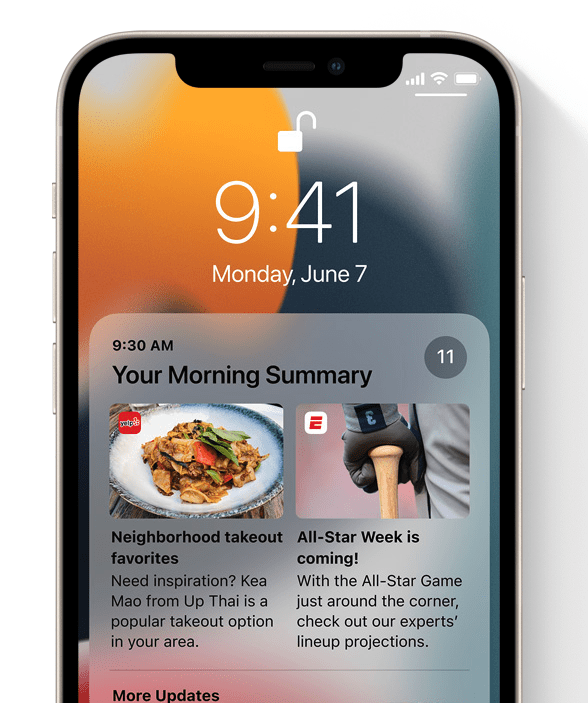 What is it?
Notification Summary allows you to receive a helpful summary of your notifications delivered at a schedule of your choosing, e.g. at 8am and 6pm. Before your summary is delivered, all the notifications from a select list of apps will be collected and postponed instead of being delivered right away. It really puts you in the driving seat and lets you control when and how you'd like to read those notifications from your apps.
Siri's machine learning capabilities are also integrated into Notification Summary so that it could find opportunities to optimize your time and attention by asking you whether you'd like to postpone notifications from an app into scheduled summaries, or allow notifications from a contact to break through the schedule.
Why will this impact app creators?
It's important for app creators to build trust with their users by ensuring notifications are relevant and timely. If the app sends too many notifications and users are unable to manage them, users are likely to add the app's notification to Notification Summary where it would be delivered in batch with notifications from all other apps.
Similar to Focus modes, Notification Summary allows users to not only be in control of when the notifications would be consumed. As a consequence, there could be a long list of notifications for users to go through.
How should app creators manage the impact?
To prevent users experiencing notification fatigue, it is important for app creators to make sure their app users understand the value of the apps' notifications. In some scenarios, it may be necessary to explicitly ask the user to exclude the app from notification summaries, especially if the app delivers time-sensitive notifications.
Focus modes and Notification Summary presents some interesting opportunities for app creators to optimize how notifications are sent and managed, which is something Fliplet will be exploring in the coming months. If you have any questions or thoughts about this, we would love to hear from you in the Fliplet Community.
Live text
What is it?
With Live Text in iOS 15, Apple has integrated Optical Character Recognition (OCR), which allows its camera to recognize words and interact with them. The good news is that this seems to be available for all apps by default.
There are 2 primary ways to use Live Text.
Use Camera or Photos to interact directly with the image presented on the screen. You can directly select and copy the text, then paste it elsewhere.
When filling in a form field, tap on the field to show the tooltip menu. A new Live text option is available where the keyboard will be replaced with a camera view, allowing you to select any text that's in view of the camera.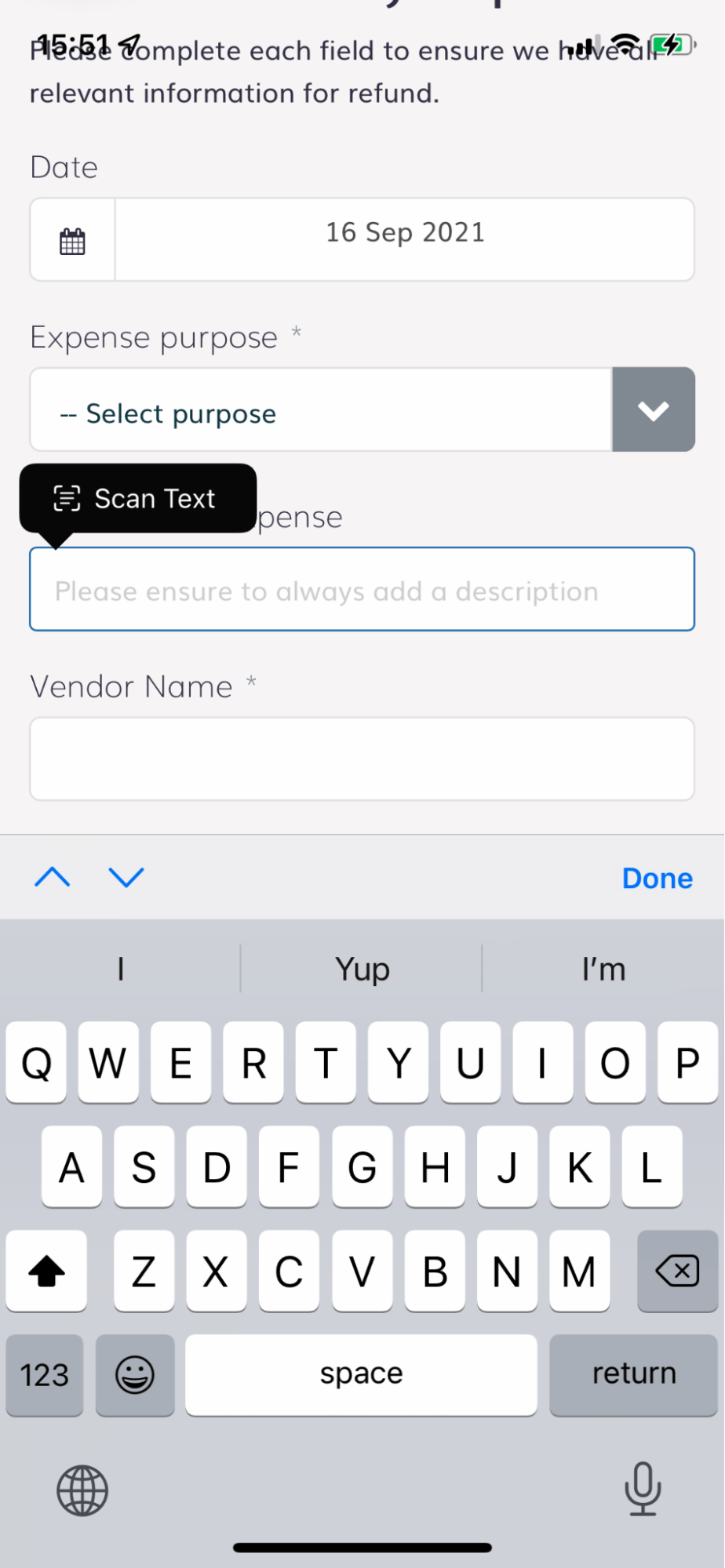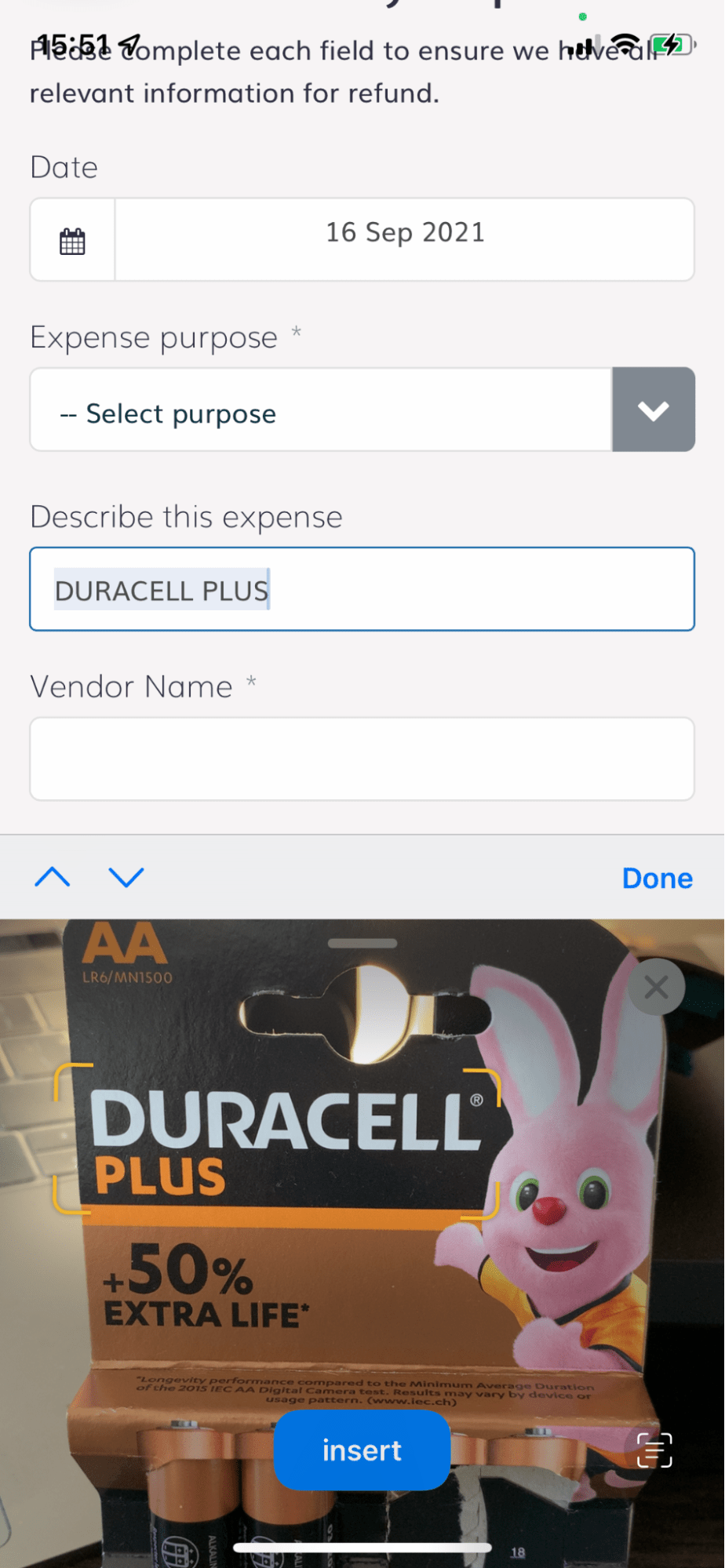 Why will this impact app creators?
This feature provides the ability to streamline the user experience when filling out forms. Not only does it save time when filling in long form content, it could also minimize errors when filling in information such as serial numbers.
How should app creators manage the impact?
If your app functionality could benefit from users being able to fill in forms through the assistance of the camera, e.g. filling in expense forms, it could be a good idea to educate your users to use the Live Text feature.
Learn more about Live Text at https://appleinsider.com/articles/21/07/27/how-to-use-live-text-on-ios-15
Impacting security & privacy
Privacy
iOS 15 adds a few security and privacy enhancements. None of these privacy enhancements affect Fliplet's app creators or our app users. However, if you have any interest in how security and privacy are protected on their mobile devices, the iOS users in your organization may be excited about these features.
New privacy protections
Intelligent Tracking Prevention (ITP) has been available since iOS 11 in 2017. It included features such as privacy reports, preventing cross-site tracking etc. ITP in iOS 15 now also prevents trackers from profiling you using your IP address.
Fliplet web apps will not be impacted by the new privacy protections because they don't rely on users' IP addresses for any core functionality or optimization. Fliplet native apps are also unaffected because this is a feature that only applies to websites visited in the Safari app.
iOS users in your organization can simply use Safari on iOS knowing that their IP address is safe from being used for tracking.
If your organization uses any software or platform that relies on IP address information, some functionality may be impacted. You may need to refer to the software administrators or providers to learn more.
Learn more at https://techcrunch.com/2021/06/07/apple-refines-ios-15-notifications-with-focus-summary-features/
Mail Privacy Protection
Mail Privacy Protection helps protect your privacy by preventing email senders from learning information about your activity in the Apple Mail app. If you choose to turn it on, it hides your IP address so senders can't link it to your other online activity or determine your location. And it prevents senders from seeing if you've opened their email.
Fliplet apps do not send emails that use mail tracking. Your apps, communications and analytics data will not be impacted by this. iOS users in your organization can simply use Apple Mail knowing that their privacy is being protected.
How to set up Mail Privacy Protection: https://www.techrepublic.com/article/ios-15-how-to-enable-mail-privacy-protection/
What a marketer should do to prepare for Mail Privacy Protection: https://sendgrid.com/blog/how-to-prepare-apples-mail-privacy-protection/
App Privacy Report
A section in Settings lets you see how often apps have accessed your location, photos, camera, microphone and contacts during the last seven days. It also shows you which apps have contacted other domains and how recently they have contacted them. This is a good complement to an app's privacy label, so you can be sure you're comfortable with how it's treating your privacy.
The feature gives users more visibility over what's happening in each app. It does not have any functionality impact on the apps.
How to access App Privacy Report: https://mashable.com/article/how-to-turn-on-apple-app-privacy-report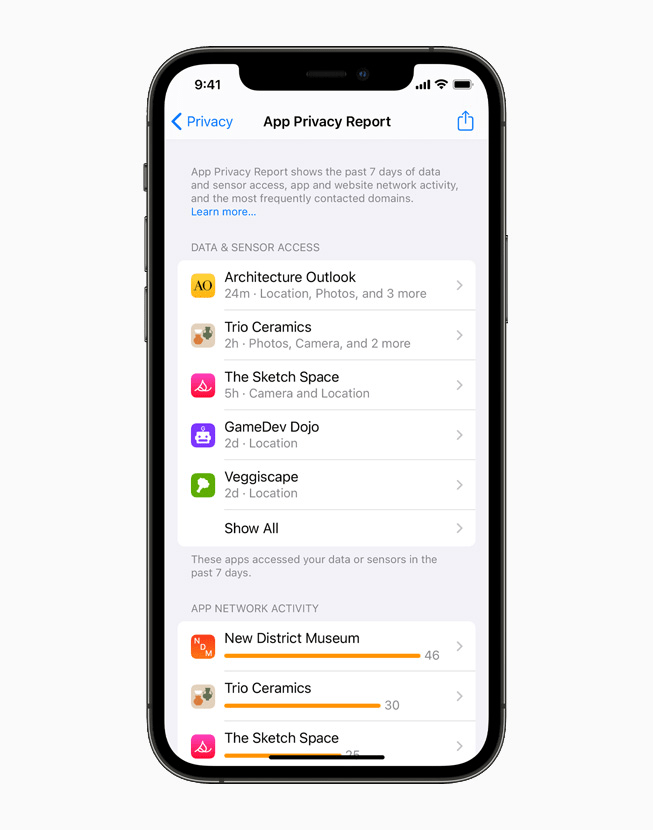 On-device speech processing
The audio of your requests is now processed entirely on your iPhone unless you choose to share it. The power of the Apple Neural Engine enables speech recognition models with the same high quality as server-based speech recognition.
This feature minimizes the amount of user data leaving the device. Any speech processing features should remain unaffected.
Learn more at https://www.idownloadblog.com/2021/06/08/ios-15-siri-offline-features/
iCloud Private Relay
iCloud Private Relay is a service as part of the iCloud+ subscription that lets you connect to virtually any network and browse with Safari in an even more secure and private way. It ensures that the traffic leaving your device is encrypted so no one can intercept and read it. Then all your requests are sent through two separate internet relays. It's designed so that no one — including Apple — can use your IP address, location and browsing activity to create a detailed profile about you.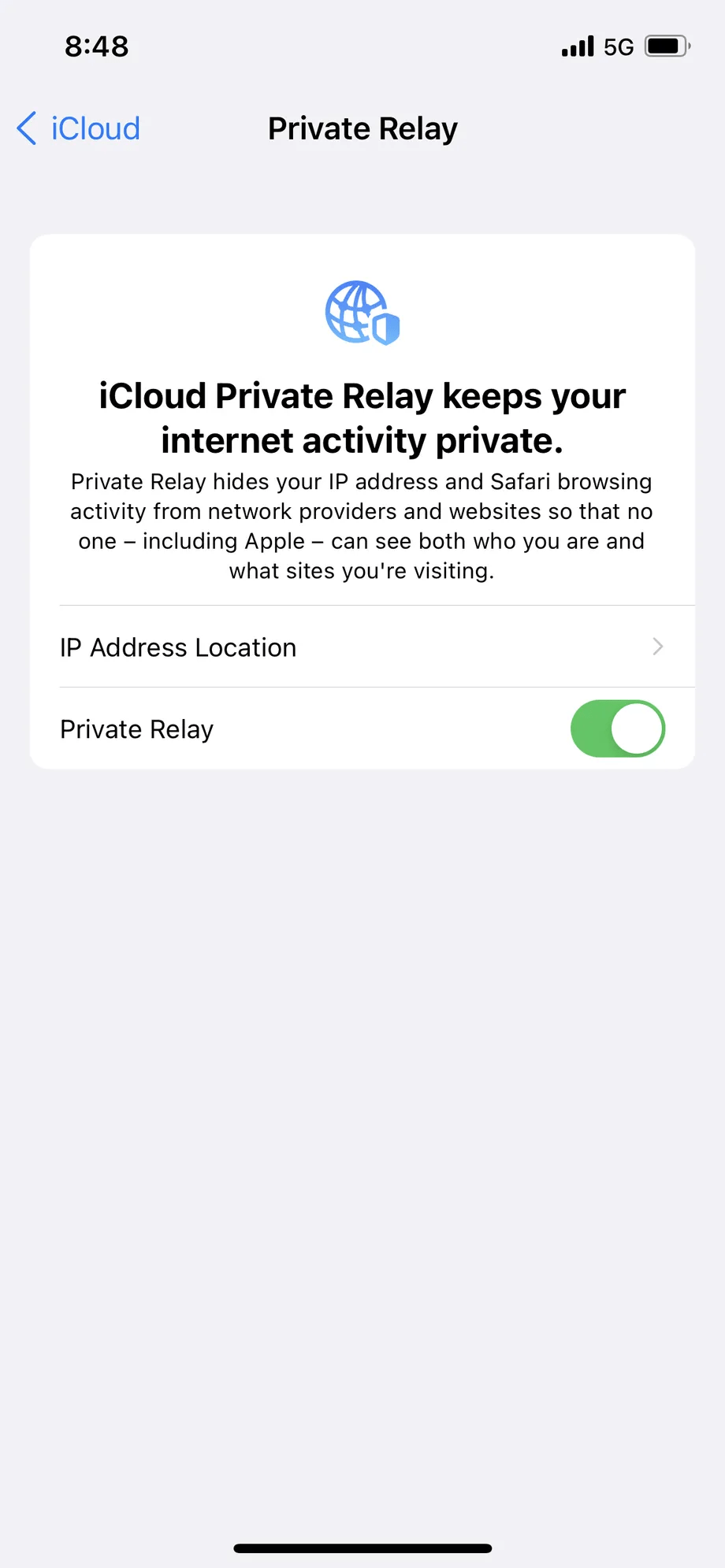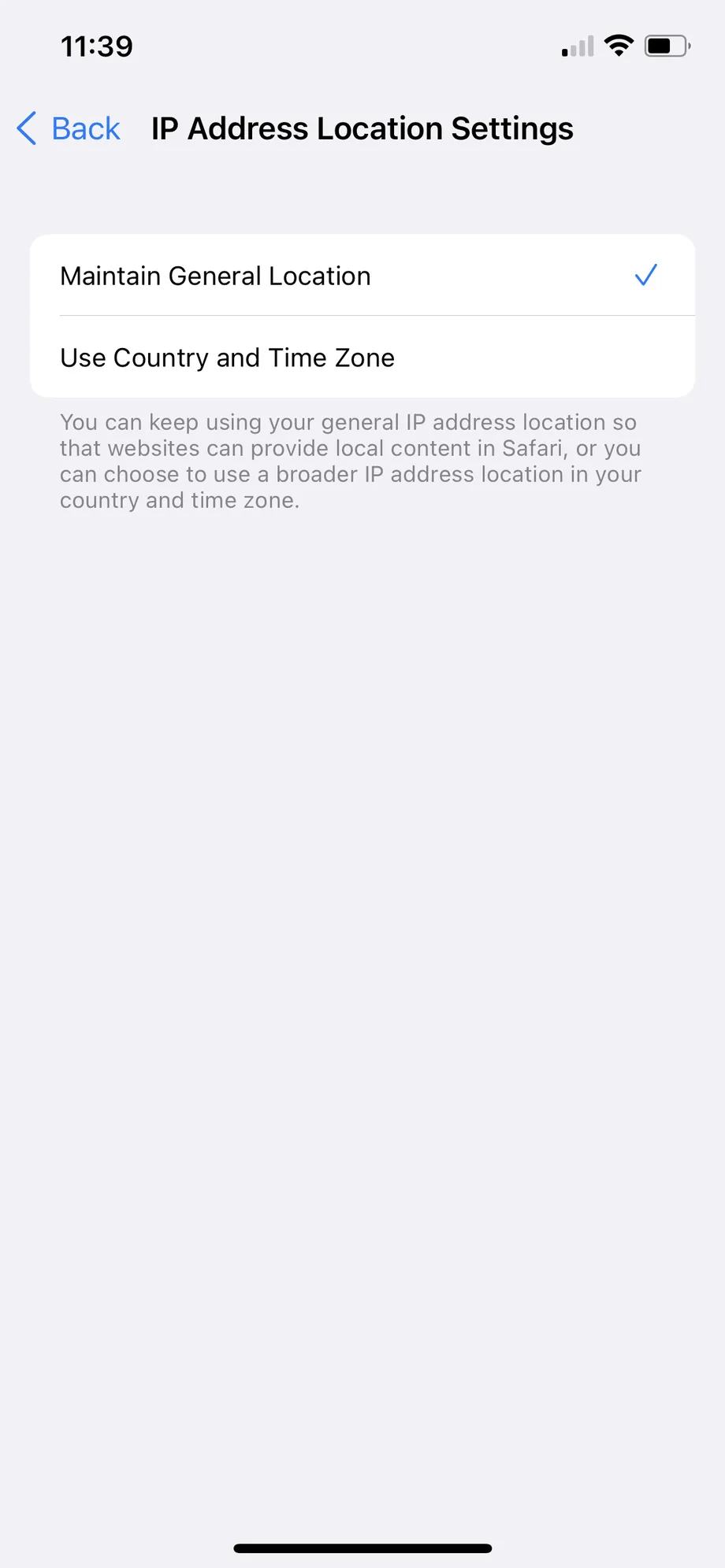 Fliplet apps don't rely on users' IP addresses for any core functionality or optimization, so the apps are not affected by this.
Learn more at https://www.theverge.com/22573519/apple-private-relay-icloud-plus-ios-15-ipados-macos-monterey-how-to
Security
Built-in authenticator
What is it?
One-Time Passwords are commonly required for apps that require Two-Factor Authentication (2FA) or Multiple Factor Authentication (MFA). It's a system that generates a 6 or 7-digit code during login to confirm that the login is from the legit person. Generating verification codes used to require authenticator apps to be installed from the App Store. If a site offers One-Time Passwords, you can now set up verification codes under the Passwords section in Settings — no need to download an additional app. Once set up, verification codes autofill when you sign in to the site.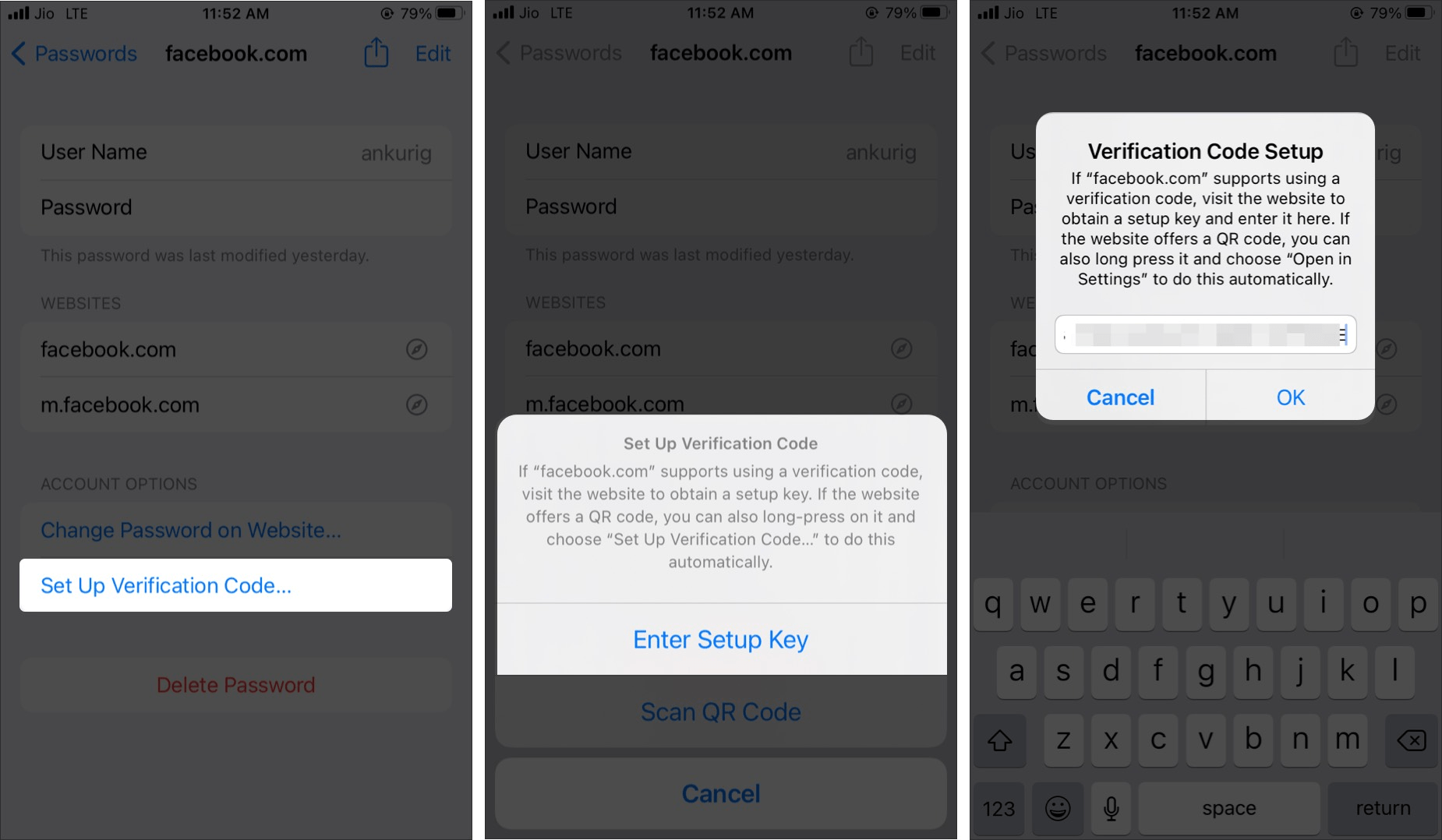 How does this impact Fliplet's customers?
Fliplet apps do not currently support MFA. If you already use authenticator apps to manage two-factor authentication on Fliplet Studio, they will continue to work. If you want to avoid using a third-party app, you can learn more about how to set up 2FA verification codes via https://www.macobserver.com/tips/deep-dive/ios-15-add-2fa/.
Impacting app users
Cross-app drag and drop
What is it?
Cross-app drag and drop has been available on the iPad since 2017 and Apple has finally extended the feature to the iPhone with iOS 15.
With support for drag and drop across apps, you can pick up text, images, documents and files from one app and drag them into another. Cross-app drag and drop always results in duplication or sharing, not movement, of content.
Some examples of apps utilizing this include:
Dragging photos and files from Photos, Files or Safari into WhatsApp to share them with a contact
Dragging photos from Safari directly into a note
etc.
How does this impact app creators?
Fliplet's apps do not currently support drag and drop on iOS. We are observing to see what would become the norm for iOS apps in general to find the best way to introduce this new type of user interaction. So far, we have found that the experience is often inconsistent from app to app and requires trial and error to find out what drag and drop would do, if it would work at all. When it is supported, there is usually very little information that educates the user on how to use the feature.
If you've been using iOS 15, do you use the drag and drop feature a lot? If so, we would love to hear about your experience.
Learn more and see a demo at https://www.macrumors.com/2021/06/12/ios-15-drag-and-drop-across-apps/
Have you had a chance to use iOS 15? We'd love to hear what you're the most excited about on our community.