Three Reasons Low Code Technology Is Essential for Enterprise Innovation
In recent years, the number of enterprise companies using low code technologies has grown rapidly.
Low code (or in some cases, no code) platforms allow people with no coding skills to create their own digital solutions – think how Wix or Squarespace allow people to make their own websites.
According to Gartner, low code applications will be responsible for more than 65% of app development activity by 2024. Forrester Research expects spending on these technologies to reach $21bn by 2022.
So why are low code solutions being adopted rapidly? Forbes says low code mobile enterprise application development platforms present an opportunity that most companies missed during digital transformation – the opportunity to move fast and be nimble. This is exciting for innovation managers, whose success is based on rapidly progressing through agile development cycles.
The Wall Street Journal points to automation as being one of the driving forces behind low code.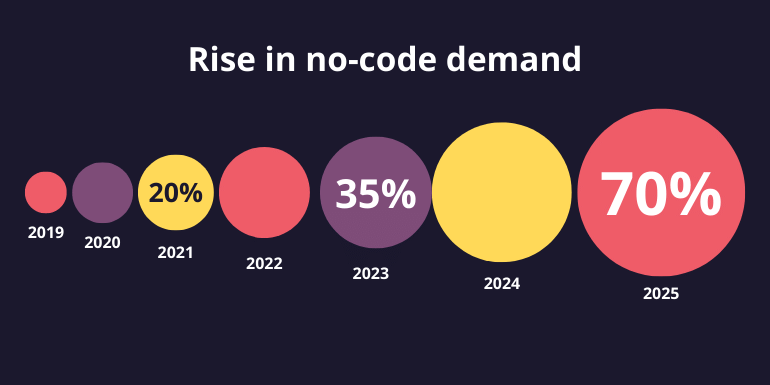 "Low-Code Becomes High Priority as Automation Demands Soar."
The Wall Street Journal
Reasons for Using Low Code Platforms
The chart below shows why enterprises adopt low code platforms.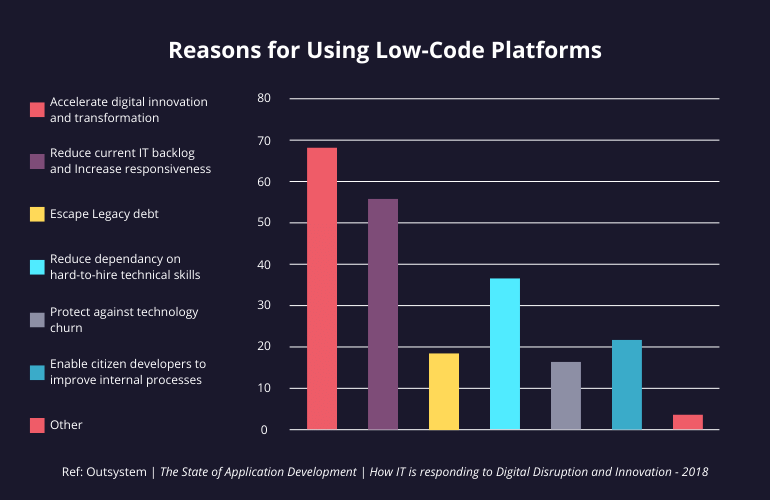 Innovation and transformation is the main reason. It's also notable that four of the top three reasons are all connected with moving development away from IT teams.
A Game Changer for Innovation Managers
The findings above suggest that low code technologies could be a game changer for innovation managers.
We wanted to see what challenges innovation managers faced in their jobs to understand how innovation helps them.
Insider Intelligence surveyed innovation managers at enterprises to understand the factors that limited rapid innovation and meeting business objectives at their company. Here's what we found: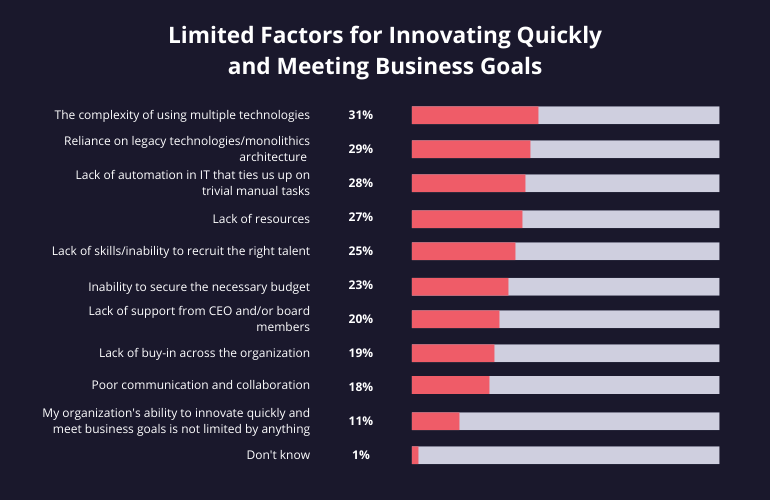 How Low Code Boosts Innovation
Based on the findings above, we identified three main ways that low code boosts innovation.
Build Apps Without Any Coding Knowledge
Low code platforms allow innovation managers to make better use of the skills and resources available to them. Let's look at how this transforms enterprise innovation:
Before low code platforms:
Reliant on expensive developers.
Often left waiting for IT resources to become available.
Development cycles are long and rigid.
Innovation teams use up all their resources managing projects.
With low code platforms:
Low-tech innovation teams are empowered to develop solutions themselves.
New ideas can be quickly prototyped.
Ideas can fail fast. If something doesn't work, very little time has been wasted.
Innovation teams can spend more time identifying needs and coming up with ideas.
These benefits give your organization an 'innovation engine' that continuously generates and tests new ideas.
Low Cost
A lack of budget and difficulty getting buy-in from management are common blockers to innovation programs. Some management boards resist developing new solutions due to the high risk associated with them, and want to see a clear ROI.
Before low code platforms:
Management resists developing new solutions due to high risk.
ROI can't be measured or proven.
Innovation is slow, requires highly skilled developers and is therefore expensive.
As innovation is limited, colleagues do not see it as a solution to their problems.
With low code platforms:
Prototypes can be created in a matter of hours using pre-coded elements.
Quicker development and lower cost mean lower risk.
Lower risk helps innovation managers secure budget and management buy-in.
Built-in reporting dashboard allows ROI to be proven using easy-to-read charts and graphs.
Proving the value of new solutions changes the organization's perception of technology.
Communication and Collaboration
Getting internal and external stakeholders involved in development can be challenging.
Before low code platforms:
Adding features later takes additional developer time, so innovation managers need to ensure that they include all features that their users might want in their brief.
Limited access to demos makes getting people involved by contributing and testing difficult.
Waiting for management sign-off can significantly delay projects.
With low code platforms:
Stakeholders can sign up for accounts and see the solution first-hand from their own devices.
Innovation managers can grant them different access levels, enabling them to comment or collaborate.
Innovation managers can keep people informed, get their buy-in and ask them to test the solution.
Get Innovation Tips from A Silicon Valley Expert
In this blog, we've seen how low code platforms are a game-changer for innovation managers. They can now spend more time identifying problems and trying out ideas, instead of getting bogged down in lengthy development processes.
Do you want to achieve this at your organization? Do you want to learn how to successfully deliver innovation? If so, watch our webinar recording, Five impactful tips to accelerate your enterprise's innovative success, where we'll be speaking to Professor Curt Carlson, an author and the CEO of Practice of Innovation.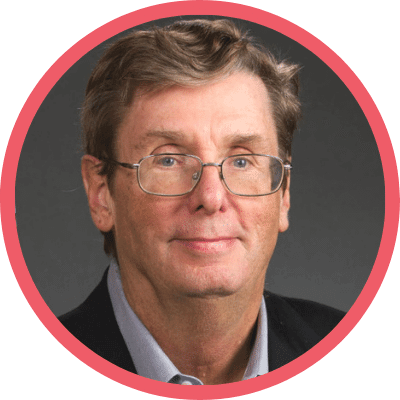 Curt Carlson
Founder and CEO @
Practice for Innovation