Ultimate Guide: How to scale mobile enterprise app development without coding or IT resources
Written by Niamh Conneely
11 min read  |  10/02/2023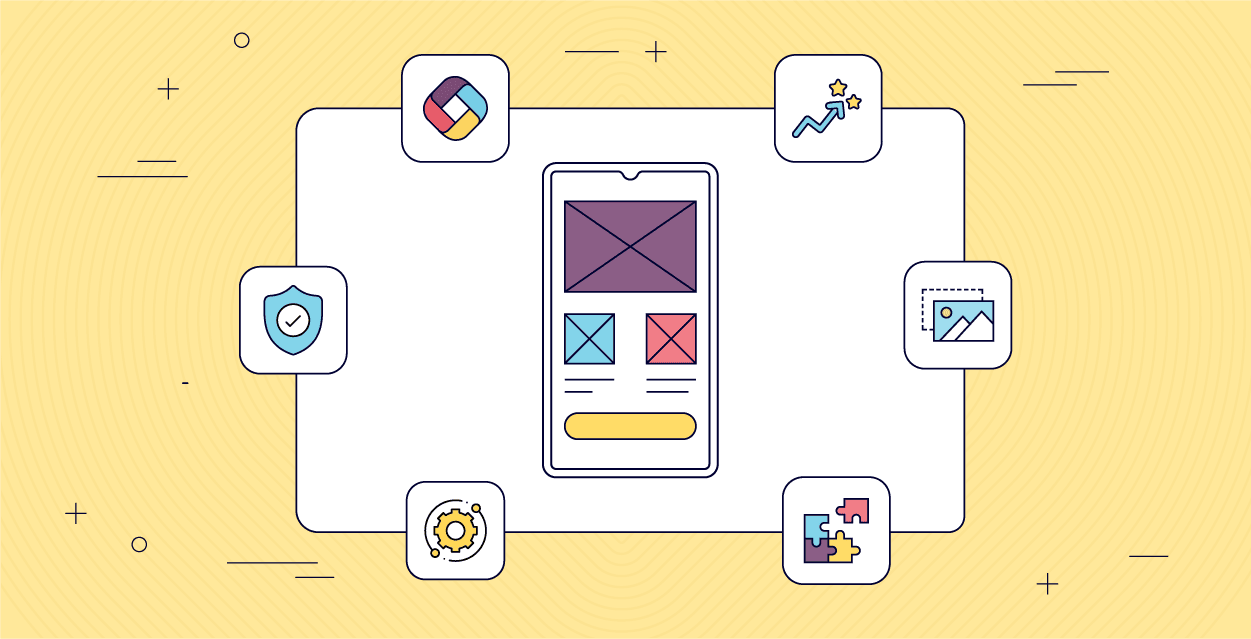 According to Microsoft, 86% of businesses struggle to find developers to build custom apps. So, what if we tell you that you don't need developers anymore. 
No code development platforms are a revolutionary way to build and deploy applications without having to write any code. This technology has taken enterprise apps development by storm. 
If you want to create your own app without code, but just don't know where to start, then you have come to the right place! We have created the ultimate guide to help you build your enterprise app without coding. 
Follow the six simple steps and have your app up and running in no time. 
Mobile Enterprise App Development in 6 simple steps
Step 1: Select a platform
When considering a no-code app builder for your enterprise, it's important to take the time to evaluate multiple options.
Factors to consider include budget, interface, reputation, and customization, integration, security and support. Also, read customer reviews – we recommend looking at reviews on G2 and Capterra! 
It is important to note not all no-code mobile enterprise app development platforms have the features to meet your personal needs.  It's important to vet the platform properly to determine if it can meet your current and future needs.So, take enough time when considering multiple no-code app-building platforms.
We recommend you choose a no-code platform based on the following factors:
Reputation
When choosing a no-code app builder for your business needs, take the time to look into its reputation – read customer reviews and explore related case studies. Doing so will give you peace of mind knowing you're making a wise choice.
User interface
Before subscribing to a no-code app maker, investigate whether the interface is easy to use and feel comfortable with. Most platforms offer free trials which can help you gain an understanding of the features and how user-friendly they are. 
It's important to take advantage of this opportunity because some app building platforms require more effort than others to learn how to use them. Once you're confident in your decision, you can rest assured that you've picked an enterprise mobile application platform that meets your specific needs.
Cost
Have a clear budget in mind before beginning your search. Knowing what range of prices you are working within will help you quickly eliminate certain options that are out of your price range.
At the end of the day, choosing an app maker with various subscription plans tailored to different stages or sizes of businesses–whether they're new enterprises or established ones–will ensure that your project gets off on the right foot without breaking the bank.
We believe in the saying 'try before you buy'. We strongly recommend that you take full advantage of using a platform's free trial so you can ensure the interface is right for you, as well as the features the platform offers. 
Customization options 
When shopping for an app builder, before you make a final decision, it's crucial to determine if the platform can support all of your needs and offer limitless options. 
It's more than likely that you'll want to add advanced features to your mobile app that not all app builders will have as a part of their offering. Evaluate no-code app building platforms that provide customizability and flexibility when creating an application.
For more on making an app for iphone, read our blog.
Integration
Integrating your mobile app with existing enterprise systems and tools is essential for creating a seamless user experience. A no-code mobile development platform should make it easy to integrate with the systems and tools you already use, adding value to your business operations.
Fliplets Zapier integration is a great example of how mobile app platforms can provide extra benefits to enterprise organizations. Fliplets Zapier integration allows users to connect their apps to over 5,000 other applications such as Google Sheets, Microsoft Outlook and Google Calendar. 
By taking advantage of this type of integration, businesses can streamline processes for improved efficiency and cost savings, as well as take advantage of increased data accuracy.
No-code application development platforms that offer integrations enable businesses to move quickly and gain a competitive edge in the marketplace by quickly implementing changes in response to customer needs or market trends.
Security
Security is a crucial consideration when choosing a platform for your enterprise. Your platform should have robust security features in place to protect sensitive data, such as multi-factor authentication, encryption, and regular security updates. It should also comply with industry standards such as ISO 27001.
At Fliplet security is a priority, take a look at all Fliplets security features.
Support
For enterprise organizations, it's important to look at the level of support the platform offers. With multiple users building different applications, you need to make sure that the platform you choose has the necessary resources to help everyone succeed. 
Look for a platform that offers a wide range of support options, including documentation, tutorials, and customer support for those who need a little extra help. This way, everyone can access the support they need, when they need it.
"The platform is extremely user friendly and flexible and allows for rapid development of an app suitable to launch. The support received from the entire Fliplet team (whether it is with app functionality or marketing your app) is exceptional and truly allows the user of the product the opportunity to focus on creating an engaging app." Take a look at more Fliplet G2 reviews. 
Fliplet: Why you should use Fliplet for your mobile enterprise app development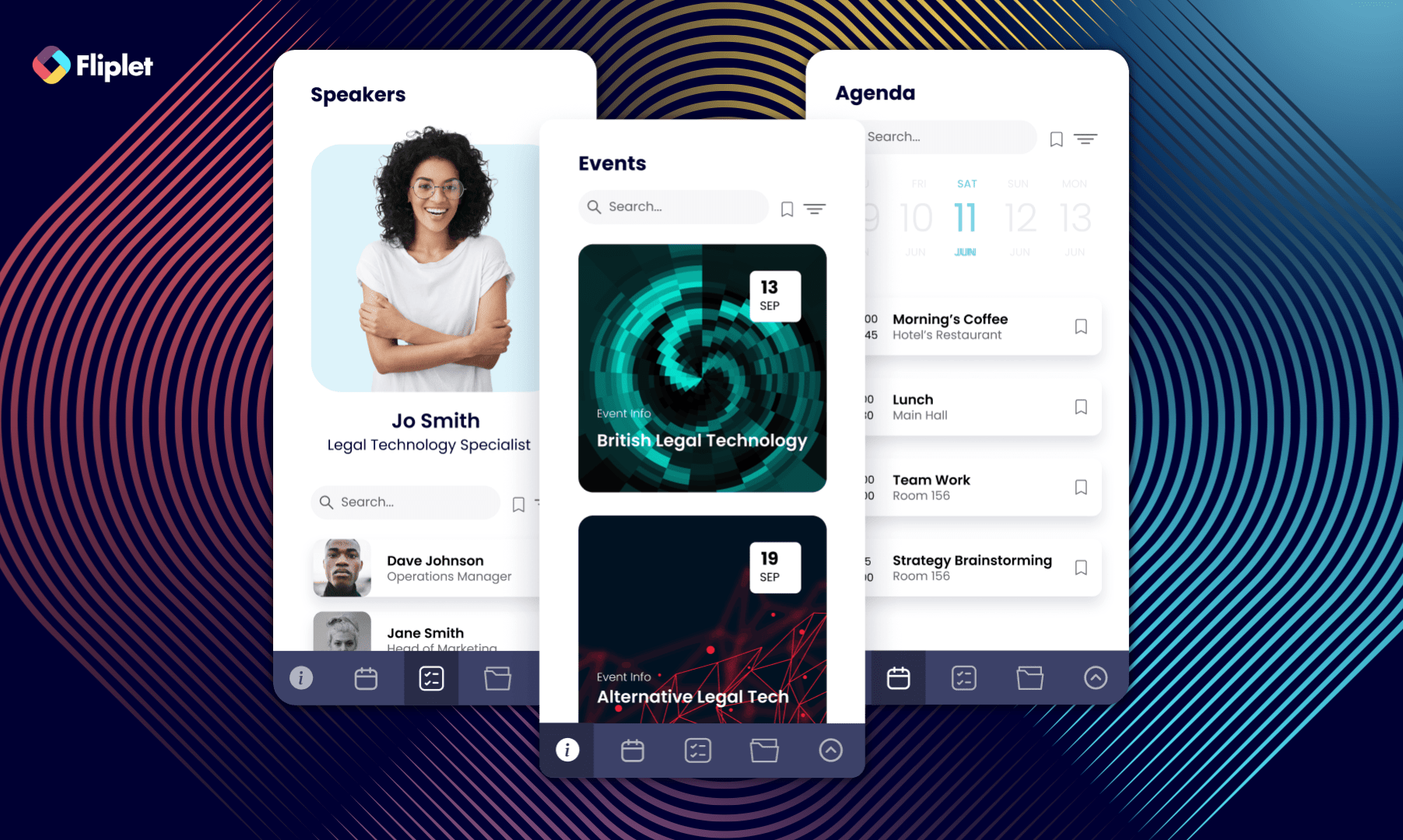 After taking in these factors when deciding what is the best no code enterprise application development platform we strongly recommend Fliplet. 
Are you looking for a reliable, no-code mobile enterprise application platform? Are you ready to take your mobile app game to the next level? Then Fliplet is the clear choice for your organization!
With its customizable platform, drag and drop interface,  cost-effective pricing, and plethora of advanced features, Fliplet is changing the game for enterprise everywhere.
Fliplet is an award-winning app building platform used by organizations worldwide. It boasts an easy-to-use drag-and-drop interface that eliminates the need to hire costly developers in order to bring your ideas to life.
With its intuitive platform, creating internal or external applications that seamlessly integrate with existing systems can be done in hours rather than months. Anyone within your enterprise can build an app using Fliplet – no matter their technical ability! 
Plus, Fliplet's flexibility and scalability makes it a perfect fit for businesses of any size or industry.
Don't just take our word for it! "Its been two years now (using Fliplet) and the biggest win for us is how simple and quick it is to use" – Top 30 UK Law firm. Read the full case study. Fliplet has been rated 4.8/5 on G2 and 4.6/5 on Capterra. 
Step 2: Choose the Plan that fits your app development needs
When you've chosen your no-code app building platform, take the time to select a subscription plan that fits your needs and budget. Before you make a decision, assess the features that you want in the app, and how much they might cost. If you're looking to build multiple apps, for instance, then subscribing to a more expensive package may be necessary.
It's also important to consider what type of device compatibility your app will need. Do you want it available on every mobile device – including tablets? Or just smartphones? Doing the research ahead of time can save you money and ensure you get all the features needed for your project.
Once you evaluate all of the plan options available, look into what features are included in each pricing tier. Enterprise companies will likely benefit from more expensive plans with additional features like custom branding or analytics integrations. 
Remember to take all these factors into consideration when selecting your plan–whether that's getting a single app up and running or building an entire suite! 
Step 3: Pick a Template
Having chosen a no-code app-building platform for your enterprise, choosing the most suitable template for your business needs is essential. 
No-code app builders make it simple and easy; with just a few clicks you can create an app, regardless of your coding skills or experience. This is done thanks to templates that come preloaded with features according to the type of business, giving you a running start for your app project.
The key here is finding the right template that meets the requirements of your desired outcome. Once you have pinpointed what it is exactly that you need your app to do, you can select the most relevant template from the range available in order to get started building your own unique mobile application!
Fliplet has a large selection of prebuilt app solutions that you can  fully customize to suit your needs, these include: 
Fliplet offers a huge range of features that helps you build your mobile application in hours, not weeks, some of these include:
Notifications

Reports and analytics

Brand your app

Customize with drag and drop

Uploading your own content

Use on any device: mobile, tablet, and desktop

Enterprise Grade Security (ISO 27001)

Ability to integrate with other systems

Offline access

Help and support

Improves workplace efficiency

Improves team collaboration

No-code (but can be low-code if you want)

Supports iOS and Android
So, no matter what type of app your enterprise is wanting to build, Fliplet offers a wide range of templates and a huge selection of features!
Step 4: Brand your app and add your content in
Creating a mobile app isn't necessarily just about choosing the right template as a starting point. Sure, templates provide all of the major design components and offer a great way to get your project going quickly, but customizing it to suit your business needs is key for creating an effective, personalized end-product.
Changing colors, logos, fonts and layouts are important elements in the customization process, allowing you to create something unique that resonates with your customers. 
Make sure the platform you choose allows you to make the app your own.
Look at how easy it is to brand your app with Fliplet. 
Step 5: Publish 
The next step is publishing it! After you've created and tested your Fliplet app, the final step in the process is to publish your app to any of the supported publishing channels. With Fliplet your app will work on mobile, tablet and desktop. 
There are several publishing channels available for your app. Apps can be published publicly on the web, Apple App Store, or Google Play. You can also distribute apps internally by publishing them as enterprise apps for Android and iOS devices.
Let's see how easy it is to publish your app with Fliplet. 
Step 6: App analytics
App analytics can provide valuable insights into how customers use your app and how its performance could be improved. It also unlocks additional marketing opportunities by helping you identify customer segments and track funnel conversion rates across different channels.
With access to real time data on user behavior within an app, enterprise businesses can better understand how their application is used (and not used) by its customers. 
By gathering key data points enterprises can uncover patterns in customer behavior regarding feature adoption and usage levels which will inform strategic decisions around updates/features development going forward.
Analytics is automatically enabled on all Fliplet apps. Data will be refreshed every 4 hours, and you can view these analytics anytime. Fliplet Analytics shows the following usage data: 
Active devices 

New devices 

Sessions Screen Views 

Most popular screens 

Interactions 

Interactions per screen 

Most active users (if the app has a login) 

Actions per user (if the app has a login)
Overall, Fliplet makes building apps easy and accessible to all. With the easy to use interface, cost effective pricing, large selection of templates and features it makes it one of the best no-code mobile application platforms for enterprise. 
Join hundreds of other enterprise organizations and try Fliplet for free today and start building your unique app.
For more on the best app builders, read our blog.
Enable your mobile enterprise app development with a no-code platform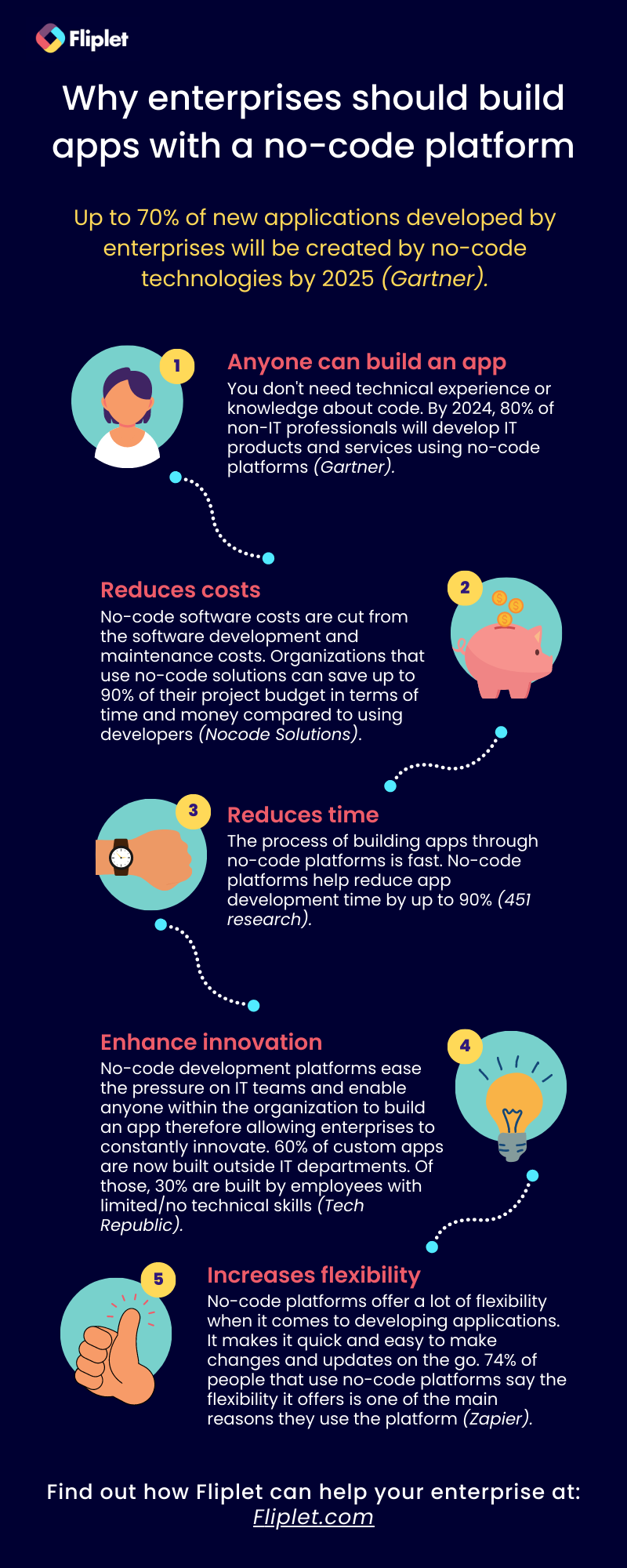 Benefits of developing mobile application with a no-code application builder
No-code is shaking up industries and creating opportunities for enterprises to innovate by developing applications that would otherwise be impossible or too time consuming using traditional coding methods. 
Let's take a look at the top four benefits of using a no-code app builder. 
Speed
Compared to the traditional development process, these platforms create bespoke business solutions 10x faster.No-code application platforms are your go-to options if you want a working app in no time. 
A simple app won't take more than a few hours whereas complicated enterprise applications will take just a few weeks. This allows businesses to rapidly build products with engaging user experiences and scale them quickly.
It also enables users with limited technical knowledge like citizen developers to develop their applications quickly without the support of developers.
Read how a Top 30 UK Law Firm switched from another solution to Fliplet and went from 40 minutes inputting the details for an event to getting an event live in the app in just 10-15 minutes.
Easy
No-code development platforms are a tool that makes it easier to quickly build products with engaging user experiences, saving time, effort and cost typically associated with coding. 
Additionally, they enable businesses to innovate faster with easy launch of new services and products thus helping them stay competitive in the market place. 
Don't let a lack of coding skills stop you from achieving your goals! No-code application platforms make it easier than ever before to build your unique app. 
"Flipet makes it very easy to quickly spin up apps with little to no coding or database experience." Sam – Saul Ewing
Accessible
No-code application development platforms are extremely accessible, which makes them a great option for everyone. As the platforms do not require any coding, anyone with basic understanding can use them easily. 
The simple user interface of no-code mobile enterprise app development platforms makes it extremely accessible for anyone who wants to create an app quickly and efficiently.
"Having never built apps before, Fliplet is a powerful tool which makes app building simple and effective! The vast array of features that are drag and drop mean you aren't required to have a coding background to build an app – this makes life so much easier, and the turnaround time to build an app is dramatically increased". – Customer at an Environmental Service.
Try Fliplet for free and start building your app today 
Flexible
No-code application platforms are extremely flexible, which makes them a great choice for enterprises looking to build and launch products quickly. These platforms come with various customization options that enable users to tailor their apps to meet specific needs. 
The flexibility of no-code application development platforms can make your business successful by enabling you to create products at an accelerated pace.
However, it is important to note, low-code platforms offer more flexibility and customization than no-code platforms. But, low-code takes more time to build and create.
Fliplet is a super flexible platform as it is a no-code platform which is easy to use, however it gives users the flexibility to include low code if they want. The chances are Fliplet has already built 90% of your app for you as Fliplet has 16 solutions and over 300 customizable screens. Fliplet offers endless flexibility and scalability to suit your unique business needs.
Summary
After going through our ultimate guide, we hope you are clear about how to build an enterprise app without coding, what to look out for when selecting a platform, and the benefits of using a no-code platform when building an enterprise app. 
Fliplet is the perfect choice for enterprises who want their own custom apps launched quickly and easily.
Fliplets offers a multitude of features that make using it fast and simple—it has sixteen ready-made app solutions, powerful tools, drag-and-drop design abilities, complete lifecycle management capabilities and an intuitive user experience. 
Fliplet makes it easy to create engaging custom enterprise applications in no time. As we have mentioned, Fliplet is always on hand to offer support and guidance when you're building your application.
Give it a go yourself…
What is a no-code development platform?
In short: no code development makes creating sophisticated digital products faster than ever before!
A no code platform is essentially a suite of tools that allow the user to construct digital products using pre-built components or drag and drop interfaces. No-code development platforms are incredibly fast and efficient. 
What's important when considering an enterprise mobile application platform?
When looking for a mobile app platform, there are several factors to consider. It's important that it's easy to use, has powerful features, provides great support resources and documentation, and boasts a proven track record of success with other organizations.
Additionally, security should always be top of mind when choosing any software solution.
What types of enterprise apps can you build without coding?
With mobile app development platforms, you can create various applications depending on the business and their needs. Enterprise has created apps with Flipet, such as:
What is mobile enterprise app development?
Enterprise mobile app development is the process of creating apps, or applications, for organizations to use on a range of mobile devices. Today's enterprises understand that having a presence in the mobile world can greatly help them reach their goals. 
Every day more businesses are investing in developing sophisticated apps that enable their employees to stay connected, access critical data and collaborate with each other regardless of location or device.
At its most basic level, enterprise mobile app development involves creating an app tailored to meet the specific needs of an organization. An effective enterprise mobile app should also be user-friendly and able to easily integrate with existing systems. 
By giving employees a single interface through which they can connect with customers or colleagues, access important documents and manage tasks – no matter where they are — organizations can improve productivity and efficiency throughout the business.
How do I create an enterprise app?
This blog provides the ultimate guide on how to build enterprise apps without coding. In short, you need to follow these 6 steps:
Select a no-code platform 

Choose a plan

Pick a template 

Brand and customize your app

Publish 

View your app's analytics. 
In the blog we go into great detail about how to build your app.
How much does it cost to build an enterprise app?
When it comes to cost, the answer is that it depends. The cost of developing an enterprise mobile app can vary greatly depending on several factors, including the complexity of the app, the development platform chosen and the experience level of the developers. 
On average, businesses typically budget anywhere from $50k-$150k for basic apps with limited functionality and up to $500k or more for more sophisticated applications.
Building an enterprise mobile app without any coding can be a great way for businesses to save time and money when creating applications.
Instead of spending tens of thousands of dollars on software developers and having to wait months for development cycles, you can use a variety of no-code app building platforms which will allow you to create professional apps in a fraction of the time.
That said, the cost of using no-code platforms can still vary depending on which platform you choose and the features that are included in the package. 
While some platforms may offer a 'freemium' model with basic features, there are also more comprehensive packages available that range from $30-$50 per user per month or even more if additional features such as integration with other services or custom design elements are required.
What is an example of mobile enterprise?
A mobile enterprise is an organization or company that utilizes mobile technology as part of its everyday operations. Mobile enterprises use mobile devices, such as smartphones, tablets, and PDAs in order to access data, conduct business processes, communicate with customers and employees, and provide services to their customers.
One example of a mobile enterprise is a large retailer who has set up processes to allow their sales staff to access real-time inventory data while they are out on the sales floor. By doing so they can instantly look up whether or not an item is in stock and more efficiently answer customer queries.
Another example would be a dental practice that has implemented an app which allows patients to check-in for appointments remotely from their phones and pay for services using a digital wallet.
These are just two simple examples of how businesses are utilizing mobile technology to improve the way they interact with customers and collaborate with their teams.
From employee productivity apps that save time on mundane tasks like filing reports to customer satisfaction tools that deliver personalized experiences – the possibilities are truly endless when it comes to creating engaging enterprise mobile solutions!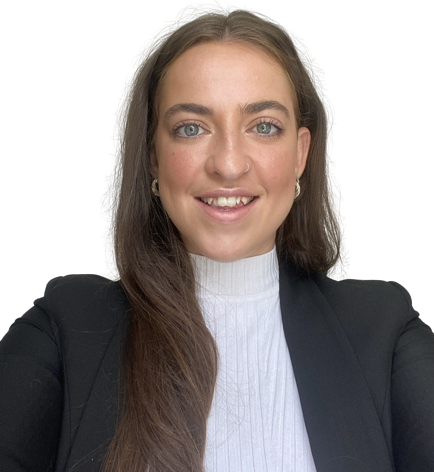 Niamh Conneely is the Content Writer and Marketing Executive at Fliplet – an app building platform that enables anyone to easily create engaging and interactive mobile and web apps. Niamh has experience in content creation and writing and has achieved two level 6 awards for The Chartered Institute of Marketing. She has developed skills to help organizations deal with the challenges of a fast-moving marketplace. Connect with Niamh on Linkedin.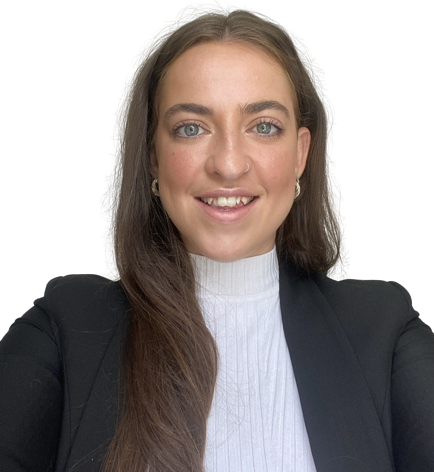 Niamh Conneely is the Content Writer and Marketing Executive at Fliplet – an app building platform that enables anyone to easily create engaging and interactive mobile and web apps.
Niamh has experience in content creation and writing and has achieved two level 6 awards for The Chartered Institute of Marketing. She has developed skills to help organizations deal with the challenges of a fast-moving marketplace. Connect with Niamh on Linkedin.