The Ultimate Guide to Marketing for Apps: 13 ways to Promote apps and Drive Marketing ROI
Are you looking for ways to market your mobile app and drive more downloads? This guide will cover the fundamentals of marketing for apps, including identifying target markets, creating marketing campaigns, utilizing social media marketing, optimizing user experience, and much more.
With the right marketing strategies and dedication, you can reach your marketing goals and ultimately see success with your mobile app.
1. Leverage marketing channels to reach your target audience

Utilizing marketing channels such as Google Ads, Facebook/Instagram Ads, Apple Search Ads, and other mobile advertising networks can help you target the right people and drive app downloads.

What are the best marketing channels to market your app?
It depends on your marketing budget, target audience, and marketing goals. Research each marketing channel to determine which one is best for you. In general, though, Google Ads and Apple Search Ads are two of the most popular marketing channels for apps.
2. Create an attractive app store page
Your app store page is the first impression potential users receive of your app. Make sure it stands out from the competition by crafting an attractive and engaging page with clear screenshots, a strong title, and a persuasive description.
A good app store page includes:
– Professional screenshots
– A keyword-optimized title and description
– Screenshot Reviews from loyal users
– An engaging video trailer
Example: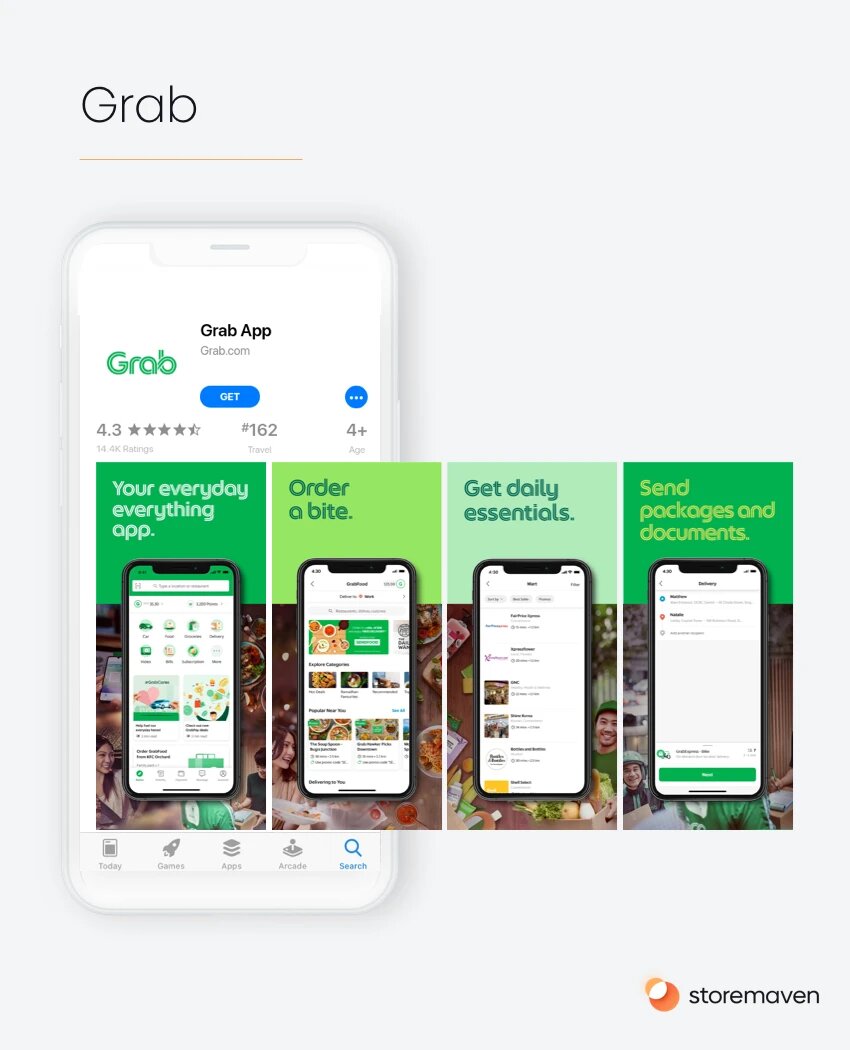 3. Utilize social media to market your app
Effective social media marketing can help you reach a wider audience. Utilize platforms such as Facebook, Instagram, Twitter, and LinkedIn to promote your app and engage with potential users. Try posting regularly, creating exciting content, engaging in conversations, and responding to feedback.
5 Tips to do marketing for your app on social media:
Build A Strong Community.

Share Insider Tips and Tricks on how to best utilize the app.

Encourage User-generated Content.

Add screenshots of App Store Ratings.

Optimize Your Link in Bio.
Examples of great social media campaigns: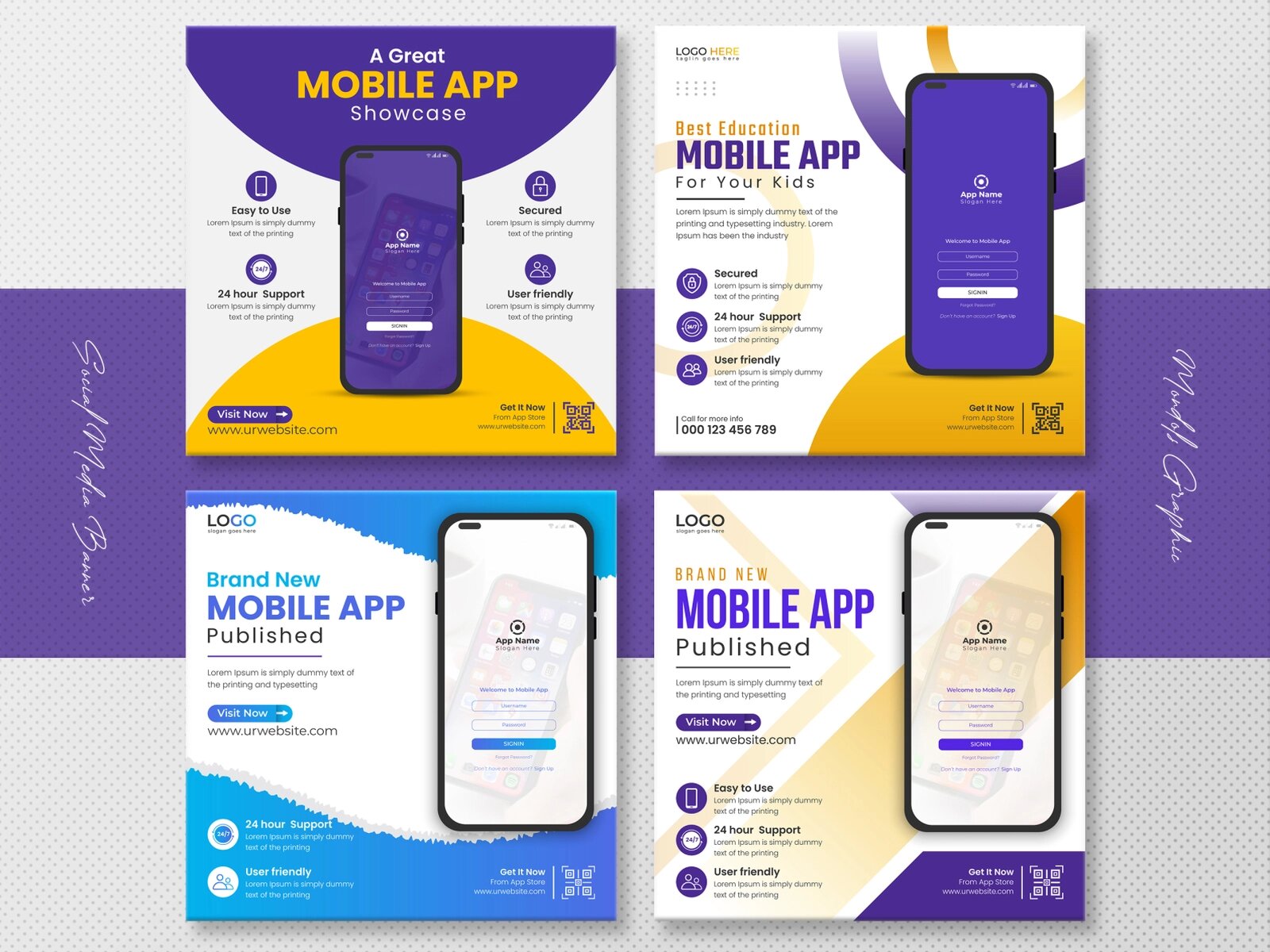 4. Optimize user experience
A great user experience is essential to marketing for apps. Regularly review and test your app to ensure it runs smoothly, quickly, and without errors. Make sure the design is attractive and easy to use.
5. Use analytics tools
Analytics tools like Google Analytics can help you track downloads, user behavior, and other key marketing metrics. Reviewing these analytics can help you understand how well your marketing efforts are performing and whether any changes need to be made.
6. Monitor app store ratings and reviews
It's essential to pay attention to user reviews in app stores. Take time to respond to negative feedback, answer questions, and thank those who leave positive comments.
How should you respond to negative feedback?
It's important to respond to negative feedback promptly and professionally. Acknowledge the user's concerns, apologize for any inconvenience, and offer to resolve the issue. If necessary, provide instructions on how they can solve the problem.
What is a good app store rating for Apple and Google?
Ideally, you want to achieve a 4.5+ rating on the Apple App Store and a 4+ rating on Google Play. Anything lower than that may turn off potential users.
7. Do an internal or external competition
Running an internal or external competition can generate word-of-mouth marketing and get people talking about your app. Choose a fun prize and a clever marketing strategy, then get the word out.
8. App Store Optimization (ASO)
App Store Optimization (ASO) involves optimizing the app's title, description, keywords, and other metadata to improve its visibility and ranking in the app store search results. It is an essential marketing strategy for success since it increases the app's visibility and can lead to more downloads.
The best practices for performing ASO are:
Include relevant keywords in titles and descriptions

Monitor the app store rankings for targeted keywords

Optimize screenshots and other visuals for marketing material

Make sure your app page is updated regularly with new features, fixes and promotional content

Analyze competition to see what marketing strategies they are using
If you want to learn more more about SEO for mobile apps read our blog post. 
9. Develop an influencer marketing strategy
Reaching out to influencers with audiences that match your target market can be a powerful marketing tool. Find influencers in your niche and build relationships with them so they'll be more likely to promote your app to their audience.
To find out influencers in your niche:
Reach out to marketing agencies that specialize in influencer marketing

Use analytics tools to see who is talking about your app and engaging with it

Check social media platforms for potential influencers in your niche. You can check their follower engagement, content quality, and other metrics to determine if they fit your marketing strategy well.

Research relevant hashtags, keywords, and geolocations to find potential influencers.

Develop relationships with relevant bloggers, writers, and other content creators.
10. Utilize email marketing
Email marketing is another excellent way to market your app. Target users who have already downloaded the app and encourage them to share it with their friends and family.
To draft a great email to announce your app you should:
Include visuals and screenshots of your app

Focus on the benefits rather than features of your app

Make sure to use marketing automation tools to personalize emails for each user

Offer special discounts and exclusive content to those who download the app via email
Example of a great email: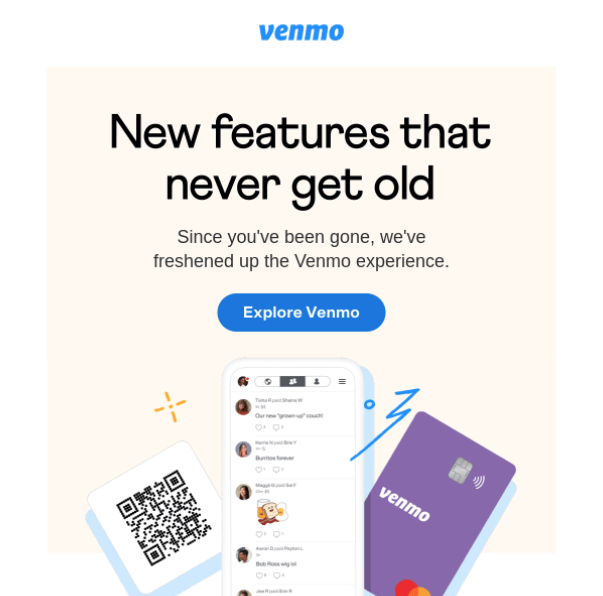 11. Incorporate video marketing
Creating videos that showcase your app, explain its features and benefits, or highlight how people use it can be very effective in marketing for apps. Post these videos on YouTube, Instagram, and other social media channels. I am sure you all have seen examples like this- where a user shows how they use an app to solve their day-to-day tasks.
To create effective marketing videos for your app, you should:
Focus on storytelling and highlight the problem that your app solves

Explain what makes your app unique and different from other solutions

Use high-quality visuals
12. Participate in industry events
Attending industry events such as meetups, hackathons, conferences, and trade shows can help you get your app noticed. Bring marketing materials such as brochures or stickers to spread the word about your app. Create a QR code that leads to the app download page.
13. Advertise your App in other Apps
You can use services like AdMob or Yahoo Ads to advertise your app within other apps, which will drive more downloads and user engagement. Make sure to match the advertisement type and content with the other app category so you can reach your target audience easily.
5 Ways to Retain Users in your App
1. Offer rewards
Offering rewards to your customers is a great way to keep them engaged and encourage repeat engagement with your app. Examples of rewards could be special discounts, exclusive content, or additional features.
2. Personalize the user experience
Utilize marketing automation tools to personalize each user's experience . This could include sending them notifications about new features or updates that are relevant to their interests.
3. Create a community
Encourage users to participate in forums and discussion boards within your app. This will help create a sense of community among customers, making them feel more connected to your product and brand.  
4. Ask for feedback
Ask your customers for feedback on their experience with the app. This will help you identify any potential issues that need to be fixed and areas of improvement.
5. Send Push notification
 Push notifications are a great way to keep users engaged with your app. You can use them to remind customers of upcoming events or special offers that you have running. Make sure that they push notifications are relevant and timely.
Why do Apps have a tremendous ROI?
Apps offer a remarkable return on investment because they provide companies with an inexpensive marketing tool. With the correct promotions, apps can rapidly be shared among thousands of potential customers in mere minutes and become viral throughout app stores. Through push notifications and email campaigns, you will keep users active while also inspiring them to engage with your brand. All these aspects result in an extraordinary ROI, making investing in apps a worthwhile venture for businesses of all sizes.
How to calculate ROI for your marketing app?
It's not easy to calculate marketing ROI for campaigns. Factors such as brand awareness are difficult to put a monetary value on, while poor analysis and reporting tools make communicating value a chore.
These complexities lead enterprise marketing teams to either focus on the wrong metrics or skip measuring marketing ROI altogether. These statistics should concern CMOs:
44% of all B2B companies don't measure their content marketing ROI

13% do not know if they measure it at all

85% of marketers rate themselves as being not at all successful to somewhat successful at marketing ROI calculations
The vast majority of marketers have no concrete idea of how much total revenue growth their particular campaign generates.
How Mobile Apps Help Improve ROI for Marketing Campaigns
No-code app-building platforms like Fliplet allow people with zero coding skills to build a mobile app for their marketing campaign. It's quick and easy to use – most people can usually have a prototype up and running in a day.
However, no-code platforms also include detailed measurement and analysis tools. These help you to quickly and easily measure and report marketing ROI.
Here are some of the ways apps help you to measure ROI:
Track usage and engagement
Social media allows you to measure metrics like impressions, while email marketing activities enable you to track clickthrough rates and conversions.
Apps go a step further. They allow you to track engagement in-depth and in real time. For example, you can look at the number of people using your app at any given time, as well as the average session time and the average time each user spends on each screen. This gives you a clearer idea of how effective your app is.
View analytics on an accessible dashboard
Collecting tons of data is great, but trying to analyze it using spreadsheets is a time-consuming nightmare. Instead, no-code platforms like Fliplet provide dashboards that allow you to analyze data however you want. You can view it as figures or using clear charts and diagrams.
Create reports
Eventually, you'll need to prove your marketing ROI to a senior manager or board member. They are busy people so you need to provide them with digestible, clear information to make marketing decisions. If you don't, your report will be ignored. Our analytics dashboard allows you to create reports using key figures and charts. This enables you to communicate the value your marketing delivers clearly.
Make iterative improvements to marketing campaigns
Using analytics, you can monitor the ongoing marketing ROI of different sections of your app. This allows you to see which bits are performing well. The great thing about an app is that you don't have to start from scratch if it isn't achieving your goals. This means you can make gradual improvements to different sections of your app over time and see if that helps improve its marketing ROI.
Track sales growth
If your customers buy products through your app, then this is easy – simply record the number of sales you achieve! However, if your app is for lead generation, you can still track which leads come through it and if it generates sales. You can take this a step further by integrating your app with an eCommerce system or CRM tool. This allows you to automate, record, and measure the entire buying process.
Understand who your best customers are
You can monitor which customers have made a purchase through your app, how much they have bought, and how often. This is vital for understanding the customer journey and who your best customers are. You can use this information for developing ideal customer profiles, as well as for creating, targeting, and delivering special offer campaigns.
Learn More about the Ways Mobile Apps Can Provide You with Clear Marketing ROI
Measuring ROI is challenging, but is made far easier if you use apps as the cornerstone of your campaigns.
In this article, we've only scratched the surface of some of the ways apps help you measure marketing ROI.
To find out more, you can speak to one of our experts. They'll listen to the challenges you face and explain how our no-code app builder can help you.
Unveil the power of apps for Marketing
Mobile apps have boosted lead generation across multiple industries. From event apps to client-facing product catalogs, apps are the leading value creation tool for enterprise organizations.
By using apps, organizations can:
Isolate the customer experience on their platform, away from social media noise

Grab 70% more attention with the use of push notifications

Speed up the Customer Journey by personalizing each step of the experience
In our latest webinar, attendees learned how to use apps to create value for your clients and prospects to increase leads and ROI. Do you want to find out how?
You can watch the webinar on demand.
Summary
Utilizing these marketing strategies and tools can effectively promote your app and drive downloads. With the right marketing plan in place, you'll be able to reach your target audience and get them excited about downloading and using your app.
How do you market an app?
The best marketing strategies for apps include: focusing on the benefits rather than features of the app; using marketing automation tools to personalize emails; offering special discounts and exclusive content; incorporating video marketing; participating in industry events, advertising your app in other apps, and utilizing in-app advertising.
Additionally, it's important to be mindful of the user experience, follow marketing guidelines for the platform you are marketing on, and measure the effectiveness of each marketing strategy. These strategies should help to increase visibility, downloads, customer feedback and ratings.
What is app marketing?
App marketing is the process of marketing an app in order to gain visibility, increase downloads, and engage users. It involves creating a marketing strategy incorporating various marketing tools such as ads, email marketing, video marketing, and more.
Additionally, it requires an understanding of the user experience and how to create content that resonates with your target audience
How do I create a marketing plan for an app?
To create a marketing plan for an app, you will need to identify your target audience, determine the marketing channels they use, and develop content that resonates with them.
Additionally, it would be best to consider using marketing automation tools to personalize emails and reminders about offers or new updates. Lastly, be sure to measure the effectiveness of each marketing strategy and adjust accordingly. With the right marketing plan in place, you'll be able to reach your target audience and get them excited about downloading and using your app.
Do I need marketing for my app?
Yes, marketing for an app is essential to increase visibility and downloads. An effective marketing strategy will also help engage users and increase customer feedback and ratings.
How can I promote my app for free?
There are several ways to promote your app for free. You can create marketing content such as blog posts and social media posts, participate in industry events, advertise your app in other apps, and utilize marketing automation tools to personalize emails and send users reminders about exclusive offers or new updates.