Boost Your Digital Content Marketing Strategy with Apps
Today, 82% of marketers use content marketing as a cornerstone of their digital strategy.
According to the latest Technavio market report, the content marketing industry will grow by $417.85 billion from 2020 to 2025, at a CAGR of 16%.
Customers are being saturated with content. You must find new technologies that quickly get the attention of your audience and provide an engaging experience.
Otherwise you risk:
Investing in an ineffective, poor-quality digital content marketing strategy that fails to reach your target audience.
Poor conversion rates as prospects move down your funnel.
Inaccurate ROI measurements that make it challenging to secure future stakeholder buy-in.
In this article, you'll learn why these are common problems for marketers and how you can overcome them.
And if you aren't focusing on your content marketing plan right now, you'll learn why you really should be.
Why You Should Focus on Digital Content Strategy
New leads are the lifeblood of any business, and a successful digital content marketing strategy is great for generating them. 70% of B2B content marketers report generating leads from the content they share.
But leads aren't the only benefit of a digital content marketing strategy.
More and more companies now use a digital content marketing strategy to generate revenue, build customer loyalty and drive engagement.
Why?
A successful digital content marketing strategy has a better return on investment (ROI) than advertising in the long run. It allows businesses to leverage customer insights from content interactions. International food manufacturing company Kraft Foods found content marketing tactics achieved a 400% better return than advertising.
Building customer loyalty and retention is six to seven times cheaper than obtaining new customers.
A digital content strategy can drive 4.5 times more engagement than advertising with a comparable spend.
The Roadblocks Preventing Effective Content Marketing
While your marketing team can benefit from a sound content strategy, you need to implement it effectively.
Most companies run into three major problems that reduce the effectiveness of their content marketing efforts:
Too Much Noise
There are over 4 billion pieces of content produced daily. With this deluge of information, it's no wonder that audiences are distracted.
You need to identify the best channels to reach your ideal customer. You must also ensure your content strategy moves them through the buying process.
This means you need to guide them, encouraging them to read related content. For example, your blog post on new HR legislation could encourage them to download a lead magnet that provides a complete guide to HR legislation. You could then email the prospect, inviting them to an informative webinar on how to manage their regulatory HR requirements.
Prospects Deviating from Campaigns
A successful content marketing strategy will answer prospects' most pressing questions. It's possible to do this through email sequences and internal linking on a blog post.
It's also easy for your audience to deviate from these sequences by searching for content on their own, or by missing key content in the series.
Difficulties Proving ROI
Proving ROI for your content strategy isn't as easy as other marketing tactics like pay-per-click advertising or a social media strategy. Only 8% of marketers see themselves as very or extremely successful at tracking content strategy ROI.
The result is that many marketers struggle to get stakeholder buy-in for new ideas.
Many marketers focus on too many metrics, masking the true ROI, or they focus on the wrong metrics. To solve this, you need to be clear on the goal for each piece of content or campaign.
You then need a way to track and record these metrics. Finally, you need to present them in an easily understandable format during stakeholder meetings.
The good news is that many companies have solved these problems by using mobile apps to deliver their content marketing campaigns.
How Mobile Apps Can Improve Your Content Marketing
A high-quality content strategy is about raising brand awareness and helping customers achieve their goals.
Mobile apps are the best way to cut through the mass of existing content out there. They can deliver helpful, curated content directly into the hands of your audience.
How will your clients benefit? 
Real-time updates on issues that affect your audience
Easily searchable product guides
Free tools that support the use of your products and services
Create content or generate content ideas based on a customer's unique engagement patterns
Messaging integrations to give them a direct connection to company support
Video content and other content formats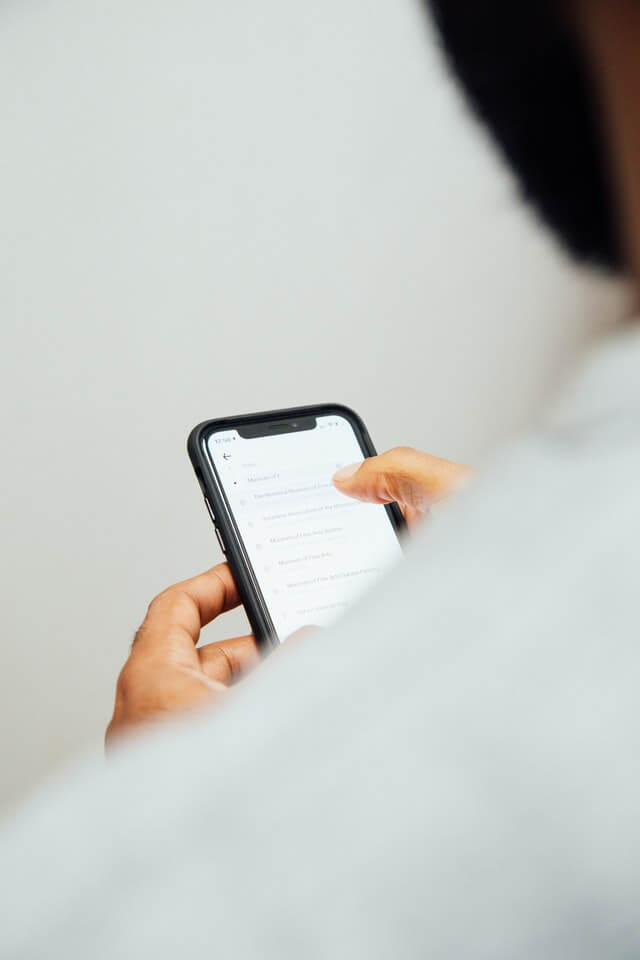 These are fantastic benefits for your target audience, but what does your business get in return?
A direct link to potential customers that they find more engaging and personal than email marketing or social media posts
The ability to send your target audience push notifications to make them aware of offers and helpful content suggestions
Lead generation opportunities
Engagement tracking to figure out which existing content is performing best
Increased brand awareness and value as your target audience gets more utility out of your business
The ability to analyse what your audience enjoys and use this information when creating content
A source of useful keyword research terms for SEO purposes
The ability to easily measure critical ROI metrics to inform future decisions and help you prove your worth to stakeholders
Here's how one of our clients achieved their content marketing goals with mobile apps.
For more on this topic, read our Ultimate Guide to Marketing For Apps.
How Skadden Implemented Mobile Apps to Boost Their Content Marketing
Skadden, a law firm based in New York, wanted a better way to share information with their clients and prospects than using physical 3 x 3 inch information folders.
These folders were expensive to print and ship and required regular updates when laws and contact information changed. They also had no way to track how clients used these guides, how effective they were at driving engagement and whether the guides produced a positive ROI.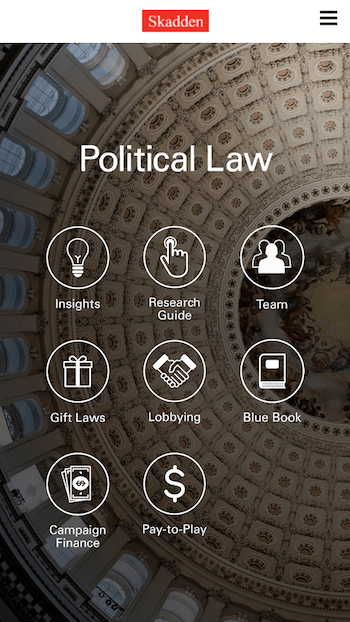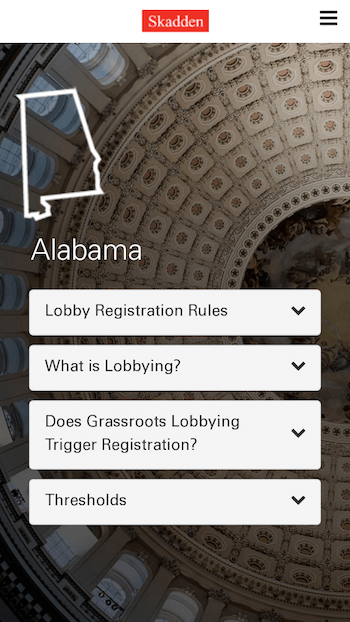 By creating their Political Law app Skadden:
Has an easily updatable digital content marketing resource that can generate leads
Has a way to alert clients and prospects to time-sensitive law changes
Saved money and time on printing and distribution
Can track client engagement and ROI metrics that can help them improve their business offering
Built brand utility, as clients have a vital resource they can use when they need it.
Learn How to Improve Your Content Marketing with Apps
Mobile apps are an excellent way to improve the effectiveness of your content marketing.
They:
Help you avoid competing with the billions of pieces of content produced daily by providing content directly to your customer.
Allow you to encourage your customers to consume relevant content through push notifications and pop-ups.
Enable you to track metrics and understand how prospects and existing customers engage with your content, giving you a significant ROI on your marketing efforts.
We're hosting a webinar to help you leverage the power of apps in your content strategy.
You'll discover how our no-code app builder allows people with zero coding skills to quickly and easily produce content marketing apps without the need for busy or expensive developers.