2023 Event Marketing Plan: Steps, Tools and a Template for an Engaging Event
Written by Niamh Conneely
20 min read  |  18/08/2023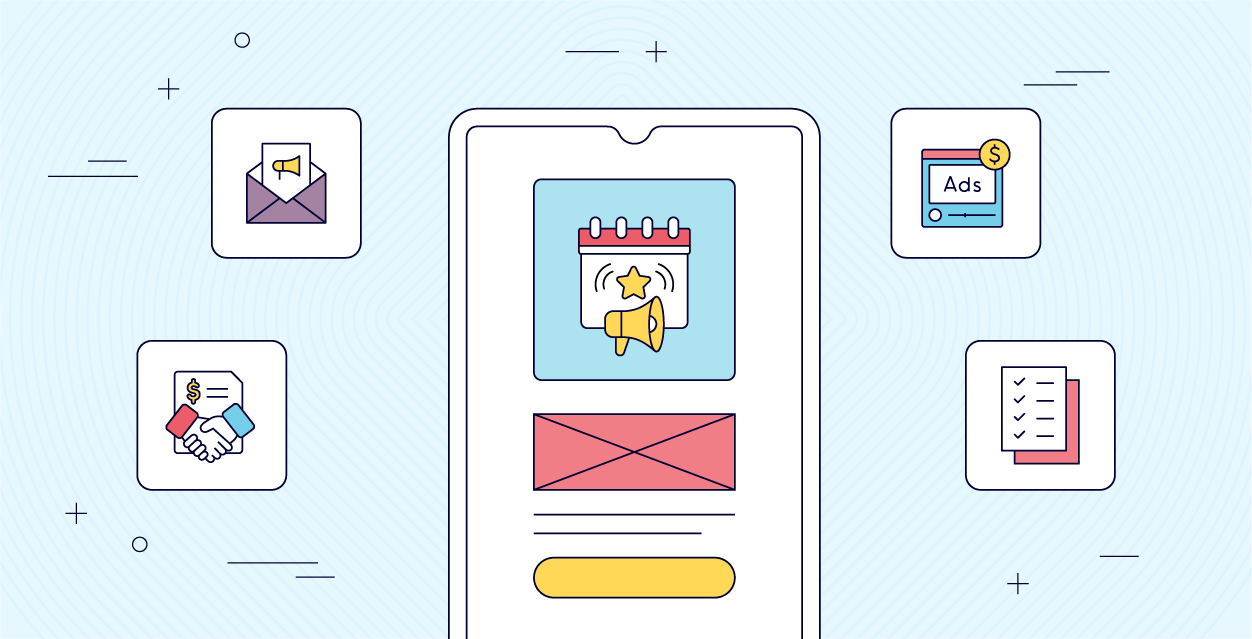 The importance of event marketing 
Event marketing has changed the game of events. The change reflects on the rising attendee expectations and the need for organizations to leave a lasting impression. 
Events are now a place where attendees and speakers go to, to not only learn and be educated but also to interact, engage and network. And for event marketers and planners, it's a perfect place to grow their brand and make a statement.
Effective event marketing yields a variety of benefits, including increased attendance, revenue, and brand awareness, as well as increased brand loyalty, community participation, and meaningful relationships. This strategy transforms events from one-time happenings to continuing touchpoints that stay with guests long after the 'curtains drop'.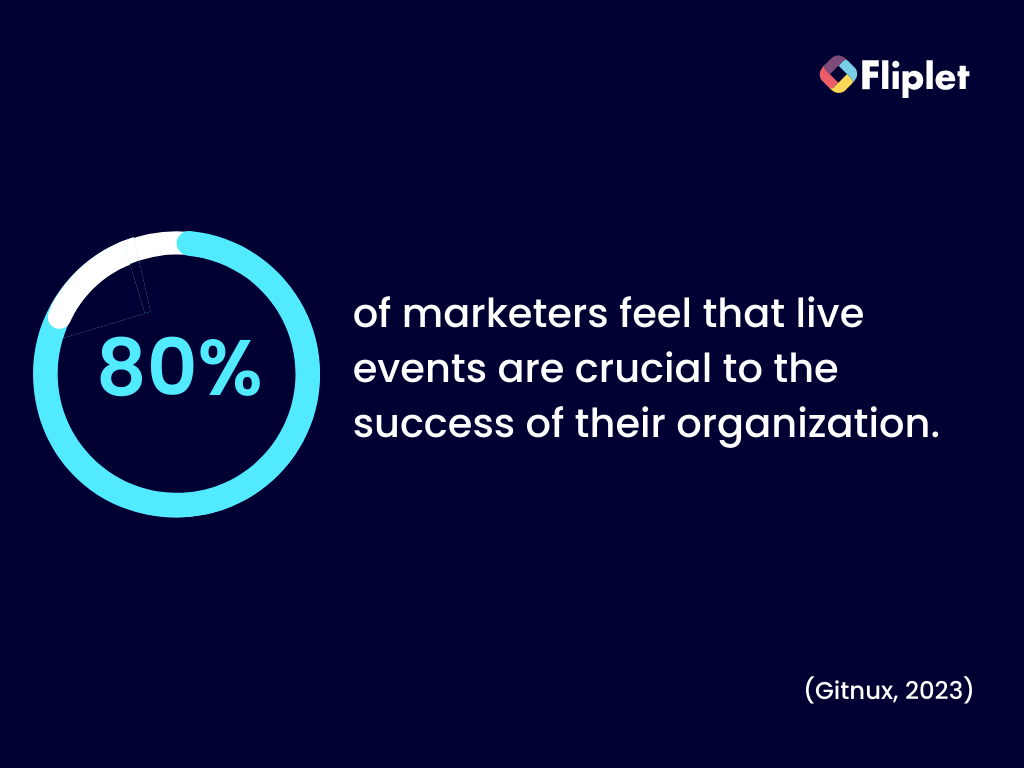 This statistic demonstrates the relevance of live events in the marketing industry. It demonstrates that the majority of marketers see the importance of events in assisting their businesses in meeting their objectives. This statistic, which emphasizes the importance of events in the marketing landscape, is an excellent beginning point for a blog article regarding event marketing statistics.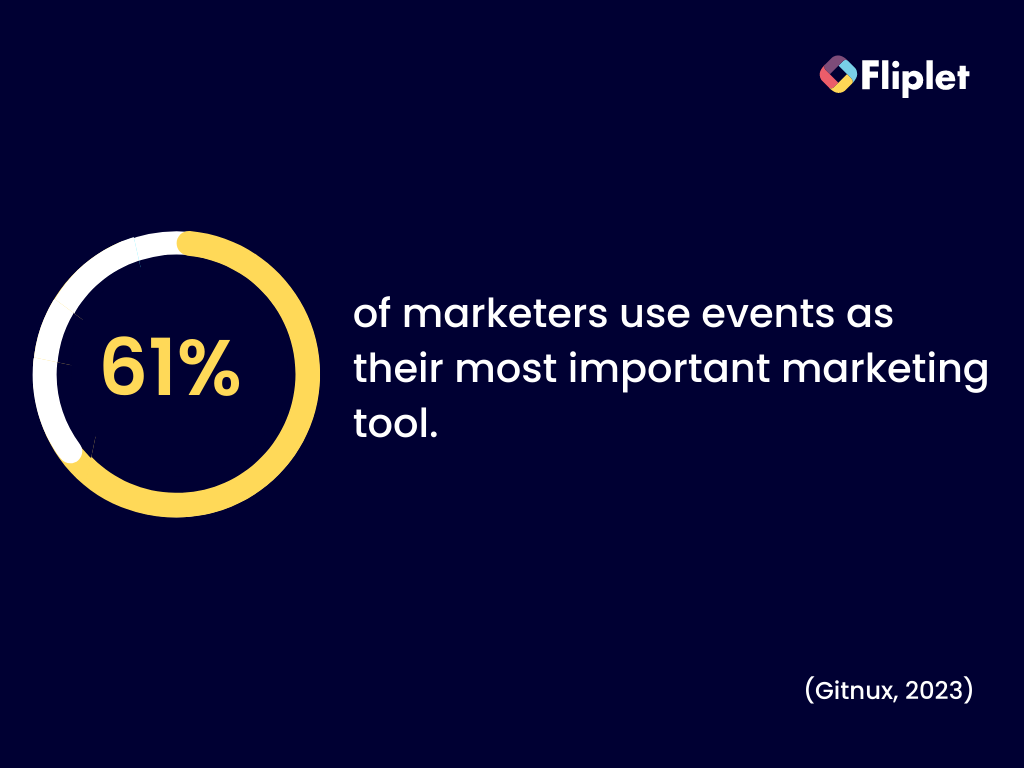 This data demonstrates the effectiveness of events as a marketing technique. It demonstrates that the vast majority of marketers see the importance of events in their marketing strategy and actively use them to reach their target consumers. This data is critical for anybody interested in learning more about event marketing and its success.
Setting clear event goals and budget
Every successful journey starts with a clear destination and the means to reach it. In event marketing, this foundation is built upon setting Specific, Measurable, Achievable/Attainable, Relevant, and Timely (SMART) goals and establishing a budget that aligns with your aspirations.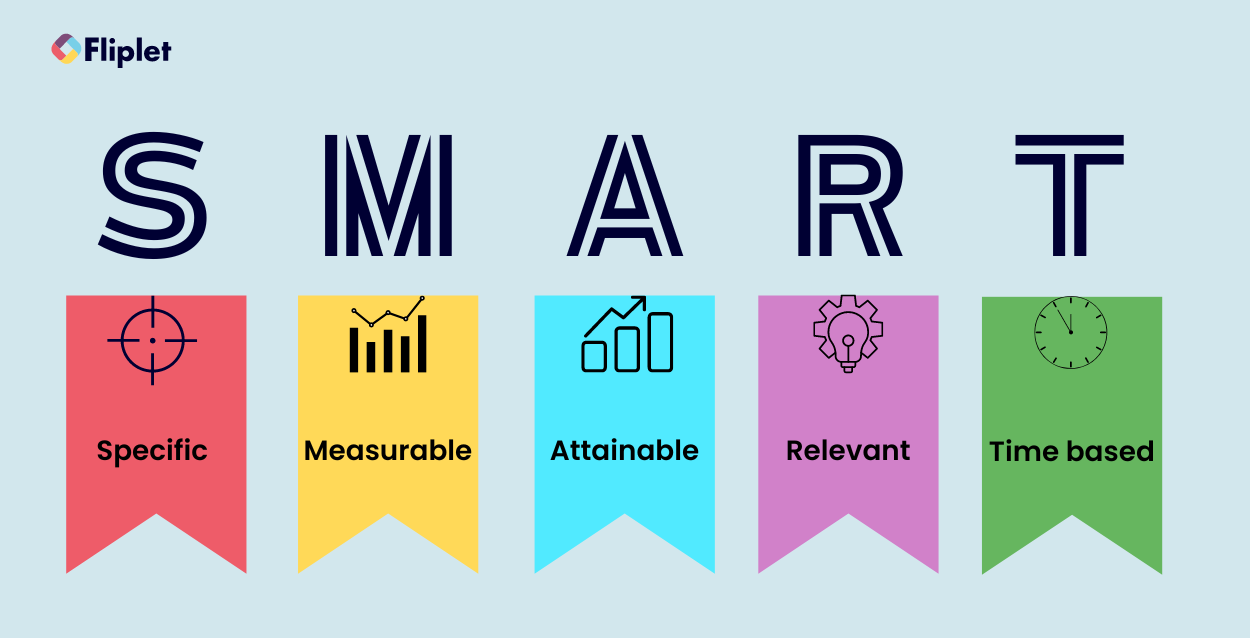 The Power of SMART Goals
SMART goals are your compass, guiding your event marketing strategy from conception to execution. These goals are:
Specific:

Drilling down to the heart of what you want to achieve 

Measurable:

Allowing you to track progress and success 

Attainable:

Ensuring your aspirations are grounded in reality 

Relevant:

Connecting your goals with your event's purpose 

Timely:

Setting a clear timeframe for achievement
Imagine your goal is to "grow our prospective leads list for our new product by 100 names by the end of the event." This SMART goal is specific (focused on the new product's leads), measurable (100 names), achievable and relevant (given the event's context), and timely (by the event's conclusion).
While tangible goals are essential, don't overlook intangible objectives like "strengthen relationships" and "engage prospective customers." For creative decisions, SMART goals serve as a guide in both strategy and post-event assessment.
Mapping Your Event Marketing Budget
Crafting a clear budget empowers you to make informed decisions – from venue selection to entertainment choices and event app development.
Your budget is a decision-making tool that influences every aspect of your event. It's not just numbers; it's the backbone of your event's financial planning. By aligning your budget with your SMART goals, you ensure a strategic allocation of resources that maximizes impact.
As you venture forth in your event marketing journey, remember that SMART goals and a well-defined budget aren't constraints; they're stepping stones toward a successful and memorable event. They provide the framework for strategic decision-making and empower you to create an event that leaves a lasting impression.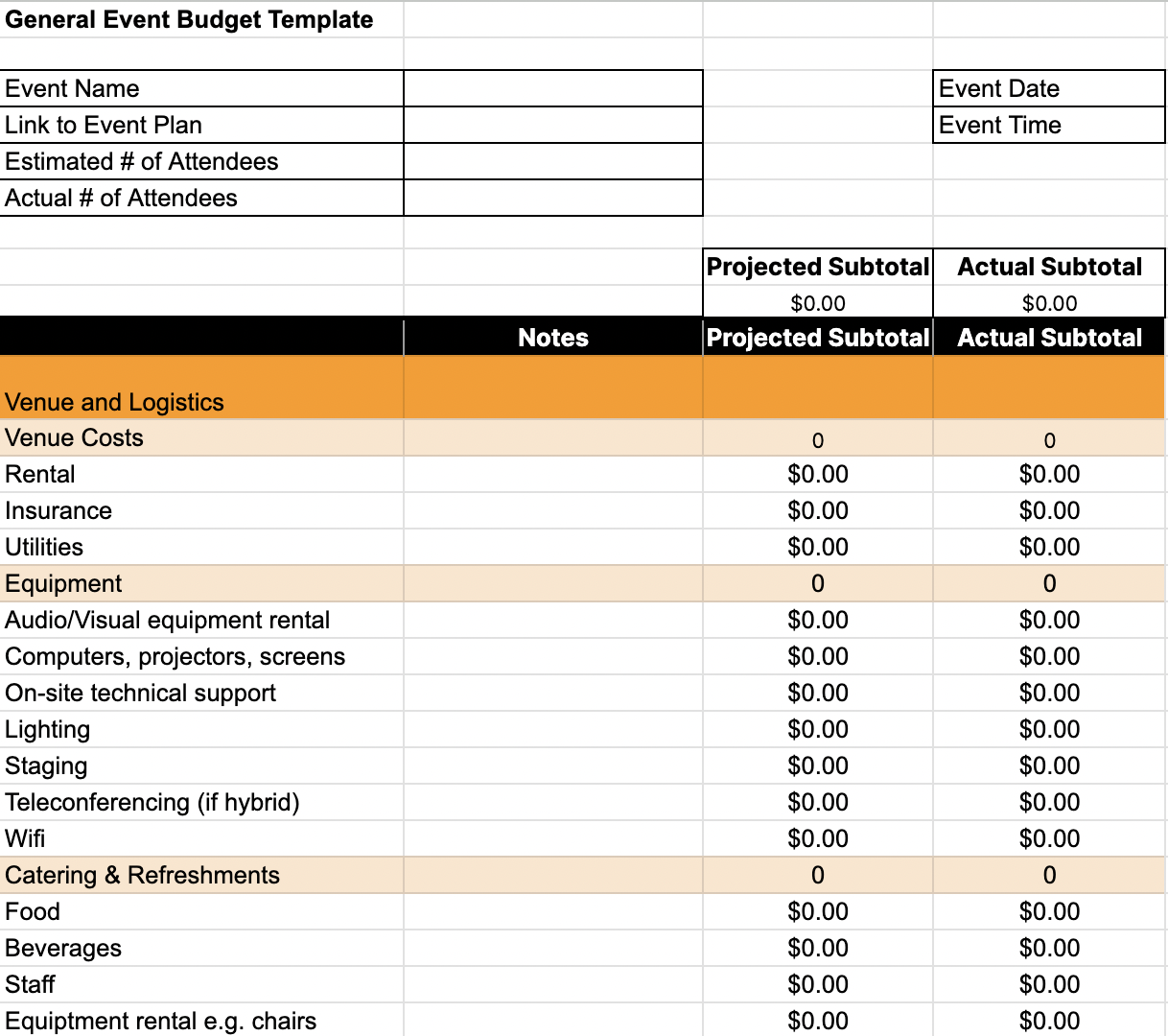 Introduction to the 5Ps of Event Marketing
As you embark on the journey of crafting a remarkable event, consider the powerful framework of the 5Ps – Product, Price, Place, Promotion, and People. These strategic pillars form the bedrock of your event marketing campaign, ensuring a comprehensive approach that resonates with your audience and amplifies your brand.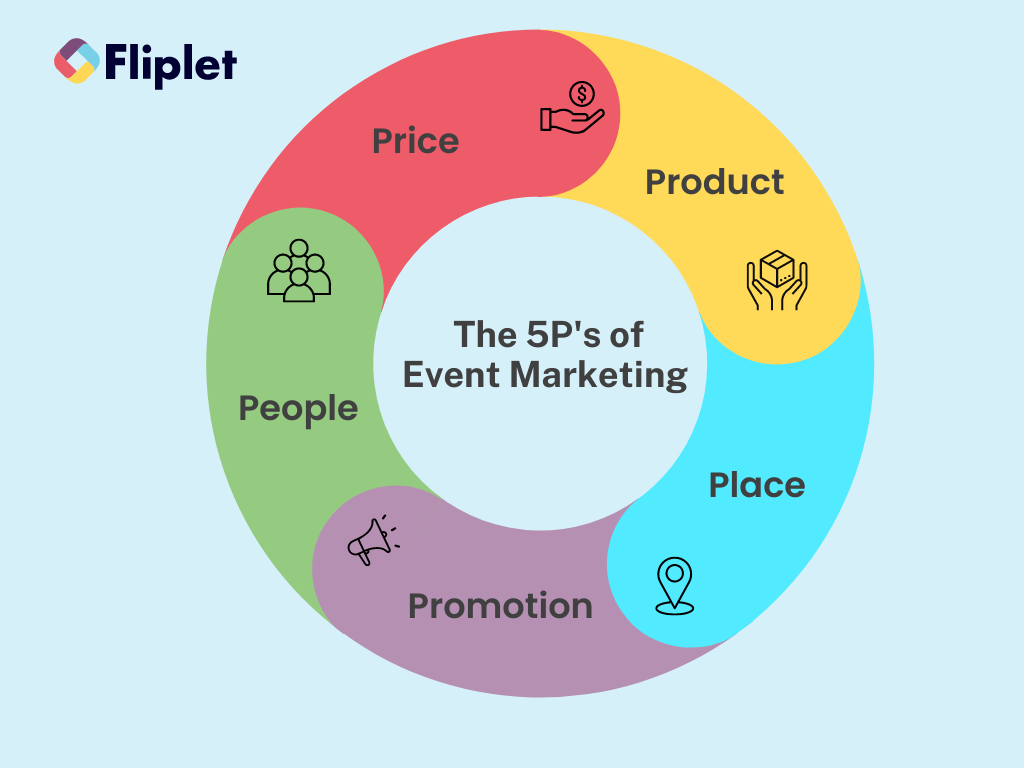 Unveiling the 5Ps of Event Marketing
Product:
Your event is not just an occasion; it's a unique proposition that demands attention. What sets your event apart? What distinct qualities make it stand out amidst a sea of offerings? Defining your event's essence lays the groundwork for a captivating marketing strategy.
Price:
Beyond mere attendance, your event holds inherent value. What can attendees and sponsors gain from participating? Identifying the value proposition allows you to communicate the worth of your event effectively.
Place:
The realm of events has expanded beyond physical boundaries. Will your event be an in-person experience, or virtual, or a hybrid of both? The place sets the stage for engagement, and aligning it with your audience's preferences ensures resonance.
Promotion: 
Every event has a story to tell, a message to convey. What message will your event communicate to your target audience? How will your event narrative reflect your brand's essence? Promoting the right message in the right way creates anticipation and interest.
People: 
Events are bridges connecting your brand with your audience. The people attending your event want the chance to network with others. You need to consider,  who is your audience? Who do you seek to engage and enthrall? Understanding your audience's demographics, interests, and aspirations directs your event marketing efforts toward impactful engagement.
The 5Ps aren't just guidelines; they are the roadmap to success. By addressing each element, you lay a solid foundation for your event marketing plan, enabling strategic decisions that resonate with your audience and drive impactful engagement.
Understanding your audience
Knowing your audience isn't just a choice; it's a necessity. Your event's success hinges on your ability to identify and resonate with the key demographics and psychographics of your target attendees.
Unveiling key demographics and psychographic
Demographics
Your audience's characteristics – age, gender, location, occupation – form the foundation of your event's appeal. Understanding these factors helps tailor your marketing efforts and event offerings to match their preferences.
Psychographics
Delve deeper into your audience's psyche – their interests, values, lifestyle, and motivations. This understanding forms the emotional connection that elevates your event from being just another option to an irresistible experience.
Understanding your audience isn't a one-size-fits-all endeavor. Tailoring your marketing efforts to resonate with various demographics and psychographics enhances engagement and creates a sense of belonging.
Catering to diversity with real-life insights
Effective event marketing embraces diversity, acknowledging that every attendee is unique. Real-life event campaign photos illustrate the beauty of diverse audiences engaging passionately. From millennials seeking innovation to professionals searching for networking opportunities, each demographic finds value tailored to their aspirations.
Adobe Summit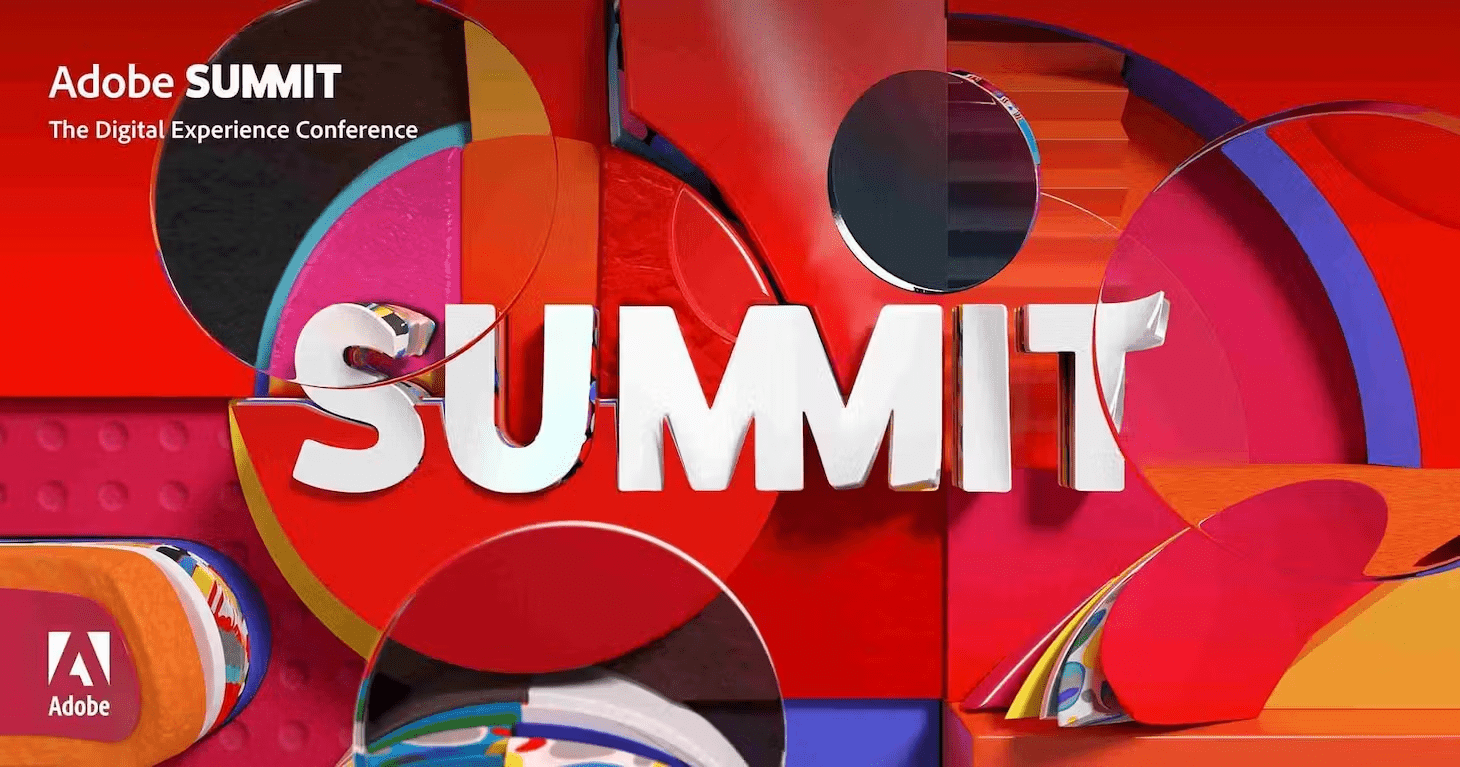 Adobe, the inventors of the PDF format and famous tools such as Photoshop, turned completely virtual for the Adobe Summit 2022. The summit, aimed at digital firms, went above and above by including interactive aspects in over 200 sessions, as well as training courses and virtual learning possibilities.
With almost 100,000 individuals in attendance, the event was a big success. The Adobe team employed a clever combination of high-profile brand speakers and 'Sneaks' – sessions that tease upcoming Adobe products and features. Throughout the event, Adobe not only gave clear takeaways and value to guests, but it also had the opportunity to market its brand.
Google I/O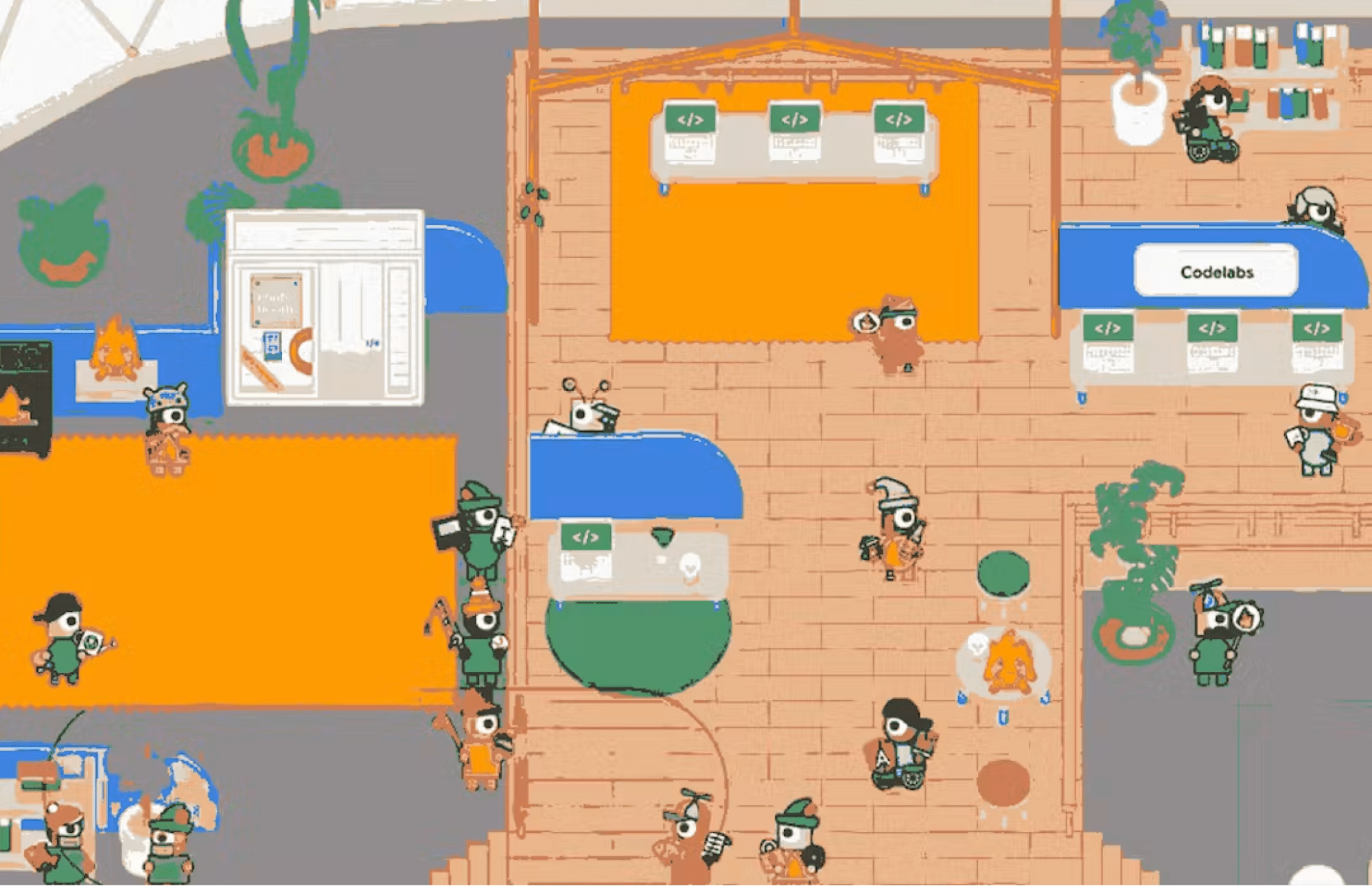 Google I/O is a virtual developer conference hosted by Google. By gamifying the event with the I/O Adventure in 2021, it produced an altogether new digital experience.
Attendees could join a completely virtual environment to interact with Google and other developers, witness product demos, and earn badges. There were also the following:
Speakers on the main stage

Announcements of new products

Technical meetings

Question and answer sessions

Meetups & networking events
Google live streamed all of the sessions and made sure that they were engaging for participants.
Cvent Connect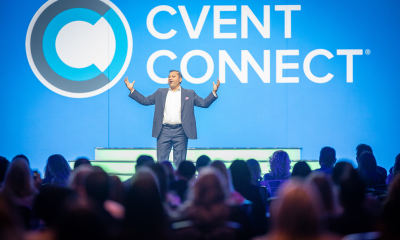 Cvent Connect is a great example of an Edutech event that focuses on networking, learning, and promoting educational experiences that are designed to help one activate their brand, no matter what the size. Using learning events to bring delegates together, Cvent is an annual event industry conference in Las Vegas that offers marketing, technology, and hospitality professionals over 100 sessions of hands-on learning, technology insights, and networking opportunities. Events like Cvent Connect are great for facilitating learning and making valuable new connections.
Gone are the days of generic event marketing. Today, personalization is paramount. By identifying key demographics and delving into psychographics, you build bridges that connect your event's essence with the aspirations of your audience. This approach transforms attendees from spectators into active participants who eagerly anticipate and engage with your event.
Deep dive into attendee journey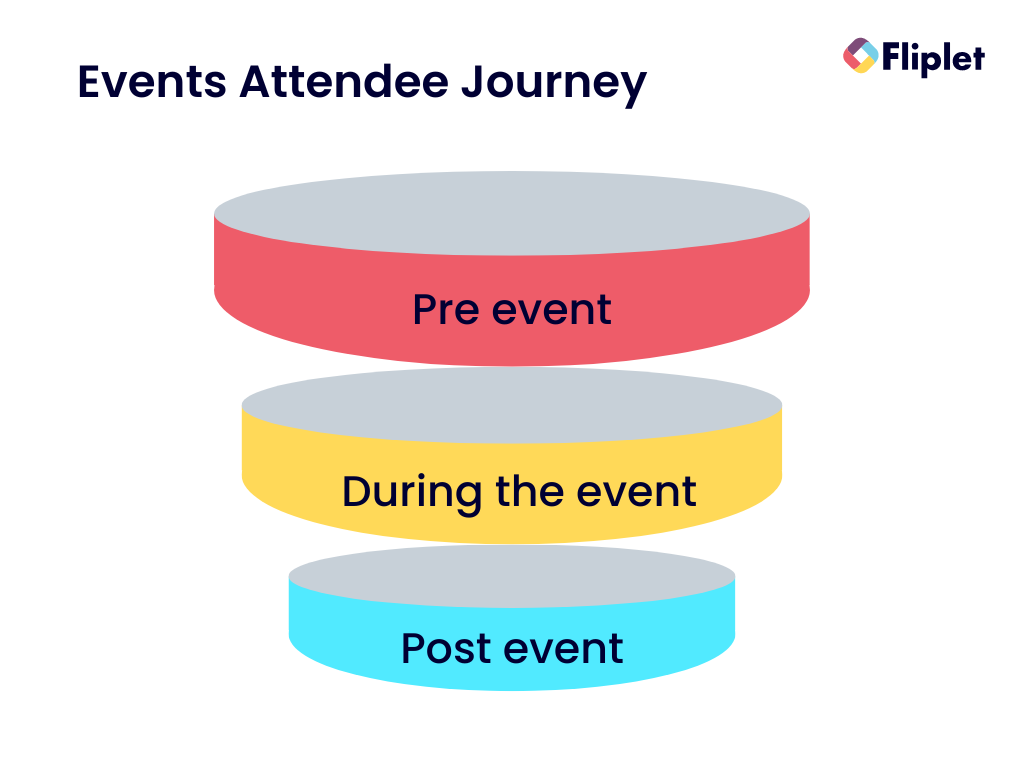 Navigating the path of the event attendee journey is pivotal in orchestrating a seamless event marketing strategy. As events take various forms, they still tend to follow a common structure. Here, we delve into the critical stages and touchpoints that punctuate this journey, along with key considerations to ponder as you plan each phase.
Aligning each stage with the event timeline
Pre-event:
Research
Analyze successful and unsuccessful similar events

Conduct segmented research on your target audience

Understand the attendees' true motivations and expectations
Invitations and organic signups
Determine how attendees discover your event

Optimize communications for SEO

Effectively contact potential attendees from your user databases

Ensure visually appealing, accurate, and mobile-friendly invitations
Reminders
Time your reminders effectively

Provide necessary information without being too pushy

Tailor reminders to target audience segments

Adjust reminder tone for last-minute registrations

Utilize event apps for additional reminders
Registration page
Create a streamlined and visually appealing registration page

Avoid overwhelming attendees with excessive information

Ensure compatibility with various browsers and platforms

Incorporate event appeal through images, agendas, and sponsors
Confirmation email
Send confirmation emails promptly

Summarize key information and provide an add-to-calendar link

Consider surprise content as a reward for registered attendees
Pre-event communication
Ensure easy access to agenda and event app

Personalize pre-event communication

Allow attendees to choose communication preferences

Build excitement and value through communication
During the event:
Joining the event
Streamline onsite registration and consider staggered approaches

Provide entertainment for waiting guests

Ensure accessible Wi-Fi and functional charging stations

Identify staff clearly and deploy them effectively
Virtual venues
Simplify the login process for virtual attendees

Optimize software for various platforms and operating systems

Anticipate technical issues and offer effective tech support

Include engaging content during loading and downtime periods
Sessions and content
Notify attendees of schedule changes effectively

Facilitate easy movement between sessions

Provide sufficient time for meals and breaks
Engagement
Prevent attendees from feeling rushed, bored, or fatigued

Distribute interactive and non-passive content throughout the event

Equip attendees with tools to engage actively

Curate content that is relevant and adds value
Networking
Balance larger sessions with smaller, more social gatherings

Optimize seating arrangements for networking opportunities

Provide options for shyer attendees to facilitate networking

Allocate sufficient downtime for networking and relaxation
Closing the event
Conclude with high-quality final speeches

Inform attendees about post-event steps, downloadable content, and future events.

Encourage participation in the event community
Post Event:
Thank-You Email
Prepare and send thank-you emails promptly

Determine the extent of follow-up content

Personalize thank-you emails for a meaningful touch
Survey
Decide on the scope of attendee feedback collection

Craft relevant survey questions

Send out surveys in a timely manner

Consider incentives for survey completion
On-demand content
Ensure materials are of high quality

Notify attendees about available presentations and content

Sustain buzz through post-event competitions and engagement

Seek permission before sharing event media

Get this content on your app as quickly as possible
Community invitation
Communicate the benefits of joining your community

Simplify the process for attendees to join
Aligning each stage with the event timeline ensures a seamless transition from anticipation to active engagement to post-event loyalty. This synchronization improves the experience for attendees and underlines the consideration given to each element of your event marketing strategy.
Event marketing strategy based on an event timeline
Creating a successful event requires a strategic journey that resonates with attendees every step of the way. To elevate this journey, consider embracing a versatile tool that seamlessly aligns with each stage such as an event app. Fliplet's Event Solution is a dynamic marketing tool that enhances engagement and enriches the attendee experience.
Build anticipation for your event months before
Building anticipation usually happens months before your event, the sooner you do it the more attendees you are likely to have. We would recommend having ideas in place before you event in live on your website so that once your event registration is live you can start sparking interest straight away. Some ways to build anticipation from the off-set are:
Crafting early bird offers:

Entice potential attendees by offering special rates for early registration. 

Starting content marketing:

Establish a content presence through blog posts, videos, and podcasts. 

Offers & promotions strategy:

Design offers targeting early registrants, amplifying their sense of being part of an exclusive community. 

Email:

Linking to the attendee journey, you need to communicate with potential attendees in advance. You can do this by sending invite emails out to generate interest.

Event app:

Leverage the event app to provide value to your attendees before the event has started. Event managers can use it to notify attendees about new speakers, creating a speaker directory, and sharing sneak peeks of event content. This strengthens attendee engagement and anticipation.
Spark excitement weeks before your event 
As your event draws near, the anticipation escalates, igniting a sense of excitement that encourages attendees to register for your event. Encouraging this anticipation should be executed in the weeks leading up to the event and seamlessly transitioning into the days just before it.  At this stage, it is good to highlight the value that the attendees will get from attending the event. 
Engaging social media campaigns:

Amplify excitement through engaging social media content, for example revealing new speakers on your social media and tagging them to reach a wider audience.

Email marketing boost:

Utilize email marketing campaigns to rekindle interest and drive last-minute registrations. You can include things about your event in your monthly newsletter or at the bottom of staff's signature to encourage people to find out more.

Offers & promotions:

Craft offers that highlight urgency, to encourage people to find out more and if they don't attend they will miss out. 

Pre-event communication: As the attendee journey highlights communication before the event is a key touch point. You need to provide options for attendees to select their communication preferences, and cultivate excitement and value through strategic communication efforts.

Event app enhancement:

At this stage, the event app can serve as a hub for final information. Event managers can release the full agenda, set up chat features for networking before the event, and even introduce interactive maps to guide attendees within the venue.
Sealing the deal before event takes place
As your event draws closer, excitement builds, pushing attendees to make a decision. This feeling needs to be nurtured both in the weeks before the event and as the days approach. At this point, it's crucial to reiterate the value the attendees will gain from your event and you can also look into giving away 'goodie bags' if they attend to help make their decision easier.  
Leveraging real-time engagement:

Harness live-tweeting, streaming, and real-time interactions to create an immersive experience. For example, when people tweet or post on Linkedin that they have booked to attend your event, share it, engage with it and comment. This encourages a sense of community and others who are thinking about it will be more inclined to attend.

Tech solutions for attendee enhancement:

Embrace tech solutions to enhance on-site experience. QR code scavenger hunts, interactive polls, and AR experiences elevate the event making the experience one not to miss out on.

Offers & promotions:

Engage attendees with on-site offers, encouraging upgrades or participation in future events. For those that can't attend due to the date the event landing on you could give them an exclusive time they can access the event recording such as if they register they can have access to the event 3 days before the general public. Another offer you could do is if someone gets a friend or colleague to sign up they get a voucher. 

Event app integration:

The event app should still continue to be a part of your event marketing strategy. At this stage you could highlight that the event will be streamed through the app so that people can watch it when it suits them. Remember that events are all about networking as well so high that you are facilitating real-time networking through chat features and offering a directory of speakers and attendees which people can connect with on Linkedin before, during and after the event.
Create an engaging experience during your event
As the event unfolds, a new phase of excitement takes center stage – a phase that immerses attendees in an experience they won't soon forget. This immersive journey doesn't just happen by chance; it's a well-crafted endeavor that blends meticulous planning with innovative ideas. 
Real-time engagement channels:

Capitalize on live-tweeting, streaming, and real-time engagement to captivate attendees. 

App-enhanced attendee experience:

Utilize the event app to enrich the event experience. It can host event schedules, interactive maps, speaker profiles, real-time Q&A sessions, polls, quizzes, gamification, networking opportunities and much more.

Networking:

As the attendee journey suggested, networking is key to engage attendees. integrating a mix of larger sessions and smaller, more intimate gatherings, optimizing seating layouts for effective networking

Offers & promotions:

Extend opportunities for on-site upgrades and future event participation. 

Social media integration:

Encourage attendees to share their experiences on social media using event-specific hashtags, fostering a sense of community and amplifying event visibility.

Unique photo ops:

Create captivating photo spots or interactive installations that attendees can share on their social platforms, extending the event's reach beyond the venue.
Sustaining the connection post-event
The impact of your event extends far beyond its physical presence, when your event has finished, your marketing efforts should still continue. This is where post-event engagement is a critical continuation of the attendee experience. Beyond the immediate aftermath, maintaining this connection holds immense value, reminding attendees of your brand, embracing loyalty, and sowing the seeds for future engagement.
Post-event surveys & feedback:

Gather feedback to improve future events and see what attendees really thought. This will strengthen the connection between attendees and your brand. You can do this through your event app to ensure all the data is stored in one central place. 

Retargeting campaigns:

Launch retargeting efforts to maintain engagement beyond the event.

Early-bird offers for future events:

Extend exclusive offers for early-bird tickets to future events. 

Event app content:

Post-event, the app remains relevant by hosting resources like presentation materials, speaker recordings, and whitepapers. It serves as a valuable post-event hub for attendees to continue their engagement and learning journey.
The best tools for Event Marketing
With a well-defined marketing strategy in place, the next step is choosing the most effective tools to execute your campaign. To bring your event to the forefront and engage a wide audience, it's imperative to evaluate and leverage strategic marketing tactics. Let's explore some of the most potent tools that can elevate your event marketing game, while we assess their effectiveness: Email Marketing, Social Media, Paid Ads, and Sponsorships.
Social media marketing


Social media has around 62 billion active users globally, a staggering potential audience. Utilizing social media marketing can be a powerful tool for your business. It enables you to connect with your target audience on platforms they already frequent. To make the most of this tactic:
Identify platforms preferred by your audience

Share engaging content that sparks conversations, like thought-provoking questions, discussions, or videos such as snippets from your event

Utilize these channels to generate buzz about your event, complete with registration links

Amplify your reach through paid social media advertising, ensuring your content is highly visible
Email Marketing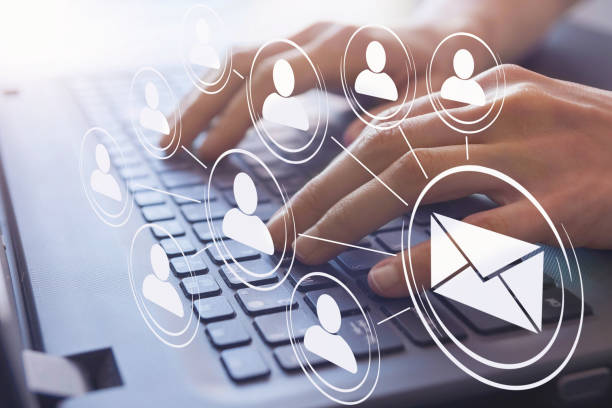 Email marketing is a key tactic, given that virtually everyone in the digital sphere uses email. It's a versatile tool that can be employed before, during, and after the event, serving multiple purposes:
Attract prospects by sharing event details and benefits

Send timely reminders to registered participants

Infuse excitement by unveiling event highlights

Encourage a sense of community by keeping attendees engaged even post-event
A word of caution: While email is effective, tread lightly to avoid overwhelming your audience. Keep track of registration statuses to avoid redundant emails to attendees.
Paid Ads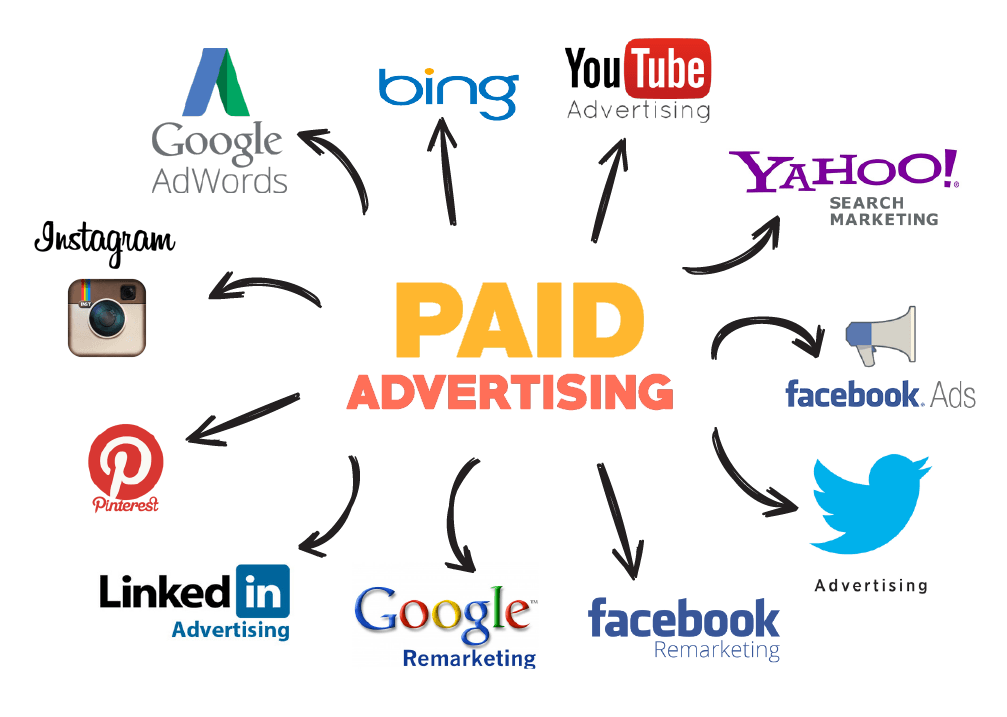 Paid advertising propels your event onto the digital stage, ensuring it garners the attention it deserves. Through targeted ads, you can capture the interest of a precise audience subset. This tool enhances brand visibility and encourages click-through rates, propelling potential attendees to engage further.
Here are some ideas of how you can utilize paid ads:
Targeted advertising:

Craft ads tailored to specific demographics, ensuring your content reaches the most relevant audience segments.

Keyword optimization:

Use relevant keywords to enhance the visibility of your ads on search engines and social media platforms.

Retargeting campaigns:

Re-engage users who have shown interest in your event but haven't registered yet, guiding them back to your registration page.

Geotargeting:

Leverage location-based targeting to promote your event to individuals in specific regions where your target audience resides.

Ad creatives:

Design visually appealing and attention-grabbing ad creatives that resonate with your audience and communicate the essence of your event.
Sponsorships
Sponsorships are a symbiotic strategy where both your event and sponsors benefit. Collaborating with relevant brands or organizations amplifies your event's credibility and widens its reach. By strategically partnering, you tap into your sponsor's audience while adding value to their brand.
Here is how to get started with sponsorships:
Alignment with values:

Choose sponsors that align with your event's values and objectives, creating a natural synergy that resonates with your audience.

Cross-promotion:

Collaborate on joint promotional efforts, such as sharing each other's content, increasing exposure to both your event and the sponsor's brand.

Access to audience:

Leverage your sponsor's existing audience base to increase your event's reach, tapping into their network of followers and customers.

Exclusive offers:

Provide special offers or discounts to your sponsor's customers, enticing them to attend your event and fostering brand loyalty.

Branded experiences:

Incorporate your sponsor's branding into various event elements, such as booths, signage, or merchandise, increasing their visibility among attendees.
When it comes to selecting the right tools, remember that each event is unique. Gauge your audience's preferences and align them with these potent tactics to create an effective and engaging event marketing strategy. Remember, you don't have to use one tool, you can choose the selection that is right for your event and your brand. 
Keep up to date with Latest Trends in Event Marketing
In the ever-evolving landscape of event marketing, staying ahead of the curve is essential to stand out and captivate your audience. As technology continues to redefine the way we experience events, exploring the latest trends becomes not just an option, but a strategic imperative. For more support on this take a look at how technology boosts corporate event planning.
In this section, we delve into the innovative frontiers of event marketing, focusing on cutting-edge technologies like Augmented Reality (AR), Virtual Reality (VR), and Artificial Intelligence (AI).
Exploring technological marvels
Augmented Reality (AR)
This technology enriches the real-world environment by overlaying digital elements. Imagine attendees using their smartphones to view event posters that come to life with videos, interactive content, or 3D visuals. AR transforms static surroundings into engaging experiences, leaving a lasting impact.
Virtual Reality (VR)
VR takes attendees to a whole new realm by immersing them in digitally created environments. Consider a virtual tour of your event venue before the actual day, allowing attendees to explore and plan their journey. VR offers a novel way to engage your audience even before the event commences.
Artificial Intelligence (AI)
AI-powered tools analyze data to predict attendee preferences, allowing you to personalize the event experience. Chatbots powered by AI can answer attendee queries in real-time, enhancing engagement and ensuring a seamless event journey. Discover how AI will disrupt app development. You can also incorporate AI features in your app. Check out Fliplet's AI features. 
Innovative campaigns that push boundaries
Leveraging these technologies, forward-thinking event marketers are creating campaigns that break the mold and redefine engagement:
AR scavenger hunts:

Attendees use AR-enabled apps to embark on interactive scavenger hunts, exploring the event venue and uncovering hidden surprises

VR immersive previews:

Before the event, attendees don VR headsets to explore virtual replicas of event spaces, enhancing anticipation and familiarity

AI-powered personalization:

AI algorithms analyze attendee data to offer personalized event recommendations, enhancing their experience and building loyalty

Interactive AR booths:

Brands create AR booths where attendees can visualize products, learn about services, and even interact with virtual representatives
Embracing these technologies not only distinguishes your event but also offers attendees a fresh and memorable experience. By staying at the forefront of tech trends, you infuse your event marketing strategy with innovation and captivation, ensuring your event is a must-attend sensation in the digital age.
Extended learning opportunities
The quest to create exceptional events that resonate with audiences requires a commitment to continuous learning and growth. In this section, we introduce you to extended learning opportunities that can empower you with invaluable knowledge, helping you master the intricacies of event marketing, refine your audience engagement strategies, and stay abreast of emerging technologies that shape the future of events. Whether you're a seasoned event manager or just starting, these recommended courses are your gateway to elevating your expertise and becoming a true maestro of event marketing.
1. The Chartered Institute of Marketing (CIM) Event Marketing course. The course offers strategies and practical guidance for planning diverse events, from small specialist gatherings to large trade shows. Learn how to enhance the entire event lifecycle, from branding and promotion to engaging attendees and post-event communication. 
2. Udemy has a course called Successful Events: Event Planning, Marketing & Management. This course equips you to create a thriving event series with increasing attendance, optimize revenue streams through attendee spending, secure media coverage, and receive personalized assistance from the instructor for tailored guidance. Master event promotion through social media and SEO, leverage events for business promotion, attract clients, and generate income.
3. Presentologist offers an Audience Engagement Training course. This training course enhances audience engagement by offering solutions that boost interactivity, ultimately improving memory retention of the subject matter. As interactivity becomes a standard at events and meetings, this course explores audience engagement technologies and tools like Slido, Turning Technologies, and more.
4. The Academy of Live Technology offers a course called Creative technologies for Live Events. This course gives you advanced technical, digital, artistic, and interpersonal skills. You are empowered as a problem solver, critical thinker, and creative innovator with the capacity to directly impact processes and technologies in a rapidly evolving and dynamic sector. This MSc degree course combines creative design elements with a technical focus on research and innovation. 
Investing in specialized courses is a strategic move that offers event managers and marketers a range of valuable advantages. These courses not only enhance expertise and keep you updated with the latest trends but also provide effective techniques and a competitive edge. They offer hands-on learning, networking opportunities, and problem-solving insights, all while preparing you to adapt to a constantly evolving industry. 
Evaluating Your Event's Success
Assessing the success of your event is a crucial step that goes beyond just counting attendees. It involves delving into metrics, utilizing tools, and strategizing for continuous improvement. 
Measuring success
While the number of attendees is an important indicator, it's just the tip of the iceberg. To truly gauge the success of your event, consider a holistic range of metrics:
Engagement levels:

Evaluate audience interaction, such as participation in discussions, sessions attended, and social media activity related to the event.

Lead generation:

Measure the number of leads generated and their quality, indicating the event's impact on potential business growth.

Customer satisfaction:

Gather post-event feedback and surveys to gauge attendee satisfaction and identify areas for enhancement.

ROI:

Calculate the return on investment by comparing event costs to revenue generated, giving you a clear financial perspective.
Tools for evaluation
Utilizing appropriate tools streamlines the evaluation process and provides actionable insights. Consider employing:
Event app:

Embracing event app can be a game-changer. Not only does it help in organizing the logistics of your event, but it often comes equipped with built-in analytics tools. These tools gather essential metrics that provide a comprehensive view of your event's success such as gathering feedback directly from attendees. This seamless integration empowers you to analyze session popularity, engagement levels, and areas of improvement. As a result, you gain actionable insights to fine-tune your strategies for future events.

Social media analytics:

Monitoring social media activity related to your event provides insights into engagement levels and sentiment.
Strategies for future excellence
Evaluating your event isn't solely about assessing past success; it's about paving the way for future improvements:
Case studies:

Integrating case studies that showcase both successful strategies and areas for improvement provides real-world context for your evaluation process. Take a look at how Fliplet created a

case study of Mayer Brown

from their annual Fliplet Summit.

Data-driven insights:

Base your strategies on data-driven insights garnered from attendee behavior, feedback, and engagement metrics.

Continual learning:

Attend industry events, webinars, and workshops to stay updated with emerging trends and effective strategies.

Innovate and adapt:

Use evaluation results to identify aspects that need innovation and adaptation for subsequent events.
By evaluating your event's success comprehensively, you gain valuable insights that go beyond surface-level statistics. You will have the knowledge to refine your strategies, amplify attendee engagement, and create experiences that leave a lasting impact. 
Why is having the right tool important?
As event managers and marketers, your journey is fueled by creativity, strategy, and dedication. Yet, the right tools act as catalysts that amplify your efforts and enable you to achieve exceptional outcomes.
Through event management, social media analytics, and innovative event apps like Fliplet, you gain a deeper understanding of attendee interactions and preferences. Fliplet, in particular, serves as your compass, guiding you towards informed decisions and refined strategies, ensuring that your events stand out and resonate with your audience. Its dynamic Event Solution empowers you to enhance attendee engagement, streamline communication, increase ROI, and encourage brand loyalty. 
With Fliplet, you are equipped to create remarkable event experiences that leave a lasting impact on your attendees. You can create an app that can adapt to your event size and type. Whether you're running a large hybrid conference or a small in-person roundtable, Fliplet's Event solution will fit all your event needs.
What is event marketing?
Event marketing is a strategic approach that involves promoting and creating awareness for an event to attract attendees, generate excitement, and achieve specific goals. It encompasses various tactics and strategies aimed at reaching the target audience, driving registrations, and creating a memorable event experience.
What is an event marketing strategy?
An event marketing strategy is a comprehensive plan that outlines the goals, target audience, messaging, tactics, and channels for promoting an event. It involves crafting a tailored approach to generate interest, engage potential attendees, and drive registrations, ensuring that the event's objectives are met successfully.
How can I develop a marketing strategy to promote an event?
Developing a robust marketing strategy for an event involves several key steps. Begin by defining your event's goals, target audience, and unique value proposition. Outline the messaging, content, and channels you'll use to reach your audience effectively. Create a timeline that includes pre-event, during-event, and post-event marketing efforts. For a detailed response on developing an event marketing strategy, refer to the blog section titled "Crafting a Comprehensive Event Marketing Strategy Based on Event Timeline."
How do I create a marketing plan for an event?
Creating an effective marketing plan for an event involves defining your event's objectives, understanding your target audience, and selecting appropriate marketing channels. Outline your budget, allocate resources, and set measurable goals. Craft compelling messaging and content that resonates with your audience. Incorporate a mix of strategies such as social media marketing, email campaigns, paid advertising, and engagement tools. For more insights on creating a comprehensive marketing plan, refer to the blog section titled "The Best Tools for Event Marketing: Evaluating Email Marketing, Social Media, Paid Ads, and Sponsorships."
What are the key elements of a successful event marketing campaign?
A successful event marketing campaign involves a combination of essential elements. Start with a clear understanding of your target audience and their preferences. Craft compelling and concise event messaging that communicates the event's value. Utilize a mix of marketing channels, including social media, email marketing, and content creation. Implement engagement strategies such as live-tweeting, real-time streaming, and interactive activities to enhance attendee experience. Evaluate the campaign's performance using metrics like registration rates, attendance, and engagement levels to refine future strategies.
How can I measure the effectiveness of my event marketing efforts?
Measuring the effectiveness of event marketing involves tracking key performance indicators (KPIs). Monitor metrics like registration numbers, website traffic, social media engagement, and email open rates. Collect post-event feedback through surveys to understand attendee satisfaction and areas for improvement. Utilize event marketing tools like analytics platforms and event management software to gain insights into attendee behavior and preferences, enabling data-driven decision-making for future events.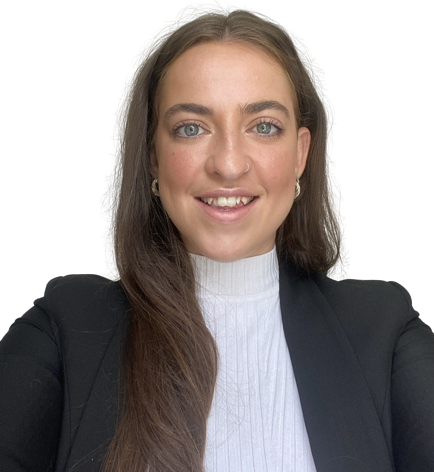 Niamh Conneely is the Content Writer and Marketing Executive at Fliplet – an app building platform that enables anyone to easily create engaging and interactive mobile and web apps.
Niamh has experience in content creation and writing and has achieved two level 6 awards for The Chartered Institute of Marketing. She has developed skills to help organizations deal with the challenges of a fast-moving marketplace. Connect with Niamh on Linkedin.