The 14 Best Apps for Lawyers in 2023
17 min read  |  20/01/2023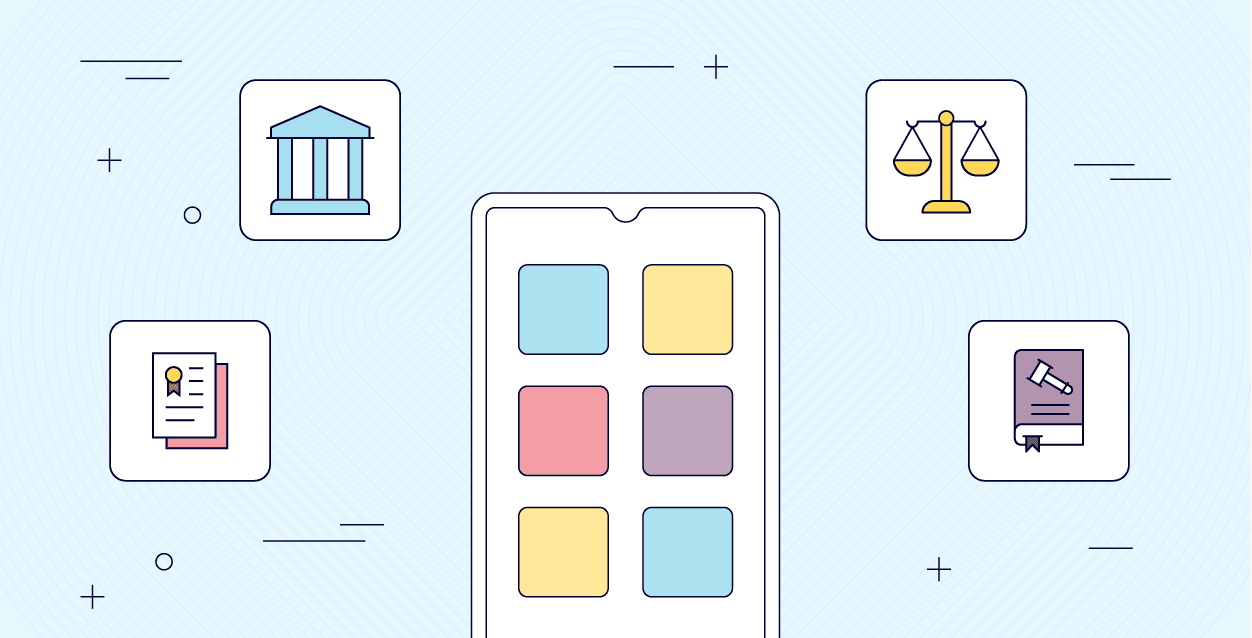 In today's fast-paced legal industry, having the right mobile enterprise application platform can make all the difference in running a successful law firm. One of the most important tools for any lawyer or law firm is a smartphone or tablet. 
With 73% of people using their smartphone for work purposes law firms are using this to their advantage to improve their communication, and enhance the employee and client experience. 
In this blog post, we'll take a look at the best apps for lawyers and discuss why law firms need them, as well as the benefits they can provide. From document management to legal research, these apps can help make your work as a lawyer more efficient and effective.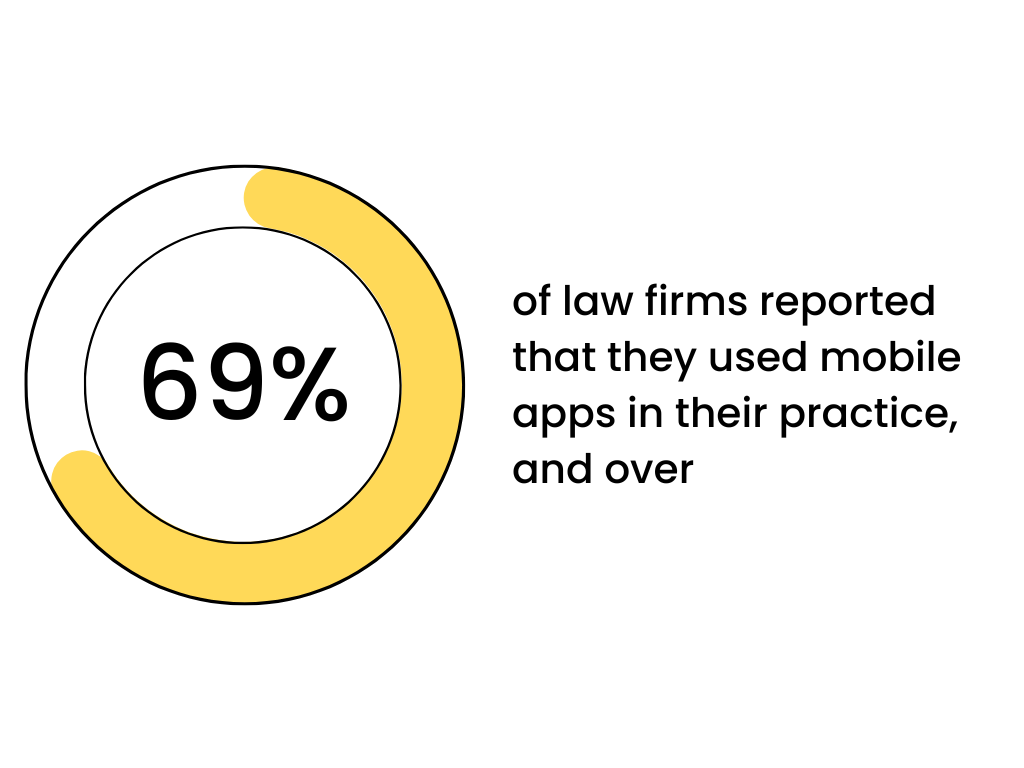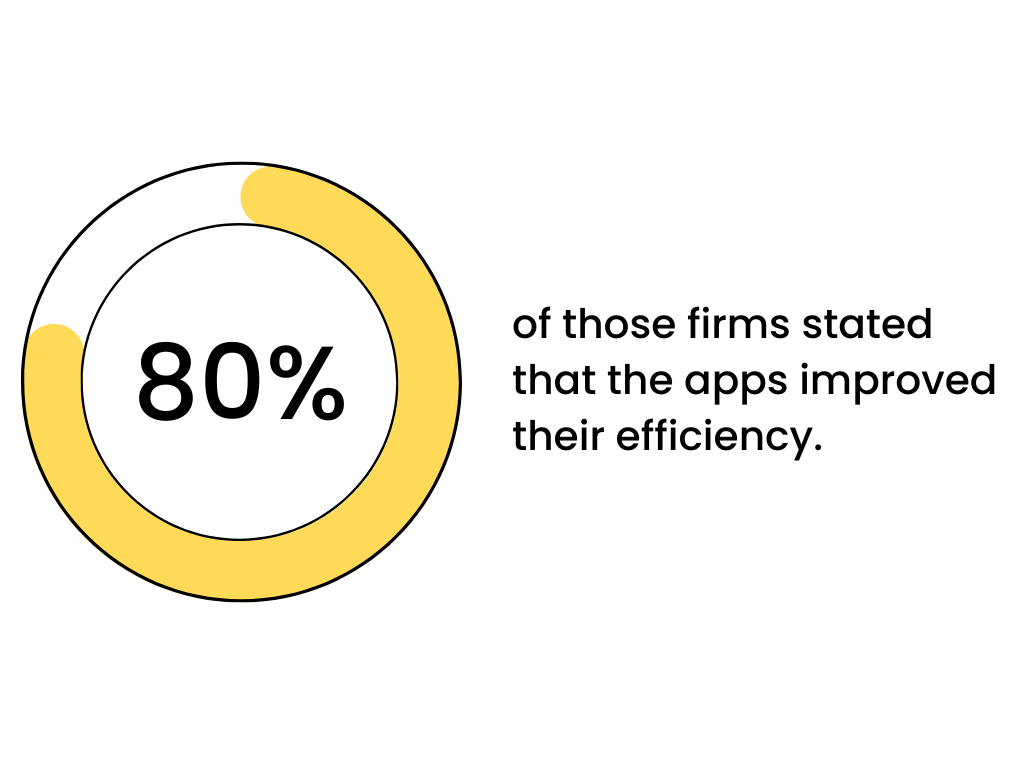 If there is one app that every lawyer and law firm executive should know, that is Fliplet. There is no question why more than 70 global law firms have used Fliplet.
Mobile apps can be a crucial tool for law firms looking to stay competitive and provide convenient services to clients or employees, that's why 24% of the top 300 law firms now have mobile apps.
From document management to lawyers onboarding Fliplet offers an all-in-one solution to manage a law firm and help executives and lawyers succeed. Client stories speak for themselves. 
In the next paragraph, we explain how you can use Fliplet for your law firm.
Why is Fliplet the only lawyer app you will ever need?
Fliplet's is an all in one solution that offers seventeen solutions and over three-hundred screens that you can customize to suit your needs. 
Some examples of solutions that law firms have created with Fliplet include:
What makes Fliplet the best app for lawyers?

As we all know, there is fierce competition in the legal industry, with a continuous stream of new entrants entering the oversaturated legal market exploiting changes in legislation and technology. Law firms are under ongoing pressure to stay on top of their game. 
Law firms that want to win are the ones who invest in technology and innovation to enhance client service, attracting new talent, showcasing their expertise, providing added value and building their brand.
Fliplet is the best app for lawyers just because it's designed for them. WIth a staggering percentage of Fliplet customers being legal firms, Fliplet design's each suite of templates with lawyers in mind.
Not only that but Fliplet solutions span across multiple use cases and result in streamlined communication within the firm and its clients.
Fliplet's intuitive interface and user-friendly design make it easy for even your non-technical teams like layers or marketers  to navigate and utilize the platform effectively. 
Fliplets key features for legal apps
Login – Add an extra layer of security to your app by making users identify themselves.  

Newsfeed – Keep employees or clients updated with the latest company or industry news. See what interests the users the most by allowing them to like and bookmark news items. 

Document libraries – Store key files such as case files, contracts, meeting notes and more in one convenient place so lawyers can access them on the go. 

Surveys – Gather feedback from clients to improve your legal services and measure the satisfaction of the clients. Understand what your clients like and what are the areas for improvement.

Brand your app – Make the app your own by quickly and easily customizing the app to fit with your firm's logo, colors, fonts and style.

Publish on any device – Fliplet knows lawyers are on the go and need to be able to access information and documents anywhere at any time. You can create one app that works on mobile, tablet and desktop. 
What are the benefits of Fliplet?
Are you tired of dealing with clunky and outdated technology at your law firm? Want to improve your firm's security, ease of use, and overall efficiency? Look no further than Fliplet – the ultimate app solution for innovative law firms and offers the best apps for lawyers.
With its customizable platform, cost-effective pricing, and plethora of advanced features, Fliplet is changing the game for legal professionals everywhere.
With Fliplet, you'll never have to worry about security breaches again. With its ISO 27001 certification, you can trust that Fliplet meets the highest standards for data security.
Say goodbye to worrying about data breaches and hello to peace of mind. Take the pressure off your firm's IT teams as with its easy-to-use interface, even your non-technical teams can navigate around the platform with ease. 
But that's not all – Fliplet also offers unparalleled customization options, allowing you to tailor your app to perfectly match your firm's brand and unique needs.
Not only that, due to Fliplets huge legal presence Fliplet offers multiple integrations with all popular legal software such as HighQ, Litera and many other integrations. Plus, its flexibility and scalability make it the perfect choice for firms of all sizes and industries.
Don't get left behind in the digital age. Upgrade your firm's technology today and try Fliplet for free and experience all the benefits it has to offer.
Price

Free plan – publish your own web app
Public plan – from $9.90 p/m
Enterprise plan – have a demo with us
Reviews
Capterra – 4.8 / 5
G2 – 4.6 / 5
Document Management apps for lawyers
Legal firms know that document management is one of the primary drivers for service quality. If you want to take your document management to the next level then review this list of tools. 
Evernote
Evernote is a cross-platform, freemium app designed for note taking, organizing, and archiving. It allows users to create notes, which can include text, images, web pages, and audio, and organize them in notebooks.
Additionally, it provides a variety of features such as collaboration, tagging, and searching, to make it easy for users to find and use the information they've saved. Evernote pricing ranges from free to $10.99 per user per month. 


Google Drive
Google Drive is a cloud storage and file management service offered by Google. It allows users to store and access files such as documents, photos, and videos from any device with an internet connection.
Users can also use it to collaborate and share files with others, and it also integrates with other Google services such as Gmail and Google Docs. Google Drive business pricing starts from $6 per user per month and for enterprise, contact Google Workspace. 

Good Reader
GoodReader is a PDF reader and file manager app for iOS devices. It allows users to view, edit, and annotate various types of files including PDF, text, Microsoft Office, and iWork documents, as well as photos and videos.
It also provides features such as file transfer options, file compression, and support for cloud services like Dropbox and Google Drive. Good Reader pricing starts at $5.99. 
Clio
Clio is a cloud-based practice management and legal case management software. It allows law firms to manage their cases, contacts, calendar, billing, and documents in one place.
It also provides features such as time tracking, matter management, and legal research integration to streamline the legal practice and improve communication with clients. You can try Clio for free but pricing starts at $39.99 per user per month to $129.99 per user per month. 
NetDocuments
NetDocuments is a cloud-based document and email management system for law firms. It allows users to store, share, and collaborate on documents and emails securely from any device.
It also provides advanced security features and compliance capabilities, such as document retention policies and e-discovery support to meet the regulatory requirements of the legal industry. The estimated cost is $1500 – $2500, depending on the size of your law firm.
Box
Sharebox is a file storage and collaboration service called ShareBox, which allows users to store and share files, collaborate on projects, and access their files from anywhere. It also offers advanced security features, such as password protection, remote wipe, and two-factor authentication, to keep data secure.
Additionally, it can be integrated with other apps and services, such as Microsoft Office and Google Drive. Box pricing starts at £12 per user per month and for enterprise, contact Box. 
Fliplet
Fliplets Communication solution has been used by law firms as a document management app. Fliplet provides a secure platform for sharing sensitive legal documents, protecting them from unauthorized access.
The solution allows lawyers to store all their legal documents in one centralized location, making it easy to access, share and collaborate on any device.
Having everything in a centralized location and at the touch of a button enables lawyers to easily access documents and files, whilst on the go and reducing the time and effort required to locate them.
Lawyers can collaborate with colleagues and clients more efficiently, as they can access and share documents in real-time.
Creating your app has never been easier.
Communication apps for lawyers
Slack
Law firms can use Slack as a communication app by creating channels for specific cases or projects, allowing team members to easily share information and collaborate.
Slack also provides instant messaging and voice/video call features, which can be used for quick communication and discussions.
Additionally, Slack can be integrated with other apps and tools, such as calendars and document management systems, to streamline workflow and improve communication within the firm. Slack pricing starts at $7.25 per user per month for enterprise, contact Slack. 
Microsoft Teams
Microsoft Teams enables law firms to create channels for specific cases or projects, allowing team members to easily share information and collaborate.
Microsoft Teams also provides instant messaging, voice and video call, and screen sharing features, which can be used for quick communication and discussions.
Additionally, Microsoft Teams can be integrated with other apps and tools, such as calendars, document management systems and email, to streamline workflow and improve communication within the firm.
Microsoft Teams pricing starts at $4 per user per month and goes to $12.50 per user per month. 
Zoom
Zoom allows organizations to set up virtual meetings and video conferencing, allowing team members to communicate and collaborate remotely. Zoom also provides screen sharing and recording features, which can be used for presentations and training purposes.
Additionally, Zoom can be integrated with other apps and tools, such as calendars and document management systems, to schedule meetings and share documents easily during the call. Zoom pricing starts at free and for enterprise, contact Zoom. 
RingCentral
RingCentral offers a variety of features such as phone, video conferencing, SMS, and fax. It allows users to make and receive calls, send and receive messages, and host virtual meetings from a single, unified application.
Law firms may want to use this app because it allows them to easily communicate with clients and colleagues, and also facilitates remote work and virtual meetings which can be beneficial during the pandemic or other times where in-person meetings may not be possible.
Ring central starts at $19.99 per user per month and goes up to $49.99 per user per month.
Fliplet Communication App
A law firm can use Fliplet's communication solution to create an app that allows clients and employees to easily communicate both internally and externally. Attorneys can access case information, and receive updates on the status of their case.
The app could also include features such as document sharing, a location to host group discussions, news updates and live chat to streamline the communication process.
Additionally, the app could be used to provide legal resources and information to clients, such as legal documents and statutes. Overall, Fliplet can be a powerful tool for law firms looking to improve communication and efficiency with their clients or employees.
Task Management and Productivity apps for lawyers
Trello
Trello allows users to create boards for different projects and tasks, and to assign tasks to team members. It also has a calendar view, which helps in tracking deadlines, and is useful for managing multiple cases and tasks. Trello is free and for enterprise can go up to $17.50 per user per month.
Asana
This app is a project management tool that allows users to create tasks, assign them to team members, and track progress.
It also has a calendar view that allows users to see upcoming deadlines, and can be integrated with other apps such as Google Calendar and Slack.
Asana is free and for businesses can go up to £20.99 per user per month.
Todoist
This app is a task management tool that allows users to create to-do lists, set reminders, and track progress on tasks.
It also has a feature called "labels" that allows users to categorize tasks by type, such as "client" or "deadline", which can be helpful for law firms. Todoist is free and for businesses it is $6 per user per month.
Fliplet Task Management solution
Fliplets Task Management solution is a dual tracking app solution. This solution will allow you to create two types of lists: a simple checklist and a project.
Key features include multiple task tracking features, the ability to create and update separate lists and projects in real time, accessible on any device: smartphone, tablet and computer and your app can be distributed on web, Apple App Store and Google Play.
Overall, Fliplet offers a suite of apps that legal firms need. Unlike the other solutions mentioned above, Fliplet offers multiple apps in an all-in-one solution. These apps include dawn raids, directories, cyber response, tax apps, internal communications, and client support apps, among many others.
Fliplet's all-in-one solution makes it a valuable tool for legal firms looking to streamline their operations and improve efficiency.
For more on task management, read our blog.
What are some of the other best apps for lawyers?
Events solution
One major benefit of Fliplets Event solution is that it allows law firms to effectively manage their legal events such as conferences, seminars, and networking events, the solution can be used for any event, any size! 
The solution offers key features such as agenda and scheduling, a list of speakers and attendees, session materials, an event floor plan as well as polls, surveys and questions to improve attendee engagement, gather comprehensive and valuable feedback and help measure your events success.
Lawyers can create an event app that includes all the information attendees and clients need to know such as speaker bio's, venue information and more.
Fliplet's Event solution includes interactive features such as document sharing, so your attendees and clients can access the materials before and after the event, as well as a live chat feature for attendees and clients to communicate with your firm easily and effectively. 
Whether your app is aimed at staff, clients, delegates or all of the above, it will help ensure your events run smoothly, help to increase attendance due to ease of access, and will ultimately differentiate your organization and help you to stand out.
See how one of the top 30 UK law firms built an event app using Fliplet and how they get their events live in the app in just 10-15 minutes! 
Communication solution 
89% of lawyers use their mobile device for their job.  Finding a convenient solution that allows lawyers to collaborate and communicate with clients, employees and other legal professionals can be difficult for law firms. 
Fliplets communication solution allows law firms to stay in contact with clients and employees anywhere in the world and enhance their experience.
Fliplets solution provides a central platform for communication and collaboration, and helps streamline workflow and reduce the need for multiple tools and systems.
The solution offers a variety of key features to law firms as they can upload their own content such as files, pdfs, spreadsheets and images which are stored in one easy accessible place.
The news feed feature is an efficient way to update clients on latest changes and updates about the firm or industry. Surveys and chat features ensure lawyers are aware of any questions or concerns their clients may have.
Mills and Reeve came to Fliplet looking for a solution that would improve their communication with their partners and provide them with information at the touch of a button.
After mapping out the app functionality in a spider diagram on paper, the team created prototypes for the app screens utilizing Fliplet to develop, test and deliver the 'What The Tech?!' app in just two weeks.
The team developed an award-winning app, recognized with The Legal Innovation 2020 award for Knowledge Management Innovation.
Directory solution
Your clients can filter through lawyers in the firm to find the right lawyer for their needs. If users are unsure who they are looking for they can filter down by department, titles, education, skills and more.
Allow clients to get to know the lawyers by including personal information such as expertise, skills, languages spoken, recent projects, certifications and social media links. 
Using Fliplets Directory solution will help increase the firm's visibility and attract new clients, the app can help to position your firm as an expert in its field and more is more likely that potential clients will work with your firm.
Overall, Fliplet is the best solution for law firms as they offer a wide variety of solutions and features so law firms can find the best solution for their individual needs.
Fliplet provides analytics and reporting features on all their solutions so law firms can understand user behaviour and improve the app accordingly, to ensure they are maintaining their competitive edge in the market.
Many other law firms have already gone with Fliplet as it provides an efficient, cost-effective and user-friendly solution.
So what are you waiting for? Join the other 70+ law firms that have created apps with Fliplet.
Emergency Management solution
Law firms, are you ready to tackle emergencies head-on? Introducing Fliplet's Emergency Management solution, the ultimate tool for responding effectively to any crisis.
Say goodbye to juggling multiple conventional solutions and hello to a streamlined, all-in-one platform that keeps you informed and connected no matter where you are in the world. 
The prebuilt app solution offers a host of features, including pre-built checklists, real-time notifications, live chat for communication and coordination, file and photo uploads, guides and courses, a directory of experts, and post-emergency surveys to improve your response plan. 
But that's not all – with Fliplet, you'll also benefit from a quick response time, better collaboration and communication, the ability to train and educate users on emergency protocols, and fully customizable options to suit the unique needs of your organization.
And with offline access, you'll never have to worry about losing access to critical information.
Don't let emergencies catch you off guard. Be proactive and take control with Fliplet's Emergency Management solution. Fully customizable and delivered in just a few weeks, this is a must-have for any law firm looking to improve their emergency response plan.
Want to be a step ahead of the game? Check out this crisis management case study and get a sneak peek at what our solution can do for your organization!
See real-world examples of how our all-in-one emergency management solution can improve your response time, increase collaboration and communication, and train and educate your team.
Learn how legal apps can increase your lawyer productivity
The adoption of legal apps and lawyers from Law Firms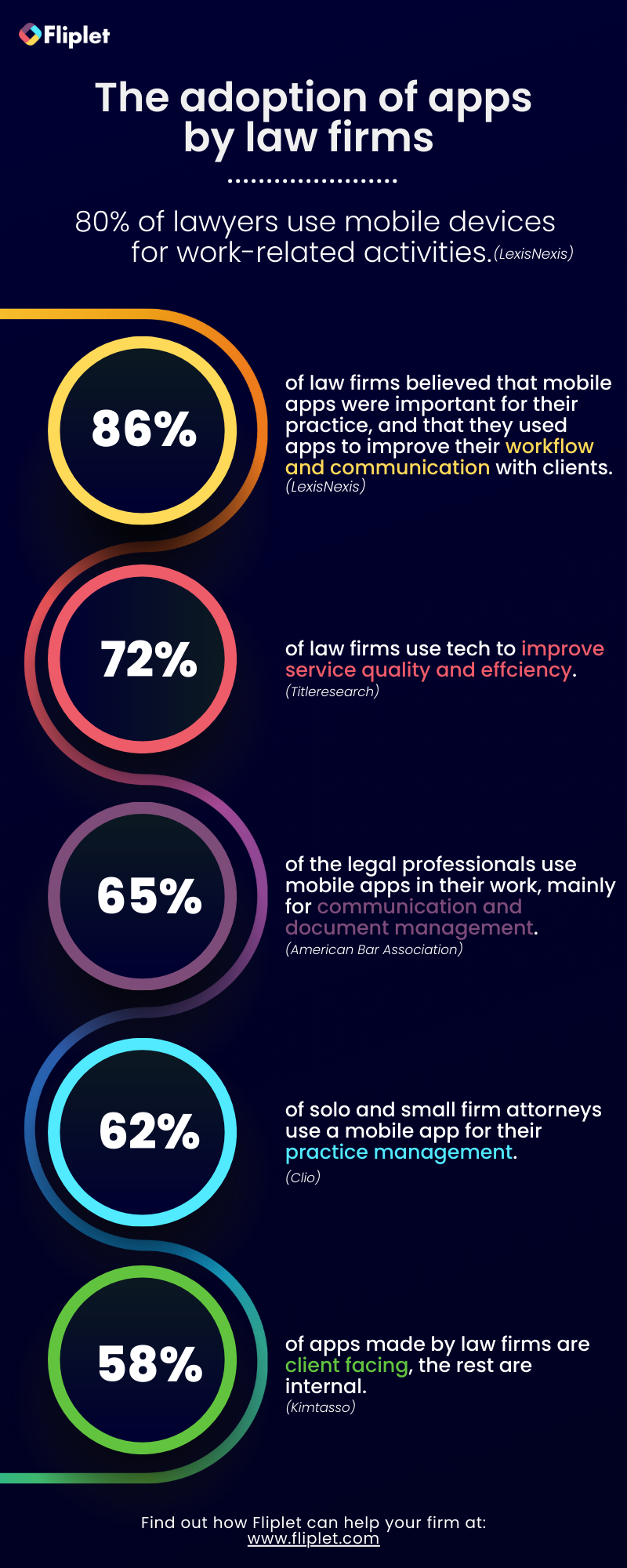 The benefits of legal apps for your law firm
There are many benefits to using apps for law firms, including:
Increased Efficiency: Apps can automate repetitive tasks, such as data entry, scheduling appointments and sending reminders, which can save time and increase productivity.
Improved Communication: Apps can allow clients to easily communicate with their attorneys, access case information and receive updates on the status of their case, which can improve client satisfaction.
Increased Mobility: Apps can allow attorneys to access case information and communicate with clients from anywhere, which can be especially useful for attorneys who are frequently on the go.
Better Organization: Apps can help law firms organize and manage their cases, clients and documents more efficiently, which can improve the overall management of their business.
Accessibility: Custom-made apps can provide clients with legal resources and information such as legal documents, statutes and more in a more accessible way.
Cost-effective: Developing an app for a law firm may be less expensive than other solutions such as creating a website, which can be beneficial to small or new law firms.
Increased Visibility: Having a mobile app can increase the visibility of a law firm, making it more accessible to potential clients and helping to attract new business.
Summary
To summarize on this blog, mobile apps have become an essential tool for lawyers and law firms in today's fast-paced and highly competitive legal industry.
The 17 apps we have highlighted in this blog offer a wide range of benefits and features that can help law firms streamline their workflow and manage their clients and employees more effectively.
Among the apps highlighted in this blog Fliplet stands out as the best app for law firms to use. Fliplet can be used to create a variety of apps such as document management, task management and communication apps.
These apps can improve efficiency, collaboration, and data security for the firm. Additionally, Fliplet's no-code approach allows for quick and easy app development, which can save the firm time and money.
Give it a go yourself…
What apps have law firms created?
Find out how Eversheds Sutherland app for lawyers combated the issue of keeping social connections whilst working from home through their open house app. 
Discover how Mills & Reeve award-winning "What the Tech?!"legal app, made to support technological discovery. The app was the Winner of KM Innovation award 2020 and had over 500 staff engaged with the app in the first 2 months and a positive increase in tech enquiries.
See how a Top 30 UK Law firm switched their legal app from another solution to Fliplet and went from 40 minutes inputting the details for an event to getting an event live in the app in just 10-15 minutes.
What other apps for lawyers can law firms create?
Law firms have a range of tasks they need to manage on a daily basis. From tracking time and billing clients, to managing cases and communicating with clients, to conducting legal research and drafting documents, law firms have a lot to keep track of.
Tailored apps enable law firms to streamline these processes quickly and conveniently.
By leveraging the power of technology, law firms can create various all-in-one apps such as directories, dawn raids, idea management, office management, crisis management, client support and much more.
These apps can be designed to suit the needs of different departments or practice areas within the firm, such as litigation, estate planning, or intellectual property law.
It's worth mentioning Fliplet isn't just limited to document management, communication and task management apps.
As it is an all in one solution platform, law firms have a wide range of solutions and features to choose from to meet their requirements. Some examples of other apps that law firms have created using Fliplet include; 
Directories

Dawn Raid 

Idea management 

Remote and office management

Crisis management 

Training  and Onboarding

Tax apps

Client support  

New lawyers onboarding 

Practice service 
With the right app solution, law firms can improve their workflow and ensure that their clients receive the best possible service.
What are the best apps for your legal practice?
Whether you're a small-medium sized law firm or a large one, Fliplet offers a range of features and functionalities that cater to your specific needs.
For smaller law firms, Fliplet offers a variety of key features such as task and document management, billing and invoicing, and communication.
Clio, Trello, and Zoom, also offer some of these features but with Fliplet you get the added benefits of the platform being easy to use and affordable. You can even try Fliplet for free, and see the benefits it can bring to your firm.
Larger law firms may require more advanced features. Fliplet offers a range of advanced features such as highly detailed reporting and analytics, in-app admin functions to quickly and efficiently make edits and changes to your app on the go as well as the ability to integrate with other tools that your firm uses.
Other apps that offer some of these features include Evernotes and Slack.
With Fliplet, you get an all in one solution that provides lawyers with a central location to access everything they need, on any device, no matter the time or location.
Fliplet has proven to help large law firms as anyone within the organization can build an app to suit their needs without the need of any code.
The non-technical teams at Gowling are able to rapidly create and deploy apps using Fliplet which has taken the stress off their IT teams, read the full Gowling case study to find out more. 
With Fliplet, large law firms can take their operations to the next level, while also keeping the process easy to use and cost-effective. You can request a demo to see Fliplet's features, and experience the benefits it can bring to your firm. Alternatively, you can as easily sign up for free and experience Flipelt hands-on. 
To find the best app for your legal practice ask yourself:
What are goals for the app? 

What do you want the app to be able to do?

Once you ask yourself these questions you can find a solution that offers all the features you require.
What is Zapier, and why do law firms need to know about it?
Zapier is an online automation tool that allows users to connect different apps and services together in order to automate repetitive tasks. For example, a law firm could use Zapier to automatically create a new task in their task management app whenever an email is received from a certain client, or to add a new contact to their CRM whenever a new client signs up on their website.
By using Zapier, law firms can automate repetitive tasks that would otherwise need to be done manually, saving time and increasing efficiency. 
Fliplet and Zapier can work together to automate tasks and streamline communication within a law firm. Here are a few examples of how they can be used together:
Data collection: Fliplet can be used to create a custom mobile app for clients to fill out forms and provide information, while Zapier can be used to automatically send that information to the law firm's CRM or case management system.

Task Management: Fliplet can be used to create a custom mobile app for clients to view and update their case information, while Zapier can be used to automatically create tasks in the law firm's task management app when certain actions are taken within the Fliplet app, such as when a client updates their information.

Communication: Fliplet can be used to create a custom mobile app for clients to communicate with their attorneys, while Zapier can be used to automatically send notifications to the attorney's email or mobile device when a new message is received in the Fliplet app.

Workflow Automation: Fliplet can be used to create custom forms and workflows, while Zapier can be used to automate tasks and communication based on the data collected and actions taken within the Fliplet app.
Overall, using Fliplet and Zapier together allows law firms to create a seamless and automated workflow for their clients, which can save time and increase efficiency.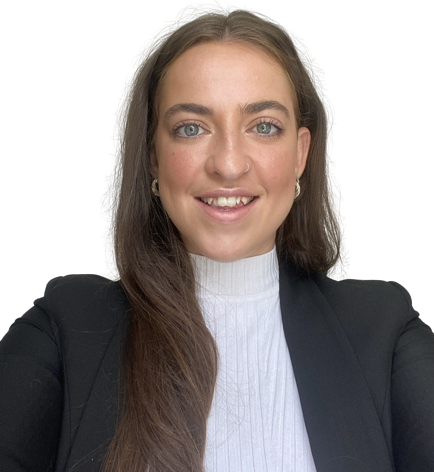 Niamh Conneely is the Content Writer and Marketing Executive at Fliplet – an app building platform that enables anyone to easily create engaging and interactive mobile and web apps. Niamh has experience in content creation and writing and has achieved two level 6 awards for The Chartered Institute of Marketing. She has developed skills to help organizations deal with the challenges of a fast-moving marketplace. Connect with Niamh on Linkedin.
Creating your app has never been easier.