Mobile Apps in the Top 200 Law Firms: Unveiling Insights from the 2023 Report
Written by Niamh Conneely
7 min read  |  04/08/2023

A comprehensive overview of the key findings, trends, and benefits of mobile apps in the legal industry.
The legal landscape has been evolving rapidly, and one area that's gaining significant momentum is the use of mobile apps by law firms. To explore this intriguing trend, we recently hosted a webinar, Mobile Apps in Law Firms: How the Top 200 Law Firms Use Apps.
In this blog post, we'll delve into the key findings and trends from our research, shedding light on the most popular app types, their benefits, and the reasons why law firms are increasingly turning to app development platforms like FlipIet.
Summary of the Research
To ensure the accuracy and relevance of our study, we focused on the Global 200 law firms listed on law.com. By examining the public app stores of both Apple and Google, we collected publicly available data and utilized search engines to gather additional information. Our research excluded web apps, webpages, widgets, or internally published apps via private app stores or MDMs. This data collection took place in May 2023.

We discovered that an impressive 39% of the top 200 law firms have apps published on app stores. Among these published apps, we identified 191, with 131 available on both Apple App Store and Google Play. Additionally, 47 apps were exclusively on the Apple App Store, while 13 were exclusively on Google Play. 
If you're inspired by these findings and keen on venturing into app development for your law firm, we've got just the resource for you. We recommend checking out our comprehensive blog 7 Steps to Making an App for iPhone in Less Than a Day. This insightful guide will walk you through the process, providing valuable tips and tricks to create your iPhone app quickly and efficiently.
Most Popular App Types

After carefully categorizing the apps, we unearthed the following top five app types:
Law Firms Top App Categories 
Let's take a closer look at the key features and benefits of the most popular app categories:
Event Apps

Designed to support events both in-person and virtually, these apps encompass agendas, schedules, floor plans, directories of speakers and attendees, chats, and notifications. They also feature check-ins and check-outs for attendees, providing valuable data for reports and analytics. Event apps enhance engagement, networking, and communication while accommodating multiple events within one app.
If you're intrigued by the potential of event apps and want to explore the best options available, we recommend checking out our curated blog post titled "25 Best Mobile Event Apps You Need in 2023." This blog presents an in-depth review of the most cutting-edge event apps that can transform your event management process and create memorable experiences for your attendees.
Furthermore, we have an enlightening case study that showcases the real impact of implementing Fliplet's innovative Event solution. One of the top 30 law firms in the UK made the switch from another event app platform to Fliplet, significantly streamlining their event management process. By leveraging Fliplet's user-friendly interface and powerful tools, they reduced the time required to input event details from 40 minutes to a mere 10-15 minutes. Read the full case study to discover how they created it and the results they gained. 
Reference, News, and Learning Apps

These apps cater to clients, staff, and practices, facilitating learning and access to relevant information. Reference apps with document libraries, decision trees, and discussion forums, along with features such as quizzes, notifications, and award certificates, enhance engagement and knowledge sharing. 
Discover how to make a learning app on a budget.
Emergency Management Apps

Focused on client-facing solutions during emergencies, these apps prioritize quick and coordinated responses through features like reporting emergencies, checklists, directories of experts, collaboration, and notifications. The benefits include rapid responses, localized jurisdiction support, and error mitigation.
To help get you started on creating your Emergency Management app, check our our free resources:
Community Apps

Supporting secure connections and communication, these apps serve various groups, such as alumni, departments, teams, clients, social groups, and project groups. Features like user profiles, discussion topics, posts, comments, notifications, and gamification foster enhanced communication, engagement, knowledge sharing, and networking.
If you're looking to boost communication and collaboration within your law firm, custom apps can be the key to achieving this goal. By creating tailored solutions for various groups within your organization, you can ensure seamless information exchange, real-time discussions, and enhanced engagement among your team members. Custom apps offer a centralized platform where employees can connect, collaborate, and stay informed about the latest updates, ultimately leading to increased productivity and a more cohesive work environment.
For more insights into the world of communication apps and community engagement, we recommend exploring our two informative blog posts: The 15 Best Team Communication Apps of 2023 and The Top 10 Community Apps to Engage and Monetize Your Community.
Client Portal Apps

A secure and private method for distributing apps and content to clients, these apps offer authentication, dashboards, document sharing, project management, and reporting. Centralized access improves client experience, communication, collaboration, and app scalability.

Although less prevalent, these apps provide practice areas, directories, attorney contact details, and key resources such as podcasts.
Discover how the non technical teams at Gowling are able to rapidly create and deploy apps.
Trends in Law Firm Apps
Law firms are embracing app development and exploring multiple categories, including events, emergencies, reference, news, learning, community, and client portal solutions. 
These apps are also being tailored to accommodate multiple languages, jurisdictions, and scenarios, enhancing accessibility and reach. Additionally, integration with AI and collaboration tools is on the rise.
Watch this inspirational session to hear from Adam Curphey, Senior Innovation Manager at Mayer Brown who discusses their journey with Fliplet, innovation and how AI fits in.
Why Do Law Firms Use FlipIet for App Development? 
FlipIet stands out as an online tool enabling rapid app development across Apple, Android, and web platforms. Law firms appreciate the customization options, security and control features, integration capabilities with existing systems, ability to create public or private solutions, offline functionality, and ease of maintenance for non-technical staff. 
Furthermore, FlipIet's pre-built solutions and support for AI-powered apps have made it a preferred choice among law firms. Fliplet is a proven solution that helps law firms streamline operations, improve productivity, and enhance the client experience. Our customizable solutions can be tailored specifically to the needs of your law firm.
Summary 
The legal industry is undergoing a transformative shift with the increasing adoption of mobile apps by law firms. As our research revealed, these apps serve various purposes, from enhancing engagement and communication to streamlining emergency management and knowledge sharing. Law firms are embracing the power of app development, and platforms like FlipIet are empowering them to create unique, secure, and tailored solutions for their clients and staff.
What apps help with law?
The type of app that can help with the law depends on the user's specific needs. Different law firms may require different types of apps, such as event apps, document management apps, learning apps, communication apps, client-facing apps, and task management apps. Fortunately, Fliplet offers a no-code platform to help create these apps. With Fliplet, users can create customized apps for their specific needs using various features and integrations. From document management to client communication, Fliplet can help legal professionals build apps that are tailored to their specific requirements.
Why use legal software?
Legal software can provide many benefits for law firms and legal departments, including:
Increased Efficiency: Legal software can automate repetitive tasks, streamline workflows, and eliminate manual processes, saving time and increasing efficiency.
Improved Accuracy: Legal software can help reduce errors by automating processes and providing real-time data, ensuring that legal professionals have accurate and up-to-date information.
Enhanced Collaboration: Legal software can provide a centralized platform for team members to work together, share information, and collaborate on projects, improving teamwork and communication.
Better Client Service: Legal software can help legal professionals manage client information, track case details, and communicate with clients, providing better service and improving client satisfaction.
Compliance with Regulations: Legal software can help law firms and legal departments comply with regulatory requirements by automating compliance processes and providing reports and audits.
What apps have law firms created?
Find out how Eversheds Sutherland app for lawyers combated the issue of keeping social connections whilst working from home through their open house app. 
Discover how Mills & Reeve award-winning "What the Tech?!"legal app, made to support technological discovery. The app was the Winner of KM Innovation award 2020 and had over 500 staff engaged with the app in the first 2 months and a positive increase in tech enquiries.
See how a Top 30 UK Law firm switched their legal app from another solution to Fliplet and went from 40 minutes inputting the details for an event to getting an event live in the app in just 10-15 minutes.
What other apps for lawyers can law firms create?
Law firms have a range of tasks they need to manage on a daily basis. From tracking time and billing clients, to managing cases and communicating with clients, to conducting legal research and drafting documents, law firms have a lot to keep track of.
Tailored apps enable law firms to streamline these processes quickly and conveniently.
By leveraging the power of technology, law firms can create various all-in-one apps such as directories, dawn raids, idea management, office management, crisis management, client support and much more.
These apps can be designed to suit the needs of different departments or practice areas within the firm, such as litigation, estate planning, or intellectual property law.
It's worth mentioning Fliplet isn't just limited to document management, communication and task management apps.
As it is an all in one solution platform, law firms have a wide range of solutions and features to choose from to meet their requirements. Some examples of other apps that law firms have created using Fliplet include; 
Directories

Dawn Raid 

Idea management 

Remote and office management

Crisis management 

Training  and Onboarding

Tax apps

Client support  

New lawyers onboarding 

Practice service 
With the right app solution, law firms can improve their workflow and ensure that their clients receive the best possible service.
What is Zapier, and why do law firms need to know about it?
Zapier is an online automation tool that allows users to connect different apps and services together in order to automate repetitive tasks. For example, a law firm could use Zapier to automatically create a new task in their task management app whenever an email is received from a certain client, or to add a new contact to their CRM whenever a new client signs up on their website.
By using Zapier, law firms can automate repetitive tasks that would otherwise need to be done manually, saving time and increasing efficiency. 
Fliplet and Zapier can work together to automate tasks and streamline communication within a law firm. Here are a few examples of how they can be used together:
Data collection: Fliplet can be used to create a custom mobile app for clients to fill out forms and provide information, while Zapier can be used to automatically send that information to the law firm's CRM or case management system.

Task Management: Fliplet can be used to create a custom mobile app for clients to view and update their case information, while Zapier can be used to automatically create tasks in the law firm's task management app when certain actions are taken within the Fliplet app, such as when a client updates their information.

Communication: Fliplet can be used to create a custom mobile app for clients to communicate with their attorneys, while Zapier can be used to automatically send notifications to the attorney's email or mobile device when a new message is received in the Fliplet app.

Workflow Automation: Fliplet can be used to create custom forms and workflows, while Zapier can be used to automate tasks and communication based on the data collected and actions taken within the Fliplet app.
Overall, using Fliplet and Zapier together allows law firms to create a seamless and automated workflow for their clients, which can save time and increase efficiency.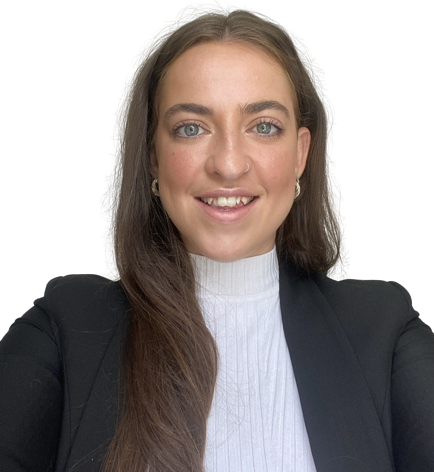 Niamh Conneely is the Content Writer and Marketing Executive at Fliplet – an
app building platform that enables anyone to easily create engaging and interactive mobile and web apps.
Niamh has experience in content creation and writing and has achieved two level 6 awards for The Chartered Institute of Marketing. She has developed skills to help organizations deal with the challenges of a fast-moving marketplace. Connect with Niamh on Linkedin.