Reasons Why Your Organization Needs Enterprise Mobile Applications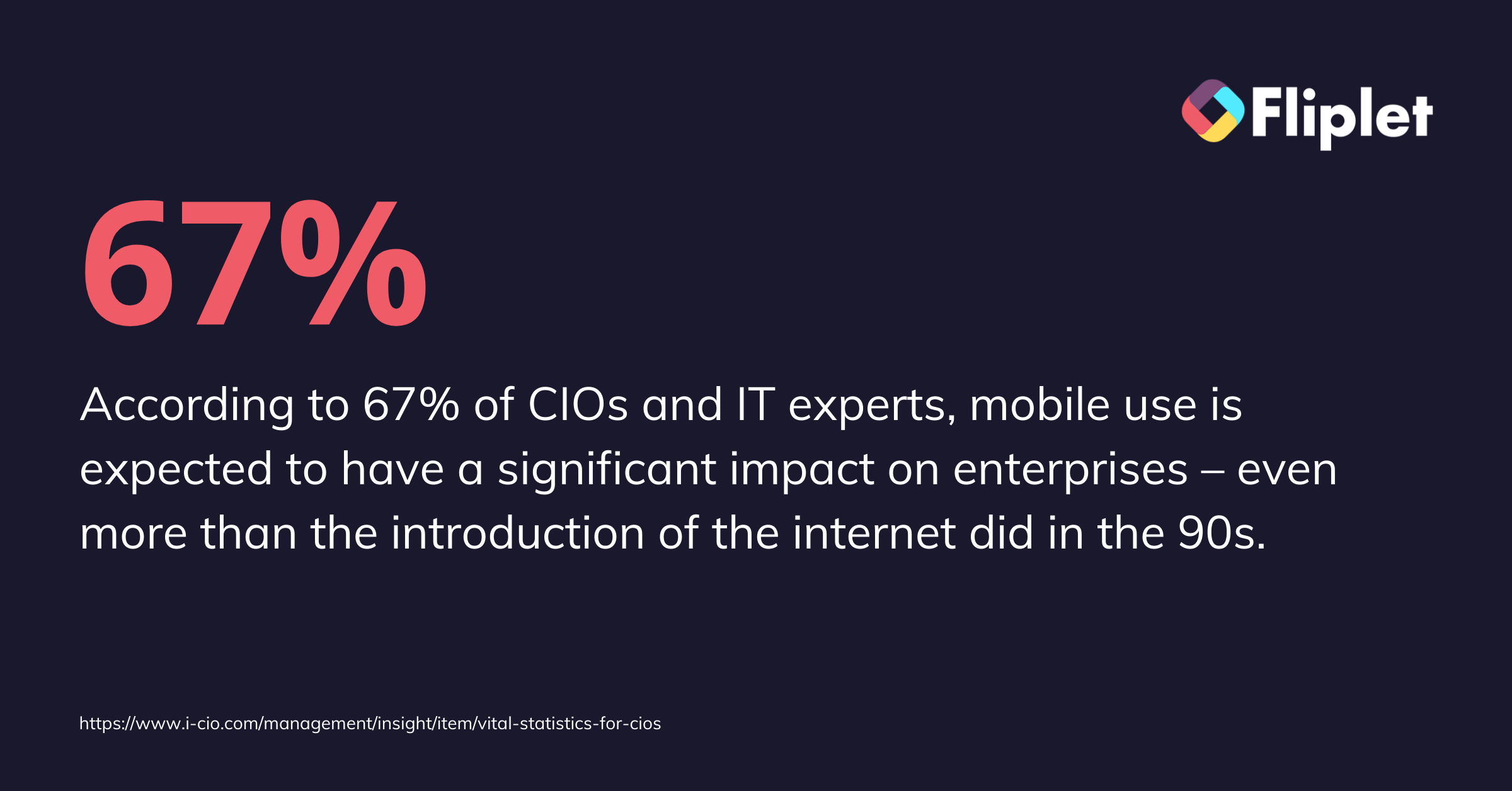 What is Enterprise Mobile Application?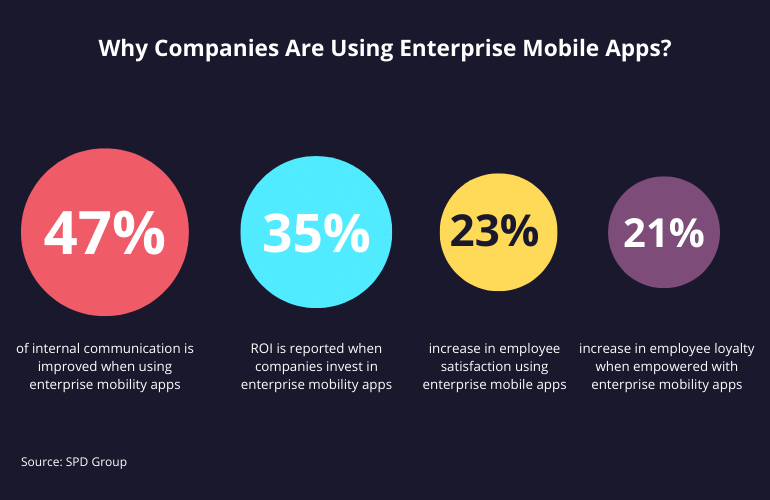 An enterprise mobile application is essential for companies that aim to scale. These apps accommodate a range of business needs and assist organizations with their processes, improving the speed and efficiency of the workflow.
Mobile enterprise application platforms serve a wide array of purposes, from employee engagement app to customer satisfaction app. They can bring together different functions of an organization, like marketing, human resources, supply chain management, and finance.
An ideal enterprise mobile system should control all major business processes in real-time through a single software.
Enterprise Application Development has changed
Enterprise application development was traditionally carried out by developers. The arrival of no code and low code solutions means developers can work faster and non-technical staff can build apps for any organizational process.
Enterprise applications are tailored to the needs of each department – several types are discussed below.
Types of Enterprise Mobile Apps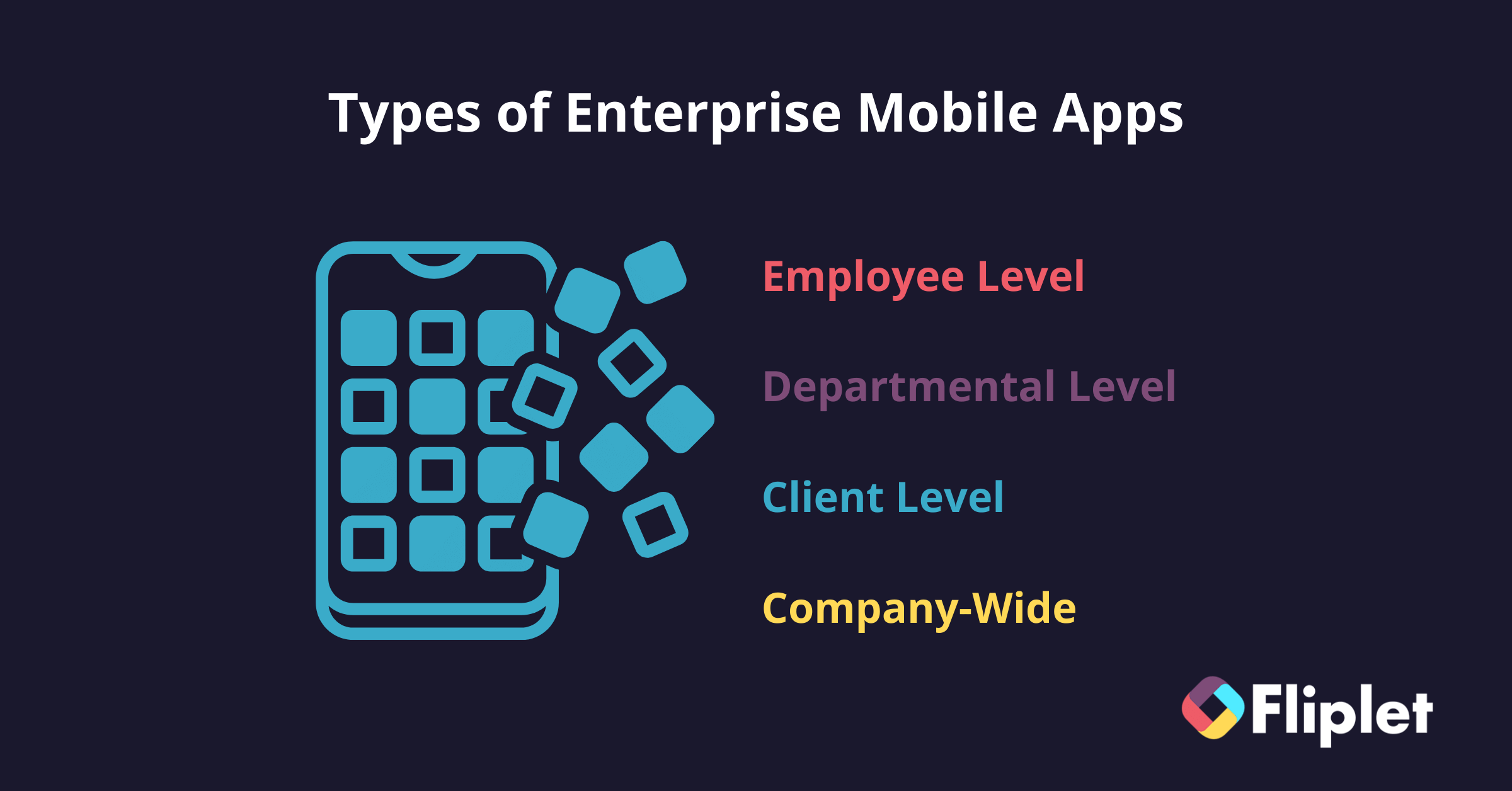 Employee Level
Enterprise apps at this level are used for employees to connect, work together, and solve problems. The aim here is to deliver vital information quickly and effectively through task distribution and related processes.
Another example would be an analytics app that lets top managers look into important analytical information about their employees' satisfaction directly.
Check our guide about top employee engagement apps to learn how to build one.
Departmental Level
At this level, enterprise apps help with employee and workflow management. They are exclusive to the operations of a specific team, such as marketing or human resources. They streamline complex workflows, deliver feedback efficiently, and enhance the communication between members of a team. All departments have an app that is tailored to their needs.
Client Level
At this level, enterprise apps help with client management. They usually are used as part of the teams responsible to serve customers but have also significant applications in lead generation and sales. They streamline processes and ensure client satisfaction through updates and progress of the project. Another value proposition is during the sales process where apps can function as product catalogues leading in a enhanced sales experience and increased revenue per deal.
Company-Wide
At this level, an application brings departments, employees, and management together. They facilitate communication and collaboration at an organizational level. The whole company is connected through a single network and each employee's access level can be monitored according to their position. Some examples of such apps include corporate training apps or productivity apps.
A customized enterprise mobile application for each level and department in your company is a necessity. Even small businesses use mobile apps to reach their customers.
Reasons to Have an Enterprise Mobile Application
1. Paperless
Climate change has made going paperless more important than ever. Effective communication, quicker transfer of knowledge, automatic backups, better security, and organization are just a few advantages of going paperless. A committed app for your business means no more tedious paperwork, and more time to focus on important business functions.
2. Increased Productivity
Enterprise apps streamline the communication process which results in higher productivity in employees. There are countless things that can steal our attention – a dedicated app cuts out the noise and helps employees to focus on what really matters. An effective enterprise app increases productivity and improves your business processes.
3. Effective Remote Management
An effective app allows you to manage employees in remote and hybrid teams. From task distribution up until the client's final approval, you can track employees' progress using a mobile app. Your team can function smoothly without anyone having to micromanage.
4. Transparency
Digitally documenting everything makes the process of tracking your spending more transparent. With an app, your finance and accounting teams can stay up to date to all the latest changes without wasting time on specific briefings.
5. Supply Chain Management
The complex operations involved in supply chain management benefit greatly from the use of enterprise software. Every process can be streamlined, such as inventory management, product management, planning, precision monitoring, distribution, and transportation. With improved management and monitoring, you will save time and money. In addition, real-time updates allow for greater accuracy when compared to clunky, outdated methods.
Use-Cases for Enterprise Mobility Solutions
The possibilities of mobile applications are limitless – there is an app for every possible work process. Here is an inside guide to a few use cases where Fliplet provides no-code solutions by making the process of app development easier.
Innovation Management:
Innovation starts with an idea. An Innovation Management solution can support an organization in effectively collecting ideas and valuable insights. This solution facilitates engagement with existing ideas and gives room for new ones to develop.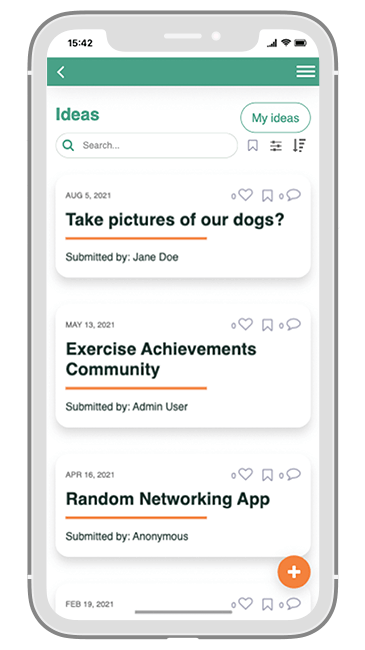 Communications:
Successfully engaging with customers and employees is a necessity. Other solutions on the market involve high pricing, difficult training requirements, limited customization, and restricted branding alternatives. Our all-in-one Communications Solution facilitates efficient internal and external communication with staff surveys, hybrid event management, and much more.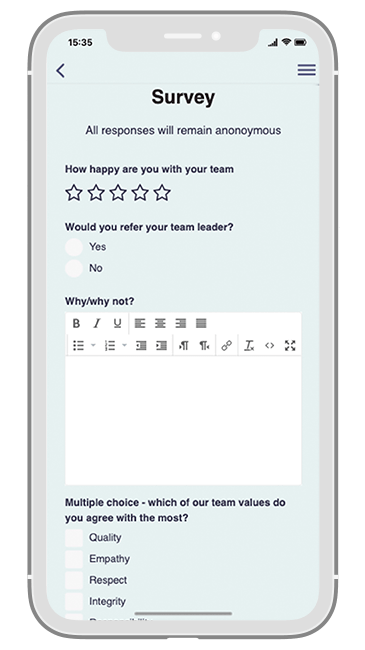 Employee Training on a Mobile App:
 The success of any business depends on the skill of its employees. With a custom training app, employees can easily browse a variety of learning opportunities, leverage knowledge from senior staff, and always stay motivated with awards and other incentives. We offer a variety of learning tools for remote staff and external partners.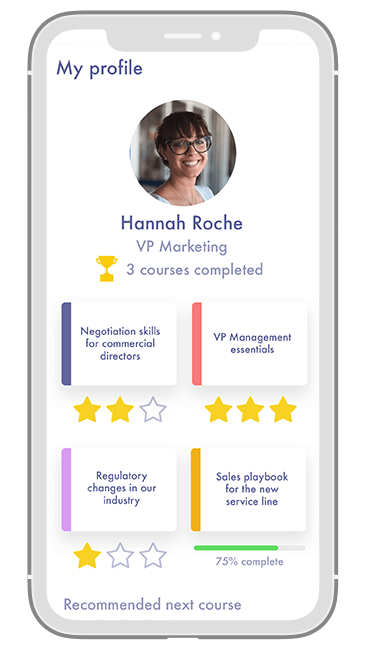 The Custom Enterprise Mobile App Development Process
Technology has made the process of app development swift, cost-effective, and accessible to all. Below are three simple steps to get you started on your app-building journey.
How to Create an Enterprise Mobile App Business Requirements
Begin by analyzing your company's needs. Make a list of tools that your company uses on a regular basis and narrow down the processes that need to be automated. Ensure that you consider your staff, clients, and other stakeholders' opinions and take measures that provide value to them.
Once you have established your business' needs, start exploring the requirements in more detail. Consider functions such as calculating a budget, integrating software you cannot function without, and the platforms you want your app to be available on (iOS and Android).
Finalize the Execution Strategy
Once you have your technical requirements down, you can look for ways to execute your ideas. Rather than hiring costly developers and working through a complex software development process, custom app builders provide the optimal solution – they let you build an app internally without having to depend on anyone.
Fliplet Case Study – Providence Anesthesiology Associates
"It took around two days to build the initial template in Fliplet Studio. After that we just need to update the content according to the client and push to the app stores."
Jordan Deuink, Providence Anesthesiology Associates
PAA (Providence Anesthesiology Associates) is a team of more than 60 anaesthesiologists that treat more than 100,000 patients each year at 19 locations around the United States. One of their top priorities was to enable employees and clinicians to access important tools via their mobile devices. Most DIY apps did not offer customizable features and hiring developers was an expensive ordeal for them. Fliplet provided PAA with the flexibility and customization it sought, all at a lower cost and in a shorter timeframe than independent developers had predicted. The initial app built by PAA was a dashboard that brought together the numerous internal resources that clinicians and employees could need – all in one place. Read more about how Fliplet helped Providence Anesthesiology Associates build a customized app for their internal functions.
An efficient app can drastically transform your business. In the next 6-12 months, 75% of mobile app development companies will witness an increase in enterprise mobile apps. Make sure your company is ready to stay ahead during this time of rapid change.
An enterprise mobile application is a must-have to succeed in today's digital revolution, but hiring mobile developers or building an in-house development team can be very expensive. Fliplet is a no code solution that helps IT reduce its backlog and all of our apps are, by default, responsive to all desktops and every mobile device. Do you want to unveil how Fliplet can increase your organization's development capabilities so you can save time and focus on what matters most? – Speak with one of our Fliplet experts today.