Top 15 Enterprise Mobile Apps and Why You Need Them Today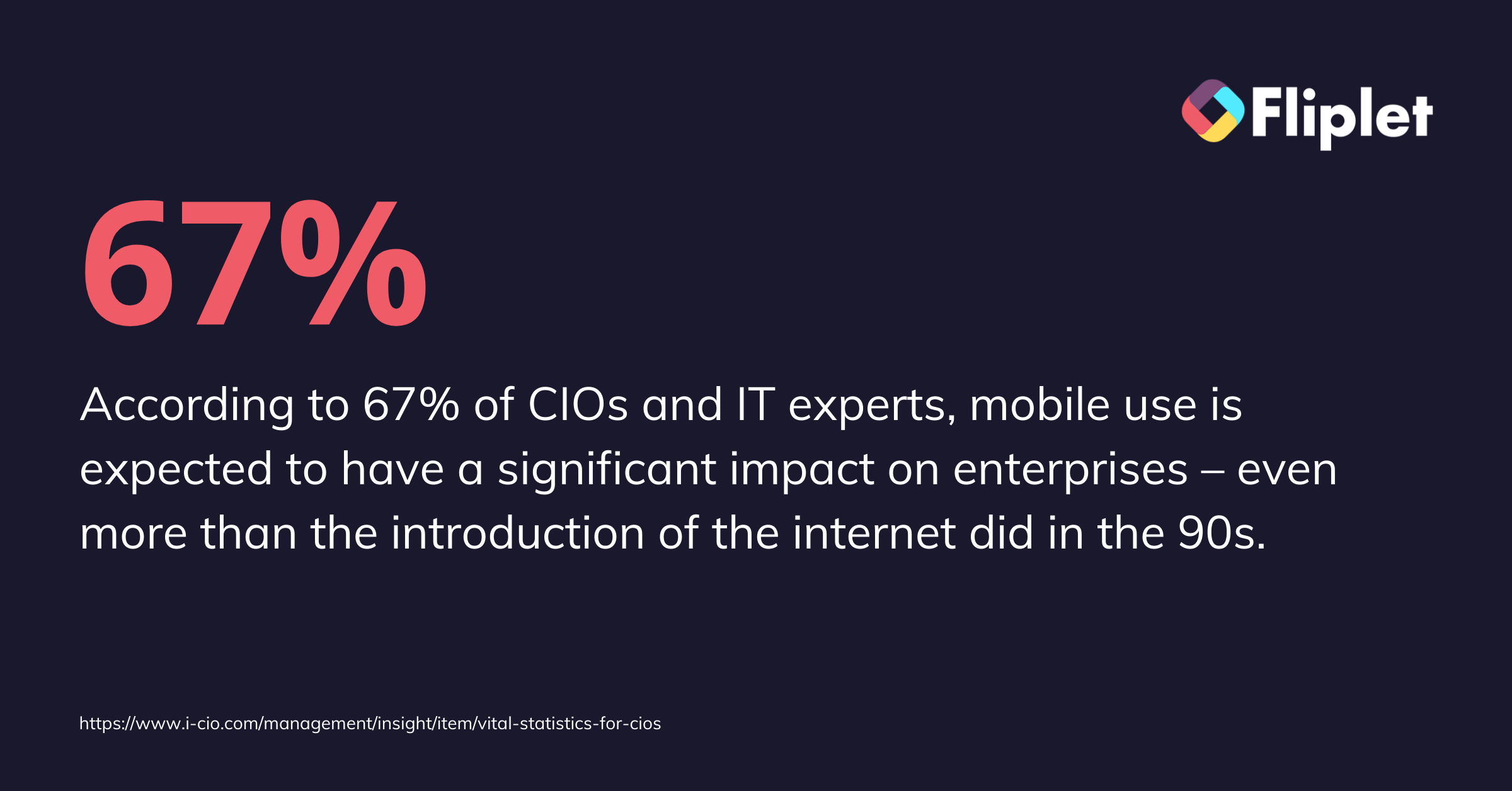 67% of CIOs and IT experts, mobile use is expected to have a significant impact on enterprises – even more than the introduction of the internet did in the 90s.
Human behaviour is changing rapidly and enterprises should be ready to meet employees and customers where they are – on mobile devices. With the global enterprise mobile application industry expected to reach $14 billion by 2023, businesses are turning to mobile enterprise app development platforms.

With so many mobile apps available, it can be challenging to determine which ones are best suited for your enterprise. In this blog, we will explore the top 10 enterprise mobile apps that can help transform your business. We will discuss the key features and benefits of each app and explain why you need them in your arsenal today. 
Whether you are looking for apps to improve collaboration, manage projects, or streamline sales processes, we've got you covered. With the right mobile apps, your enterprise can stay competitive and thrive in today's mobile-first world. 
What is Enterprise Mobile Application?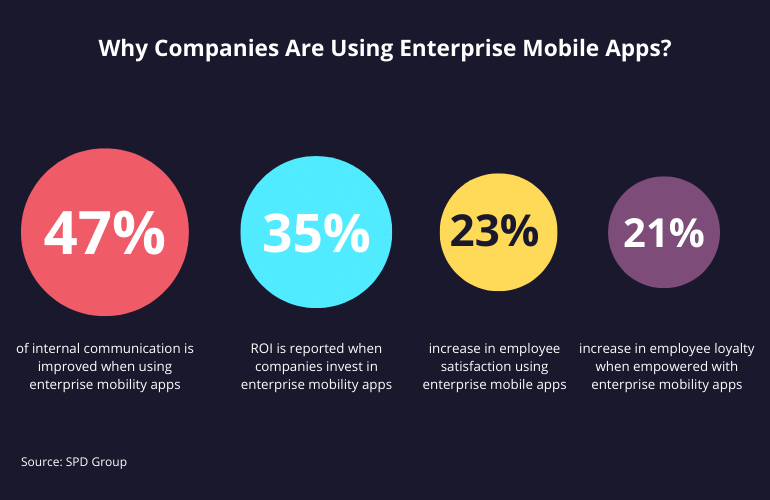 An enterprise mobile application is essential for companies that aim to scale. These apps accommodate a range of business needs and assist organizations with their processes, improving the speed and efficiency of the workflow.
Mobile enterprise application platforms serve a wide array of purposes, from employee engagement app to customer satisfaction app. They can bring together different functions of an organization, like marketing, human resources, supply chain management, and finance.
An ideal enterprise mobile system should control all major business processes in real-time through a single software.
For more on employee engagement, read our blog.
The top 10 mobile apps we recommend
Let's dive in and discover the top 10 enterprise mobile apps that your enterprise can't afford to miss.
Apps to help streamline communication and employee engagement
Enterprise needs communication and employee engagement apps to improve productivity, enhance employee satisfaction and streamline communication.
Apps are the best way for enterprises to communicate and engage employees because they offer a centralized and customizable platform that can be accessed from anywhere. With features like instant messaging, push notifications, and personalized communication, apps can streamline communication and provide a more engaging experience. 
Additionally, apps can provide valuable insights and analytics into employee behavior and engagement, allowing organizations to identify areas for improvement and adjust their communication strategies accordingly. With mobile apps, enterprise organizations can enhance what they currently have in place and stay ahead of the curve.
Microsoft Teams
Microsoft Teams is a popular communication and collaboration platform used by many enterprise organizations. With features such as instant messaging, video conferencing, and file sharing, Microsoft Teams provides a centralized platform for employees to connect and collaborate, improving productivity and teamwork.
Key features:
Instant messaging 

Video conferencing

File sharing 
Price
Free
Basic: $5 per user per month
Standard: $12.50 per user per month 
Premium: $20 per user per month 
Bonusly
Bonusly is an innovative and engaging platform that can help organizations cultivate a positive and motivated workforce. By facilitating employee recognition and rewards through a point-based system, Bonusly encourages employees to acknowledge their colleagues for their hard work.
Through the platform, employees can accumulate points that can be redeemed for customized rewards, as well as offerings from third-party brands. With Bonusly, organizations can foster a culture of appreciation, boost employee morale, and increase job satisfaction, resulting in a more productive and harmonious workplace.
Key features:
User recognition 

Chat

Surveys
Price
You can do a free trial 
Core – £2.20 per user p/m
Pro – £3.70 per user p/m
Custom – for mid to large organizations contact Bonusly.
Reviews
Capterra – 4.8 / 5
G2 – 4.8 / 5
Slack
Slack is a widely adopted collaborative platform that enables seamless communication and collaboration within an organization. The platform's instant messaging feature provides a more informal and quicker communication option, allowing colleagues to connect easily without the need for lengthy emails. 
Slack also offers the option to create 'channels' for messaging groups of colleagues or direct messaging individuals, making it a versatile communication tool for teams of any size.
One of the main advantages of Slack is its informality, making it an appealing choice for modern workplaces. The platform's instant messenger function is user-friendly and relaxed, even allowing the use of emojis to add a touch of fun to the conversation. 
Key features:
Instant messaging

Integrations 

Video call
Price
Free
Pro – £5.75 p/m
Business+ £9.75 p/m
Enterprise – contact slack 
Reviews
Capterra – 4.4 / 5
G2 – 4.4 / 5
For more insights on great employee engagement apps, check out the 5 most used employee engagement apps.
Fliplet's Communication Solution 
If you want a more advanced communication app and want to tailor it to your specific needs then you need to try Fliplets Communication solution.
Fliplet's customizable communication solution can enhance your engagement, efficiency, and ROI, allowing you to communicate with anyone, anywhere at any time. By centralizing your communication and information can also reduce the difficulty of communication across several platforms, allowing you to stay on top of your game and improve your productivity.
This no-code platform enables anyone to quickly and easily build a custom communication app that allows employees to communicate and collaborate in real-time.
Price
Public – $9.90 p/m
Private – $19.90 p/m
Private plus – $29.90 p/m
Enterprise – contact Fliplet
Key features 
Live chat 

Gamification 

Polls & surveys 
Reviews
Capterra: 4.8/5
G2: 4.6/5
Document management apps
Enterprise needs document management apps to streamline the process of creating, storing, and sharing documents. With the increase in digital documentation, document management apps offer a centralized location for storing and sharing important documents, which improves productivity, efficiency, and accuracy. 
Document management apps also provide advanced search and filter capabilities, making it easier to locate specific documents, as well as access control and security features, which ensure that only authorized individuals have access to sensitive information. Document management apps can also reduce the risk of lost or damaged documents and improve collaboration between team members.
With the increase in digital documentation, document management apps offer a scalable solution that can adapt to the needs of any enterprise, regardless of size or industry.
Evernote
Evernote is an app that offers cross-platform note-taking, organizing, and archiving capabilities. With its user-friendly interface, users can create notes that include various types of content such as text, images, web pages, and audio, and store them in notebooks for easy access.
Price
Evernote's pricing ranges from free to $10.99 per user per month.
Key features:
Calendar 

Tagging 

Document scanner
GoodReader
GoodReader is a PDF reader and file manager app for iOS devices. It allows users to view, edit, and annotate various types of files including PDF, text, Microsoft Office, and iWork documents, as well as photos and videos.
It also provides features such as file transfer options, file compression, and support for cloud services like Dropbox and Google Drive. Good Reader pricing starts at $5.99. 
Key features:
File transfer

File compression 
Price
Good Reader pricing starts at $5.99
Fliplet Document Library
Fliplet has a document library screen that enterprises can include in their app. Fliplet's Document Library screen provides an easy-to-use and centralized platform for enterprises to manage their documents. With this feature, businesses can upload and organize documents, making them accessible to authorized users in a secure manner. 
The Document Library screen also offers advanced search and filter options, making it simple for users to quickly find the document they need. Additionally, enterprises can customize the look and feel of the Document Library screen to fit their branding needs. 
Overall, Fliplet's Document Library screen offers a streamlined and efficient way for enterprises to manage their documents in a secure and customizable manner.
Price
Public – $9.90 p/m
Private – $19.90 p/m
Private plus – $29.90 p/m
Enterprise – contact Fliplet
Key features 
Search, filter, bookmark documents 

Upload documents on the go 
Reviews
Capterra: 4.8/5
G2: 4.6/5
Task Management apps for enhanced collaboration and project management
Enterprises need a task management app to help manage and prioritize tasks across teams and departments. With the increase in remote work and digital communication, task management apps offer a centralized platform for tracking progress and assigning tasks, while providing real-time updates on the status of each task.
Apps are the best way for enterprises to manage tasks compared to other methods because they offer a scalable solution that can adapt to the needs of any enterprise, regardless of size or industry. With features like personalized task lists, automated notifications, and real-time updates, task management apps can improve productivity, collaboration, and accuracy, while reducing the risk of missed deadlines or forgotten tasks.
Trello 
Trello allows users to create boards for different projects and tasks, and to assign tasks to team members. It also has a calendar view, which helps in tracking deadlines, and is useful for managing multiple cases and tasks. 
Price
Free
Enterprise – $17.50 per user per month 
Key features:
Task lists 

Integration 

Automations
Reviews
Capterra – 4.5 / 5
G2 – 4.4 / 5
Todoist
Todoist is a to-do list app and online task manager that works across 15 different platforms including Web, iOS, Android, Google Chrome, Mac, and Outlook. Turn on Applets to quickly and automatically create new tasks, and sync or share tasks across other systems and services. Paid users can customize with filters and labels, and there are basic collaboration features available.
Price .
Free
Pro – $4 per month 
Business – $6 per month 
Key features:
Reminders

Share the workload

Personalize your tasks 
Reviews
Capterra – 4.6 / 5
G2 – 4.4 / 5
Fliplet's Task Management Solution
Fliplet's Task Management solution that enables users to create, assign, and track tasks. These apps can help organizations improve collaboration and productivity by ensuring that task
Fliplet's task management solution is the ideal choice for enterprises looking to enhance their task management capabilities. With features like personalized task lists, automated notifications, and real-time updates, Fliplet's solution can improve collaboration, accuracy, and accountability, while reducing the risk of missed deadlines or forgotten tasks.
Fliplet Task Management solution is a dual tracking app solution. This solution will allow you to create two types of lists: a simple checklist and a project. The benefit of using this solution are, multiple task tracking features, create and update separate lists and projects in real time, accessible on any device: smartphone, tablet and computer and you can distribute your app on web, Apple App Store and Google Play.
Price
Public – $9.90 p/m
Private – $19.90 p/m
Private plus – $29.90 p/m
Enterprise – contact Fliplet
Key features
Easily view, filter and sort tasks

Reminders and notifications

Tasks personalized to you 
Reviews
Capterra: 4.8/5
G2: 4.6/5
Event apps
If you're an enterprise planning an event, an event app is an absolute must-have to ensure your attendees have a seamless and engaging experience.
With features like real-time updates, mobile check-ins, and networking tools, event apps can take your event to the next level. Not to mention, with advanced analytics and data insights, you can track attendance rates, engagement levels, and other important metrics to continuously improve your events. 
Statistics show that using an event app can skyrocket attendee engagement by 25% and boost attendee satisfaction with over 75% of attendees reporting higher satisfaction levels. Say goodbye to event planning headaches as event apps streamline processes and reduce costs, while providing valuable data on attendees for future event planning.
Eventmobi
Eventmobi is a conference app that can be tailored to fit your event, regardless of the size. Its gamification features and ability to customize will make your event enjoyable and unique. 
Price 
Basic: $1,999 per year for small events and up to 500 attendees.
Pro: $3,999 per year for medium events and up to 1000 attendees.
Premium: t $7,999
Key features:
Networking

Gamification 

Polls
Reviews
G2: 4.6/5
Capterra: 4.7/5
InEvent
InEvent is a platform tailored for every aspect of event and webinar planning, from pre- to post-production. Its white-label solution helps simplify branding, segmentation, promotion and virtual interaction.
Pricing
V&H pro: $999
V&H advanced: $11,990
V&H full: Contact InEvent
Key features 
Reviews
Capterra: 4.5/5
G2: 4.5/5
Swapcard
Swapcard is  the first event platform that utilizes AI technology to enhance in-person, virtual, and hybrid events. The platform facilitates effective B2B matchmaking by using AI to connect users with the most relevant individuals, taking into account profiles, interests, and personalized event journeys.
Pricing
Free trial
Starter: $1090
Professional & enterprise: Talk to Swapcard
Key features 
Attendee networking

Registration

Multilingual
Reviews
Capterra: 4.⅗
G2: 4.6/5
For more on hybrid events, read our blog.
Fliplets Event Solution
Fliplet's Events solution offers a comprehensive solution for event managers, whether you're hosting a small in-person roundtable or a large hybrid conference. The solution is fully customizable and can be tailored to meet your event needs, from conferences and webinars to retreats and summits. 
With the ready-made, customizable mobile app, you can easily manage your event, update attendees with push notifications, and engage them through discussions, awards, and gamification features. Plus, there are no limits on the number of events you can manage through your app.
Price
Public – $9.90 p/m
Private – $19.90 p/m
Private plus – $29.90 p/m
Enterprise – contact Fliplet
Key features
Interactive and personalized agenda

Polls, surveys and questions 

Gamification 
Reviews
Capterra: 4.8/5
G2: 4.6/5
And last, but not least…
Idea collection apps
Enterprises need an idea collection app to foster a culture of innovation and collaboration among their employees. With an idea collection app, enterprises can gather ideas from employees across all departments and levels, providing a platform for creativity and ideation. The app also allows for easy sharing and collaboration of ideas, which can lead to better solutions and more successful outcomes.
Apps are the best way for enterprises to collect ideas compared to not using an app because they offer a centralized platform for employees to submit and collaborate on ideas. With features like real-time feedback, apps can help track the progress and success of ideas, allowing enterprises to prioritize the most promising ones. 
Additionally, apps can offer gamification elements to encourage participation and engagement, making the process of idea collection more enjoyable and rewarding for employees. 
Overall, an idea collection app provides a more streamlined and efficient way for enterprises to gather and develop innovative ideas, resulting in better business outcomes.
Fliplet Innovation Management Solution
Fliplet's Innovation Management solution, which is also referred to as their idea collection app, is the best solution for enterprises that want to collect and manage employee insights and encourage a more open and transparent workplace culture. With a huge selection of pre-built screens, enterprise organizations can easily create an app that aligns with their values and inspires stakeholders to share their ideas. 
By enabling large teams to collaborate more effectively, you can prioritize concerns and empower internal teams to provide new solutions. With the ability to enable external users to deposit their problems and pain points, you can easily communicate with customers and employees, improving the overall experience. 
Fliplet's Innovation solution also enables communities to come together on a single platform to exchange ideas and improve shared concerns, enabling institutional inclusion and creating a more inclusive workplace culture.
Price
Public – $9.90 p/m
Private – $19.90 p/m
Private plus – $29.90 p/m
Enterprise – contact Fliplet
Key features
Ideas submission

Collaboration and feedback

Customizable
Reviews
Capterra: 4.8/5
G2: 4.6/5
Fliplet: One platform for all your enterprise app needs
Fliplet
If there is one app that every enterprise should know, it is Fliplet. There is no question why more than 100 organizations have used Fliplet. With its customizable platform, drag and drop interface, cost-effective pricing, and plethora of advanced features, Fliplet is changing the game for enterprise everywhere. 
Fliplet is an award-winning app building platform used by organizations worldwide. It boasts an easy-to-use drag-and-drop interface that eliminates the need to hire costly developers in order to bring your ideas to life.
Here are some reasons why Fliplet is better than buying separate enterprise apps:
Cost-Effective: Enterprise software can be expensive to purchase, implement, and maintain. Fliplet offers a more affordable option, allowing organizations to create customized apps without the need for extensive development resources or expensive software licenses.
Customizable: Off-the-shelf enterprise software may not always meet the unique needs of an organization. With Fliplet, organizations can create apps that are tailored to their specific requirements and workflows, resulting in greater efficiency and productivity.
Flexibility: Enterprise software can be inflexible and difficult to modify once implemented. Fliplet allows organizations to create and modify apps quickly and easily, ensuring that they can adapt to changing business needs and workflows
Fliplet can be used to create a range of apps, including document management apps, task management apps, communication apps, and event apps
Document Management Apps: With Fliplet, organizations can create custom document management apps  that allow users to access, store, and share documents securely. These apps can help organizations streamline their document management processes, ensuring that information is easily accessible and up-to-date.
Task Management Apps: Fliplet can be used to create task management apps that allow users to create, assign, and track tasks. These apps can help organizations improve collaboration and productivity by ensuring that tasks are completed on time and efficiently
Communication Apps: Fliplet can be used to create custom communication apps that allow employees to communicate and collaborate in real-time. These apps can include features such as messaging, file sharing and recognition improving communication and productivity across the organization
Event Apps: Fliplet can be used to create custom event apps that provide attendees with access to event schedules, speaker bios, and other event-related information. These apps can also include features such as surveys and feedback forms, enabling organizations to gather valuable insights and feedback from attendees. 
For more on building a custom app, read our blog
Fliplet offers over 300 customizable screens and 16 solutions which include:
Overall, Fliplet offers a cost-effective, customizable, and flexible alternative to buying enterprise software by offering a no code platform for all your enterprise development needs. By providing a user-friendly platform for app development, Fliplet helps organizations streamline their operations, improve communication and collaboration, and enhance productivity.
Types of Enterprise Mobile Apps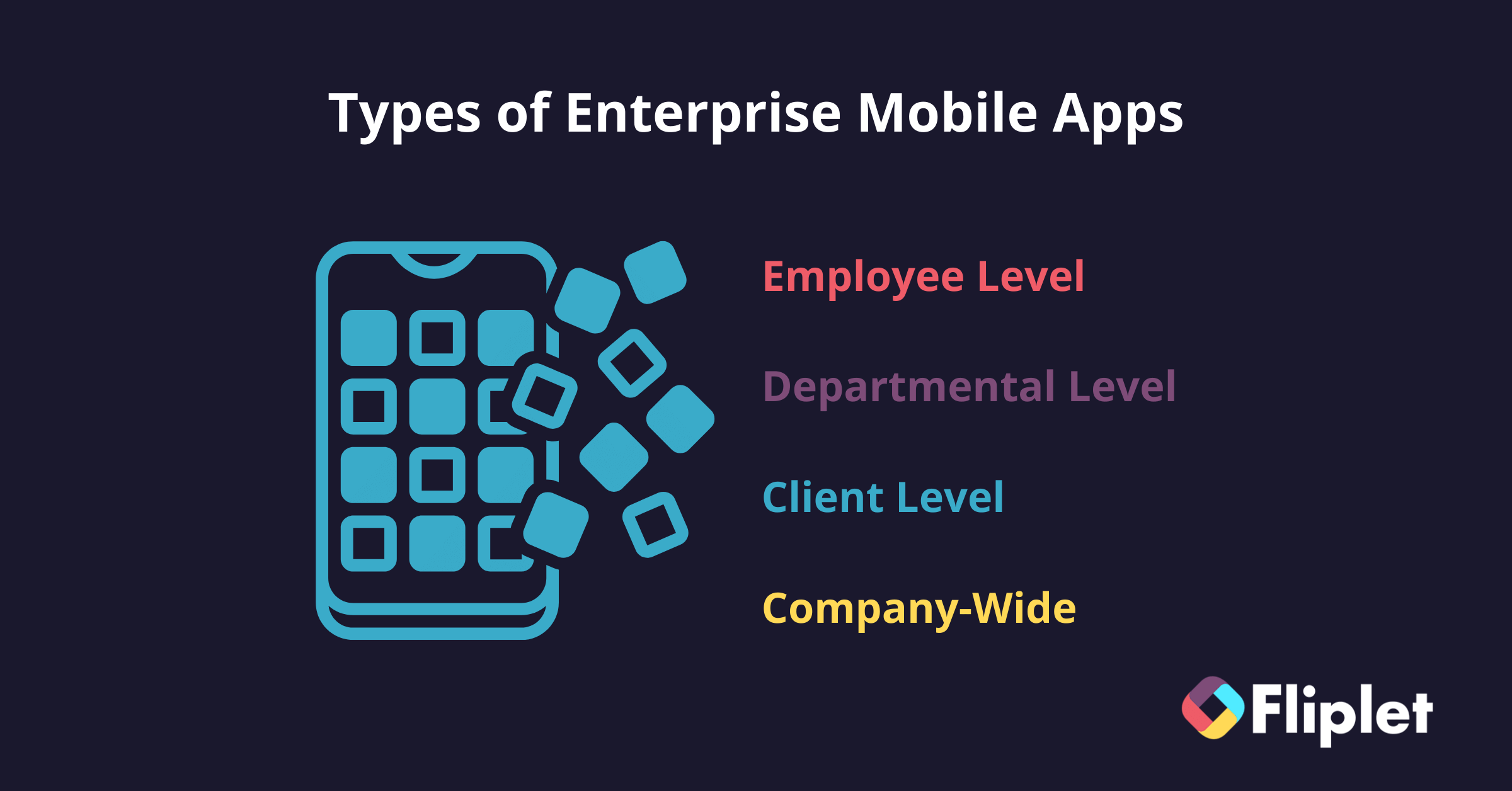 Employee Level
Enterprise apps at this level are used for employees to connect, work together, and solve problems. The aim here is to deliver vital information quickly and effectively through task distribution and related processes.
Another example would be an analytics app that lets top managers look into important analytical information about their employees' satisfaction directly.
Check our guide about top employee engagement apps to learn how to build one.
Departmental Level
At this level, enterprise apps help with employee and workflow management. They are exclusive to the operations of a specific team, such as marketing or human resources. They streamline complex workflows, deliver feedback efficiently, and enhance communication between members of a team. All departments have an app that is tailored to their needs.
Client Level
At this level, enterprise apps help with client management. They usually are used as part of the teams responsible to serve customers but have also significant applications in lead generation and sales. They streamline processes and ensure client satisfaction through updates and progress of the project. Another value proposition is during the sales process where apps can function as product catalogues leading to an enhanced sales experience and increased revenue per deal.
Company-Wide
At this level, an application brings departments, employees, and management together. They facilitate communication and collaboration at an organizational level. The whole company is connected through a single network and each employee's access level can be monitored according to their position. Some examples of such apps include corporate training apps or productivity apps.
A customized enterprise mobile application for each level and department in your company is a necessity. Even small businesses use mobile apps to reach their customers.
Take a read of the top 10 mobile enterprise application platforms 

Enterprise Apps Case Studies
Saul Ewing 
Read this case study to see how Saul Ewing introduced an innovation challenge app called "SAULutions" and collected hundreds of ideas from staff and partners. 
Objective: Create an opportunity for collaboration and shared experience throughout the organization to advance their goal of being a forward-thinking, innovative firm. Doing such in a way that is not driven by meetings.
Solution: "SAULutions" was born, and quickly built. It's an app with a witty name and a serious purpose – a "suggestions box" style app to encourage firm-wide driven innovation.
Results: Hundreds of employees and partners made suggestions, and more than 340 votes were cast for the six shortlisted innovations. Two winning suggestions were implemented, gaining national press coverage.
Top 30 UK law firm
Say hello to a fast, modern, easy-to-use event app. Goodbye to clunky, old, time-consuming app. 
Read this case study to see how a Top UK Law firm switched from another solution to Fliplet and went from 40 minutes inputting the details for an event to getting an event live in the app in just 10-15 minutes.
Challenge: Stuck with a clunky app that's awkward to use and takes too long for a non-technical team to add updates.
Solution: Move to a modern app that works straight out of the box, is easy to use, and ticks every box for functionality.
Results: Save hours each month on updates with an attractive, branded app that everyone on the team can use.
Eversheds Sutherland 
Empowering staff across the business to design and create apps with easy-to-use templates. Read this case study to see how Eversheds Sutherland's non-technical teams have created a dynamic portfolio of apps that has led to a positive impact across the business, both internally and externally.
Challenge: Eversheds Sutherland wanted a platform where they could communicate information internally and externally. However, apps commissioned via agencies were taking months to create and were difficult to maintain without the help of their technical teams.
Solution: Fliplet gave Eversheds Sutherland a simple, streamlined tool that transformed their app-creation process and also meant the work could be shared across the business instead of always falling to the technical teams.
Results: People across the business have quickly and easily created a suite of apps, (one of which is award winning). This has helped the business to improve both the employee and client experience.
Read more enterprise app stories by visiting Fliplet Case Studies
Reasons to Have an Enterprise Mobile Application
1. Paperless
Climate change has made going paperless more important than ever. Effective communication, quicker transfer of knowledge, automatic backups, better security, and organization are just a few advantages of going paperless. A committed app for your business means no more tedious paperwork, and more time to focus on important business functions.
2. Increased Productivity
Enterprise apps streamline the communication process which results in higher productivity in employees. There are countless things that can steal our attention – a dedicated app cuts out the noise and helps employees to focus on what really matters. An effective enterprise app increases productivity and improves your business processes.
3. Effective Remote Management
An effective app allows you to manage employees in remote and hybrid teams. From task distribution up until the client's final approval, you can track employees' progress using a mobile app. Your team can function smoothly without anyone having to micromanage.
4. Transparency
Digitally documenting everything makes the process of tracking your spending more transparent. With an app, your finance and accounting teams can stay up to date to all the latest changes without wasting time on specific briefings.
5. Supply Chain Management
The complex operations involved in supply chain management benefit greatly from the use of enterprise software. Every process can be streamlined, such as inventory management, product management, planning, precision monitoring, distribution, and transportation. With improved management and monitoring, you will save time and money. In addition, real-time updates allow for greater accuracy when compared to clunky, outdated methods.
Use-Cases for Enterprise Mobility Solutions
The possibilities of mobile applications are limitless – there is an app for every possible work process. Here is an inside guide to a few use cases where Fliplet provides no-code solutions by making the process of app development easier.
Innovation Management:
Innovation starts with an idea. An Innovation Management solution can support an organization in effectively collecting ideas and valuable insights. This solution facilitates engagement with existing ideas and gives room for new ones to develop.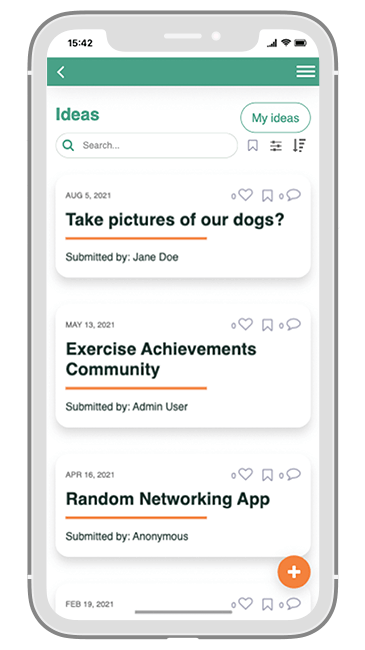 Communications:
Successfully engaging with customers and employees is a necessity. Other solutions on the market involve high pricing, difficult training requirements, limited customization, and restricted branding alternatives. Our all-in-one Communications Solution facilitates efficient internal and external communication with staff surveys, hybrid event management, and much more.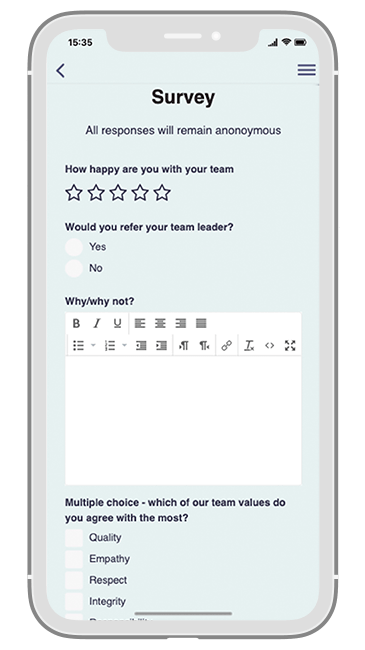 The success of any business depends on the skill of its employees. With a custom training app, employees can easily browse a variety of learning opportunities, leverage knowledge from senior staff, and always stay motivated with awards and other incentives. We offer a variety of learning tools for remote staff and external partners.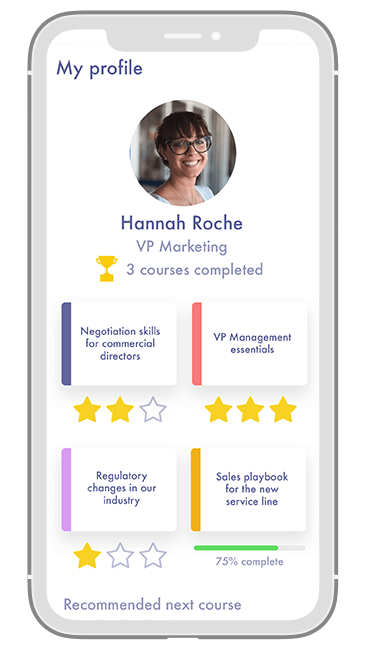 The Custom Enterprise Mobile App Development Process
Technology has made the process of app development swift, cost-effective, and accessible to all. Below are three simple steps to get you started on your app-building journey.
How to Create an Enterprise Mobile App Business Requirements
Begin by analyzing your company's needs. Make a list of tools that your company uses on a regular basis and narrow down the processes that need to be automated. Ensure that you consider your staff, clients, and other stakeholders' opinions and take measures that provide value to them.
Once you have established your business' needs, start exploring the requirements in more detail. Consider functions such as calculating a budget, integrating software you cannot function without, and the platforms you want your app to be available on (iOS and Android).
Finalize the Execution Strategy
Once you have your technical requirements down, you can look for ways to execute your ideas. Rather than hiring costly developers and working through a complex software development process, custom app builders provide the optimal solution – they let you build an app internally without having to depend on anyone. 
Take a look at this Ultimate Guide: How to scale mobile enterprise app development without coding or IT resources.
For more on custom application development read our blog.
Fliplet Case Study – Providence Anesthesiology Associates
"It took around two days to build the initial template in Fliplet Studio. After that we just need to update the content according to the client and push to the app stores."
Jordan Deuink, Providence Anesthesiology Associates

PAA (Providence Anesthesiology Associates) is a team of more than 60 anaesthesiologists that treat more than 100,000 patients each year at 19 locations around the United States. One of their top priorities was to enable employees and clinicians to access important tools via their mobile devices. Most DIY apps did not offer customizable features and hiring developers was an expensive ordeal for them. Fliplet provided PAA with the flexibility and customization it sought, all at a lower cost and in a shorter timeframe than independent developers had predicted. The initial app built by PAA was a dashboard that brought together the numerous internal resources that clinicians and employees could need – all in one place. Read more about how Fliplet helped Providence Anesthesiology Associates build a customized app for their internal functions.
An efficient app can drastically transform your business. In the next 6-12 months, 75% of mobile app development companies will witness an increase in enterprise mobile apps. Make sure your company is ready to stay ahead during this time of rapid change.

An enterprise mobile application is a must-have to succeed in today's digital revolution, but hiring mobile developers or building an in-house development team can be very expensive. Fliplet is a no code solution that helps IT reduce its backlog and all of our apps are, by default, responsive to all desktops and every mobile device. Do you want to unveil how Fliplet can increase your organization's development capabilities so you can save time and focus on what matters most? – Speak with one of our Fliplet experts today.
Are enterprise mobile apps worth it?
Enterprise mobile apps can be worth it for organizations looking to streamline their operations, improve communication and collaboration, and enhance productivity. Mobile apps can provide a range of benefits, including:
Improved Productivity: Mobile apps can provide employees with quick and easy access to information and tools, allowing them to complete tasks more efficiently and effectively.
Increased Collaboration: Mobile apps can help improve communication and collaboration among team members, even if they are working remotely or in different locations.
Enhanced Security: Mobile apps can provide secure access to company data and information, reducing the risk of data breaches and other security issues.
Better Customer Engagement: Mobile apps can provide customers with a more convenient and personalized experience, leading to increased engagement and loyalty.
Competitive Advantage: Offering a mobile app can help organizations differentiate themselves from competitors and provide a more modern and convenient experience for customers and employees alike.
What are enterprise application examples?
Enterprise applications are software solutions that are designed to support the operations and workflows of large organizations. They can include a wide range of applications, such as:
Customer Relationship Management (CRM) software: This type of application is used to manage customer interactions, sales, marketing, and customer service.
Enterprise Resource Planning (ERP) software: This type of application is used to manage various business processes, such as finance, accounting, inventory, and supply chain management.
Human Resources Management (HRM) software: This type of application is used to manage employee data, recruitment, onboarding, payroll, benefits, and performance evaluations.
Business Intelligence (BI) software: This type of application is used to gather, analyze, and report on business data, providing insights into performance, trends, and opportunities.
Project Management software: This type of application is used to manage project workflows, tasks, timelines, budgets, and team collaboration.
Document Management software: This type of application is used to manage and organize digital documents and files, providing secure access and version control.
Enterprise Content Management (ECM) software: This type of application is used to manage the lifecycle of digital content, including creation, storage, distribution, and archiving.
Supply Chain Management (SCM) software: This type of application is used to manage the flow of goods and services, from procurement to delivery, across the supply chain.
These are just a few examples of enterprise applications, and there are many more that organizations can use to support their operations and workflows.
How many apps does an enterprise use?
The number of apps used by an enterprise can vary depending on the size and needs of the organization. According to a report by Okta, a provider of identity and access management services, the average enterprise uses over 80 cloud-based applications to support their operations and workflows. However, this number can be significantly higher for larger organizations, with some using hundreds or even thousands of different applications.
The number of apps used by an enterprise can also depend on the specific industry and business requirements. For example, a financial institution may use a larger number of applications for compliance and security purposes, while a manufacturing company may use more applications for supply chain management and logistics.